Trader Joe Enters Avalanche Rush with an Incentives Program up to $20M
The largest native DEX on Avalanche joins the program, 'Joe Rush' is here!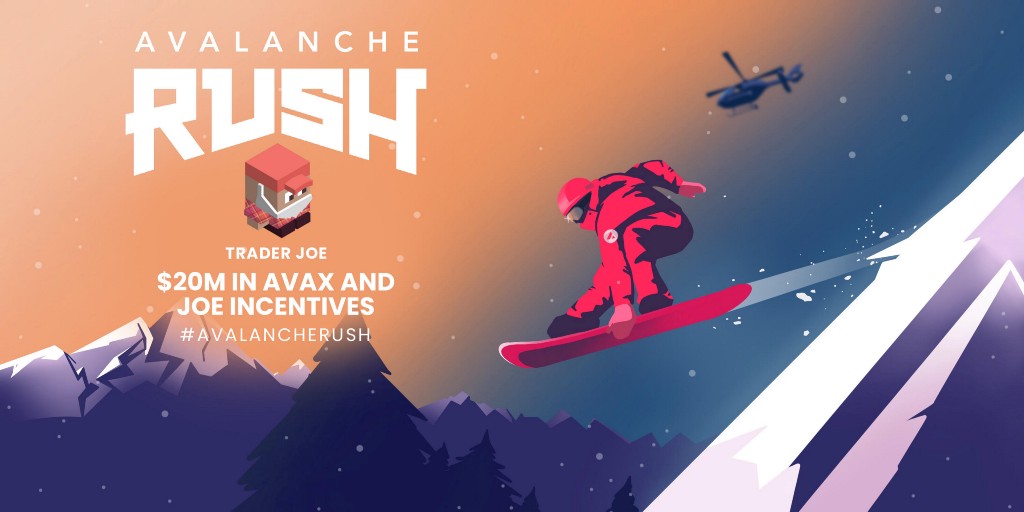 Trader Joe has officially joined the Avalanche Rush Program, with a combined total of up to $20M in incentive programs. The program will include $10m in $AVAX from the Avalanche Foundation, and a further $10m in JOE from Trader Joe.
Trader Joe is uniquely positioned to offer one of the best decentralized exchange experiences in all of DeFi. Since launching on July 3, Trader Joe has become one of the largest DeFi applications native to Avalanche by total value locked (TVL) and trading volume.
The 'Joe Rush' incentives will be deployed across the entire platform, with a focus on growth in native Avalanche markets. This complements the vision of Trader Joe but also benefits the entire Avalanche community.
"Our vision is to serve the Avalanche community at the frontiers of DeFi. We are excited to contribute to Avalanche Rush and drive the ecosystem to new heights." — 0xMurloc, co-founder of Trader Joe.
The program will consist of two phases that will provide both AVAX and JOE rewards, each spanning a period of approximately 3 months.
During the program, users can receive rewards by participating in selected liquidity pools, lending markets, as well as leveraged trading, a feature planned for an early Q4 release. There will also be an allocation to the 'Cultivation Club' which will provide liquidity incentives to encourage innovative protocols to launch on Avalanche from the Trader Joe platform.
In addition to the above allocations, Trader Joe will also set up a community bug-bounty program which will be launched in tandem with the incentive program. This bug bounty will help secure Trader Joe's user base and, by proxy, the Avalanche DeFi ecosystem.
Joe Rush will start in mid-October, with a specific launch date communicated following the completion of ongoing security audits. To stay close to announcements, follow Trader Joe on Twitter.
https://medium.com/media/b8a596544f943e3618682869c7e2f97a/href
About Trader Joe
Trader Joe is a one-stop-shop decentralized trading platform native to the Avalanche blockchain. Trader Joe builds fast, securely and aims to serve the community at the frontier of DeFi. The long-term vision of the team is to make Trader Joe an R&D-focused platform for new DeFi primitives not yet seen on any blockchain.
About Avalanche Rush
Avalanche Rush is an incentive mining grant and airdrop program with up to $180M in AVAX tokens from the Avalanche Foundation that seeks to deploy decentralized finance applications on the Avalanche platform. The program objective is to empower new and existing DeFi traders with easy-to-use, fast, and cost-effective applications.
About Avalanche
Avalanche is the fastest smart contracts platform in the blockchain industry, as measured by time-to-finality, and has the most validators securing its activity of any proof-of-stake protocol. Avalanche is blazingly fast, low cost, and green. Any smart contract-enabled application can outperform its competition by deploying on Avalanche. Don't believe it? Try Avalanche today.
Website | Whitepapers | Twitter | Discord | GitHub | Documentation | Forum | Avalanche-X | Telegram | Facebook | LinkedIn | Reddit | YouTube

---
Trader Joe Enters Avalanche Rush with an Incentives Program up to $20M was originally published in Avalanche on Medium, where people are continuing the conversation by highlighting and responding to this story.