AMA RECAP: PirateVerse x Avalanche Italian Community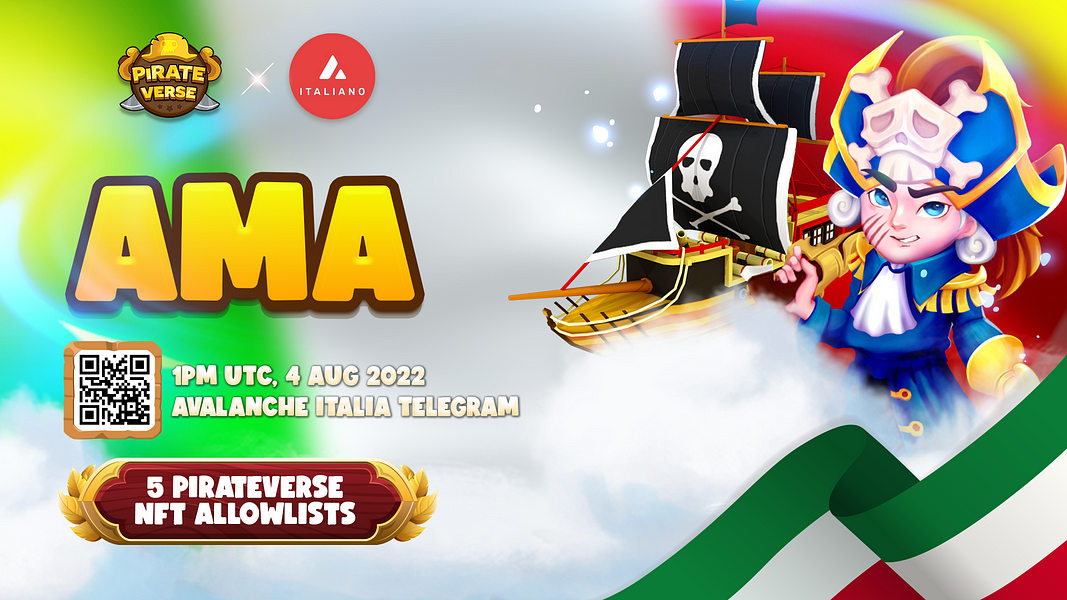 Introduction: Could you please introduce yourself?
Hello everyone, I am Giang, Co-founder and CEO of PirateVerse. I am also the Co-founder and CEO of VTech Jsc, a startup founded in 2014. Our main areas are game development and technology solutions like software, application in informatics and communication. My background is mainly in tech.
Part 1: Community Manager – Giuseppe's Questions
Could you please introduce the Pirate Verse project and PirateVerse Subnet Ecosystem?
PirateVerse is built by TazoGames, a well-experienced NFT Games Studio founded at the beginning of 2021 as part of Vtech Jsc.
PirateVerse is an NFT-Powered Free-To-Play-To-Earn Pirate Games on Avalanche and PirateVerse Subnet. PirateVerse is a story-filled Pirate World where players can explore, build and own their own Pirate Kingdoms. Inspired by the legendary game Age of Empires and the great stories told in Pirates of the Caribbean, there will be 3 NFTs in the game: Captains, Battleships, Islands.
Each Island NFT will have 5 resource sub-islands attached with different rarities. Battleships are the most important asset as you will need Battleships to join PvE, explore chapters and stories, earn rewards, join PvP mode, fight against other Pirates in the Arena and claim the rank! Captains NFTs will add more unique skills and abilities to your crew and battleships!
Pirate kingdoms will be really important as they provide items, equipment to empower your strength and help you earn more rewards. Remember to build your constructions on Islands!
1. Could you introduce your team behind the project?
We've got a really talented and passionate team for building projects that bring real values. Product builders at TazoGames all have over 7 years of experience in game development. TazoGames built HappyLand that was launched on Binance Smart Chain last December and have just revealed another game called Urban Racer yesterday.
Speaking of our blockchain team, we also have highly experienced blockchain developers that are capable of building both DeFi and GameFi projects. Our blockchain team is DegaLabs, many of our developers were former TomoChain developers since 2017.
2. Why did you build PirateVerse Subnet Ecosystem and how would your subnet contribute to Avalanche Ecosystem?
PirateVerse Subnet, built on top of Avalanche Network's existing infrastructure and security, is a decentralized and EVM-compatible blockchain that will empower and serve as the home for not only PirateVerse, but also other blockchain-enabled games built by TazoGames.
Crabada with Swimmer Network, Defi Kingdoms with DFK Chain… They all started building the game on Avalanche C-Chain and migrated into the subnet. But we decided to build and primarily launch the game PirateVerse on our own PirateVerse Subnet.
PirateVerse Subnet would work as an all-in-one ecosystem with AMM DEX (PirateSwap), Blockchain Explorer (PirateScan), Bridge (revealing soon)… and most importantly, GameFis (with HappyLand, PirateVerse and Urban Racer and maybe more to come).
3. So what are the future plans of PirateVerse game and what is the most important in that plan?
Thank you for the amazing question, we are excited to open up with you about our plans.
According to our roadmap, our future plans will focus heavily on the third quarter of 2022, with PirateVerse Subnet's Mainnet, Game Testnet and PirateVerse NFT Launch. At the moment we are focusing on developing PirateVerse NFTs and connecting partners around Avalanche Ecosystem. We will reveal a lot of interesting news in the upcoming weeks!
We know that in order to complete other milestones on our roadmap, building active and consistent communities should always be one of our priorities. Thank you all for being early supporters of PirateVerse, we really appreciate that and look forward to bringing about real values that you are seeking in the crypto space. Together we BUIDL!
4. How will you develop PirateVerse Subnet Ecosystem and attract users?
Thank you for this question, we are glad to open up our plans with you.
PirateVerse Subnet Ecosystem will consist of both GameFi and DeFi. On DeFi side, we have AMM DEX PirateSwap, Blockchain Explorer PirateScan and Bridge Solution that will be revealed soon. PirateSwap will eventually become a liquidity hub on PirateVerse Subnet, with Staking and Yield Farming features…
We will have HappyLand, PirateVerse and Urban Racer launched on PirateVerse Subnet, making it a gaming hub on blockchain. Other games are also welcome to our Subnet, as in our tokenomics, we have rewards for Top Games with high users.
HappyLand's existing users will come to PirateVerse Subnet, at the moment we are having Subnet Farmer – Earn $1000 AVAX, you can join now!

👑 SUBNET FARMER IS LIVE NOW 🔥 ✅ Play Now – Earn $1000 #AVAX: pvfsubnetplay.happyland.finance ✅ Create @HappyLand_HPL account: app.happyland.finance ✅ Learn #subnetfarmer details: pirateverseofficial.substack.com/p/subnet-farme… 🙋‍♂️ Me hearties, let's go!!! 🏂 #Avalanche #Subnet #GameFi #PirateVerse
PirateVerse will launch a lot of minigames such as Lucky Wheel, Pirate Escape with huge reward pools and NFTs within this month
You can also check out Urban Racer
5 . What are the biggest challenges you face in current market conditions?
As we all know, the current crypto market is facing a lot of fear from everywhere, not only from retail investors but also the big boys. This clearly affects investors' decision making as the negative factors are always there to diminish any hope and positiveness investors may have.
However, in the Avalanche community, that just hit different. People are still actively building projects, communities are still hopeful about the Avalanche Ecosystem and we have been talking a lot about rising Subnets. We are proud and happy to join the Avalanche family, this is the best community ever!
So far, the bear market is a good time for truely hard-working projects to build and prepare for the next bull run. Our team at PirateVerse considers this phase as a huge opportunity to prove ourselves and build the best GameFi Pirate Community.
Part 2: Community's Questions
From @ththinh11 on Twitter: What are the use cases of token $PVF and $PVG? How important of $PVF token to your PirateVerse Subnet? Do we get any extra benefits if we buy and hold the token?
Both $PVF and $PVG have a lot of utilities, that's how we deal with inflationary problems.
$PVF is the native token of PirateVerse Subnet, working as the gas fee token and validator rewards. $PVF is also the governance token of the game PirateVerse.
$PVG is the game token of PirateVerse. Game rewards will be $PVG and players will use $PVG to buy in-game required items, equipment, upgrade Battleships, Captains, Constructions…
What about earning passive income with $PVF? Stake $PVF and become our validator to earn network rewards!
And don't forget that we also have PirateSwap, with Farming and Staking features to be announced soon. Just imagine the utilities we created on PirateVerse Subnet!
From @zarathustra9530 on Twitter: The roadmap is very structured, how do you intend to maintain the right "balance" between gaming and profit?
Thank you for this amazing question!
GameFi as we know today is heading for more games with more interesting gameplay, allowing players to enjoy it for hours and days, not just on the investment side.
The right path to do this is to create an interesting game that traditional gamers would want to play! PirateVerse will have story-filled PvE Mode where it requires players to use skills to move the boat and defeat the boss, just like Age of Empires! Also, we believe that building a Pirate Empire and PvP mode (battleships formation) with betting system are also interesting features for players.
We are working incredibly hard to make the balance between gaming and profit seem possible!
From @zarathustra9530 on Twitter: Often, as we know, some Wallets are hacked. How can this subnet protect us from these possible attacks?
Thank you for your question, we are well aware of recent wallet hacks but we do not really worry about that possibility.
1. Our team is expert on privacy and security, we will review carefully third-parties like Bridge Solution or cross-chain partners… We think that our subnet is secured, especially when we are leveraging on the infrastructure by Avalanche Network.
2. Avalabs recently announced Core Wallet, which will be integrated with AVAX Subnets soon. We believe that Core Wallet will be the key factor in making AVAX Subnets safe as we have been learning from mistakes of other chains.
From @IWBDiogenes on Twitter: Interesting that you're already planning to open it to other projects, different types also, GameFi but also Dexes.. does this affects for example how you'll use fees? Do you think to burn them or give them as incentive for Validators?
We have our tokenomics all set and clear and plan to have more Games on our Subnet in the future.
So we have 75M $PVF tokens – 25% of max supply for Game Rewards (for Games that have high users on our subnet)
$PVF as gas fee token also has interesting mechanism, 50% of transaction gas fees in $PVF will be burnt continously over time that will increase scarcity
Validators will also be rewarded in $PVF
From @MadalineMcquade on Twitter: Except for HappyLand, are you goin to open your subnet for any other projects?
Definitely! We already announced a new game on PirateVerse Subnet called Urban Racer
This is a thrilling Web3 Racing Metaverse with a lot of special game features. You can check it out here:

Welcome to @urbanracerlive, the most thrilling #Web3 racing #Metaverse brought to you by @TazoGames 🏎🏎🏎 Thrilled by the @avalancheavax community vibe, we will join @PirateSubnet Ecosystem and bring this game closer to Web2 racers! 🔺
Not only GameFi, other DeFi projects are also welcome on PirateVerse Subnet!
JOIN OUR SOCIALS
Twitter | Website | Discord | Youtube | Telegram (Announcements) | Telegram (Discussion)