[AMA RECAP] PIRATEVERSE X AVAXHOLIC – TIME TO MAKE A STATEMENT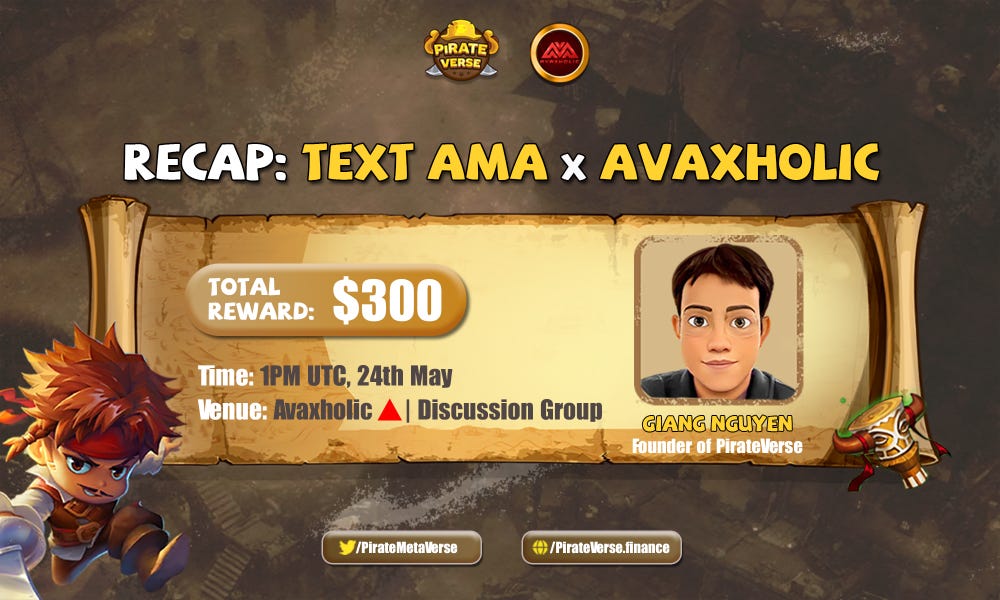 #AMARush: PIRATE VERSE X AVAXHOLIC Drop question for our upcoming AMA event with @PirateMetaVerse, the first NFT-powered Free-To-Play-To-Earn Pirate game on Avalanche. 🎁 Total Reward: $300
⏲ Time: 1PM UTC, 24th May
📌 Venue: t.me/avaxholic_chat 👉 forms.gle/JKMsytcMCkAuJJ…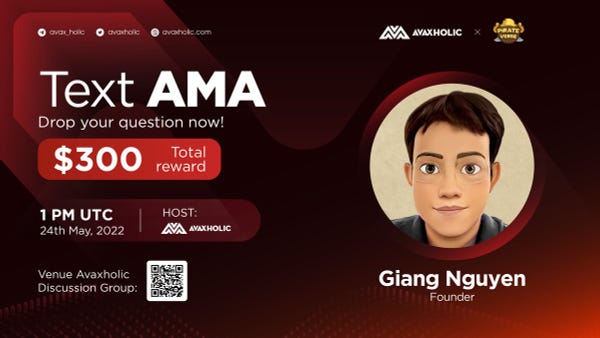 Introduction
Avaxholic: Could you please introduce the PirateVerse project and the team behind it?
Giang Nguyen: Hello everyone, I am Giang, Co-founder and CEO of PirateVerse. I am also the Co-founder and CEO of VTech Jsc, a startup founded in 2014. Our main areas are game development and technology solutions like software, application in informatics and communication. As you can see, my background is in tech.
PirateVerse is built by TazoGames, a well-experienced NFT Games Studio founded at the beginning of 2021 as part of Vtech Jsc. Various factors need to be taken into account for a project to be successful. Fortunately, we've got a really talented and passionate team for building projects that bring real values. Product builders at TazoGames all have over 7 years of experience in game development. Speaking of our blockchain team, we also have highly experienced blockchain developers that are capable of building both DeFi and GameFi projects.
Couldn't be more thrilled to work with this really amazing team.
AMA Telegram Section Begins:
Avaxholic: Could you please tell us how your project captures value for token and utility?
Giang Nguyen: PirateVerse offers a dual-token system to avoid inflation issues and to ensure liquidity in the game.
PirateVerse Finance coin (PVF) – a multifunctional token, which primarily works as the governance token of the game and the connection between the project and investors. As you know, we are also deploying our own subnet on Avalanche Network called PirateVerse Chain, and PVF is going to be not only the gas fee token but also the native token of the new blockchain, meaning more interesting use cases will be revealed.
PirateVerse Gold (PVG) is an in-game reward token that can be used to perform in-game tasks such as building, upgrade or repair constructions, battleships, which are certainly important to building empires and earning revenues in PirateVerse. We limit the rewards earned each day, and our games focus on PvP, in which winners of the pirate battle will win the token from losers.
PVF as native token of PirateVerse Chain – that would be incredible.
Avaxholic: With elaborate tokenomics like this, we can see that PirateVerse is an extremely polished game. PirateVerse is a Free-To-Play-To-Earn game, so what are the game features and how can people earn while playing the game?
Giang Nguyen: In PirateVerse, players get to collect several mouthwatering rewards while playing the game.
PvE – Players build their own empire, constructions, pirate crews, battleships and send these warriors on expeditions to discover new mysterious areas and fight monsters. An interesting thing in the game is that the higher the rarity of the battleships, the greater the profit will be after each expedition. The game also has a feature that allows players to earn even when they are not online.
PvP – Players arrange and build their battleships in suitable formation and fight as well as defend against other players. Winners are awarded with PVF tokens and the losers' ranking. Players also receive an amount of PVG as rewards for their leaderboard ranking everyday.
The more time you spend playing, the more rewards you receive.
What about earning with PirateVerse Chain? You can become a validator of PirateVerse Chain and earn passive income through on-chain gas fee.
Avaxholic: That is ALOT of ways to earn while playing Pirate Verse. Could you tell the community more about the PirateVerse Chain?
Giang Nguyen: At the moment we have deployed the testnet version of PirateVerse Chain and we also are building products such as AMM DEX, Blockchain Explorer and a bridge to support on-chain activities. Our subnet – PirateVerse Chain's vision is to become the home for blockchain gaming that leverages on the existing powerful infrastructure and security of Avalanche Network.
We intend to bring our subnet – PirateVerse Chain to mainnet in the third quarter of 2022. So stay tuned, me hearties!
Avaxholic: Can't wait for it to go live! So what are the future plans of PirateVerse and what is the most important in that plan?
Giang Nguyen: Thank you for the amazing question, we are excited to open up with you about our plans.
According to our roadmap, our future plans will focus heavily on the third quarter of 2022, with events of IDO & DEX Listing, Subnet – PirateVerse Chain's Mainnet and Game Testnet. At the moment we are actively building crucial products for our own blockchain such as PirateSwap (an AMM DEX), PirateScan (a Blockchain Explorer), a Bridge… As I said before, our blockchain developers are very talented and capable, you will know and experience these products soon.
We know that in order to complete other milestones on our roadmap, building active and consistent communities should always be one of our priorities. Thank you all for being early supporters of PirateVerse, we really appreciate that and look forward to bringing about real values that you are seeking in the crypto space. Together we BUIDL!
Avaxholic: A very detailed roadmap and when the market recovers with that, it will be a very good start for you and your team. Does your project have a plan for promoting marketing? How will you build communities?
Giang Nguyen: Yes, of course we do have a plan for promoting marketing. We are actively in talks with many Avalanche-based communities, supporters and projects in order to build our connections. Avaxholic is also an incredible partner on our journey, they always update the latest news for investors in Avalanche projects and they have an amazing community today. Ventures and Top – Tier Investors are also on our connections, things are getting really interesting, you will know soon enough.
Besides, in the PirateVerse community we are currently hosting a minigame called PirateShot, where you can play shooting knives into spinning targets and earn $AVAX according to your leaderboard ranking.
In Top 3, each player will receive $100 AVAX as rewards, whereas from rank #4 to rank #10, each player will get $30 AVAX.
5 other lucky rewards with specific leaderboard ranking (14, 82, 96, 286, 333) will also receive $30 AVAX each.
PirateShot is close to the end of Week 2, Join Now!
https://minigame.pirateverse.finance/pirateshot/
We will have more minigames with huge rewards for you in the future, join our Pirate Gang to be the first!
Avaxholic: With a large amount of incentive and such a marketing strategy, we think it is an extremely effective strategy to attract players around the ecosystem. What are the biggest challenges you face in current market conditions?
Giang Nguyen: As we all know, the current crypto market is facing a lot of fear from everywhere, not only from retail investors but also the big boys. This clearly affects investors' decision making as the negative factors are always there to diminish any hope and positiveness investors may have.
However, in the Avalanche community, that just hit different. People are still actively building projects, communities are still hopeful about the Avalanche Ecosystem and we start talking a lot about Subnet Summer. We are proud and happy to join the Avalanche family, this is the best community ever!
So far, the bear market is a good time for truely hard-working projects to build and prepare for the next bull run. Our team at PirateVerse considers this phase as a huge opportunity to prove ourselves and build the best GameFi Pirate Community.
Avaxholic: Any project will encounter difficulties during development and every effort is well rewarded. We wish PirateVerse more and more perfect in the future. Best wishes for you and your team in the future.
Giang Nguyen: Thank you so much for hosting today's AMA!
PirateVerse is the first NFT-powered Free-To-Play-To-Earn Pirate game on Avalanche Blockchain. The game is where players can explore a vast, story-filled world that reacts to their decisions by mastering and building their pirate lands in the social pirate adventure game. PirateVerse has an exciting, adventurous and intelligent gameplay, in which players need to acquire the best tactics for the highest revenues.
JOIN OUR SOCIALS:
Twitter | Website | Discord | Youtube | Telegram (Announcements) | Telegram (Discussion)