Avai.Finance Closing In On 8m TVL Already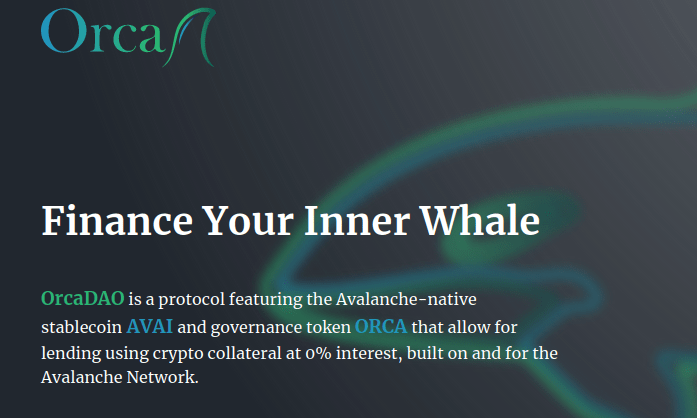 OrcaDAO recently launched their protocol on Avalanche and it's quickly growing in popularity. The high APYs have drawn in a sizeable amount of TVL already. The Orca Protocol is a fork of Liquidity, like Teddy.Cash. The stable token is called AVAI, and ORCA is the governance token.
The farms are currently rewarding ORCA at around 6000% APY for the ACAI – ORCA LP, and 500% APY for the ACAI – USDC LP. Not bad for a stable pairing. Though being a new projects it's hard telling how the price and TVL will fluctuate and affect the APYs.
They've chosen to use USDC.e as their stabilizing stable coin. The protocol allows you to mint AVAI by sending USDC.e and redeem USDC.e with ACAI, this Mint/Redeem is what keeps AVAI pegged to the dollar.
The protocol allows you to take out no interest loans using your crypto as collateral. You can borrow up to 66% of your deposit, though you'll want to deposit a little bit more to be safe from liquidations.
The team has paid for an audit that is currently on the way. They've also established The SeaFund which promises a portion of revenue generated will be donated to the proper charities to support marine and ocean ecosystems.
As with all new projects DYOR & be safe. From our point of view they've put a lot of work into the custom UI and the team has been transparent about everything thus far. But investing in crypto projects is risky and due diligence should be taken.
Website: https://avai.finance
Twitter: @OrcaDAO
Discord: Discord