Avalaunch Gold Staker Exclusive — TimeShuffle Founders Pass Mint — Gold Staker Round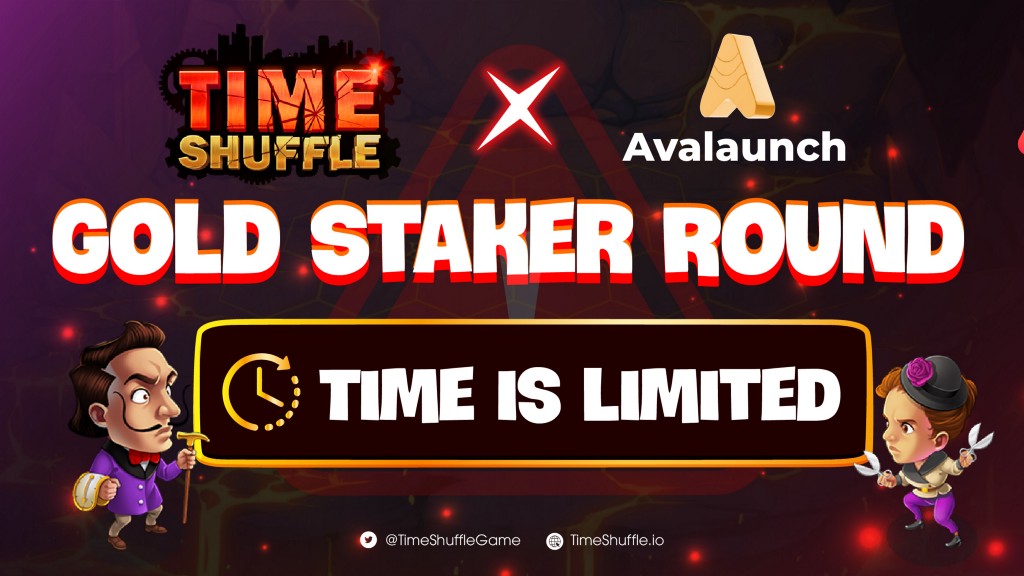 Avalaunch is thrilled to announce our latest collaboration with TimeShuffle, which offers our XAVA Gold Stakers guaranteed, direct access to TimeShuffle's Founders Pass NFTs in a special Avalaunch Gold Stakers round before the first come, first serve general public mint!
If you are not a Gold Staker, but have a KYC account with Avalaunch, don't worry, we have a little something for you too!
While the snapshot for this special offer has already taken place (more details below), if you are interested in becoming an Avalaunch Gold Staker and receiving access to perks like this in the future, you can learn more about XAVA locking and becoming a Gold Staker here.
What is the TimeShuffle Founders Pass?
The Founders Pass is an exclusive, limited-edition NFT meant for early supporters of the game, giving them exclusive perks, access to private game betas, an invite-only community club and tons of bragging rights.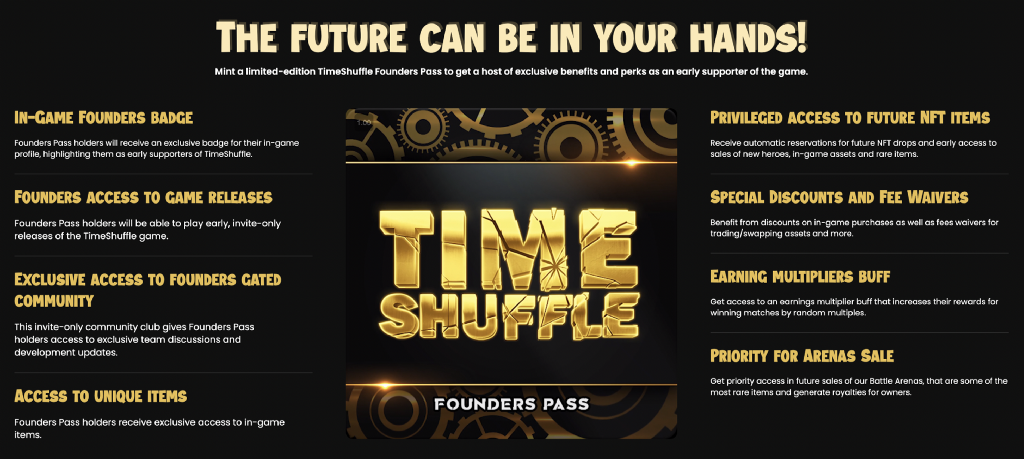 Once you acquire the Founders Pass, the future is in your hands, because TimeShuffle will NEVER mint another Founders Pass after the limited supply of 5,500 is sold out.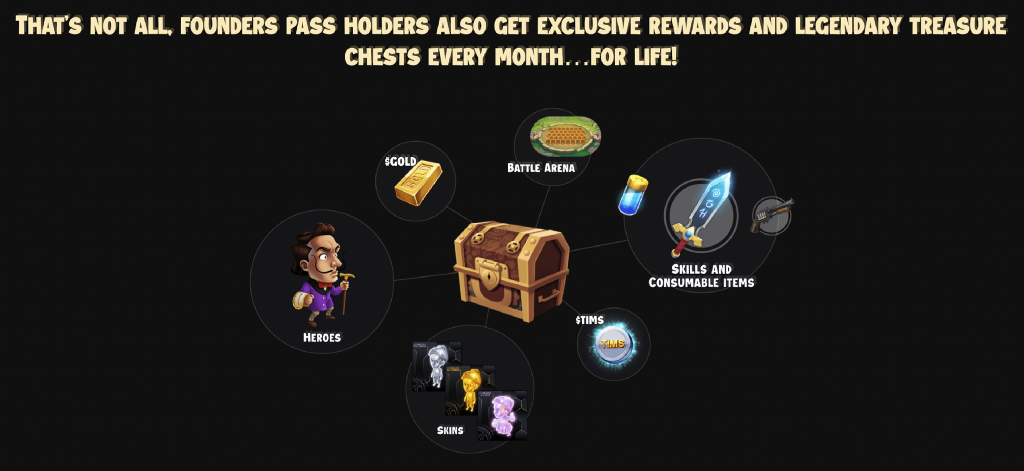 Avalaunch has been working with the TimeShuffle team for some time now and we are incredibly excited about the game and the impact it will have on the Avalanche GameFi landscape. We recently held a livestream with the TimeShuffle team to talk all about the project and the benefits of holding a Founders Pass, which you check out below.
TimeShuffle Founders Pass Mint Details
For the Founders Pass mint, 5,500 Founders Passes will be available to the public, where the first 2,000 will be sold for 6 AVAX per pass before the price jumps to 8 AVAX and continues rising until all the passes are sold out.
However, for Avalaunch Gold Stakers, the mint will look slightly different!
Avalaunch Gold Staker Participation Details
To ensure that Avalaunch Gold Stakers have a chance to receive a Founders Pass at the lowest price possible (6 AVAX), TimeShuffle has allocated 1,500 NFTs to an exclusive Avalaunch Gold Stakers round.
Round Begins: July 4, 6:59 a.m. (UTC)
Round Ends: July 5, 6:59 a.m. (UTC)
Any AVAX contributed before or after this time, or from an ineligible address, will be returned within 3 days after the Founders Pass mint concludes on July 5, 2022.
Additionally, participants in the Avalaunch x TimeShuffle Gold Staker round will be added to a raffle with a prize pool of $10,000 worth of $TIMS tokens and 10 exclusive in-game NFTs for 50 lucky winners!
Gold Staker Eligibility
The snapshot for Gold Stakers was taken on July 3, 2022 at 7:00 p.m. (UTC).
Before sending AVAX to the contribution address listed below, please make sure the address you are sending from was included in the Gold Staker snapshot:
TimeShuffle x Avalaunch — Gold Staker Snapshot
How to Purchase Your NFT
Remember, the deadline to participate is July 5, 6:59 a.m. (UTC) and the address you are sending AVAX from must be on the TimeShuffle Gold Staker Snapshot list.
Once you have confirmed your address is on the list, simply send 6 AVAX to the wallet below from that same address:
0xAdE341fba9a48C205a62e734CBb1eD8205cc021e
You can double-check and copy the contribution address from here: https://snowtrace.io/address/0xAdE341fba9a48C205a62e734CBb1eD8205cc021e

When Will I Receive My Founders Pass NFT?
If you are one of the first 1,500 Gold Stakers to pre-reserve your NFT, you will receive your Founders Pass directly to your wallet on July 5, 2022 at 4:00 p.m. (UTC).
For any questions are concerns, please feel free to visit the TimeShuffle Discord and they will more than happy to assist!
Avalaunch KYC Accounts (Non-Gold)
If you are not a Gold Staker, but have a KYC and account with Avalaunch, we have something for you too!
While you won't have access to the Gold Staker round, you have been added to the allowlist priority sale! To confirm your address has been added, please check the snapshot here:
TimeShuffle x Avalaunch — KYC Account Snapshot
The allowlist priority sale will be open for 12 hours starting July 5, 2022 at 4:00 p.m. (UTC).
To read more about the mint and schedule, you can check out the full announcement post.

About Avalaunch
Avalaunch is a launchpad powered by the Avalanche platform, allowing new and innovative projects to seamlessly prepare for launch with an emphasis on fair and broad distribution. With its values deeply rooted in the early Avalanche community, we are able to offer projects confident, informed users who are aligned with the long-term goals of the rapidly expanding application ecosystem.
Leveraging Avalanche's scalable, high-throughput, and low-latency platform, Avalaunch is built by users, for teams, to help grow strong communities.
---
Avalaunch Gold Staker Exclusive — TimeShuffle Founders Pass Mint — Gold Staker Round was originally published in Avalaunch on Medium, where people are continuing the conversation by highlighting and responding to this story.