Avalaunch x Crabada — IDO Sale Purchase & Revised Breeding Coin Distribution
Avalaunch x Crabada — IDO Sale Purchase & Revised Breeding Coin Distribution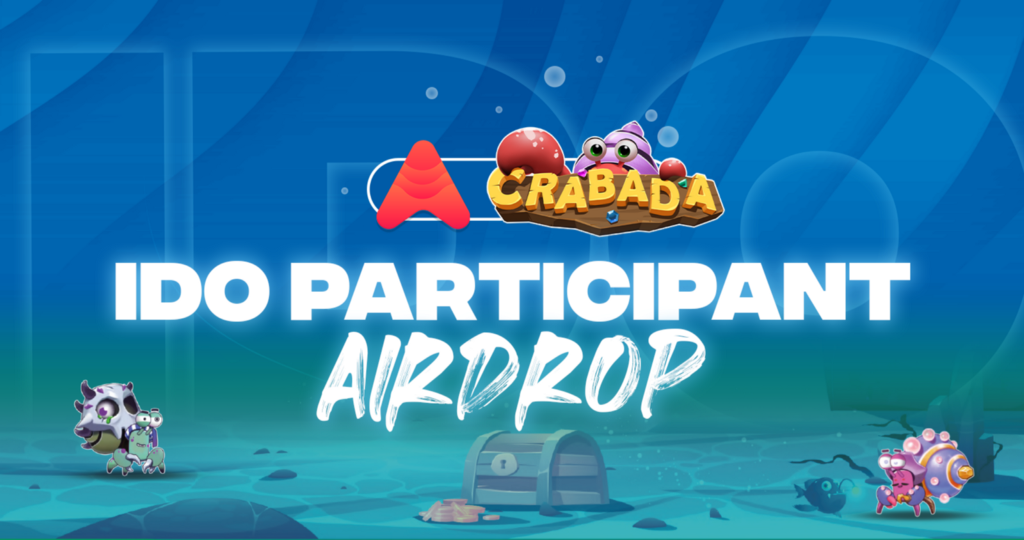 From the beginning, we knew Crabada would be a smaller sale than is customary on Avalaunch. Still, we felt it incumbent upon us to share what we could of a project we believe to be special. We have known the team for some time and have always appreciated their earnest commitment to the community and belief that games can not only bring people together, but also empower.
It takes a unique collection of individuals to hold space for this potential throughout the decision making process in a project's earliest days, as the bewildering forces of crypto vie for supremacy. We have no doubt that the Crabada team possesses the character required to navigate this sometimes perilous terrain and our philosophy and approach mirror each other in many respects.
In that spirit, we are grateful to the Crabada team for entrusting us with this IDO and we were thankful to be able to bring it to our Avalaunch faithful. Many realities come to pass during the public sale process, not least of which is that any team utilizing our platform is relying on us to do justice to their vision and tireless efforts. It's a tremendous responsibility and the success of it is realized through collaboration and a durable alignment of ethics.
As such, we are happy to outline some exciting announcements that both teams dreamed up over the last week.
The XAVA Red Tide & Crabada Invasion
We conducted some informal polling and asked the denizens of our telegram what they thought of this boutique offering. Overall, some 90% of users agreed that being afforded the opportunity to participate in Crabada, however small, was a worthy endeavor. We agree.
Over time, our staking numbers have been climbing steadily, having doubled in less than two months, but the Crabada announcement sparked unprecedented demand. We can rest assured that the Avalanche ecosystem is alive, well and growing by the day.
Though we have much larger sales coming and quite a bit in the works, we wanted to meet this surge in demand head on.
For this reason, the Avalaunch team has purchased the $400,000 IDO allocation from Crabada and will distribute it to the participants in the sale for free, via a refund of the AVAX paid to claim an allocation.
This IDO is on us.
As per usual, the allocations will be determined by stake and the distribution will not be linear. There will be lower than usual maximum allocations to most effectively distribute this to the record number of participants — some 15,000 strong.
Claim Logistics
Shortly after the IDO concludes, we will deploy a claim portal where registered users who purchased an allocation will be able to reclaim the AVAX used to purchase that allocation. It will require a bit of coordination across teams post-IDO, so we ask for just a bit of patience, but we aim to have this available to users ASAP.
True to form, the Crabada team also went back to the drawing board to determine how they could best meet the unanticipated demand, while still honoring the meticulously designed project and game tokenomics. The result being a revived Breeding Coin distribution for participants on Avalaunch.
At this point we'd like to give the Crabada team the floor so they can share their update to the community:
Crabda Revised Breeding Coin Distribution
Breeding Coins were previously arranged to be distributed in a 1:1 ratio to CRA allocation. This would have resulted in only 631 participants being able to successfully breed Origin Crabada in the Special Breeding Event.
To ensure that the Crabada NFTs would be better distributed, and that more players would be able to obtain Crabada NFTs, we have decided to revise the distribution of Breeding Coins based on the amount of XAVA staked by each participant.
This revision will now effectively allow 1,470 participants from Avalaunch to receive Breeding Coins and take part in the Special Breeding Event.
Distribution Details
Total Breeding Coins for Avalaunch participants:
22,218,000 Breeding Coins
1,470 Participants
Below is the breakdown of the revised distribution: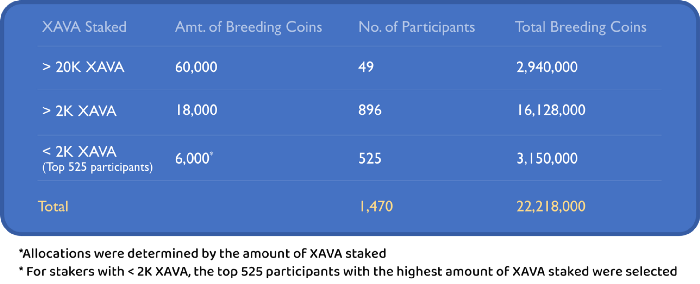 Power to the Player-Investor Class
We are extremely grateful for the overwhelming support by the community and we wholly believe in empowering our players.
With the new revision of our Breeding Coin distribution model set in place, we hope to be more inclusive in our reach to the participants to be a part of our growing community.
We want to be able to give more players a chance to own the NFT game assets and to start playing Crabada.
Special Breeding Event Updates
In-lieu of the new influx of new participants (more than 2x!) that will be eligible to take part in the Special Breeding Event, Crabada's natively whitelisted participants will have a window of 2 hours to start breeding their Crabada first.
Breeding coins that are allocated to Avalaunch users will be airdropped on 13 Nov, 5 PM UTC.
Special Breeding Event Schedule:
13 Nov, 3 PM UTC — Breeding Begins (Crabada Native Whitelist Users)
13 Nov, 5 PM UTC — Breeding pauses. Airdrop for Avalaunch participants.
13 Nov, 5.15 PM UTC — Breeding resumes for all participants
The Special Breeding Event will be on a first-come-first-served basis. With only a limited number of Crabada available for both Pure/Genesis Chambers and Mixed-Breed Chambers, do be early to avoid disappointment of breeding your Crabada of choice!
Wishing everyone gc (good crabbing)!
From both teams, we want to thank you for recognizing the power of the Avalanche ecosystem and the quality of initiatives coming to our blossoming L1 ecosystem. We will always strive to do the right thing and our very best to service our passionate, occasionally raucous and always caring community.

About Avalaunch
Avalaunch is a launchpad powered by the Avalanche platform, allowing new and innovative projects to seamlessly prepare for launch with an emphasis on fair and broad distribution. With its values deeply rooted in the early Avalanche community, we are able to offer projects confident, informed users who are aligned with the long-term goals of the rapidly expanding application ecosystem.
Leveraging Avalanche's scalable, high-throughput, and low-latency platform, Avalaunch is built by users, for teams, to help grow strong communities.
About Crabada
Welcome to the world of Crabada. Rediscover the prosperous ancient Hermit-Crab Kingdom once ruled by Crustaco, King of the Crabada. Recruit loyal followers to your cause. Harvest precious resources from mines, and breed new warriors for your army. Loot enemies or humble miners unaware, claiming your rightful share of their riches.
Will you be the one to take the place as King of the Crabada? Or will you sow the seeds of discord across the land? The world is your oyster. Soon, they will tremble when they hear your name.
Website | Telegram |Discord | Twitter | Whitepaper | Medium
---
Avalaunch x Crabada — IDO Sale Purchase & Revised Breeding Coin Distribution was originally published in Avalaunch on Medium, where people are continuing the conversation by highlighting and responding to this story.