Avalaunch x Imperium Empires — Tripod-X Exclusive Gold Staker Mint
As one of the most anticipated games in the Avalanche ecosystem, we are incredibly excited to be hosting the first ever Avalaunch NFT mint with our longtime friends and collaborators, Imperium Empires.
Aside from being our first NFT mint, the Tripod-X mint is a special one. Not only is this fighter ship a critical addition to any competitive fleet in the upcoming alpha PVP and beyond, but it comes with a number of unique utilities tailored to reward true early adopters of the game and its most value contributors.
XAVA Gold Stakers Allowlist
The Imperium Empires team recognizes the value of the Avalaunch community, particularly the most loyal and invested holders, our Gold Stakers.
In addition to double allocation, special IDOs, and other exclusive events, every XAVA Gold Staker has been added to the allowlist for this very limited mint of 300 Imperium Empires Tripod-X NFTs. To learn more about the Tripod-X ship, please see this guide.
The mint price of the Tripod-X NFT will be 7 AVAX.
The XAVA Gold Staker snapshot was taken on 9/19/2022 at 7:00 p.m. (UTC). If you would like to confirm that your address was included in this snapshot, you can search for it here:
XAVA Gold Staker Tripod-X Snapshot
For the mint schedule and further details, please see the "XAVA Gold Staker Tripod-X Mint Schedule" section below.
The Tripod-X Fighter Ship — Stats & Utility
The Tripod-X isn't you average fighter. For a competitive player, the Tripod-X offers a considerable advantage in even the most heated PVP battles. The skills and stat perks of each TriPod-X spaceship will be randomly assigned during the minting, but it comes equipped with double weapon & shield slots.
However, holders of this rare NFT receive exclusive perks that extend beyond gameplay. Each NFT holder will also receive:
? A Guaranteed Pass to the Closed Alpha PvP
? Access to the Pre-Season Alpha PvP Tournament
As a competitor in this pre-season tournament, you will have the opportunity to rise to the ranks of the top of the leaderboard, with generous $IME rewards reserved for the top players. Technically speaking, as a holder of this NFT, you will be amongst the very first players to earn $IME through competitive play.
The Tripod-X Avalaunch Special Edition Fighter Ship
As if this was not exciting enough, out of the 300 NFTs available for mint, 88 of them will be a very special edition Avalaunch themed Tripod-X fighter ship. These special editions will be minted randomly and will likely be the one and only opportunity to own this very rare NFT.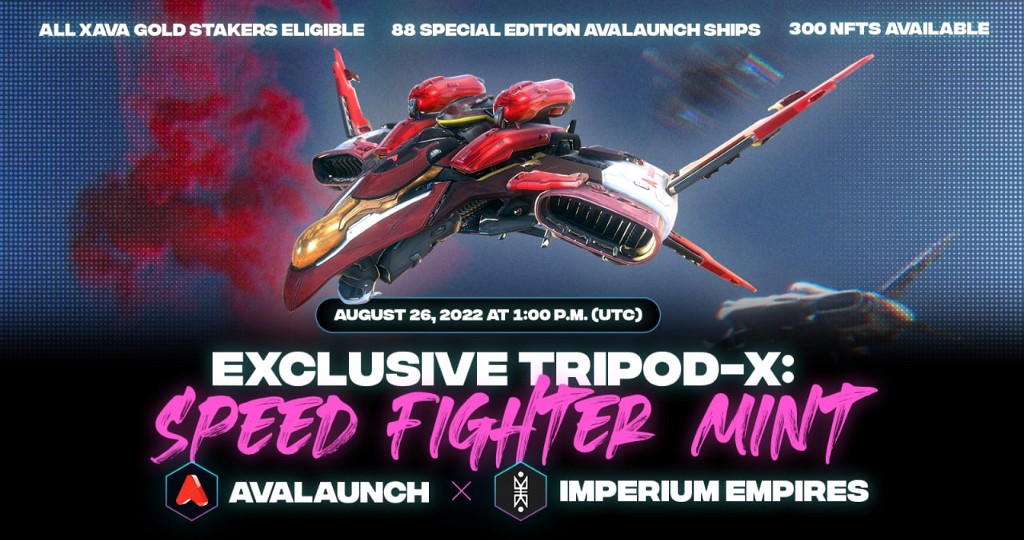 XAVA Gold Staker Tripod-X Mint Schedule
The TriPod-X Mint will be held on the Avalaunch website and the mint page can be found here: mint.avalaunch.app.
The mint will begin at exactly 1:00 p.m. (UTC) on August 26, 2022.
The price of the Tripod-X NFT will be 7 AVAX.
The first 12 hours of the mint are the XAVA Gold Staker allowlist round. Combined with the Gold Staker list will also be an allowlist of specially selected members of the Imperium Empires community. For more details about the Imperium Empires allowlist, please see this article.
If the 300 available TriPod-Xs do not mint out in the first 12 hours, the remainder will be sold in a public sale round that will commence immediately after the first round concludes. This public round begins at:
1:00 a.m. (UTC) on August 27, 2022 — Public Round Mint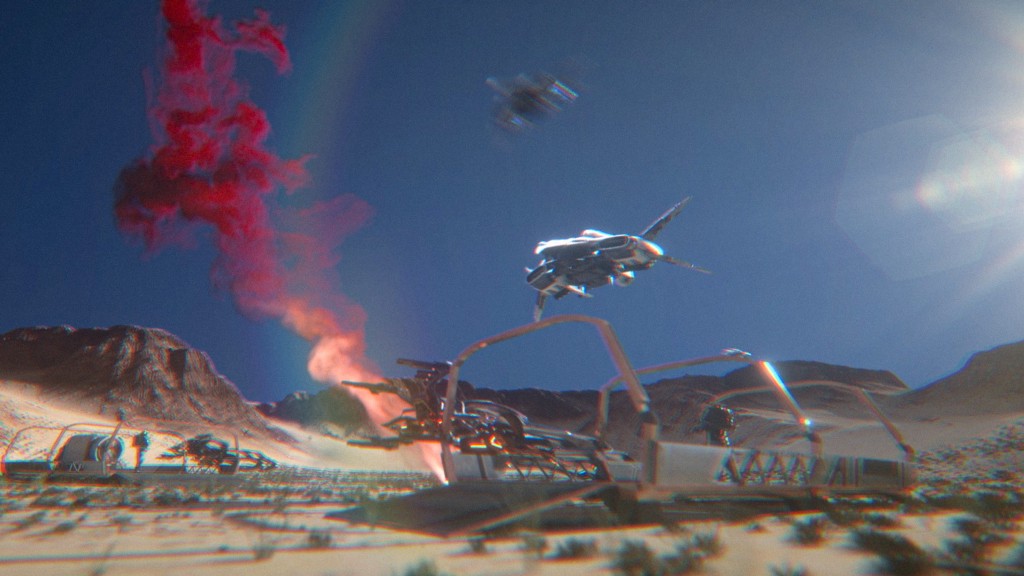 This public round is open to everyone and there is no allowlist applied.
Please note that the allowlist sale is oversubscribed and the mint is sold on a first come, first serve basis. Also, the minting site only supports the MetaMask wallet. If your allowlisted address is associated with another browser wallet, we suggest importing it into MetaMask well in advance of the sale.
For instructions on how to import your wallet into MetaMask, please see this guide.
Using, Viewing & Playing With Your Tripod-X NFT
In order to view and play with your newly minted Tripod-X NFT, you will need to create an account on the Imperium Empires website and bind the wallet which contains your Tripod-X to the account.
The Imperium Empires Account allows you to check your NFT status, play Apollo and the upcoming PvP game with your spaceship NFTs.
If you already have an Imperium Empires account with a bound wallet, you can simply transfer your NFT to this wallet and skip the registration steps below.
How to Register on Imperium Empires:
Click login at the top right corner to register an account.
Verify your email address through the link sent to your registered email.
After you successfully login for the first time, you must connect your wallet (the wallet with your Tripod-X NFT) and bind it with the account that you just created with your email.
Done! You can now check your NFTs on the Inventory page.
For more details, please refer to the Imperium Empires documentation.
Again, we are truly excited to offer this very exclusive opportunity to our XAVA Gold Stakers and extend our thanks to the Imperium Empires team and community for including us in this very special event.

About Avalaunch
Avalaunch is a launchpad powered by the Avalanche platform, allowing new and innovative projects to seamlessly prepare for launch with an emphasis on fair and broad distribution. With its values deeply rooted in the early Avalanche community, we are able to offer projects confident, informed users who are aligned with the long-term goals of the rapidly expanding application ecosystem. Leveraging Avalanche's scalable, high-throughput, and low-latency platform, Avalaunch is built by users, for teams, to help grow strong communities.
Website | Twitter | Telegram | YouTube
---
Avalaunch x Imperium Empires — Tripod-X Exclusive Gold Staker Mint was originally published in Avalaunch on Medium, where people are continuing the conversation by highlighting and responding to this story.