Avaware NFTs & Unique NFT Marketplace
The first Avaware NFT was released about 6 months ago, but a lot has changed since then. Initially, Avaware's NFT project started with the 'Allen the Alien' collection, in what would be a series of approximately 12 portraits of Allen in different scenarios (6 of them are currently available on the market), something like a collection of cards with an availability of 100 units for each one. 100 units may seem like a lot, but in the likely event that the Avalanche ecosystem grows in popularity and volume in the future, this could mean a shortage that could make their value skyrocket, especially when compared to other NFT projects where thousands of them are created. Currently, there are only a few units of each Allen available on the Avaware marketplace, some more on the secondary market.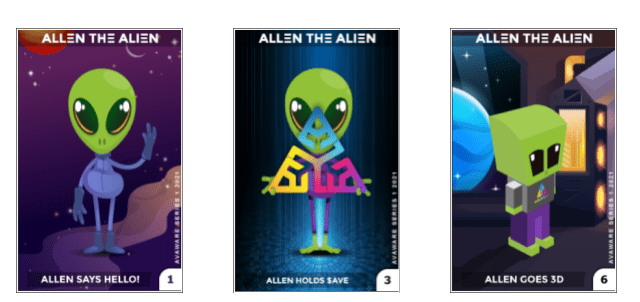 After the successful launch of the Allen the Alien collection, the next set released was the 'Friends Series 1' collection, this time dedicated to other Avalanche projects that shared the ecosystem at the time.
The first, appropriately enough, was 'Pann the Pangolin', depicting the well-known animal from Avalanche's first major DeX, Pangolin Exchange. In this collection, Avaware's main artist, KingsOfCrypto, made cute representations of the different logos of well-known Apps such as YieldYak, Penguin Finance, Trader Joe or Sherpa, among others.
As of today, there are already 15 projects represented in this collection, with more to come! In this case, there is also a limit of 100 NFT's per card, with the exception of Embr, which had a limit of 250 as it was also used as a Launchpad, which will be detailed below.
Thirdly, the next set is focused on festive or holiday events, although in this case there is currently only 1 card, 'Marley Blackat', released to celebrate Halloween, and we will probably see more cards following this set in the future! From here, Avaware's NFT marketplace went a step further in complexity with the use of NFTs as a launchpad for new tokens and as a platform for selling music albums.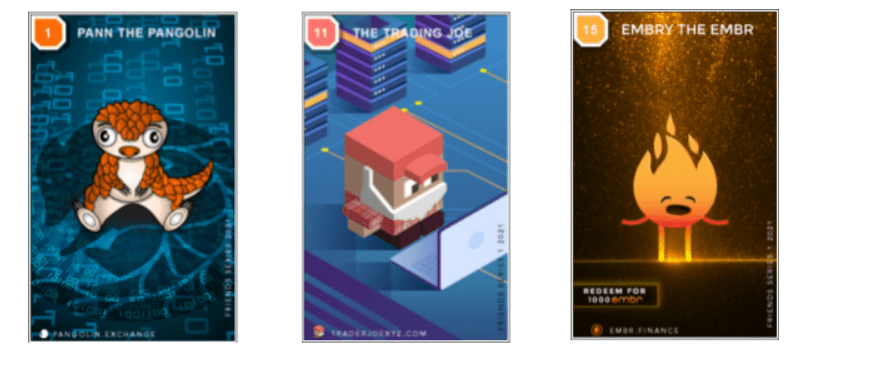 NFT Launchpad
Last month saw the launch of the newest App in the Avaware ecosystem, Embr Finance, a DeX of a particular kind, and still the only one of its type in the Avalanche ecosystem. If you are interested in knowing more about this App take a look here, as it is a fork of Balancer with a very interesting and different functionality to what we are used to. In any case, what is interesting to explain here is how it was launched, as it was through the NFTs of the Avaware market. As part of the pre-sale of the token, 250 units of the NFT 'Embry the Embr' were put on sale, with the price of 500 $AUSD each, and for each one of them, 1000 EMBR tokens could be claimed, leaving the price at 0.50$ per token. After this, the next phase of the pre-sale followed the usual Avaware method, where you can single stake your $AVE to generate $EMBR for 90 days. Don't forget that purchased NFTs do not lose their properties once the pre-sale tokens are claimed, so after claiming your EMBR you can stake your NFT or sell it. This form of release worked very well and we will probably see it again soon for future token releases, so stay tuned!
NFT Music Album
The latest step in the evolution of Avaware's NFT marketplace has been the release of an album using NFT's. This is Magnus Lowe's Rap album, entitled 'Moonbreaker', which you can buy today from Avaware for just 10 $AUSD. The best thing about this is that for that money you get an NFT (stakeable and sellable), you download the album from the NFT's own IPFS and you can also claim 5 $EMBR for free. Not bad is it? It is important to note that the money from sales goes entirely to the artist, so it is a very interesting way of releasing music albums for those who can't afford to enter the complex world of record labels. In the future, we are likely to see more albums or other art forms being promoted and sold through NFT's, in what is a further demonstration of how far they can go in terms of their utility.