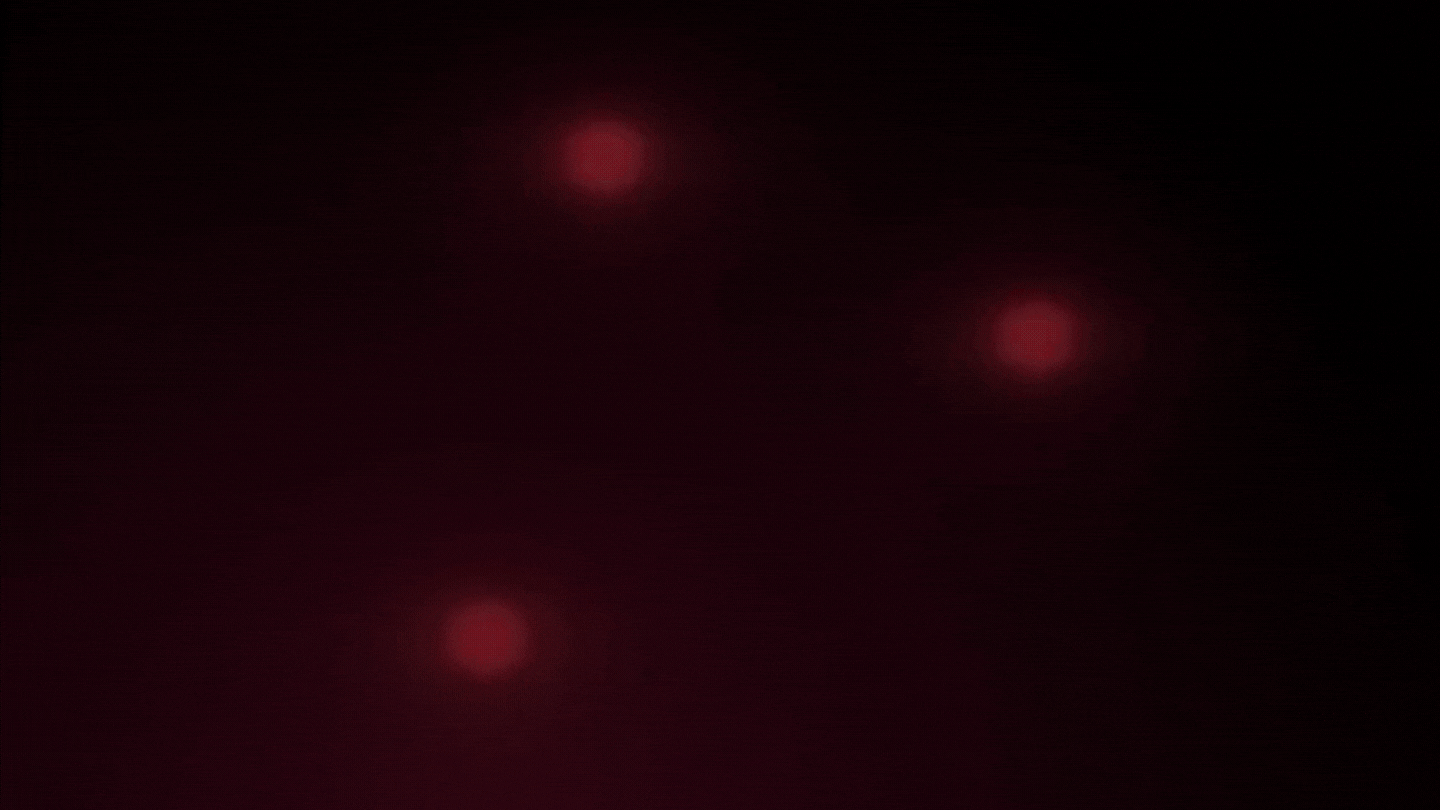 "The woods are lovely, dark and deep. But I have promises to keep, and miles to go before I sleep." — — — — -Robert Frost
The world is changing and so does Avalanche. Evolution and disruption is a natural phenomenon. Blockchain brought disruption to the financial sector and web3 blockchains disrupted the traditional one's. This is a never ending game. With so much upgrades and changes, Avalanche chain is evolving in a better and more secured way. We all say how DeFi came as a gamechanger. Not less than 108 DeFi projects are a part of Avalanche ecosystem, making it more decentralized and secured. We even reach the 900 validator mark, showing our true strength. Now without wasting time, let's peep in the past to see what was cooking in the community.
Spectacular Spanish community
Spanish community has always been excellent in their activities and contributions. The community members always have one sole focus: To grow Avalanche. The community held the 1st International Digital Illustration Contest 'Crypto Art' carried out by @cryptohabanero, @avalanche_esp and @ObserBlockchain. There were +170 works from more than 10 countries in the region. To check out the winner do check the here.
AMA's is the building block of one's knowledge. AMA provides vast information and spread awareness to a wide crowd. Spanish community did an AMA with @InjectiveLabs on March 15 to help people understand the things in a much better way.
Blockchain technology is for anyone and everyone but the Spanish community focused on the cons: Why #blockchain can help women? Women independence and freedom is a must in today's growing era. So in alliance with @miflink , @CeloOrg and @avalanche_esp the
Check out the entire video by clicking here.
 — @mexo_io
An outstanding event help in @TwitterSpaces where @OctavioRegalado moderated the topic of "Cryptocurrencies" together with @isopixel. The guest for the event were @Andyvargtz @avalanche_esp @black_kn @GeekZillaTech @Malix_rc @avocadoblock.
The Vietnamese
AMA's are informative and fun. Vietnam group hosted an AMA with AVALANCHE team on Thursday, 25th March discussing the Basic Introduction of AVALANCHE. The guest for the event was Wilson Wu — Head of Avalanche Asia.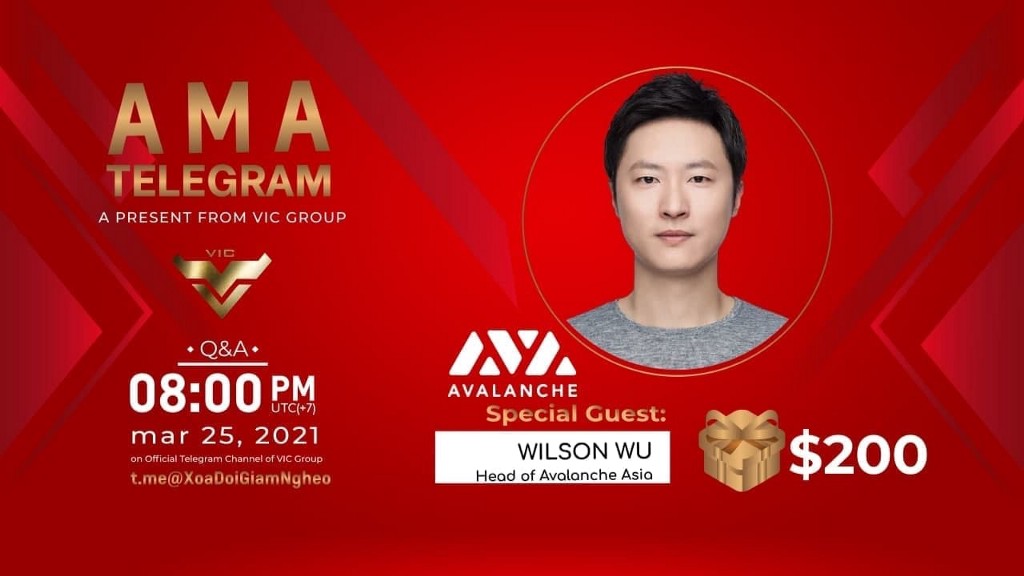 The Vietnam group
? List of winners in the event "AVAX CLASS" ??
? @ hieupham1797
? @ AlantisFLY
? @ avaxtothemoon
? @ omg2468
? @ sharksharkbabyhey
? @ omg2468
? @ hungtuan489vn
? @ hieupham1797
? @ ohmybabya
? @ sharksharkbabyhey
Team Indonesia
Team Indonesia took a different approach this time. They organized a community engagement quiz. It's time to get to know & learn all about Avalanche via the Express Quiz on http://t.me/avalanche_id. The quiz took place from 15 March 2021 to 23 March 2021 and total prize distribution was $ 120. The community members learned as well as enjoyed themselves. That was an excellent way to spread knowledge.
Designing is the core of this wonderful community. This time they invited all of the nation's best "Graphic Designers" — Making Avalanche Banner Ads in Bahasa #Indonesia. The event took place on March 17, 2021. Total Prize was $ 100.
D Germans
The German community took the initiative to start their Avalanche German YouTube channel, Where they will talk about Avalanche and provide unsefull information in their native language. This is outstanding and is attracting many German friends to learn and understand about Avalanche.
Avalanche AMA with Covalent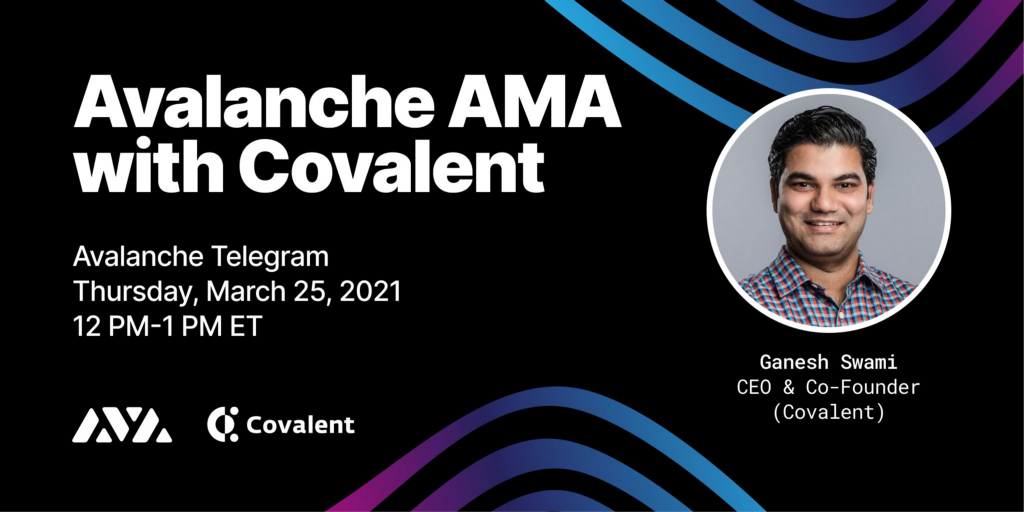 Rapidly growing DeFi ecosystem on Avalanche integrated a new project to its ecosystem, Increasing Availability of Data on the Platform through Covalent APIs. To inform and understand community more about this hot partnership, Avalanche organized an AMA with Covalent CEO & Co-Founder, Ganesh Swami. This discussion was organized on Avalanche telegram group and the community asked the best questions to understand the need of adding api's.
War of NFT
The NFT war is concluded.
Lately, Avalanche Hub organized an NFT contest for its members. We saw a lot of new comers and pro's trying their hand on designing the best they can. Everyone who participated in this contest is a winner. However, Avalanche Hub selected few designs on certain criteria's and is asking on Twitter to comment your favorite one(s)!
 — @P0nay
 — @ju_zitu
We want to hear from you, what's your favorite one? Vote here.
We hope Community Updates will make AVAX Portal even more useful, so that you're not worried about missing out on cool events and opportunities around you.
Thanks for being with us on this journey everyone — to AVALANCHE!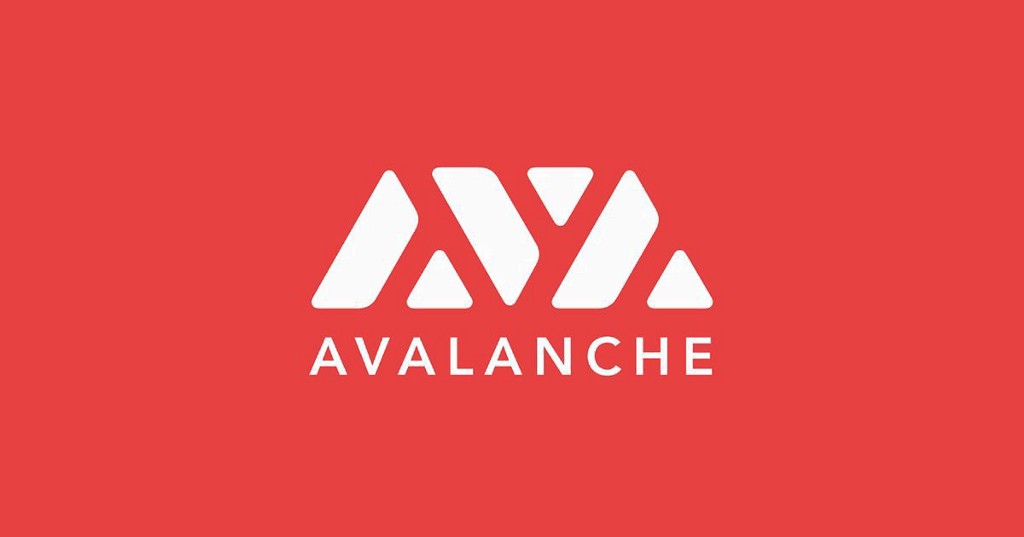 Thanks for reading! Join us on Telegram to participate in discussions on how we can make Avalanche a movement we can be proud of.
For further information, please visit:

---
AVAX PORTAL #9 was originally published in Avalanche Hub on Medium, where people are continuing the conversation by highlighting and responding to this story.