BENQI x Anchor Exclusive sAVAX Integration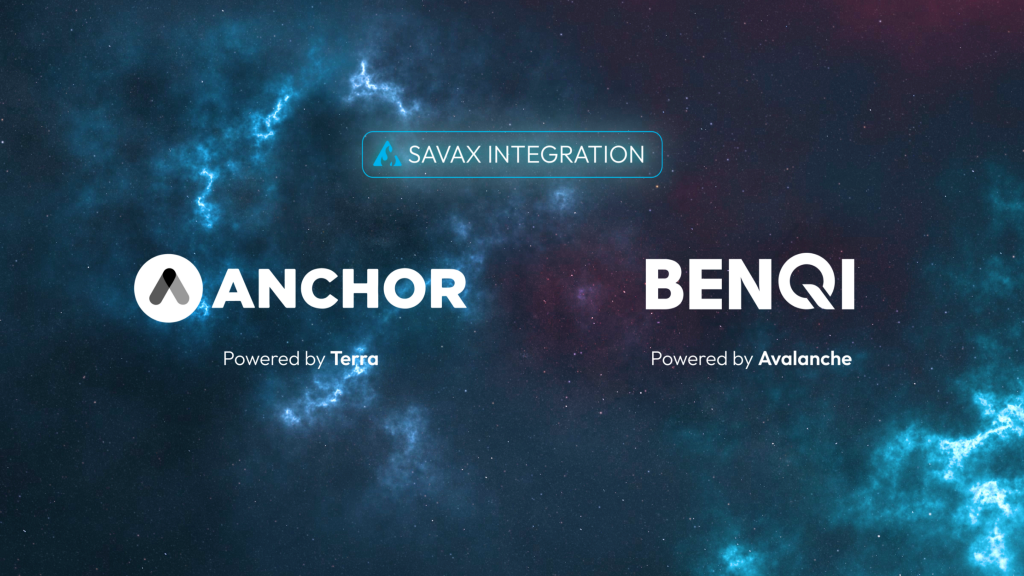 With the imminent launch of BENQI Liquid Staking, we're excited to announce our collaboration with Anchor Protocol and Terra.
Through this collaboration, Anchor Protocol will exclusively use BENQI's liquid staking token, sAVAX to:
Earn additional yield by depositing on Anchor Protocol, both on Avalanche and Terra
Borrow the Terra Stablecoin (UST) using sAVAX, and participate in other yield-bearing DeFi strategies on the ecosystem.
Provide Avalanche users the chance to participate in the Terra Ecosystem
Generate a flywheel effect between two of the most exciting ecosystems, Avalanche and Terra
This will bring unprecedented flexibility and utility to sAVAX tokens, allowing users to determine what to do with their staked tokens and providing them with the ability to do more with them.
What is BENQI Liquid Staking?
BENQI Liquid Staking is a non-custodial liquid staking solution that allows users to stake AVAX and receive sAVAX, an on-chain representation of delegation positions with Avalanche validators.
Traditional Staking on Avalanche locks up user's AVAX on the P-Chain, preventing users from accessing the asset until the staking period ends. BENQIs Liquid Staking provides users the opportunity to unlock these "staked" assets through liquid staked sAVAX.
By supplying AVAX into the BENQI Liquid Staking protocol, users receive sAVAX which earns rewards from staking on Avalanche network. The price of sAVAX relative to AVAX goes up each epoch with rewards being accrued to the underlying staked AVAX. sAVAX can be used within DeFi applications on the C-Chain including AMMs (Trader Joe, Pangolin) and lending protocols (BENQI, Anchor, Aave) where users will now be able to access their yield-bearing sAVAX as liquidity to participate in DeFi and earn additional rewards.
Avalanche ? Terra
Users receive liquid sAVAX tokens by staking Avalanche's token, AVAX on BENQI's Liquid Staking Protocol. The sAVAX token provides users yield generated through rewards for securing the Avalanche network while simultaneously providing users the chance to freely utilize the token within powerful Decentralized Finance applications such as Anchor Protocol.
Joining bLUNA and bETH as collateral on Anchor, sAVAX opens up new synergies between two of the most exciting blockchain networks today. This cross-chain integration essentially creates inroads for decentralizing BENQI's liquid staked sAVAX asset and the Anchor Markets.
About Anchor
Anchor is a decentralized borrowing and savings protocol offering users low-volatile yield on stablecoin deposits. The Anchor savings rate is powered by a diversified stream of staking rewards from major proof-of-stake blockchains, which support its stability relative to the volatility of money market interest rates. The Anchor community believes that a stable, reliable source of yield in Anchor has the opportunity to become the reference interest rate in crypto.
Cross-chain Anchor empowers users on chains like Avalanche to have a native borrowing and saving experience with Anchor's simplicity and Earn rate without needing to bridge assets.
Website | Twitter | Forum | Docs
About Terra
The Terra protocol is the leading decentralized and open-source public blockchain protocol for algorithmic stablecoins like UST built off of the Cosmos SDK and secured by a system of verification called Tendermint Consensus. Using a combination of open market arbitrage incentives and decentralized Oracle voting, the Terra protocol creates stablecoins that consistently track the price of any fiat currency. Users can spend, save, trade, or exchange Terra stablecoins instantly, all on the Terra blockchain. LUNA, the native Terra cryptocurrency that absorbs the demand fluctuations of UST, provides its holders with staking rewards and governance power.
The Terra ecosystem is a quickly expanding network of decentralized applications, creating a stable demand for Terra's stablecoins and increasing the price of LUNA.
Website | Twitter | Forum | Docs
About BENQI
Built on Avalanche's highly scalable network, BENQI's vision of bridging decentralized finance (DeFi) and institutional networks starts by launching BENQI on the Avalanche C-Chain. BENQI's suite of yield-generating DeFi products consists of the BENQI Liquidity Markets and BENQI Liquid Staking.
BENQI's Liquidity Markets allows users to earn interest on their supplied assets, and borrow any available asset from the platform in an overcollateralized manner.
BENQI's Liquid Staking protocol is a liquid staking solution that tokenizes staked AVAX to grant users the ability to utilize the yield-bearing asset within Decentralized Finance applications.
Website | Twitter | Telegram | Discord | Documentation | Github | Email