Binance Smart Chain's HappyLand Launched on PirateVerse Testnet Subnet in Avalanche.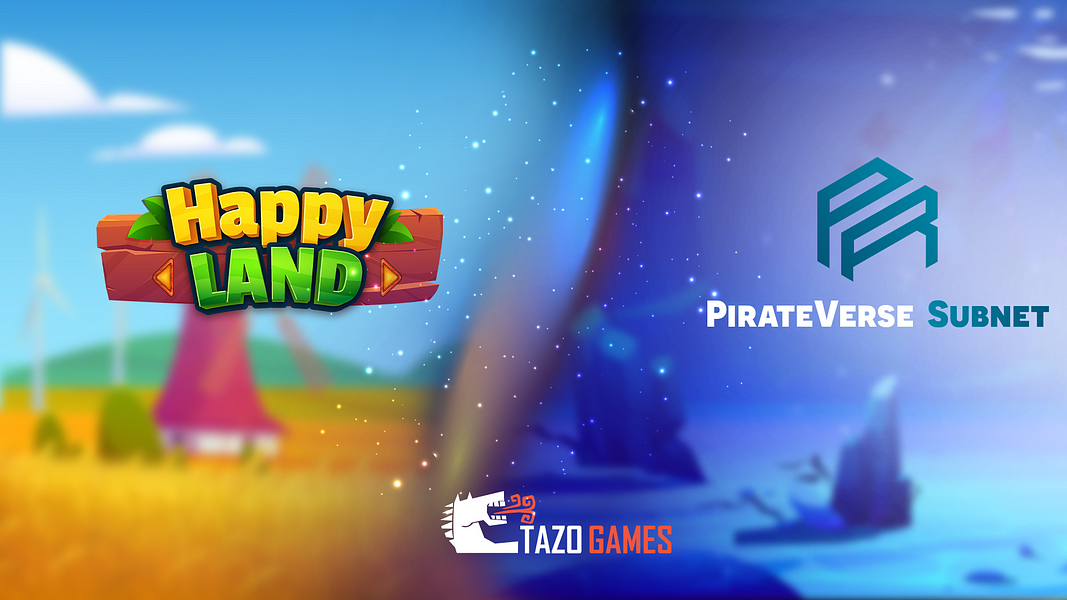 We are extremely excited to announce that HappyLand, another NFT-based blockchain game from TazoGames Studio, has been launched on PirateVerse Testnet Subnet.
What is HappyLand?
Happyland is a play-to-earn agriculture-simulation game, where players manage farmland, harvest crops and raise livestock, all while getting rewarded to play. Last December, HappyLand raised 2.97M from VCs and was launched on Binance Smart Chain with IDO hosted by Polkastarter.
Due to its connection to the Blockchain network, all items on Happyland have a real monetary value. Each item has their own value, rarity, and uniqueness. Each item on Happyland can be considered as a virtual asset; it can be traded on the NFT marketplace. Players have the chance to immerse themselves in Happyland, raise plants/cattle, and decorate/customize their farm.
Happyland aims to put the game industry and blockchain into a higher level by providing users with real financial/economic benefit along with entertainment and a smooth game play experience.
Why did HappyLand decide to launch on the PirateVerse Testnet Subnet?
PirateVerse Subnet, built on top of Avalanche Network's existing infrastructure and security, is a decentralized and EVM-compatible blockchain that will empower and serve as the home for not only the game PirateVerse, but also other blockchain-enabled games built by TazoGames and other game studios.
PirateVerse Subnet is originated with the ambition to integrate GameFi, AMM DEX, Bridge and Blockchain Explorer products which are all developed by us into an all-in-one ecosystem. PirateVerse Subnet is also dedicated in creating the best destination for other projects to launch GameFi as well as other blockchain gaming experiences on Avalanche Network.
HappyLand and PirateVerse are proud representatives of TazoGames, a well-experienced NFT Game Studios with more than 7 years of experience in game development for top 4 biggest telcos in Vietnam.
This expansion from Binance Smart Chain onto the PirateVerse Testnet Subnet in Avalanche will prove to be a key factor in making HappyLand's multi-chain expansion possible and ready for more integration in the future.
This is bound to expand HappyLand's influence across several crypto ecosystems on the current GameFi landscape, which is now quite gloomy but still potential in the long run. Access to more users and players from different ecosystems is an important task for blockchain games, where the main problem is how to consistently adopt new users.
What to expect?
At the moment, you can play and earn with HappyLand on the PirateVerse Testnet Subnet, which means the earnings are just on the testnet blockchain and cannot be converted to other mainnet tokens. However, in order to get their users familiar with a new chain and new gas fee model, HappyLand will soon announce a huge reward campaign on PirateVerse Testnet Subnet.
Check out this guide to play HappyLand on PirateVerse Testnet Subnet:
Want to explore PirateVerse Subnet Ecosystem?
For players, please try out the new subnet and stay tuned for upcoming campaigns from HappyLand on the PirateVerse Testnet Subnet.
Further details about HappyLand and PirateVerse Subnet will be revealed soon along with the development of PirateVerse Subnet Ecosystem.
Learn more about HappyLand
Twitter | Website | Discord | Telegram (Announcements) | Telegram (Discussion)