Bold Point AMA #1 — Project Overview with Nick (CEO of Bold Point, YAY Games) (Recap)
Bold Point AMA #1 — Project Overview with Nick (CEO of Bold Point, YAY Games) (Recap)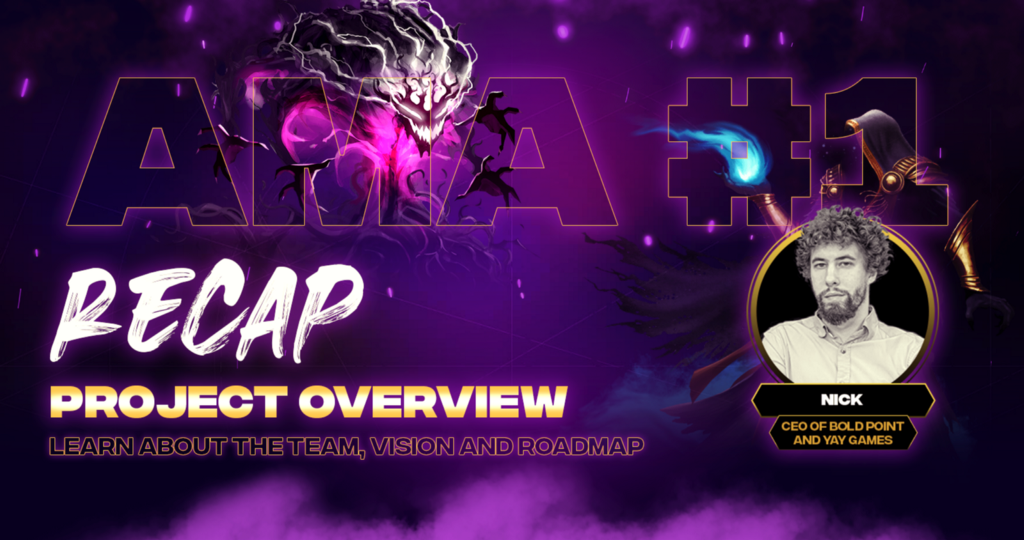 On 4/07/2022 at 6:00 p.m. (PST), an AMA session was held on Avalaunch with special guest, Nick, CEO for Bold Point & YAY Games. Below we present to you an excerpt from AMA with questions and answers.
Dave Donnenfeld | Avalaunch
Hello and welcome to another state-of-the-art AMA brought to you by the good people of Avalaunch. Today's guest @games_nick is no stranger to us at Avalaunch and is someone we've had the fortune of collaborating with for the better part of a year now. "Nicky Games" is a crypto and games veteran, and one of the driving forces behind Bold Point. Welcome Nick, good to have you with us today. How are you?
Nick | Bold Point
I'm good! Thank you for invitation today. Hello everyone and I'm glad to be here for the second time
Dave Donnenfeld | Avalaunch
Yes, you are a survivor. ?Let's begin with some introductions. Please, tell us a little bit about yourself and how your journey ended up with you being part of the Bold Point team?
Nick | Bold Point
Sure. I have become a part of gamedev since Nvidia around seventeen years ago. After Nvidia I started an IT management and consulting career, working in that direction for 5 years mostly in the Telecommunication industry.
In 2014 I co-founded a company Creagames Ltd. having good network connections within game dev industry after working for Nvidia for 4 years. As Creagames we reached more than 6M registered users in 2018. Since that year, I have been actively looking for promising crypto projects to invest during early stages. At the same time I studied for EMBA at HULT London Business School.
I have been interested in crypto for a long time and have been integrating DeFi projects into my portfolio for at least 3 active years. Early 2021 I started to lead brand new Game Fi project YAY Games which has become a decentralized GameFi ecosystem for B2B and B2C, focusing on Play-2-earn, NFTs, and DeFi.
The ecosystem consists of synergized projects: ZEUS (IGO launchpad), LOOT (Gaming NFT Marketplace), and multiple smart-contract boxed solutions, like "Game Fi Core" made by YAY and BP Labs.
Almost same time as starting YAY Games I started leading Bold Point project
Dave Donnenfeld | Avalaunch
You're certainly well suited for the job.
Kudos. In a few words, can you introduce the project: what Bold Point is about and how does it compare to the current landscape?
Nick | Bold Point
Bold Point is an NFT-based role-playing game built exclusively on Avalanche that offers fun and competitive experience.
The free-to-earn approach combined with an easy-to-learn principle lowers the entry barrier for gamers, while advanced earning mechanics and hard-to-master gameplay makes Bold Point appealing for well-known gaming guilds and crypto-savvy enthusiasts.
Of course supported by YAY Ecosystem, Bold Point offers its audience native integration with LOOT Marketplace and YAY Loyalty Program. Moreover, the project gives power back to the community by implementing DAO and allowing $BPT holders to affect core gameplay.
Dave Donnenfeld | Avalaunch
Free-to-earn is refreshing given the state of gamefi right now. Good on you. What are some of the main features that make Bold Point unique?
Nick | Bold Point
Definitely it's DAO Mechanics: the community will be able to vote on the change of different classes' characteristics, items, and other objects paraments like dungeons raid bosses rewards scheme in a completely transparent and decentralized manner which could truly affect core gameplay.
Next is "GameFi Core". The first GameFi protocol on the Avalanche network developed by BP Labs primarily for Bold Point. After numerous partners approached us with similar requests, we decided to make it available to the entire community.
Dave Donnenfeld | Avalaunch
got excited there. I don't think you were finished. My apologies
Nick | Bold Point
Thanks to the open-source structure of the product, game developers and GameFi product owners can create any game in several iterations and manage all related processes at the blockchain level in a single smart contract.
This product helps complement Avalanche's blockchain infrastructure and standardize operations in GameFi projects. The product allows all interactions inside blockchains to be open, reliable, and straightforward. It also has an ability to be integrated into existing DeFi solutions: DAO management, profile and asset sales on NFT marketplaces.
So, while developing Bold Point we developed this unique product which is a part of Bold Point now, that will help other Game Fi developers to build on Avalanche.
Also in-game farming pool will be available on a listing day. The BPT-AVAX pair will be added after the DEX Listing, and users will be able to check the current farming yield and rewards on the Bold Points website
And of course LOOT, YAY Games native NFT Marketplace, will be available for Bold Point with the following game update before the DEX listing.
Dave Donnenfeld | Avalaunch
Nice to see the farming go live with the launch. I think that's a good move. Now…onto my next question — One interesting aspect which to me makes Bold Point stand out as an RPG game is the sheer number of play dynamics possibilities, from in-game farming, battle system, quests and so on. How do you envision this expansive interaction network to help with achieving the project's goal?
Nick | Bold Point
The answer is simple here. This expansive interaction network allows to plan and implement numerous $BPT token utility scenarios which are vital for the long-term success of the project. It makes the game attractive for well-known Guilds as well as regular players.
Dave Donnenfeld | Avalaunch
Short and sweet. For anybody reading up about Bold Point, it would become obvious that the game is set around the free to earn model. Can you expand on this for us, what it means for players and how they might benefit from it?
Nick | Bold Point
Bold Point is designed to bring blockchain gaming to a large mainstream audience. To begin, prospective gamers are not required to have any knowledge of crypto to play and the game makes a distinction between crypto users and non-users. Simply choosing the "I am new to crypto," option will direct players through the necessary steps.
Given that the overwhelming majority of people are largely illiterate when it comes to cryptocurrencies, Bold Point aims to educate, utilizing a digitized crypto knowledge base to aid newer users wishing to familiarize themselves and onboard the blockchain.
A vital differentiator for Bold Point is a relatively groundbreaking game model. Play-to-earn games typically require an initial, sometimes sizable investment in order to gain meaningful entry. Bold Point is both free-to-play and play-to-earn, meaning gamers will be able to start earning from the very start without the need to put up any sizeable capital upfront.
Dave Donnenfeld | Avalaunch
I think you've answered that question once before ?Very wall stated. BPT is at the center of the economy driving this epic game ecosystem. Can you give an overview of the token mechanics, including why players need to hold this token and what are its benefits?
Nick | Bold Point
Sure. I prepared some slides about that, did it in a rush, so do not blame me for the quality of the pictures: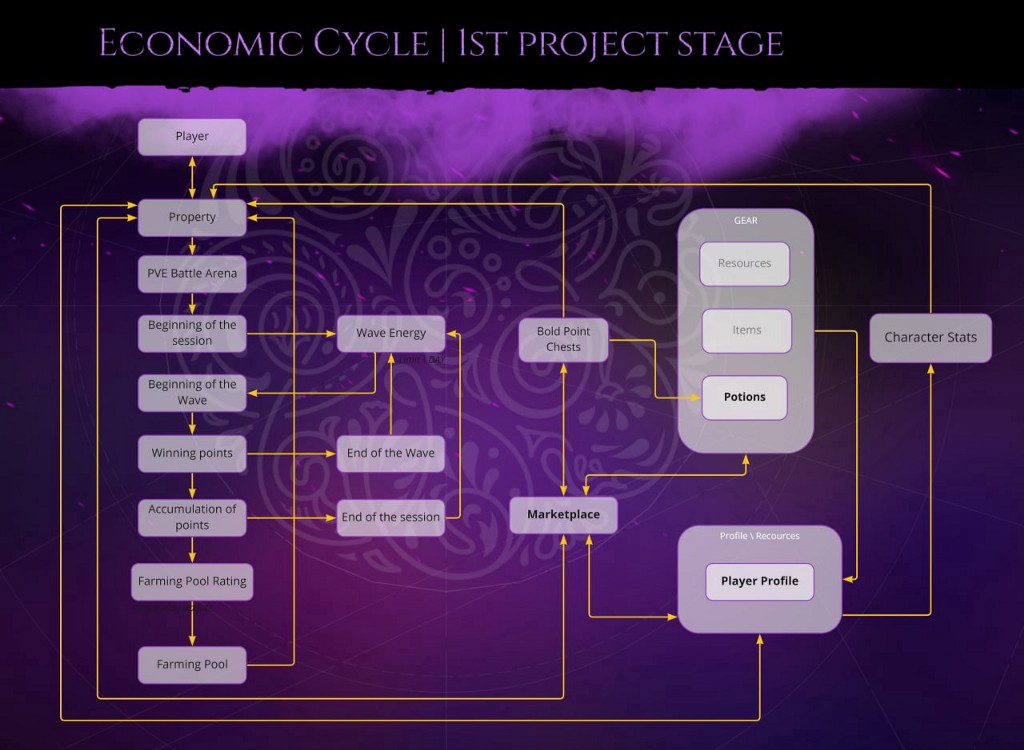 This is the very first build economy cycle we will release this week
Dave Donnenfeld | Avalaunch
We don't judge here at Avalaunch and that pic looks good Sir.
Nick | Bold Point
I elaborated how it actually works in YT video interview which should be available soon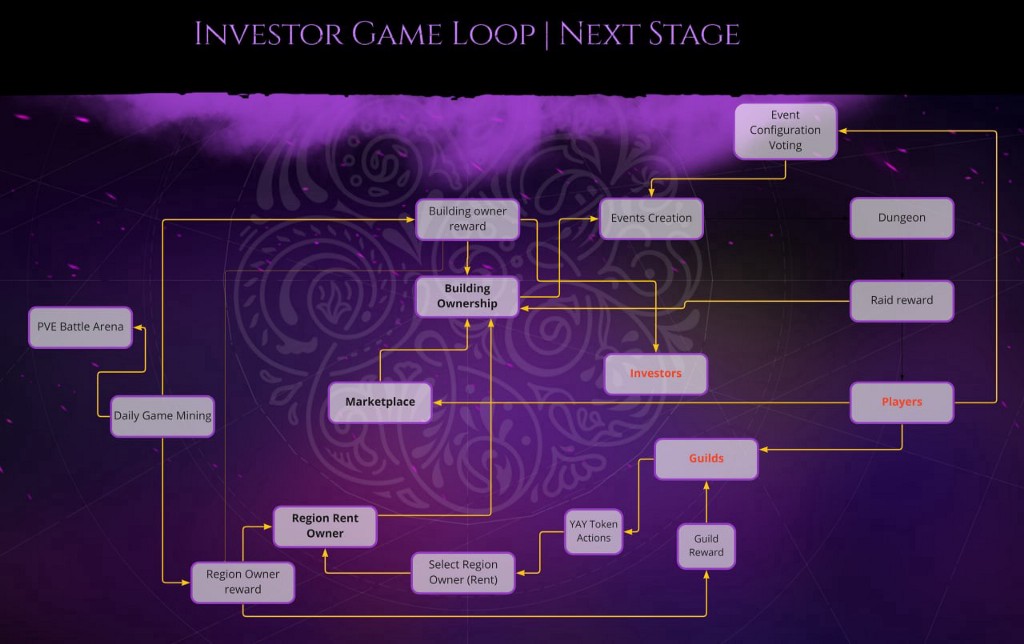 And this is a high-level scheme which included all types of users we want to be satisfied by the game economy. Regular players, investors and the guild owners and guild community.
Dave Donnenfeld | Avalaunch
In the way of experts helping with the vision of the project, YAY Games is at center. How does having YAY Games as a partner benefit Bold Point, and distinguish it from a potential rival in the space?
Nick | Bold Point
The definition and role of YAY Games is not a partner but a next door company as well as Indacoin which belongs to the same Holding and exists under one roof.
Bold Point and YAY Games are sharing the development resources from the same pool, sharing expertise, financial support, partners network and so on. This allows us to invest in R & D and create sub-divisions like YAY Labs and BP Labs.
For now we have two development teams with 18 and 12 team members working on YAY Ecosystem and Bold Point Projects. Each developer may be involved by managers or CTO to any development stream if the project requires his\her expertise.
Dave Donnenfeld | Avalaunch
Speaking of partnerships, among YAY Games and others, Avalanche is also part of the supporting system for Bold Point. How does this help with the vision of the project, considering that Bold Point is a game released on its native chain? Are there any other partnerships on the way that will help with achieving Bold Point's vision?
Nick | Bold Point
No offense to other partners, but Avalaunch and Avalabs are the most valuable partners for Bold Point now and for YAY Games in the past.
We're receiving real-time support almost 24\7 in terms of tokenomics revision, technical advice, introductions to the partners and so on.
We're trying to be the same for our partners, the smaller companies, trying to learn and support them and taking the same approach but Avalanche for us is just another scale regarding deep expertise in fundamentals and abilities in assistance.
Dave Donnenfeld | Avalaunch
What does the Roadmap look like? What are the key milestones players and token holders are to look forward to?
Nick | Bold Point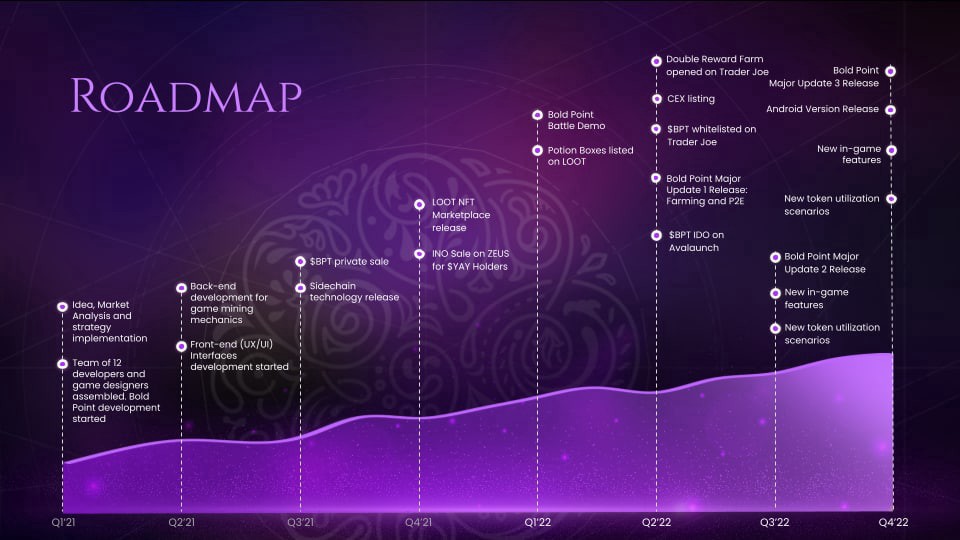 This is a high-level roadmap for the project without detailed explanation of what exactly will be included in each game build update. It will be elaborated in the game-related articles soon
Dave Donnenfeld | Avalaunch
What do you see as the main drivers that would help Bold Point scale to the masses? Have there been any active undertakings on this front to date?
Nick | Bold Point
It's a free-to-play approach with a transparent step-by-step onboarding process and no significant initial spending to start play.
Also as mentioned above, easy-to-learn hard-to-master gameplay is really attractive and this shouldn't be underestimated. The new generation of Game Fi projects must be focused on the "Play" part not on "Earn" — this is my personal way of thinking which is deeply reflected in the core game mechanics.
Dave Donnenfeld | Avalaunch
Final question before we move on to the Twitterati, the CT, the Twitterverse as it were…What is your overall view about the play to earn games in the crypto space, do you see Bold Point taking a spot among these top games?
Nick | Bold Point
As advisor for Game Fi projects I have a tight pipeline of projects requesting advisory service and I have to read and learn about each of them in detail.
From that source I see how many projects are trying to build the real prototypes, the real games with interesting gameplay, advanced token utilization scenarios with an ability to put significant resources to implement all ambitions they have.
In 2022 the trend is intended to shift the perception of GameFi projects from primitive apps to sophisticated games, and with Avalaunch support, this goal becomes much more realistic. So we're competing now with the next-gen projects, not the current ones.
Twitter Questions
@AndyToshi_cryp asks — I read in your blog that to play in Bold Point I will need to build an army, but really how much will it cost me to build one? Can a full NFT army really be compared? If so, what will its cost be?
Nick | Bold Point
At the very first release version there would be two types of NFT assets: Potions and Chests. Next release will bring Gear and Resources. On the next stages custom Army units will be also available to buy from the marketplace, but I can't say the cost for custom Army units now.
For the first few months Army units wouldn't be NFTs and would be free to use as a part of gameplay
@Cryptoman785 — After going through the tokenomics I could see you have a major allocation towards incentive and staking rewards so what is the reason behind it? Also what is the token allocation for Ecosystem Development mean and how will it be used?
Nick | Bold Point
We plan to use the Ecosystem Growth category the same way as BP Labs — to build the products which definitely have relation to the game, the part of its architecture but not related to the gameplay process itself. Like NFT Marketplace LOOT or Game Fi Core.
We also planned in-game economics in the way to make the game attractive for the regular players as well as well-know guilds and we tried to meet their requirements for the in-game economy cycle based on other games experience.
@cryptotrung — Could you tell us why Bold Point required the services of YAY Games for the creation and development of its game?
Nick | Bold Point
As I mentioned YAY and Bold Point are sharing one development team and other resources like financial support, partnership network etc. It allowed us, for example, to spend resources experimenting with the Bold Point genre and develop more deep connections between the game and YAY ecosystem products.
@Hasnain06976827 — You said bold_point is designed to empower the #GameFi ecosystem based in #Crypto and #NFT without risking your capital. If the platform is free for all, how do you generate revenue from your project for development?
Nick | Bold Point
The revenue would be generated by buying pressure for $BPT token, BUT I wanted to separate the project success from the global market trends, so we will be able to get revenue from LOOT as standalone product and Game Fi Core as SaaS cost effective solution for third-party companies which was developed during Bold Point development process. I elaborated that in more details in YT interview.
@Sammy123vn — Why did Bold Point choose Avalanche as their main network? What new opportunities will the Bold Point players and community have as a result of this integration?
Nick | Bold Point
For our dev team it was an easy decision to choose Avalanche network, they love the consensus algorithm Snowball that makes it possible to unite classic and Nakamoto consensuses which lead to tiny commission and extremely fast speed.
Also Avalanche finalize transactions without waiting confirmations which lead to average tx time less than a sec. You know, after such experience it's hard to look for other blockchain networks.
I also never seen such level of support and willing to assist in terms of solving any types of technical questions from Avalabs directly or from wide Avalanche community.
Telegram Questions
Do you have tutorial videos so we can get to know your project more clearly or do you have a YouTube channel or something? can you share it with us?
Nick | Bold Point
The tutorial videos will be definitely available within the next few weeks
Is your project a community only for English speaking an countries or for users not of other languages?
Nick | Bold Point
It's worldwide. I know from the stat's that 30% of our audience is Turkish community. There are also strong Chinese and South Asian communities like Vietnamese or Indonesian
According to the project's roadmap- what are your most important next priorities?
Nick | Bold Point
To advance the token economy for Guilds and major Investors needs. To add an ability for voting for the buildings (dungeons) and regions ownership
I want to support your project, Tell us more about the Ambassador Program and in what ways can we participate ?
Nick | Bold Point
The Ambassador Program would be developed on a Guilds level. We're already in the negotiation process with a few major ones
Where can I currently buy Token?
Nick | Bold Point
The spoiler: $BPT would be available on Trader Joe exclusively end of next week. Announcement should be posted today or tomorrow.

About Avalaunch
Avalaunch is a launchpad powered by the Avalanche platform, allowing new and innovative projects to seamlessly prepare for launch with an emphasis on fair and broad distribution. With its values deeply rooted in the early Avalanche community, we are able to offer projects confident, informed users who are aligned with the long-term goals of the rapidly expanding application ecosystem.
Leveraging Avalanche's scalable, high-throughput, and low-latency platform, Avalaunch is built by users, for teams, to help grow strong communities.
---
Bold Point AMA #1 — Project Overview with Nick (CEO of Bold Point, YAY Games) (Recap) was originally published in Avalaunch on Medium, where people are continuing the conversation by highlighting and responding to this story.