Bold Point AMA #2 — Technical Deep Dive with Denis (Founder, CTO) (Recap)
Bold Point AMA #2 — Technical Deep Dive with Denis (Founder, CTO) (Recap)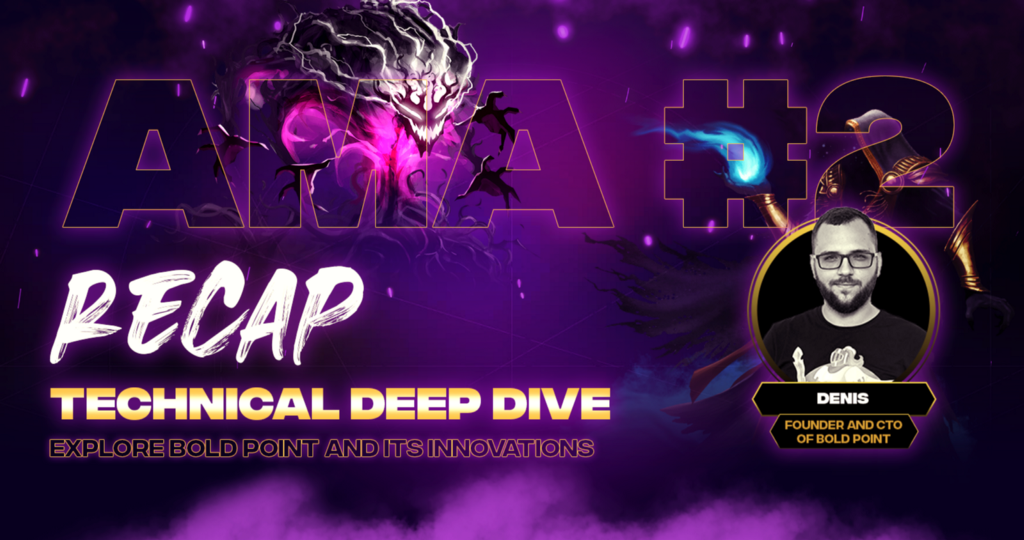 On 4/09/2022 at 6:00 p.m. (PST), an AMA session was held on Avalaunch with special guest, Bold Point's Founder and CTO, Dan, for our second AMA to cover the technical underpinnings of the project. The focus of this AMA will be the underlying tech, development and roadmap. Below we present to you an excerpt from AMA with questions and answers.
Niki | Avalaunch
Hello everyone! And welcome to our second AMA with the Bold Point team!
Today, we're joined by the game's founder and CTO, @Opana4ka, to do a Technical Deep Dive into the project.
Welcome Dan — and good to have you! We appreciate the time with our community. How are you doing today?
Dan | Bold Point
Hello! Nice to be here, guys
Niki | Avalaunch
Awesome… so let's jump right in… Thanks for coming out today to talk to us more about Bold Point. First of all, can you please introduce yourself?
Dan | Bold Point
Greetings to all of you attending this AMA session today, and those who will be watching it over later on. My name is Dan and I am the founder and CTO of Bold Point. I also hold the position of CTO at YAY Games. As for me, I am just a person who sincerely loves his work and is always trying to get the most out of every single effort. I started my career about 10 years ago as a developer. My first acquaintance with blockchain was in 2014, and since then, almost every project I worked on was connected with decentralized systems in one way or another. There were both successful and failed projects throughout my working experience, and I think I learned a lot from each of them. In 2018, I redirected my professional vector a bit and opened my own studio specializing in the development of high-load applications and dApps. The studio operated successfully up until 2021. What happened to it, you might ask? We entered into partnerships with Yay Games and my colleagues, myself included, have been part of a large team of professionals ever since.
Niki | Avalaunch
Thanks for that. The next question is a two parter…. 1.) What does the team at Bold Point value the most? 2.) How has this dream team been built?
Dan | Bold Point
The history of Bold Point is quite interesting and starts long before the advent of YAY Games. It was an internal project of our team that we toyed with in our free time. Initially, it was a project fueled by pure enthusiasm. The finished prototype was ready back in 2021 and it looked like a browser game from the early 2,000s. But it eventually developed into something bigger and we are now aiming to make a product that will be competitive with the games of the current decade in terms of graphics and gameplay. And to achieve that, we need an almost threefold increase in staff and team members.
For our team, the most important thing is the team itself, no matter how gullible that may sound. We value every colleague and consider them to be our most important assets. The market, the business tasks, and the goals are constantly changing, but the people are what matters and what stays. We are a big family that is inspired by common goals and objectives.
Niki | Avalaunch
We love to hear that.
As far as developments go, enthusiastic crypto lovers and game players, thanks to the demo release, are already able to have a taste of what the game would look like.
What would you describe as the technical challenges in making this version available before the token launch?
Dan | Bold Point
The most difficult technical problem we face is the fact that a lot of the functionality and mechanics are being developed in parallel inside the game. It takes time to test the many hypotheses we put forward and polish them out. And we need to do that for users to be able to fully experience and understand what the game will be like. Sometimes, it is not possible to move along our roadmap timeframes. No matter how regrettable it would be to admit, we are not always able to accurately estimate the time it takes our developers to deliver. One thing that's reassuring is that we are not alone in making this blunder, and this happens all the time in gamedev. Many medium and large studios have been postponing the releases of their games for quite some time. This is mainly due to the fact that games of this scale have many introductory and branching scenarios that cannot be fully thought out from the get-go.
But since we are dealing with the blockchain industry, which is brimming with fraud and scammers, we decided to develop and deploy a mechanic that would allow players to get to know the world of Bold Point a little bit better. This feature involves no direct interaction with our token, but the Play-to-Earn mechanic is included and is functional from the very beginning. It actually records and stores the player's results up until the moment the token is launched. In the current release, the player's success is measured in terms of accumulated points which are stored on-chain. The results of all the games the player passes will affect the APR% of farming in the game pool, and the most avid players will be able to multiply their token holdings many times over.
And as a result, we can prove to the community that we are not just making promises, but we are also showing some parts of the game live.
Niki | Avalaunch
Bold Point game mechanics are rather sophisticated.
Can you describe the underpinning of these game mechanics and why it was important to develop 10 different ones?
Dan | Bold Point
The main task that I was trying to solve when I was thinking about the whole concept of Bold Point was to create a game in which monetization takes place not only in a speculative manner on the token level, but is also based on the monetization and market economy regulation that is found in any of the classic games. As such, the environment in which such a model becomes viable should also evoke the interest of ordinary players who are generally unfamiliar with crypto. For this aim, the player's interest must be stirred and the tasks that they must solve in-game must be short-term, medium-term, and long-term.
But first I'd like to share an economic cycle scheme that is available from the start plus an investor game loop as a next stage of our development roadmap. if you have a minute I could post up some materials — it'll make it much easier to explain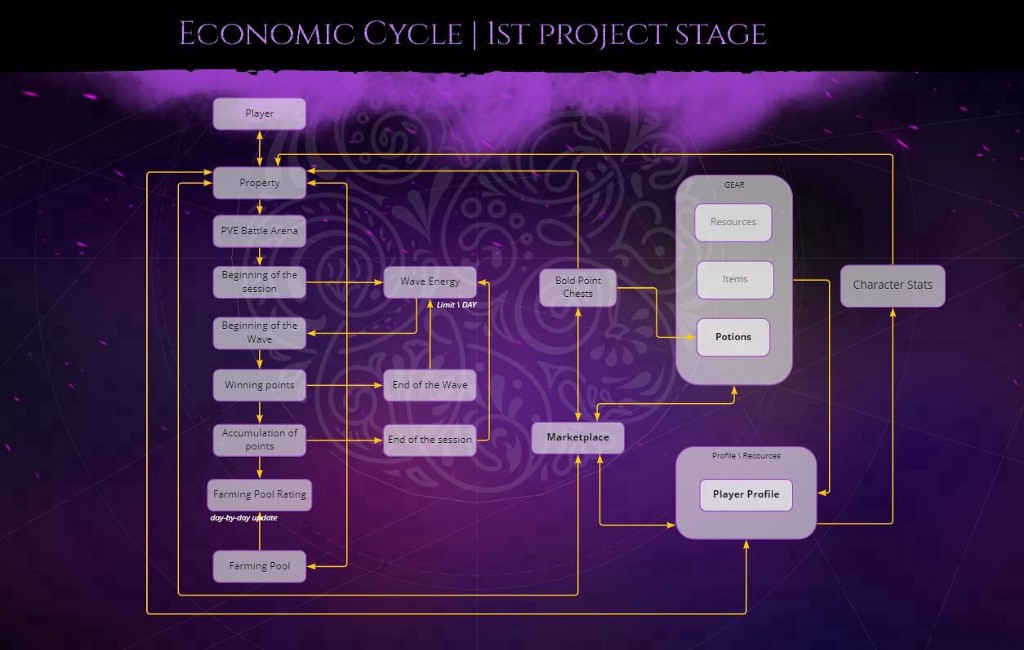 Economic Cycle List Project stage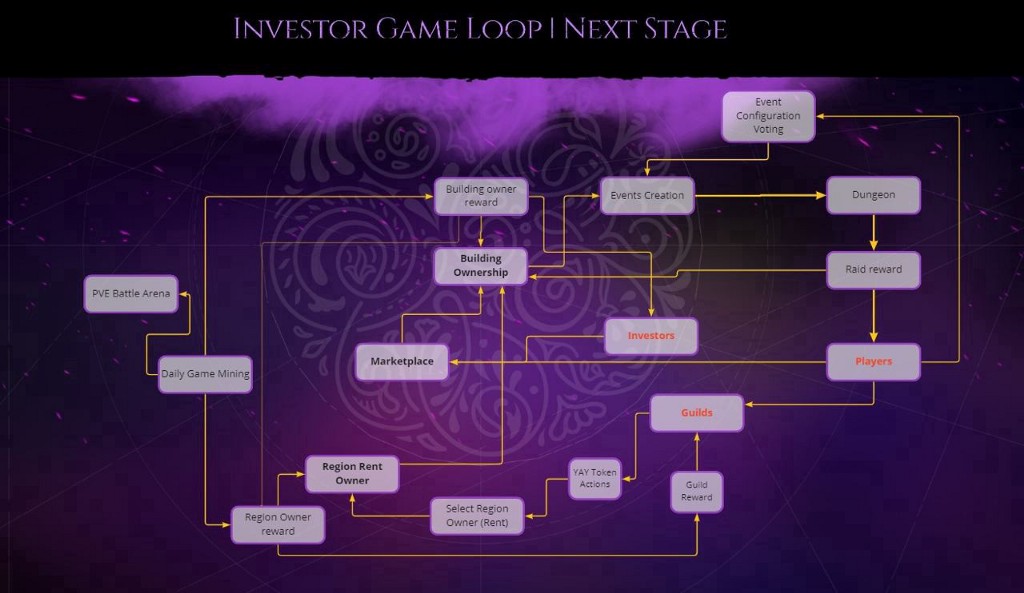 Investor Game Loop Next Stage
Dan | Bold Point
As for short-term goals, the player will need to:
Pick a good set of units;
Grow the units;
Use the units smartly during combat;
And as a result, win the battle.
To achieve the medium-term goals, the player will need to:
Build a strong squad;
Win tournaments;
Gain influence by buying buildings and renting territories together with other players.
And as for long-term goals, the player will have to:
Claim a position in the ranking;
Accumulate some savings for some owned asset.
All this can be achieved only by having a sufficient amount of mechanics in-game that will motivate the player and keep boredom at bay.
Niki | Avalaunch
Thank you for that explanation and for sending the visuals.
So the next question would be: What are the main drivers or unique advantages for building Bold Point's own Marketplace, and not using existing ones?
Dan | Bold Point
As part of building the YAY ecosystem, one of the areas that received the most emphasis is the implementation of a narrowly specialized marketplace (Loot) focused on the gaming assets market. A protocol was developed for this purpose, which makes it possible to connect various game projects without having to resort to long-term development. Therefore, it is not so much a native marketplace, but more of an integration with the solution we already have within the group of companies.
Niki | Avalaunch
One interesting feature that players are able to experience is customization not just in terms of in-game assets but also the story in which they want to be part of? How has this come about, and what challenges does this pose as part of the development process?
Dan | Bold Point
Creating worlds in which players can change game configurations is a rather complicated and time-consuming process. It is not only about the complexity of the technical implementation side, but also the task of preventing players from breaking down the game and creating a misbalance. In order to prevent this from happening, decisions must be made only after confirmation by a majority of users (DAO). To be completely frank, not all the mechanics implemented in the game will be open to changes. But those that will be, will actually motivate players to band together into communities and plan out both their personal strategies and that of the project as a whole.
Niki | Avalaunch
Now… Can you expand on the PVE and PVP concepts, how do they complement each other in providing players with this extra level of immersion experience as well as earning potential?
Dan | Bold Point
PVP battles in games are good, because they motivate players to show how good they are and prove to everyone, including themselves, what they are capable of. PVP will include both simple fun that players will be rewarded for, and full-fledged tournaments, where winners will be generously rewarded. These will be seasonal events that will be held frequently.
PVE, on the other hand, inserts some mechanics into the game that allow the player to achieve goals outlined in point 4 I had mentioned earlier, as well as band together to defeat Raid Bosses and receive additional income from the properties they own.
The combination of these concepts allows us to make the game interesting and saturate it with all kinds of events. The end result is a wealth of different approaches to monetizing your time, or simply enjoying the game.
Niki | Avalaunch
One concern that keeps popping up essentially in all crypto projects, given the recent event of Axie Infinity is security. Can you detail what this looks like for Bold Point?
Dan | Bold Point
Thank you very much for such an interesting question. Yes, cybersecurity has been a problem since the dawn of IT, and when you are dealing with a fintech project, you need to be on the lookout all the time. Initially, in order to implement gasless transactions, we developed and deployed our own blockchain, similar to the Ronin that Axie Infinity uses. But after a long testing phase, as CTO, I decided to abandon this venture, mostly because I feared to take on such a huge responsibility. The biggest vulnerability that lies in such solutions is the bridges that exist between the blockchains.
We had decided to reconsider our approach well before that terrible event happened with colleagues from Axie. Since we are working on AVAX, where the cost of transactions is not that high, and the speeds sometimes reach thresholds of less than a second, we decided to implement gasless transactions in a different way, which includes signing actions on the user side and their subsequent execution by the operator. This allows us to achieve both security and free the user from having to pay for the gameplay itself. We can thus attract both ordinary players using regular onboarding, and relieve crypto players from paying for each action they make inside the game.
Niki | Avalaunch
When can we expect the full version of the game, and what are the key developmental highlights prior to this?
Dan | Bold Point
According to our plans, this should happen in the first quarter of 2023. But that does not mean that we will lock ourselves up somewhere and work on the game, forcing our entire community to just sit and wait. We will be frequently posting updates and augmenting the world of Bold Point with new mechanics and content. As such, we will be dividing the game into a series of stages, where players will always be able to find something new and exciting.
The key stages will involve the bolstering of the current game version's content to make the combat more exciting and diverse. The next step will be to add the ability of customizing current units and creating unique characters via the 3D editor. These custom characters will also be taking part in the battles. Later on, the army and the character will be able to use in-game assets in addition to the currently available potions.
After that, the game will be in for a big update involving the addition of new territories and all kinds of dungeons.
At that stage, we will be gradually implementing the DAO mechanics that we talked about so much and are currently working on.
You can learn more in detail about the stages from the documents that we will be publishing on our website in the near future.
Niki | Avalaunch
Avalanche is known for its close connections and friendly community. What has your experience, as a project building in this space been like?
Dan | Bold Point
I believe that it was a great turn of luck and the excellent choice of blockchain that allowed us to start the story of Bold Point. The love and support are felt not only on the end user side across all kinds of chats, but also from the partners we interact with in this industry. Thanks to the current climate, we discovered much that was new for us. These factors combined allow us to build our plans for the long-term. I believe Avalanche has a bigger future with such approaches and visions, and our community is certain to grow exponentially.
Niki | Avalaunch
Alright… we are done with this set of questions. Tremendous job with your answers. Super detailed and informative.
Twitter Questions
From @natadmay3422
What has been your greatest challenge during project development?
Dan | Bold Point
In my own opinion, the greatest challenge is to create a comprehensive ecosystem where all the mechanics are complementary to each other and token is not a simple addition to attract investors' attention but a vital part of the game. Considering our ambition to conquer not only GameFi but the gaming market in general, we had to make sure that we're building a solid ground in terms of game design and business strategy, which definitely affected how we prioritized the development itself and the idea behind launching Battle Demo before conducting a public sale. It required to put most of our efforts into developing the functionality and mechanics that would work in parallel inside the game.
From @chimponzi_jam
The team behind Bold Point is also the same as the YAY Games team so could you explain me if this team is 100% focused on developing the Bold Point game or do they split their time also on the YAY Games platform?
Dan | Bold Point
In our ecosystem we have a top-management board with a deep expertise in blockchain, crypto market and gamedev industry, who indeed implemented their expertise in both YAY Games and Bold Point.
We perfectly understand how important it is to have a team fully focused on game development, therefore we have a separate team responsible for the Bold Point development cycle.
From @totominhchi
What do you think are the biggest problems BoldPoint is trying to solve for crypto users?
Dan | Bold Point
The main problem we see in the current state of GameFi industry is a necessity to lower the entry barrier for classic gamers and prepare the whole segment for mass adoption. Our solution is a free2earn concept and triple A quality approach: this way we can be more flexible in our acquisition strategy and count on a higher retention rate thanks to easy-to-learn and hard-to-master gameplay.
From @Sammy123vn
I read that you will implement something called "Cyclic Deficit". Can you explain what it is and how it will contribute to maintain the value of the coins in the game?
Dan | Bold Point
Token utility model combined with the tokenomics itself are key elements of a balance between buying and selling pressure of the assets. The demand for in-game NFT assets, DAO mechanics, objects and buildings ownership creates strong buying pressure for $BPT from the market and accumulates tokens on the game wallets where they'll be burned or used back in rewarding schemes, but with lesser quantity then before that will cause the main deficit. The thorough and detailed explanation will be posted during the next few weeks.
From @trantheanh_337
How user-friendly is your system, so that the game can focus on the gameplay rather than the monetization mechanics?
Dan | Bold Point
Bold Point inherits the best practices from the leading Auto Battle representatives: Auto Chess, Teamfight Tactics, and Hearthstone Battlegrounds, thus we put the user engagement our first priority. Therefore, we bet on easy-to-start gameplay with a gradually increasing difficulty: it allows to onboard classic gamers and crypto newcomers without diving deep into monetization mechanics.
Telegram Questions
From @hooker_1997
Smart contracts are prone to failure, and many projects fall victim to it, costing user funds and discrediting projects. How reliable and secure are your smart contracts? Did you test it with either party?
Dan | Bold Point
As I said before, I have quite a lot of experience with FinTech field.
Earlier in one of the projects, we had a vulnerability that our engineers didn't notice at the very beginning. We managed to save most of the funds, but it was a big blow to us.
Now, before any smart contract enters the main network, we thoroughly check it.
Both with the help of cross-review by the whole team, and we involve external companies of auditors. Now we're working with 2 of them — Certic and Inspex
From @donnette_grant
What are plans in for global expansion? Are you focusing on market at this time or focus on building and developing or getting customers and users, or partnerships?
Dan | Bold Point
We're focused on attracting well-known gaming guilds and their communities as well as regular players, normies, with just a traditional gaming experience. As game audience will grow, the more in-game features and will become sustainable and this will cause positive impact to $BPT demand in general
From @leMeek86
Almost 4/5 of investors are focused purely on the price of token in short term instead of understanding the real value and health of the project. Could you tell us on motivations and benefits for investors to hold your token in long term?
Dan | Bold Point
For long term $BPT token holders opportunities will open up at the next game stages, which will include DAO mechanics, as well as game mechanics that allow to lease lucrative buildings and lands.
The profit margin depend on the holder activity and the events that he will generate for the community.
The revaluation effect is inevitable so that we don't use the 2nd token, whereas we use the burning mechanics and the emission is limited. We believe that will inevitably have a positive impact on both investors and players.
From @Sammie_Rickman
Bold Point is free, which means that players do not need to make an investment to start playing. But how many hours of effort should I put in to generate a decent profit? How easy are the game mechanics? And finally, how do you attract non-crypto players?
Dan | Bold Point
We implemented math model which allow to keep the certain profitability level for every active player with 0 initial spending volume. That defines our Free-to-Earn statement.
From @rminiaRicks1999
What strategy will you implement to bring non-crypto-natives into your ecosystem? How do you keep a balance between developing the technology and also improving the value of your token?
Dan | Bold Point
Prices and rewards in $BPT would be balanced automatically on every game cycle and will depend on player's progress.
We have deep expertise in games-related marketing including performance, so we aware about the best practices of players attraction mechanics

About Avalaunch
Avalaunch is a launchpad powered by the Avalanche platform, allowing new and innovative projects to seamlessly prepare for launch with an emphasis on fair and broad distribution. With its values deeply rooted in the early Avalanche community, we are able to offer projects confident, informed users who are aligned with the long-term goals of the rapidly expanding application ecosystem.
Leveraging Avalanche's scalable, high-throughput, and low-latency platform, Avalaunch is built by users, for teams, to help grow strong communities.
---
Bold Point AMA #2 — Technical Deep Dive with Denis (Founder, CTO) (Recap) was originally published in Avalaunch on Medium, where people are continuing the conversation by highlighting and responding to this story.