Canopus DEV Hot Wallet Holds 98.6% of TOTAL supply. (updated)
I wasn't going to post this. I was going to wait, and give Canopus the benefit of the doubt. I scrapped the previous post I'd drafted on Canopus. But, here's the thing.
This simply doesn't sit right.
Now, this isn't meant to be a hit piece. Rather, I'm openly sharing my findings, my concerns, and providing a proposed path to resolution at the end.
There is nothing wrong with owning 98.6% of the total supply. Just, it makes me wince.
A quick background on Canopus.
Canopus is trying to build into multiple areas:
A decentralized exchange
A fiat onramp
A debitcard
A staking operator
Amongst many other things. To the untrained eye, this sounds fantastic. It does. Even to crypto veterans. But war-scarred exdegens, who do their own research, will see the following.
Canopus DEV wallet holdings.
Dev wallet on c-chain explorer.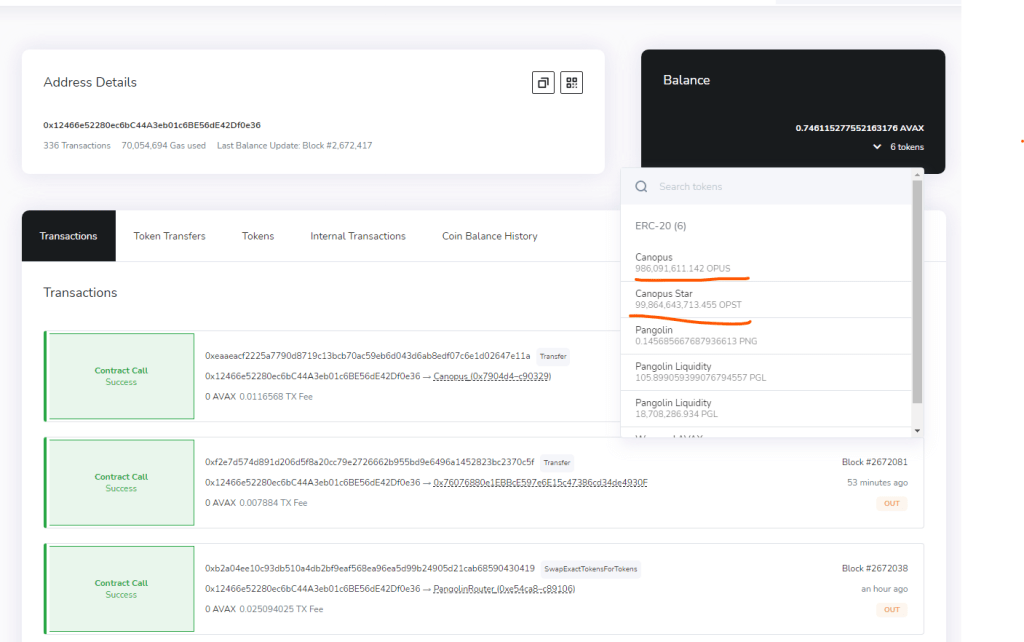 The above shows 98.6% of the tokens total supply. Sat in the dev's hot wallet.
There are no locks, no safety measures, and nothing but a single sell button click away from wiping out over 1627 holders.

Let's say the wallet is compromised. What then?
Is this manipulation?

The same dev wallet buys multiple odd lots. There could be a legitimate reason behind this. But ideas escape me at this point.
Perhaps they're trying to see how much they earn from transactions on Pangolin? I'm not sure. But in all honesty, it looks like a weak attempt at manipulating interest.
$747480 Liquidity, $42.74 volume.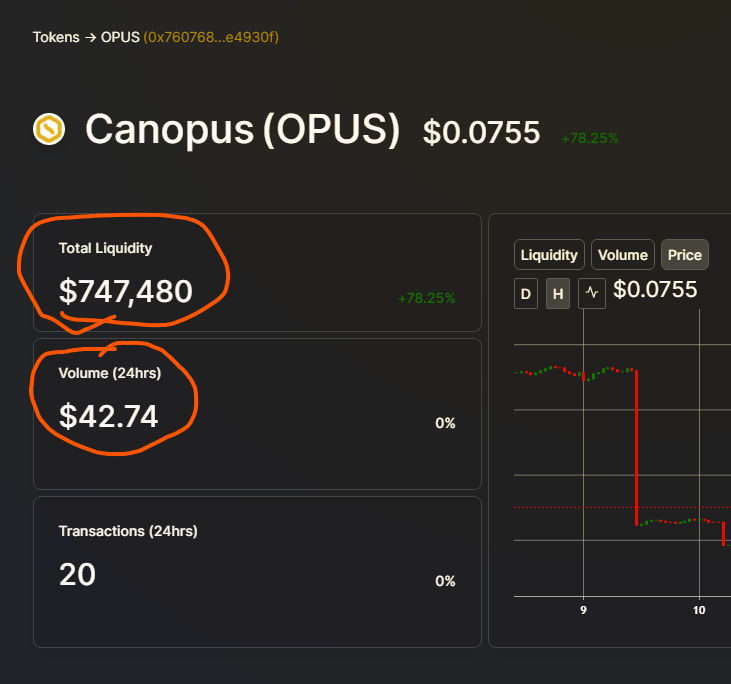 Sure, liquidity is a good thing. But something tells me this probably from a select few people. After all, no one appears to be trading the token.
$2400000 liquidity in an unrecognized pair?
OPUS/OPST. The pair isn't even featured as a liquidity pair.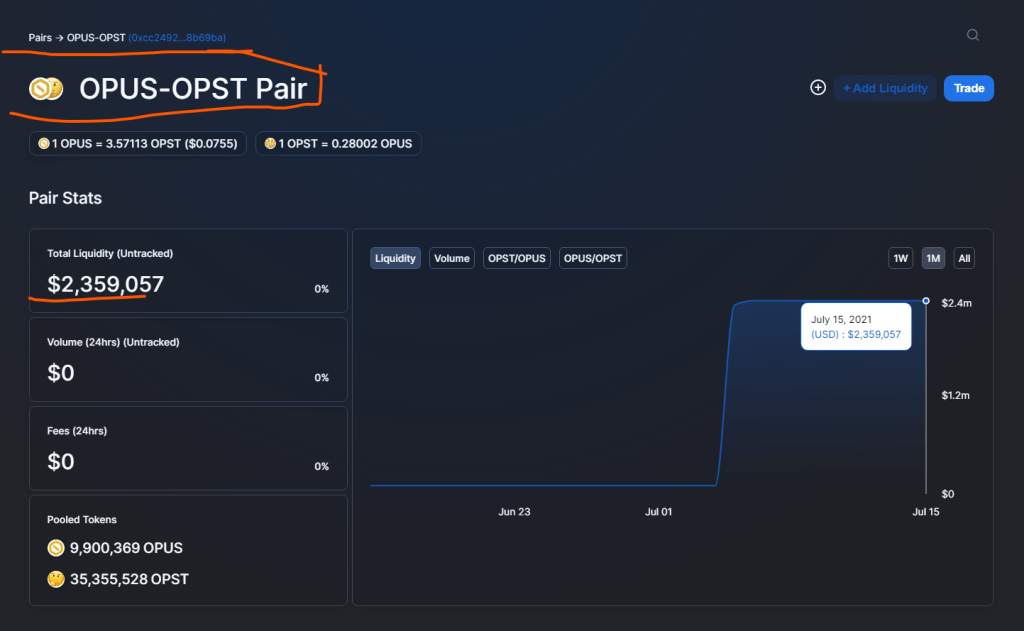 This pair holds only 9,900,369 OPUS of 986,091,611 OPUS floating around in the dev wallet. Red flag galore.
There's nothing wrong with putting your tokens in a liquidity pair. But, the liquidity looks dangerously high. Especially for a token that has not produced anything yet.
Canopus distribution.
Aside from the dev holding 986 million their hot wallet. The top wallets seemed just as sketchy. Dove into those too.
Dev wallet.
Dev's OPUS/OPST pair.
Holds no AVAX, just OPUS. All transfers from dev wallet.
So perhaps the dev owns more than 98.6%. I daren't go further down that rabbit hole.
Clearly botting.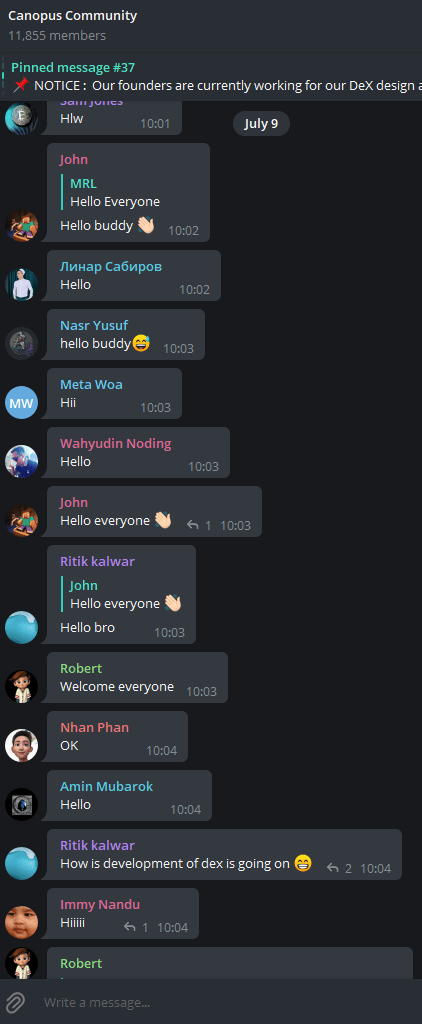 What type of project has 11.855K members on TG. And has 1.6k wallets? Clearly one with bots flooding their TG.
On speaking with the project's founder, he even admitted to closing their previous telegram because of bots.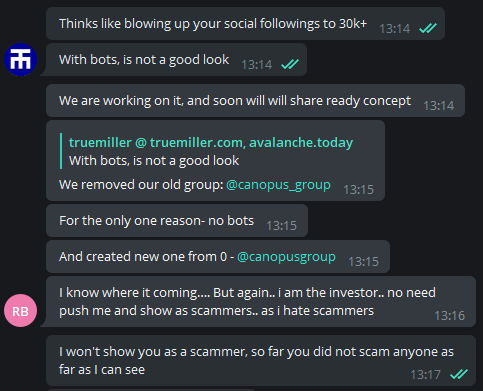 There were other things we covered, such as the wallet holdings. And the founder shared there would be updates coming this week.
The path to resolution.
I keep this area short and sweet. Do, or at least consider, the following suggestions:
Lock your funds. Owning 99~% of total supply in a hot wallet is done by the following people: the idiots, the inexperienced, and ruggers.
Opt for a multi-sig wallet. Pangolin recently put one out, check out their multi-sig wallet service. Put funds there, at a minimum.
Stop botting. Who are you trying to fool? Yourselves? Investors? Fake it till you make doesn't look good in crypto. Just looks like a scam. Be organic. Earn your investors.
On a positive note. Canopus recently released a new whitepaper. And I do hope they become a big player. Just, they need to stop ignoring the red flag complaints.
To clarify, thus far, Canopus has not scammed anyone.
---
---
Updates from Canopus team.
The Canopus team reached out. They are considering the multi-sig wallet. Success. This instils faith from my perspective.