Colony AMA #2 — Technical Deep-Dive with Elie LE REST, CEO (Recap)
Colony AMA #2 — Technical Deep-Dive with Elie LE REST, CEO (Recap)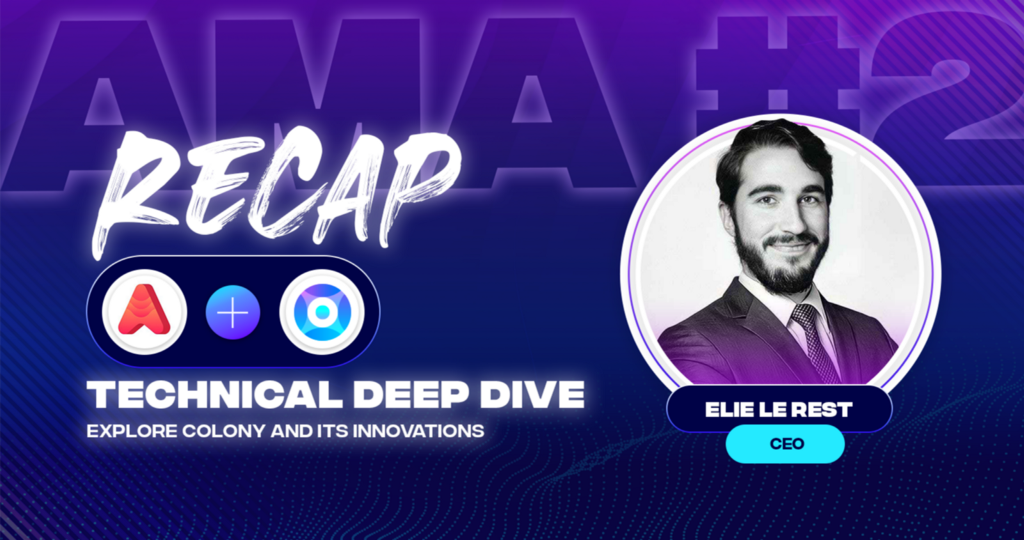 On 12/03/2021 at 9:00 a.m. (PST), an AMA session was held on Avalaunch with special guest Elie LE REST, CEO, at Colony. Below we present to you an excerpt from AMA with questions and answers.
Dave Donnenfeld | Avalaunch
Hello and welcome everyone to Part II of the Colony AMA. Call it the sequel. Last time, we had Wassel the Colony CMO here to set things up and now we have Elie LeRest, the CEO to knock things down.
Elie, good to have you here today Ser, how are you @Elie_LR?
Elie LeRest | Colony
Hey! It's a pleasure to be here, I'm doing great! Thanks for having me ?
Dave Donnenfeld | Avalaunch
Good to have to you…Let's begin with a short introduction about yourself. How did your previous experience lead you to where you are today?
The abbreviated version of this story is fine. Maybe from age 7 onward ?
Elie LeRest | Colony
Hey I'm Elie! Colony's CEO, I'm leading a team to bring to life a true "Colony" that will empower the Avalanche community with access to early-stage deals and much more.
I'm also partner and Co-founder at ExoAlpha, a Hedge Fund with systematic quantitative strategies; long-short exposure to Bitcoin & Ethereum. I've been in the crypto space since 2013 and throughout the years, I've structured several digital assets deals, advised security/utility token projects and private corporate blockchain projects. My past traditional finance experiences include Asset and Wealth Management in Paris, New-York, at big firms like UBS and Credit Agricole. I've also built a crypto quantitative arbitrage trading algorithm in 2016. Last year I wanted to get more involved in the ecosystem and wanted to build a community driven initiative to empower Avalanche's growth.
Why Avalanche? When I came across the Avalanche network a year ago, I felt that this was the right one. The technological breakthrough powering the consensus and the subnet customizability built on top was the perfect combo: being able to scale with high decentralization. This is where Colony comes in ?
Dave Donnenfeld | Avalaunch
It's a talented group for sure and I respect the hustle for having accomplished something of this magnitude. So, how many people are behind this sizable project?
Elie LeRest | Colony
Colony's Team is composed of experts with decades of experience and pedigree in the blockchain, and traditional finance space. With the founding of ExoAlpha, a systematic crypto Hedge Fund that has amassed a trading volume of half a billion dollars per month and with over 150 published articles in well known publications, the team is more than ready to make Colony everything it means to be.
Not only has every member of the team been involved in finance or crypto for a long time, but members are active within the community today, and their insight into emerging markets and the latest trends is invaluable.
Right now the team is composed of 6 developers and growing. We have 3 solidity developers, 2 front end and a tech lead. On the marketing front we currently have 3 people and our CMO ?
Dave Donnenfeld | Avalaunch
I'm not sure what I'm more impressed with — the 500M a month or the 150 articles. That's a lot of writing and an impressive assembling of a team.
How long did it take the team and how difficult was it to bring all of these different smart contracts together, and have it all under one development umbrella?
Elie LeRest | Colony
Thanks, we are a hardworking team ?
So, building a DAO is not an easy task, it takes time. The developers started to work on the application in Q3 2021, and we expect that all the features of the application in its first version will be delivered in Q1 and Q2 2022. At the moment we have the front-end in place with initial features like staking & claiming tokens. By the end of the year, we'll improve the airdrops functionality to process all the airdrops coming in late December ?
The development team is having so much fun developing the features of Colony as it's a really different project than anything else in crypto right now and it's a real challenge to achieve Colony's vision alongside the best security, as it is our first priority.
Dave Donnenfeld | Avalaunch
Can you share any insights into the work around designing the flow of value of Colony, and how it translates into this decentralized smart contract architecture?
Elie LeRest | Colony
So the flow of value inside Colony is going to be segregated in 4 sections:
We'll have:
– Early-Stage investments
– Liquidity Providing Program
– Index
– Staking Program
Each of these sections have a dedicated flow of value. Colony aims at being transparent, naturally, everything will be on-chain. In addition to that, all the data related to Colony's capital deployment will be available on the dashboard section of our application.
As of now, the entire architecture is not decentralized and it will take some time to have all the pieces together to build a secured, decentralized, capital efficient, community driven investment DAO. We want to build the DAO alongside our community feedback.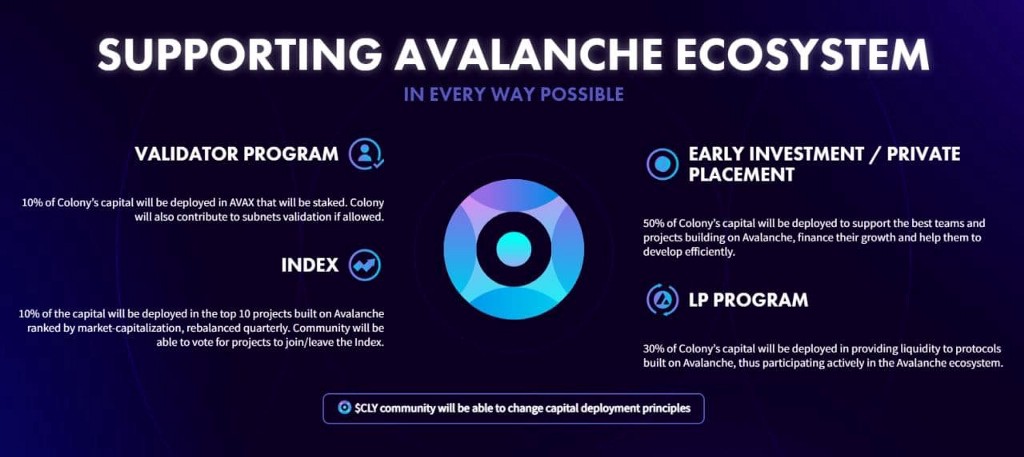 Once the entire system is decentralized, we'll add new features like dedicated pools with locking mechanisms enabling capital investment in early-stage deals managed by Colony's community.
Dave Donnenfeld | Avalaunch
This last part is notably exciting
Having looked at Colony, it is clear that one of its core missions is to drive development and bring value-adding tools to the Avalanche ecosystem. Can you briefly tell us what these different mechanisms are, and how does this work synergistically to support the Avalanche community?
Elie LeRest | Colony
Yes the team is really excited about it and looking forward to delivering it to the community ?
When you are staking Colony tokens, you have access to the entire dealflow of the Avalanche ecosystem. This will help the Colony's community understand what are the market trends inside the Avalanche ecosystem. This is a powerful tool for the Avalanche community, to be able to engage with projects very early and contribute to their development and potentially bring funding through Colony (if the project successfully goes through the entire investment process => managed by the community).
Also, for projects, it's also a golden opportunity because they will have access to a community very early and gain valuable feedback to move forward inside the avalanche ecosystem. In other words, if projects are funded by Colony, they have instant adoption with thousands of addresses holding their token (since Colony is airdropping almost all of its allocation to stakers).
Dave Donnenfeld | Avalaunch
Impressive stuff
Continuing…Setting up something of this scale, for sure, was not an easy task. What are the challenges of building such a complicated network of contracts that support this type of ecosystem, and how did the team solve them?
Elie LeRest | Colony
Colony is and always will be a work in progress, in the sense that we'll always take the feedback of the community in consideration to build the structure that is right for the ecosystem we're in. So far, Colony has developed mostly the tools that will give the users access to the primary functions of rewards receipt based on the staking (how many CLY are staked and for how long).
We will release the voting mechanism early Q1 2022, and we chose to do off-chain voting to make sure it's easy for everyone to vote and interact within the application. The application will be available only to people staking more than 50 CLY for at least 20 days. Thanks to this mechanism, the application will be easy to use and only strategic actions will require on-chain voting.
Many features, like the Index, are under development, so I cannot share much details about it just yet. All that I can say is that we are building everything with a long term vision. This will allow scalability and to make sure Colony V1 will be able to transition to V2 features, thus allowing fresh capital to be deployed by the community inside the avalanche ecosystem.
Dave Donnenfeld | Avalaunch
Wow, much in the works. Given that the Avalanche ecosystem is picking up momentum, how does Colony position itself in ensuring a fair market reach? Are there any strategies in place to ensure a hedge against competition?
Elie LeRest | Colony
Well, as of now, there is no competition in the ecosystem for Colony. We like to think that we can work with everyone to bring the best value possible to new projects in the avalanche ecosystem. Avalanche is a new ecosystem, there is room for every project to grow alongside others and we believe that cooperation is a much better approach than competition at this stage.
The value proposition of Colony is unique and the market is already starting to realize it. The "ecosystem farming" paradigm enabled by Colony will set the ground for a more inclusive ecosystem with the community at core.
Dave Donnenfeld | Avalaunch
Ecosystem farming is an interesting stamp and quite cool. The exposure via the CLY token…you do the work for me. That's great.
What do the plans for transitioning into a fully decentralized DAO structure look like?
Elie LeRest | Colony
Exactly, that's a new interesting concept that we're pushing forward ?
I believe in decentralized economies and this is why I've been in crypto since 2013 and full-time since 2017. With Colony, we really want to empower our community with the decision making and only a DAO structure can achieve that. Nonetheless, we know and have experienced that DAOs are powerful tools but they can be dangerous if there is not a very high level of security linked to it. This is why Colony's evolution into a DAO will take time, but the team is confident that we can deliver on this ambitious vision. Ultimately, we want to enable institutions from traditional finance to deploy capital on Avalanche through Colony DAO via a highly regulated framework that will be created once the DAO is functional. With my prior experience, we know how to set up highly regulated investment vehicles on crypto, so this challenge will not be the most complicated one we'll have to face moving forward. ?
Dave Donnenfeld | Avalaunch
Following the public sale, there seems to be a lot planned for the upcoming months. Can you briefly tell us about some of these exciting plans that token holders are to be looking forward to, within the first 6 months post-launch?
Elie LeRest | Colony
Colony already started to deploy capital to kickstart its early-stage mechanisms. In total, 7 projects have already been funded by Colony including TaleCraft (Avalaunch latest IDO) but also Platypus, Imperium Empire, etc. So as these projects come to life very soon, people staking Colony tokens will be entitled to large airdrops.
To access these airdrops, token holders will have to stake their Colony tokens for at least 20 days, so as soon as Colony is live, you should go stake your coins to make sure you have access to at least 7 airdrops at the end of the year.
Colony will soon announce its first incubated project that will bring a lot of value to the Avalanche ecosystem. We are very excited about that and our community will be able to help them accelerate their growth and success.
In Q1 2021, we'll have new features available, Avax Staking rewards will start, and liquidity providing rewards too. The application will mature and Colony's studio will be live in Q2, allowing developers and projects to meet to build better projects inside Avalanche with the help of Colony.
Dave Donnenfeld | Avalaunch
Thinking long-term, what do you envision Colony will progress into, and do you think this trajectory will be any different than the one originally set out?
Elie LeRest | Colony
We have a very long term vision, we will add more mechanisms to empower our community, capital efficiency and funding. Colony will have even more features and will likely transition into a subnet to be more agile, customize certain features and bring more value to token holders.
So the idea is not to change the trajectory but to add more opportunities with bridges to access institutional capital to accelerate at a faster pace the growth of the Avalanche ecosystem.
Dave Donnenfeld | Avalaunch
How did this idea for the strong empowerment of the Avalanche community spring to life? Why focus on Avalanche and not a different ecosystem?
Elie LeRest | Colony
In a decentralized ecosystem you need users that are participating in order for it to work. So you can see the community as the bloodlife of every protocol, if you lack this blood you'll not be able to survive for a long time. Colony wants to enable the avalanche community to have an even better impact on projects by helping them from the very beginning. We believe that very little can be achieved without the community, so, we put the community at the center of Colony to achieve the best growth possible, for ourselves and all the projects in the ecosystem ?
Why Avalanche? Well that's simple, it's the most capable chain alive now and the subnet functionality will bring a lot of new use cases and incredible growth in the coming years.
Dave Donnenfeld | Avalaunch
Empowered communities empower communities!
Final question before we move on to the Twitter portion of our program (assuming you're done) — Is there anything that you can divulge right here, right now, about anything, like, any partnership announcements, or deals in progress/completed that you can tell us?
Elie LeRest | Colony
Well I can tell you is that every cool projects you'll hear of in December and beginning of January on Avalanche, Colony is already part of it, and if you join the colony you'll be part of it too, very simple ?
In terms of partnership, Colony will support hackathons to find talents willing to develop projects on Avalanche. As a matter of fact, this weekend we'll be supporting a hackathon in Turkey alongside Avalaunch, Muhabbit Capital and other specialists of the Avalanche Ecosystem. We're proud to support this initiative to help entrepreneurs develop projects, and especially in Turkey, because we have an amazing community there that I would like to thank a lot for the great support! ?
Colony will also participate in the Moralis Hackathon starting next week! More information on that will be shared in the coming days!
Dave Donnenfeld | Avalaunch
You have performed admirably and run the first gauntlet. It's that time once again. We were absolutely slammed with questions on twitter…some prize seekers posting close to 50 times. A little dubious but nonetheless, the thread blew up. So let's get right into it.
Twitter Question
@Akash97321 who asks- What are the main current deficiencies of the financing funds that COLONY has identified and solves?
Elie LeRest | Colony
Good question, there are different sorts of funds and they usually provide different services. Overall they lack community and they are pushing Kols to help a project.
With Colony, it's different, because our community will organically help the projects. Colony supports people to align their intellectual interest with their financial ones.
@CryptoKhangng2 — How is your DAO to achieve a significant democratic emphasis on the current paradigm in the Avalanche ecosystem?
Elie LeRest | Colony
As explained during the AMA, the community will be the one with the decision power on capital deployment (through the voting system inside Colony's application).
@trantheanh_337 is dying to know- What mechanisms has Colony implemented to protect investors' funds from theft due to hacking?
Elie LeRest | Colony
Before going live, every smart contract will be audited.
Security first!
@Alex5555223 — Many DeFi projects offering yield farming are driven up by hype, so when the hype dies the project dies. What's the key to sustaining ecosystem farming?
Elie LeRest | Colony
Ecosystem farming is different from yield farming. Yield farming is indeed subject to quick capital inflow/outflow, usually leading to a pump and dump midterm.
Ecosystem farming is sustainable because it uses different assets, and the capital deployed through the ecosystem farming strategy can be allocated to many different assets. For example, through the ecosystem farming built by Colony, you'll build a diversified portfolio of promising tokens and also Avax staking rewards alongside fair launch tokens, etc.
@moonboy_jack9 — Why is 10% of Colony's capital will be deployed in AVAX? Why will Colony really depend on the projects developed in AVAX?
Elie LeRest | Colony
As said before, this is a community driven Avalanche ecosystem accelerator, and I think I've answered this question when I explained why Avalanche earlier in my first answers.
We want to do one job and to to it right so Colony will focus only on the Avalanche ecosystem. The 10% deployed in Avax is to validate the network while generating Avax staking rewards for Colony's community ?
Telegram Questions
Hi Eli, you talked a lot about community. How does one become part of it if I'm not a developer or a marketer?
Elie LeRest | Colony
The next step would be to buy and stake Colony token on Colony's app next week. After that you'll be able to receive first aidrops after staking for at least 20days. So if you want to earn aidrops quickly you need to buy and stake by the end of next week to receive tokens from the most promising project on Avalanche like Platypus, Imperium Empires, TaleCraft, and many more ?
Dani GAMEFI
Currently, NFT is very hot, do you think you will apply NFT technology to your products in the future?
Elie LeRest | Colony
We might include some NFTs later to engage even more with our community.
The Colony Core Team is following closely the latest developments in the Metaverses/NFTs, we intend to significantly contribute to this space and we'll build our headquarters in a Metaverse in the coming months, we're working on it already. We think the Metaverse is an incredible opportunity and the team will be here to support entrepreneurs building it on Avalanche.
In the future, it will be our community making capital deployment decisions, so it will be up to you to decide if the Metaverse/GameFi/NFTs is a space you want to promote within Avalanche.
Colony already invested in TaleCraft (you have a juicy airdrop coming ), and Heroes of NFT. Imperium Empire is a very promising game coming soon on Avalanche, Colony has been an early supporter of it, it's like Star Atlas with a strong team and a shorter roadmap to deliver a great game inside the Avalanche ecosystem.
Non-crypto user is very important for mainstream adoption. How you are planning to attract non-crypto users towards your project? Is there any upcoming partnership that will brings non-crypto user and real-use case?
Elie LeRest | Colony
We want to empower the growth of the avalanche ecosystem; non-crypto users are not really aware of what the avalanche ecosystem is yet.
For now, Colony will start by attract crypto users. But, very soon, we'll be able to onboard institutional investors as Colony deploy capital through a regulated framework that we will announce next year. So crypto users first, and non-crypto users second, but we'd like to highlight that we definitely want to contribute to mainstream adoption! ?
Many projects have problems with UI / UX and this one turns off new users. How do you plan to improve the interaction with new users and with users outside the crypto space?
Elie LeRest | Colony
Colony is building a platform with a great User Experience to make sure it is easy to use for everyone. Beginners will be able to stake their colony token, they will then receive over time, multiple airdrops of promising projects building on top of the Avalanche ecosystem. Perfect for beginners, just one coin to stake, to receive plenty!
For more confirmed and professional users of crypto, Colony will allow open governance, where community members will be able to participate in projects, analysis and decide if an investment should be made or not. Colony will be accessible to everyone, the level of involvement will depend on one's will.
How do you plan to spread awareness about your project in different countries where English is not good? Do you have local communities like Vietnam, Indonesia, Thailand, Korea,.. so they can better understand your project?
Elie LeRest | Colony
We will definitely have local communities telegram groups in the near future. As for the moment, we're working closely with many partners based in every corner of the world raising awareness regarding Colony, we held many AMAs with these different communities and we're getting support from our KOLs as well who make sure our updates are being translated and shared with their local communities.
Dave Donnenfeld | Avalaunch
Rock on @Elie_LR this is top notch stuff.
We've been lucky to have first Wessal and now you.
Before I unmute, just wanted to thank you and the team for these informative sessions. We very much appreciate it.
Elie LeRest | Colony
It was our pleasure to answer the questions of the Avalaunch community ?
Thank you very much for the support! We are thrilled to work with Avalaunch on Colony's launch ??

About Avalaunch
Avalaunch is a launchpad powered by the Avalanche platform, allowing new and innovative projects to seamlessly prepare for launch with an emphasis on fair and broad distribution. With its values deeply rooted in the early Avalanche community, we are able to offer projects confident, informed users who are aligned with the long-term goals of the rapidly expanding application ecosystem.
Leveraging Avalanche's scalable, high-throughput, and low-latency platform, Avalaunch is built by users, for teams, to help grow strong communities.
About Colony
A community driven fund, evolving into a DAO, to boost Avalanche's ecosystem growth. Powered by a governance token: $CLY.
Colony will deploy capital within Avalanche on early stages projects, provide liquidity to DeFi protocols, maintain an Index on top Avalanche projects, and validate networks through stacking capabilities.
Our open governance mechanism ensures capital is allocated across the Avalanche ecosystem for its sole benefit. The value generated by Colony's investments is routed back to the Community through airdrops, a buyback mechanism, and staking rewards.
---
Colony AMA #2 — Technical Deep-Dive with Elie LE REST, CEO (Recap) was originally published in Avalaunch on Medium, where people are continuing the conversation by highlighting and responding to this story.