Colony Lab and Movement Labs Join Forces to Shape the Future of the Movement Ecosystem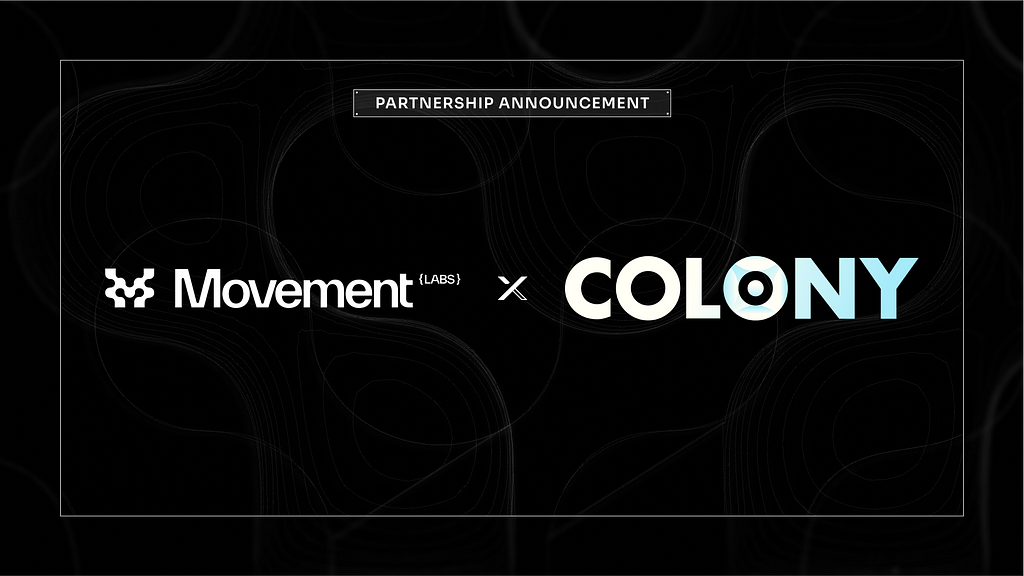 We are delighted to announce that Colony Lab, one of the initial investors in Movement Labs' pre-seed, has joined hands with Movement Labs in a strategic partnership that goes beyond mere investment. This collaboration marks a pivotal moment for the Movement Network, a unified series of modular Move-based blockchains by Movement Labs. With this partnership, Colony Lab contributes a selection of key foundational elements to the Movement ecosystem, enhancing the journey for both builders and future users.
Benefits of the partnership for the Movement Ecosystem
A Decentralized Fundraising Partner for Movement
One of the cornerstone features of this partnership is Colony Lab's role as a decentralized fundraising partner within the Movement Ecosystem. Builders on the Movement Network will have access to essential early-stage capital thanks to Colony Lab's Early-Stage program. This not only helps protocols raise the much-needed capital, but also decentralizes their capitalization tables and mitigates selling pressure. Furthermore, builders have the unique opportunity to tap into Colony Lab's vibrant community of investors and future users right from the outset, cultivating a substantial user base even before their project launches.
(Movement-based assets will seamlessly find their way onto Colony Lab's fundraising platform thanks to atomic swaps powered by the MVMT SDK.)
Boosting Liquidity for Movement Protocols
Colony Lab's commitment to the Movement ecosystem extends to liquidity provisions. By fulfilling Colony Lab's Liquidity Provision Program requirements, protocols building on Movement can access liquidity support from Colony Lab. This invaluable boost in liquidity at launch not only facilitates a smoother market entry but also contributes to the growth of Movement-based protocols' TVL, making the network an even more appealing destination for both developers and users.
Enhancing Network Security Through Validation
Colony Lab doesn't stop at providing capital, and liquidity; it will also participate in enhancing the security of the Movement network. As a validator, Colony Lab contributes to safeguarding the integrity and stability of the blockchain. This role is crucial in supporting the launch of new applications and assets on Movement, ensuring they operate within a secure and dependable decentralized environment powered by trusted partners.
Fostering a Thriving Ecosystem for Builders and Users
In its role as the Avalanche ecosystem accelerator, Colony Lab joins forces with Movement Labs to build a new robust DeFi ecosystem expanding and elevating the Avalanche ecosystem. Their shared goal is to draw in the next wave of web3 developers and users, primarily those who are enthusiastic about Move. This initiative not only aims to transition a substantial number of active users from C-Chain to the Movement Network but also intends to attract Move enthusiasts to the Avalanche ecosystem. Colony Lab's approach is multifaceted, encompassing strategies for business development to entice builders to the Movement Network, and dynamic marketing campaigns designed to raise awareness about Movement Labs and the value of its products.
About Colony Lab
Colony Lab: The community-driven Avalanche ecosystem accelerator, powered by $CLY.
Colony Labs empower projects through decentralized fundraising and liquidity. Their inclusive platform offers the community diverse exposure and unprecedented access to Avalanche's remarkable growth. Join them for seed/private sales investment opportunities and unlock a world of rewards, including airdrops, $AVAX incentives, and a share in platform fees.
Website |Twitter |Medium | Youtube |Telegram (Announcements) |Telegram (Discussion)
About Movement Labs
Movement Labs is creating tools and infrastructure to enhance the security and efficiency of distributed networks. With a focus on smart contract safety and the scalability of blockchain technology, Movement Labs is dedicated to advancing novel use cases in decentralized economies thanks to the security and performance of the Move Programming Language. Our Open Protocols are designed to empower developers and users alike, fostering a more secure and accessible blockchain environment.
Follow us on Twitter/X
Join our Discord and Telegram
---
Colony Lab and Movement Labs Join Forces to Shape the Future of the Movement Ecosystem was originally published in Movement on Medium, where people are continuing the conversation by highlighting and responding to this story.