Crabada AMA #1 — Project Overview with 0xTender (Recap)
Crabada AMA #1 — Project Overview with 0xTender (Recap)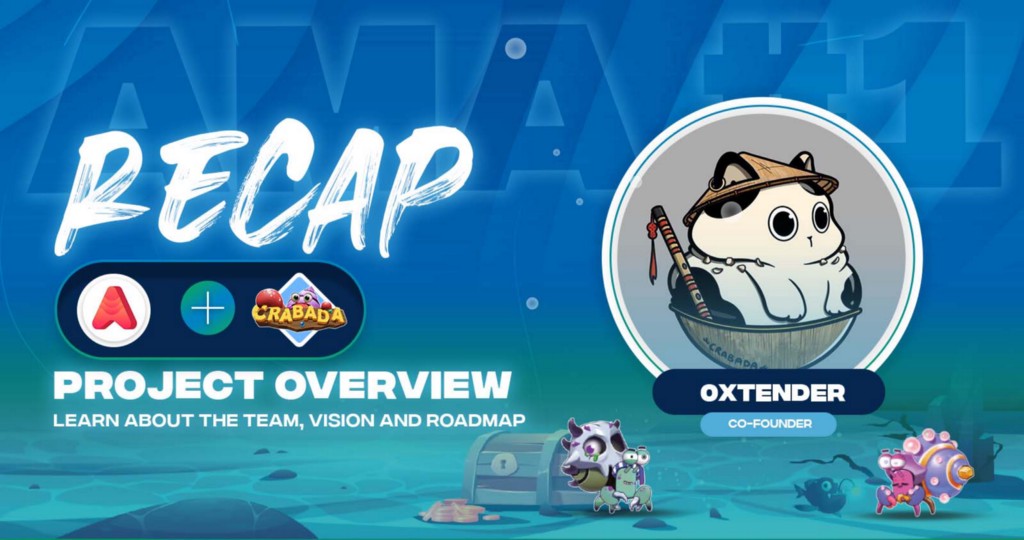 On 11/01/2021 at 12:00 p.m (PST), an AMA session was held on Avalaunch with special guest 0xTender, Co-Founder of Crabada . Below we present to you an excerpt from AMA with questions and answers.
Dave Donnenfeld| Avalaunch
Welcome everyone to the Crabada AMA. Today, we're going to do an overview of this promising project. Our esteemed guest and colleague is none other than @Oxtender an instrumental part of the Crabada team. Welcome. Are you ready to lock horns with our vibrant community?
Tender | Crabada
Hi everyone! Thanks for taking the time to participate, and very excited to be here today
Dave Donnenfeld| Avalaunch
Our pleasure. Let's jump right in — To begin with, please give us a bit of background on yourself. What did your career and education look like before crypto, and how did you end up focusing on blockchain gaming?
Tender | Crabada
For sure. So a quick summary is that I went down a more "traditional" route, having gone to business school and starting as a business analyst as my first job. However, as I grew in my career, I became more exposed to crypto and blockchain, having worked in product roles across both traditional and blockchain products, such as digital exchanges and cloud backup providers
As my exposure and experience in crypto grew, I became increasingly interested and passionate in the future of the space. This eventually led to my decision to start a small team to provide consultation on product and architecture for blockchain products.
As for blockchain gaming, it came about from my team's shared passion for playing games. We were all avid gamers in our youth and these experiences stuck with us even as we began to delve into the crypto space. From this background, Crabada came about due to our desire to marry our passion for gaming with our strong conviction in the future of blockchain.
Dave Donnenfeld| Avalaunch
Awesome. Thank you for that. So from humble beginnings to Crabs. I like it — How did this strong technologically-minded team come together, and what was the turning point to building this Play-and-Earn game?
Tender | Crabada
We conceptualised and started working on Crabada in 2021, so there were already various role models and inspirations of what gaming on the blockchain could look like. So really we were just standing on the shoulder of giants.
Each of us were already working with EVM-based applications in different capacities, and as gamers ourselves, it seemed an interesting thing to explore.
I don't think there is anything wrong with gaming as it is now, but using blockchain for games allows us to explore new models like play-and-earn just because of how tightly knit you can make the game and financial layer. Game assets could easily transform into financial assets frictionlessly and it opens up new modes of play that's sustainable for game makers and players.
Dave Donnenfeld| Avalaunch
Play and earn is compelling…the GameFi thing is really taking.
At what point did you decide on developing on the blockchain, and how many iterations did it take before arriving at Crabada and its theme?
Tender | Crabada
For sure, it's a really exciting space and we feel very blessed to be working on interesting problems
Right from the start, we were already planning to have our game built on the blockchain, as we were all believers in the future potential for web 3 and crypto to revolutionise the gaming industry.
We could see how the rise of decentralised applications and the growing acceptance of crypto in institutionalised settings would only continue to grow and therefore we wanted to ensure that our project would be built on the platform of the future.
Regarding the theme of Crabada, we definitely went through many iterations before eventually settling on our current concept.
We chose to use hermit crabs as game pets because they are originally creatures that were somewhat modular, they change their shells when they need to grow, and we believe that this represents our vision for a game and community that also continually evolves as they grow. While shells are the most distinguishing feature, we have expanded the concept to make all parts of Crabada modular.
Dave Donnenfeld| Avalaunch
Nice. Hermit crabs can live more than 30 years and I expect you all to have a long life span. ?
From what I've seen there are a few unique features that sets Crabada apart from the myriad Play-and-Earn games out there. Can you talk about Crabada's economy? How the integration of the NFTs, the native token (CRA), and the in-game currency (TUS) come together to serve the Crabada universe?
Tender | Crabada
For sure, sustainable economy is key problem we work hard on. It's really awesome for players to play a game which you can make long-term bets on
Treasure Under Sea (or TUS) is our in-game currency and it's used in our native marketplace from the start. Players and collectors will be able to buy and sell Crabada using TUS, and subsequently in-game items and resources will be introduced as well.
CRA, our governance token, has some innovative designs. We see potential for it to accrue value from platform use via 'Marketplace' and 'Lending' fees in the future. Most immediately it's being planned as a membership model that makes playing Crabada more convenient and benefits players. For example, increasing the maximum team size, speeding up battles, participating in lucky draws for genesis Crabada.
It's really about giving power to the investor-player class where you own the game and play the game!
Dave Donnenfeld| Avalaunch
Why focus on an "idle game" and how does this serve the vision of the project?
Tender | Crabada
We chose an idle game concept because it's a game mode that most people are familiar with. Time is a scarce experience and we want to create a game that can be easily picked up and learnt, but still very replayable and players feel good to invest their time in it.
We want Crabada to be played by anyone, anytime and anywhere. Learning how to play is relatively easy, and it's not disruptive to everyday activities. Heck, we want players to play Crabada alongside other games as well
For our next game, 'Battle Game', we still retain idle game elements and also bring in more complex battle dynamics, and nation-building concepts into the game. Still want to keep the barrier to entry low, but also give players interesting problems to solve and provide many ways to win.
Dave Donnenfeld| Avalaunch
Props to Crabada for some really sophisticated art and game design. I am curious what the process of creating such a unique world looks like.
Tender | Crabada
We're really glad that you enjoy them!
Regarding how this all came about, it was definitely a team effort, with everyone pitching in to help ideate, refine, and then challenge the various themes that would influence the art and game design. Through this iterative process, we slowly built up the game's visual aspect to what it is today. Special thanks has to go to our lead artist Min, who sacrificed many nights of sleep to build out Crabada visually, through his amazing talent to translate our ideas into art.
We explored various themes around the different classes of Crabada. We really just wanted to have fun with it, and I think this energy was transmuted into some interesting ideas, for example, there's a class that consists of blockchain networks crabs, which is really distinct and people really seem to love.
Dave Donnenfeld| Avalaunch
Ha. Having looked at the Roadmap, I noticed that there are quite a few features that unlock after the launch. Can you cover some of these briefly, and what the token holders should be expecting within the first 6 months or so?
Tender | Crabada
After the token distribution events, it will be followed by our special breeding event for IDO participants and early supporters, where we reward them with the special opportunity to breed the original supply of crabs in Crabada!
After that, the next major milestone for us will be the launch of our idle game on the 15th November, supported on web browsers. Once the launch has successfully stabilised, we plan to release support for mobile browsers, in order to allow our players to enjoy Crabada on their mobile devices.
Subsequent to the launching of our idle game, we will continually roll out more exciting events and features for players, such as mining zones where players can mine faction resources that will be a key part of our eventual battle game mode.
We are also preparing to introduce staking in a few weeks after the launch, which will allow players to access staking benefits and further support the development and growth of the Crabada community.
Lastly, looking ahead to 2022, we are preparing for the launch of our cross-platform battle game mode sometime around March. I think players can look forward to more complex battle mechanics, great in-game battles where Crabs display their amazing array of skills, and exploration of the ancient Kingdom of Crabada via PvE
Dave Donnenfeld| Avalaunch
Wow. That is packed roadmap and a lot in the near term. Very impressive. The space has come a long way since raising money for a mainnet to be named later. I'll put November 15th in my calendar and have an eye out for staking.
Is there anything that you can reveal at this time, about the long-term vision of the Crabada kingdom, does it expand beyond minting, breeding, looting and battling features?
Tender | Crabada
At the present, we have planned out our roadmap with a 1.5 year runway. We have already made plans to introduce more competitive features to the game such as PVP tournaments, as well as social elements such as in-game guilds, claims and play-together with friends
While it is still early days, in the future we plan to expand the Crabada universe by branching out to other genres, like Tower Defence, or by allowing our crabs to be used in other games that cater to a wider variety of gamers.
We believe that there is vast potential in the future for zero-gas gaming and foresee the opportunity to bring over other on-chain games or even port over traditional games that are not on the blockchain yet. So this is something that we are really excited to work towards.
Lastly, while these are still early days we see great value in the potential of creating a metaverse for the fans and players in our Crabada ecosystem. With the growing adoption of technology across every aspect of our lives, we hope that one day we will be able to provide members of our community with an ecosystem where people can potentially use their Crabada avatars to explore virtual worlds and interact with their friends, trade NFTs, and enjoy a multitude of services all from one single unified Crabada platform
Dave Donnenfeld| Avalaunch
There's that word…Metaverse
This is indeed a very exciting time to be building on Avalanche. Since Crabada will be the first (hopefully of many) Play-and-Earn games building on this blockchain, I wonder what were the critical factors that determined building the project in this community?
Tender | Crabada
One of the really key factors that drew the team toward building on Avalanche was the overwhelming community support that we were receiving. When the project idea was first conceptualized, our team did extensive research on which ecosystem would be best to launch the game on. We were quite blown away by how warm and welcoming the Avalanche community was. Shoutout to Avalaunch (of course), Ava Labs, TraderJoe, Avaxholic and everyone's favourite — CederNets
Another key factor for consideration were the transaction speeds and gas fees of L1 chains. With Crabada being a play-and-earn game, our main priority was to provide players with the best on-chain gaming experience possible, especially for our initial idle-game phase where we were going to be pretty reliant on on-chain transactions for game actions.
The transactions needed to be quick and affordable. Avalanche is — quote-unquote "Blazingly Fast and Low Cost" which was exactly what we needed. Additionally, the Apricot Phase Three upgrade couldn't have come at a better time for us, where C-Chain fees were essentially being reduced by up to a whooping 66%. That was just really great news for us, and the Avalanche community itself. ?
So I think from there, we were kinda fixated on the idea of having Avalanche as the home-base for the Crabada-verse.
Dave Donnenfeld| Avalaunch
The old Apricot Phase Three upgrade in the nick of time.
That's something you don't hear every day
Tender | Crabada
We like the Apricot
Dave Donnenfeld| Avalaunch
Finally, before we move on to the twitter section of the program- are there any last points you'd like to discuss, or share with the Avalaunch community?
Tender | Crabada
Our vision is simply to create a game that can be enjoyed by anyone, anywhere, at any time. We are extremely excited to build towards a game that will not only be enjoyed by crypto natives, but also by the masses. We hope that everyone here is as excited as we are, and to work claw-in-claw towards bringing the GameFi revolution to new heights.
Remember, wake up and like the crabs. Are you ready for the Crabalanche? ????
Twitter questions
Dave Donnenfeld| Avalaunch
I am ready. My body is also ready. NGL, that was a pretty epic Q&A. Great stuff. First up from our supporter over on the twitter comes from @cryptoyaos who asks — we can only buy Crabada from other players after the breeding event, is that true? Will there be any other NFT sales from the team?
Tender | Crabada
Thanks for everyone who contributed questions! So many nice ones, and really feel the warmth and excitement of the Avalaunch community
So besides the initial breeding event, there's also a lucky draw format for CRA stakers to win some Crabada. We have prepared 64 genesis Crabada in total, 10 of which will be distributed via the Special Breeding Event, and the remaining 54 will be distributed in a lucky draw format for CRA stakers.
We don't intend to sell NFTs to players directly but instead, let players craft them. There are plans for more NFTs for the game including equipment, skill books after Battle Game is launched in Q1 2022. These will be craftable by players!
Dave Donnenfeld| Avalaunch
They are not always so warm but they are awesome and seem to be quiet and listening to you. Muting the channel helps as well with this. Question 2 from Twitter — @dydd2020 The project slogan is "Play with Earn," i want to know how do you keep the balance between the play and earn?
Tender | Crabada
Good question — we chose the term "play-and-earn" instead of "play-to-earn" to further embody our vision for Crabada to allow users to have a gaming experience first, and a crypto experience second. It's really an ethos for us
We want to make an inclusive game that welcomes people from all walks of life, even those who are not invested in crypto full time but are interested in an enjoyable game experience with the added potential of monetizing their effort.
Dave Donnenfeld| Avalaunch
You had me at "Crafted by players." @AdcDavidtai1999 You are Planning to Launch the BETA VERSION
of the Crabada So that Many players Like me Can test and Overview this Exciting Platform?
Tender | Crabada
Ok short answer — Currently, yes, we will consider open beta for the Battle game in Q1 2022, but currently no fixed date for it yet. We're really excited to get it into the hands of players!
Dave Donnenfeld| Avalaunch
@M31Em In explaining it you mention it as an idle game.. which in game currency would you be earning while idle.. or is it both?
Tender | Crabada
Players will be earning primarily TUS from the games. Also when we launch a new game mode, we set aside some CRA incentives for it, so players will be earning both CRA and TUS when we launch the idle game. We always want to reward players for trying new things! ??
Dave Donnenfeld| Avalaunch
Final question from Twitter before we release the Kraken and let you pick 5 magical questions from our enchanting community. @IvaniWu01 What characteristics differentiates Crabada from other P2Eearn project & what is the strategy to follow in order to position itself in the market and offer confidence, solidity & profitability in an innovative and creative way & not disappear sooner than desired?
Tender | Crabada
Will preface this by saying that building gaming with a blockchain layer is still a very new and interesting problem. There's not really a playbook here. While we can come in with our hypothesis and models, we are prepared for iterations and experiments alongside our players. Shoutout to 0xRyze from Cryptoraiders for being a true fren of Crabada and helping us along the way
One interesting problem we give players to solve is around nation building / community building. We start to introduce factions early on after launch, as a taster for more faction mechanics in the Battle Game (Q1 2022). We want to give players the option to align themselves with certain factions and contribute to the overall faction, while not overly restricting modes of play. So I think factions have potential to become a core mechanic, let's see.
Economy is also an interesting topic. How to create an economy that does not overly rely on new players coming in to support it. On one hand, we have to compete with other games that promise endless rewards, but we believe in building a sustainable game that can stand the test of time.
With the battle game, we will implement a trifecta of inflation-reducing mechanics including fusing NFTs, using game NFTs as ingredients, and battle injuries with the aim of creating sustainable emissions. We want to push the boundaries a little, and hopefully take the blockchain gaming space a little further.
Telegram questions
What main reason that make Crabada chosen play and earn models instead click to earn, free to earn, play to earn and etc. How are the difference of play and earn that Crabada brought.
Tender | Crabada
For traditional mobile games, there are limited business models, the most popular being play-to-win, where it's not really a great experience for players who have to spend to keep up with the game. Unfortunately, the reality is that this is required for operating cost for game developers. With blockchain, we can tap into the financial layer easily, and create new and sustainable business models where players can have a good experience and at the same time, developers can cover operating costs to keep building great game features.
Ambassadors play a very important role in every project, Do you have an ambassador program? If yes, how can I be one ?
Tender | Crabada
For sure, we are planning ambassador programs. We want to empower players that do well to impart their knowledge to the community, and teach others as well. This is still in the works, but hopefully we can announce it soon!
CAN you tell us about the security measures adopted by your platform? what is your project status regarding AUDIT? Are your smart contracts audited already?
Tender | Crabada
We're currently in audit by Verichains for our sales, breeding chamber and timelock contract. We've had good feedback so far from them, and once the audit results are out, we will publish them
Earning the trust of investors is extremely important in a project. How do you manage to gain their trust and make them stay in the long term?
Tender | Crabada
I'm staying up till 5am to do this interview because I really want to spend time with you guys ??
Most of the priority of the cryptocurrency community & investors is the symbolic price. When the price of $CRA token soars/pumps, the community rejoices and grows. When the price of $CRA your token drops/dumps, many people are fear, uncertainty and doubt (FUD) of Crabada.
So, How do you deal with this or how do you deal with your investors panic if $CRA token price drops/dumps?
What are your plans to strengthen and grow your community & investors so that they don't just value Crabada in terms of the price of $CRA tokens only?
Tender | Crabada
Last question! We built our economy for resilience. Currently in idle game we want early adopters to earn tokens easily. With battle game, we introduce many more ways to play, and this means many more ways to win!
We really care about our players, and alot of hours have gone into designing economy to survive 'demand shocks', such as allowing Crabada to become ingredients like Crab soup? ?
I hope players will look forward to them!
Dave Donnenfeld| Avalaunch
A big thank you @Oxtender This has been great.
Tender | Crabada
Thanks Avalaunch, and thanks everyone for taking the time to join!

About Avalaunch
Avalaunch is a launchpad powered by the Avalanche platform, allowing new and innovative projects to seamlessly prepare for launch with an emphasis on fair and broad distribution. With its values deeply rooted in the early Avalanche community, we are able to offer projects confident, informed users who are aligned with the long-term goals of the rapidly expanding application ecosystem.
Leveraging Avalanche's scalable, high-throughput, and low-latency platform, Avalaunch is built by users, for teams, to help grow strong communities.
---
Crabada AMA #1 — Project Overview with 0xTender (Recap) was originally published in Avalaunch on Medium, where people are continuing the conversation by highlighting and responding to this story.