Crabada AMA #2 — Technical Deep Dive with Fuji102x (Recap)
Crabada AMA #2 — Technical Deep Dive with Fuji102x (Recap)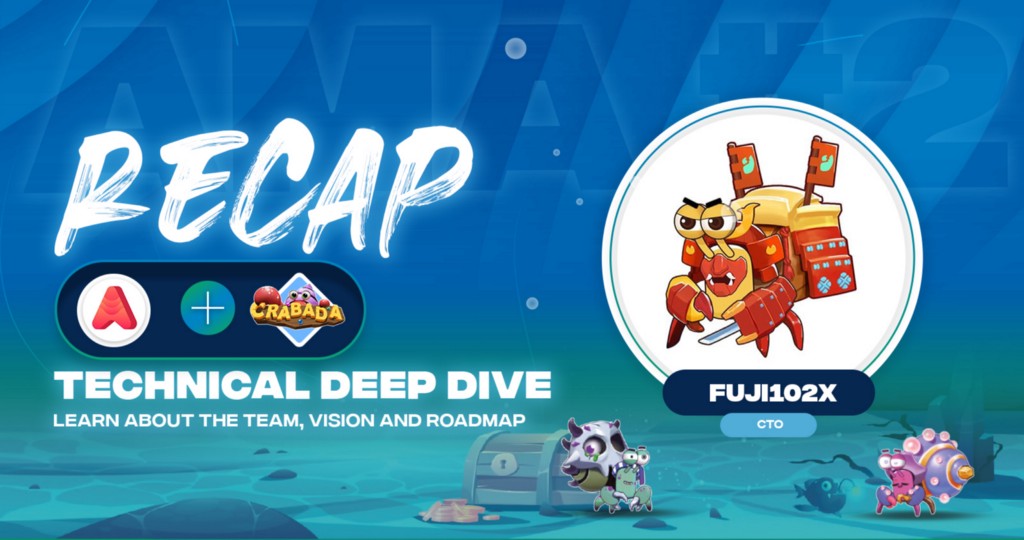 On 11/05/2021 at 12:00 p.m (PST), an AMA session was held on Avalaunch with special guest Fuji102x, CTO of Crabada . Below we present to you an excerpt from AMA with questions and answers.
Dave Donnenfeld | Avalaunch
Hello and welcome everyone to our 2nd epic discussion/AMA with Team Crabada. Today we will get down to the nitty gritty, the brass tacks, to where the still waters run deep by performing a more technically specific AMA with none other than @fuji102x Welcome, how are you today?
Fuji | Crabada
Hi everyone, it's a good day, we're working hard.
Very nice to be here today, thanks for hanging out.
Dave Donnenfeld | Avalaunch
I'll bet. Appreciate you taking some time out to be here with us today.
Fuji | Crabada
Cheers. Let's not make the people wait — getting right into it and to ease us in, why don't we start by having you introduce yourself? Tell us a little bit about your background and what led you to be working in the explosive blockchain gaming industry?
Since I was a student, I was already farming in-game on some games. It was always quite difficult to cash out, and I mainly did it via p2p just like how bitcoin was in the early days.
I have been working in the blockchain space since 2016 including designing and implementing the very first backend system of a leading crypto wallet. In 2018, l wanted to make a game based on CryptoKittens because I couldn't do anything with my collection.
Since then I have been trying out many blockchain games due to curiosity and following extra closely during the covid pandemic when we shifted to a remote-first world. I felt that the games out there were not really entertaining so that made me want to work on a game project to bring something new to gamers and players.
Dave Donnenfeld | Avalaunch
A solid background to be where you are — sounds like manifest destiny. Was Crabada always going to be built on the blockchain, or was this something that became obvious over time?
Fuji | Crabada
Actually, yes it was going to be built on the blockchain from the start. Working in the space since 2016, I saw how the space grew and it had a pretty big impact on the community around me. This laid the foundation for some of our plans.
Our team's background was across working in various roles on blockchain applications. We wanted to apply what we knew was possible to something we were all passionate about which was gaming.
So we planned for it to be built on the blockchain from the start.
Dave Donnenfeld | Avalaunch
From the development point of view, what part of building Crabada was the most challenging and would this still have been a challenge at all, had you been building in the traditional game ecosystem as opposed to building on the blockchain?
Fuji | Crabada
It's been pretty smooth so far, but I would say the top priority for us now in terms of development is growing the team.
We have really great talent currently, but we are still actively looking to grow our team in order to build out our roadmap. It could definitely go faster with more hands on deck. So that's the key priority now. We need more blockchain developers.
Dave Donnenfeld | Avalaunch
Pretty smooth so far…you don't hear that very often ?
What about Avalanche's architecture makes Crabada possible here, and not on other chains. What issues related to scalability have you faced and tackled?
Fuji | Crabada
We're just very lucky, we have incredible team supporting us.
The Snowman consensus model allows blocks to be confirmed with finality and much quicker than most L1s.
It does not suffer from blockchain reorganization which can potentially lead to bad user experience.
It's also highly scalable and it's hard to foresee congestion issues happening as of yet, especially with Apricot Phase 4 Snowman ++ has improvements that address MEV issues that lead to congestion.
It's overall a really good chain to build on.
Lovish Shahi | Avalaunch
Appreciate that. Here's a question that users may not recognize the implications of just yet…Do you have any plans to develop on a subnet? What applications make sense for a blockchain-based game and gaming ecosystem?
Fuji | Crabada
Definitely, it's already in the works. This was also one of the reasons why we wanted to build on Avalanche.
We plan to launch a zero-fees gaming blockchain — initially for our own use and later extend it to other games.
The first step would be to migrate the idle game in Q1 2022. Subsequently, we will launch the Battle Game on it, also planned for Q1 2022.
We think that a persistent game identity, like a player profile that can be brought across different games on our gaming blockchain is an area that we want to explore in the long run.
We believe that there is vast potential in the future for zero-gas gaming and foresee the opportunity to bring over other on-chain games or even port over traditional games that are not on the blockchain yet. So this is something that we are really excited to work towards.
Lovish Shahi | Avalaunch
That's a Great plan!
What parts of Crabada live on-chain, and conversely, off-chain? Can you talk about the thinking around this and how the end result services the vision?
Fuji | Crabada
Important data will always be stored on-chain. For example, Crabada pets, other game assets, tokens, battle proof, etc. The other stuff like images, audio, game details are stored off-chain.
We use the hybrid model to reduce on-chain activities but still keep the game transparent.
Lovish Shahi | Avalaunch
How big is the development team, and how many developers are dedicated to building Crabada?
Fuji | Crabada
Currently we're at about 12 members, but we're trying to grow to a team size of around 20 members. Current team consists of about 2 backend developers, 2 frontend developers, 2 smart contract developers. 2 game engineers, and 4 artists.
Lovish Shahi | Avalaunch
you guys are well diversified in each specific area.
Can you expand on the analytical tools available on the marketplace? Are there plans in the pipeline for building more?
Fuji | Crabada
Currently the marketplace provides simple data at both transaction-level and aggregated.
For transaction-level, we show recent listings, and recent sales.
For aggregated market data, we show the total number of sales, volume done, and average price over the past 24 hours, 7 days and 30 days.
Let me quickly show a screenshot of the marketplace from the test environment now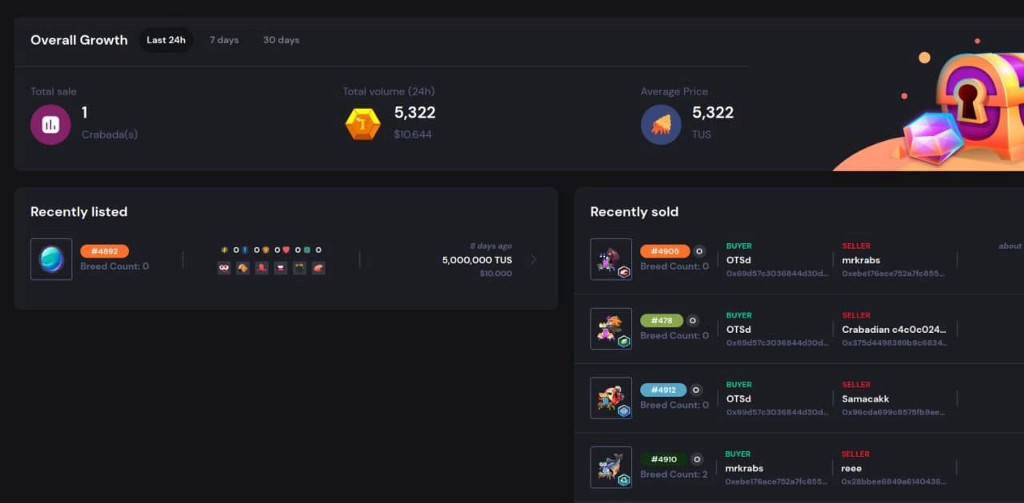 Depending on user feedback from their experience with it, we will improve it further.
Lovish Shahi | Avalaunch
looks interesting
How quickly do you expect these tools to be adopted? What metrics will you use to measure this success?
Fuji | Crabada
We really wanted to build something that is easy to use. We expect many users to pick it up really quickly. In terms of support, we have been putting out step-by-step user guides as well on our help portal, otherwise users can also ask in our telegram or discord chats, we have an awesome community that loves to help new users figure things out!
I think the most important metric for us would be the transaction volume of the marketplace. Aside from that we will be launching a portal for users to provide feedback directly to the team. We love to hear suggestions!
Lovish Shahi | Avalaunch
What approach to game security have you taken thus far? What are your biggest concerns related to vulnerabilities?
Fuji | Crabada
Security is our big concern, there are many ways to attack a game in general. We are building this project with security in mind, and all developers always apply OWASP principles in their daily work. For the blockchain part the smart contracts are undergoing audit by Verichains.
Lovish Shahi | Avalaunch
appreciate that
What has developing on Avalanche been like for you? What has been your impression of the developer community?
Fuji | Crabada
Avalanche C-Chain is like Ethereum in the development aspect so we are familiar with all development tools and environments.
We also have experience with customizing the Go-eth(Golang Ethereum fullnode) and working with coreth to build a new game subnet is not a big problem so far.
We really need to praise the developer support for Avalanche. There are many channels for community support such as discord, reddit , meetup and even their own forum.
It's really easy to talk to the Avalanche team and community of other developers when we have any questions. It's been great so far.
Lovish Shahi | Avalaunch
Final question before we move on to the twitter portion of our program — What part of the Crabada ecosystem are you particularly excited about? Which feature do you think has the most potential?
Fuji | Crabada
I'm really excited about bringing new features to players and introducing more modes of play to players. We have many ideas that we have planned, and we hope our players will enjoy growing together with us as we improve the game.
Besides this, building out the private chain and growing the Crabada ecosystem to support many games is another big goal. It's less work on smart contracts and more on the blockchain layer, but it's critical infrastructure that we need in order to scale.
Personally, I am very blown away by how much support we have received so far. We're just really excited to wake up and build every single day.
Lovish Shahi | Avalaunch
We are excited too
Now let's go ahead with the Twitter questions.
Twitter questions
@trinhcrypto1997 — Traditional gaming industry are inconvenient for game management. How will blockchain technology in combination with Crabada Play-and-earn model solve this issues?
Fuji | Crabada
Just to cover the technical implementation part, in our first implementation that is more or less fully on-chain, there's less development tasks and infrastructure that needs to be built.
Instead of building a login flow, you can do an integration with metamask. Instead of payment integration, you can rely on the blockchain to track transactions.
You also don't require complicated architecture for database solutions to track game assets and transactions since blockchain will handle that for you. And of course, the blockchain handles the infrastructure and security as well.
Dave Donnenfeld | Avalaunch
I'd like to thank @shahi297 for his interim hosting. I'll be taking the reins from here. So, infrastructure, security and simplicity…can't ask for more from the blockchain. Next up is from @LukasDuong1 — How can you ensure that gamers and Crabada have a long-term relationship? Do you have any tax or staking system?
Fuji | Crabada
We have our own native marketplace that charges a small transaction fee. Within the game, renting Crabada from the Tavern from other players also incurs a small fee. These fees will go to the treasury for CRA holders to manage. This approach would be sustainable long term to us as game makers as well as game players without suffering from power creep seen in traditional games.
We will implement staking about two weeks after launch. Staking initially provides benefits for investors to get involved with the game. Eg, lucky draw for rare Crabada, increasing team size.
There are staking rewards set aside for CRA stakers as well.
Dave Donnenfeld | Avalaunch
Sorry to pause your roll here but what is "power creep?"
Fuji | Crabada
power creep is when a game continually introduces new skills and abilities that makes older ones seem weaker. it's not fun for players
it also devalues older skills and abilities as a result
Dave Donnenfeld | Avalaunch
Interesting. Thanks for that. From @Elnazvera1 — What was the biggest technical challenge Crabada faced when starting to develop your project?
Fuji | Crabada
One challenge that we faced is with the parser (we are using The Graph). It does not provide enough features that we need for complicated data aggregation so we have to take additional steps to process the data before it's ready for the database.
@jamesch8825 "Idle Crabada that are not mining or looting can still earn rewards by being deployed to the Tavern as mercenaries" Can you explain this concept?
Fuji | Crabada
We want to provide many ways to win for players. Maybe some players do not get involved directly in gameplay, and we built the Tavern for them to lend out their Crabada to miners or looters as reinforcements.
@SarahMurtaza3 — Wen lambo
Fuji | Crabada
Wen Crabada Island
Telegram Questions
CAN you tell us about the security measures adopted by your platform? what is your project status regarding AUDIT? Are your smart contracts audited already?
Fuji | Crabada
we have cleared audit for our sales, breeding, time lock contracts. we will release the public audit soon
the game contract audit is currently underway
Almost 80% investors have just focused on price of token in short term instead of understanding the real value of the project. Can you tell us on motivations and benefits for investors to hold your token in long term?
Fuji | Crabada
We really want to create an investor-player class where you own the game and play the game. So we have planned many benefits for CRA stakers who play the game in addition to investing in it
NFT ecosystem is huge and there is fierce competition in the DeFi+NFT space Which NFT project do you see as your competitors? And how do you plan to compete with them?
Fuji | Crabada
Yep I think we will see this space continue to grow. It's really positive when we hear about large game publishers taking an interest in blockchain gaming. Also in the play-and-earn space, I think many great projects are also in the building phase. We will stay focussed on our own mission to build a fun and sustainable game that anybody can join. Rather than see it as competition, we see it as potential partners for our zero-gas gaming chain.
What is PROJECT's revenue model? In which ways do you generate revenue/profit?
Fuji | Crabada
Crabada generates revenue through economic transactions that happen on the platform, for example through marketplace trades, and lending and borrowing.
As we know that every AMA program in a project, we all always talk about the advantages/pros of the features of the project. It's rare for projects to notify about their project's lack of features. So can you honestly tell us what your project lacks/cons in features?
Fuji | Crabada
So currently it's a little hard for us to support guilds due to lack of scholarships. We plan to offer more support for guilds with new features in 2022. Maybe not exactly scholarships, but we believe in the value of mentorship and want to support play-together features.
On the flip side, this is an opportunity for early players!
Dave Donnenfeld | Avalaunch
A big thanks and maybe a hug (can't speak for everyone) from the Avalaunch community. We appreciate @fuji102x taking time out from what I'm sure is a rigorous schedule and spending time with us today. Look forward to Crabada's launch, the tavern if I haven't mentioned, and an overall successful launch.
Fuji | Crabada
Thanks everyone for joining, it was really fun to do this. This community has so much energy and we love the questions that were asked!

About Avalaunch
Avalaunch is a launchpad powered by the Avalanche platform, allowing new and innovative projects to seamlessly prepare for launch with an emphasis on fair and broad distribution. With its values deeply rooted in the early Avalanche community, we are able to offer projects confident, informed users who are aligned with the long-term goals of the rapidly expanding application ecosystem.
Leveraging Avalanche's scalable, high-throughput, and low-latency platform, Avalaunch is built by users, for teams, to help grow strong communities.
About Crabada
Welcome to the world of Crabada. Rediscover the prosperous ancient Hermit-Crab Kingdom once ruled by Crustaco, King of the Crabada. Recruit loyal followers to your cause. Harvest precious resources from mines, and breed new warriors for your army. Loot enemies or humble miners unaware, claiming your rightful share of their riches.
Will you be the one to take the place as King of the Crabada? Or will you sow the seeds of discord across the land? The world is your oyster. Soon, they will tremble when they hear your name.
Website | Telegram |Discord | Twitter | Whitepaper | Medium
---
Crabada AMA #2 — Technical Deep Dive with Fuji102x (Recap) was originally published in Avalaunch on Medium, where people are continuing the conversation by highlighting and responding to this story.