CryptoYieldFocus: Site Down, Devs Gone, Social Media Channels Closed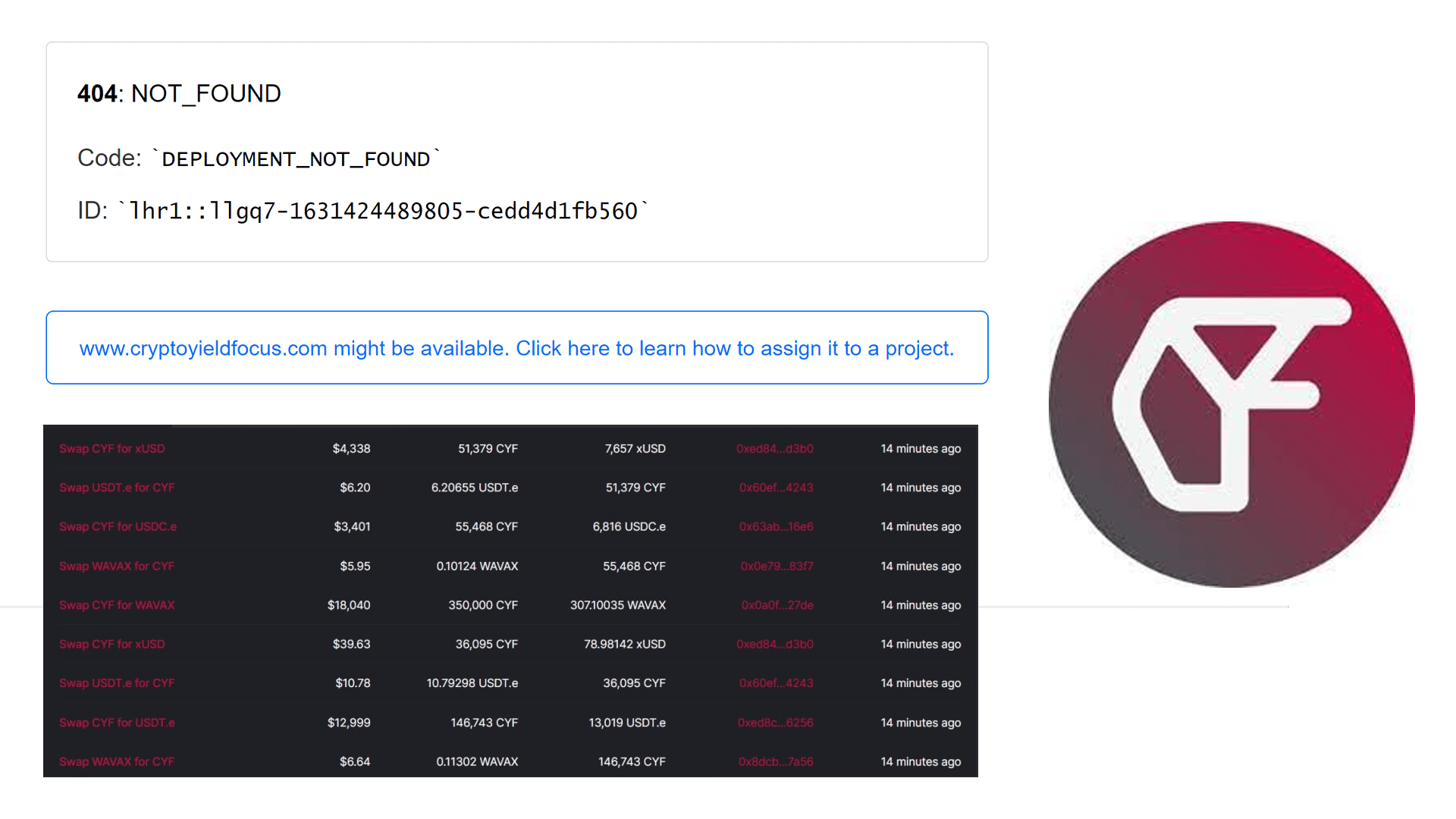 There has been a huge influx of new market participants to Avalanche.
A new wave of developers in tow.
Many of these newer projects do not have the same tenacity as those that have come before them.
This is another reminder to practice extreme caution. Especially with "degen farms" promising high rewards.
---
A breakdown of what we know
CryptoYieldFocus launched their first project on Avalanche a few days ago
Their intentions appeared very positive; they were networking with others
They published their NFT competition
They published dApp battles, promising giveaways
Last night, they exited, and closed down their social media accounts. Their website is also down.
Their masterchef contract, still appears airtight. This is the smart contract used for farming yields.
As such, you are still currently able to emergency withdraw from the farms.
It isn't the easiest walkthrough. But, we do have their contract.
How to exit the CYF Masterchef contract
Let's keep it simple.
Search your wallet on the Avalanche C-Chain
Toggle the transactions to "From"
Then search on the page for their MasterChef contract address

0xaB0141F81b3129f03996D0679b81C07F6A24c435 <- this address

Open each transaction, and find the _pid. The _pid is the ID of the farm to withdrawal from. You'll need these numbers; store them in notepad.
Go to Write Contract, and find the function emergencyWithdraw()
Input your _pid numbers one by one, then withdraw.
---
If you guys need further support, you are welcome to join our telegram group discussion. And any help on tracking down the developers would be appreciated to.
Stay safe people. A video guide will follow shortly to make the process easier.