DCRC RaceX – Speeding to Avalanche
General Information
The DCRC RaceX project has been designed and optimized for the Avalanche Network
Therefore $AVAX is required to mint a DCRC Racecar, so be sure to have your $AVAX at the ready to take your chance at the racecar of your dreams.
Limited Mint – Restricted to 10,000 Total NFTs
The Racecar that you receive after minting is completely randomized. You could possibly speed away in the rarest supercar available or putter off in a common pinto. Once all of the initial 10,000 are sold out, you'll have to visit a secondary market to browse the selections and make your choice. Will you mint your dream car or shop the used lot?
Free Mint for NFKey Holders
As a thank you to early adopters, owning an NFKey (available for purchase during the presale) will allow the owner to mint one Racecar at 0 costs (1 per NFkey). The first 1745 cars available will be reserved for these specific individuals and will be available to mint on the 19th.
Proud Partner of Kalao Market
Kalao is an official partner of DCRC RaceX. This means the verification process has already been started and sales will be active upon immediately upon launch
Minting Rules & Added Incentives
The DCRC RaceX Mint will be divided into 4 rounds. Each round the price to mint will increase. It pays to be fast on the track as all holders of a DCRC Racecar are entitled to 3% reflection from mint proceeds as well as all secondary market transactions, automatically set via smart contract.
1746 to 6000 – 3.0 $AVAX Per Mint
6001 to 8000 – 3.5 $AVAX Per Mint
8001 to 10000 – 4.0 $AVAX Per Mint
As an added incentive and loyalty reward for #RaceX token holders, the team has set the following discounts in place
At least 1 $RaceX tokens held will provide a 10% discount
At Least 500k $RaceX tokens held will provide a 15% discount
1 Mil+ $RaceX tokens held will yeild a %22 discount
Holders of both an NFKey and $RaceX tokens are offered a %25 discount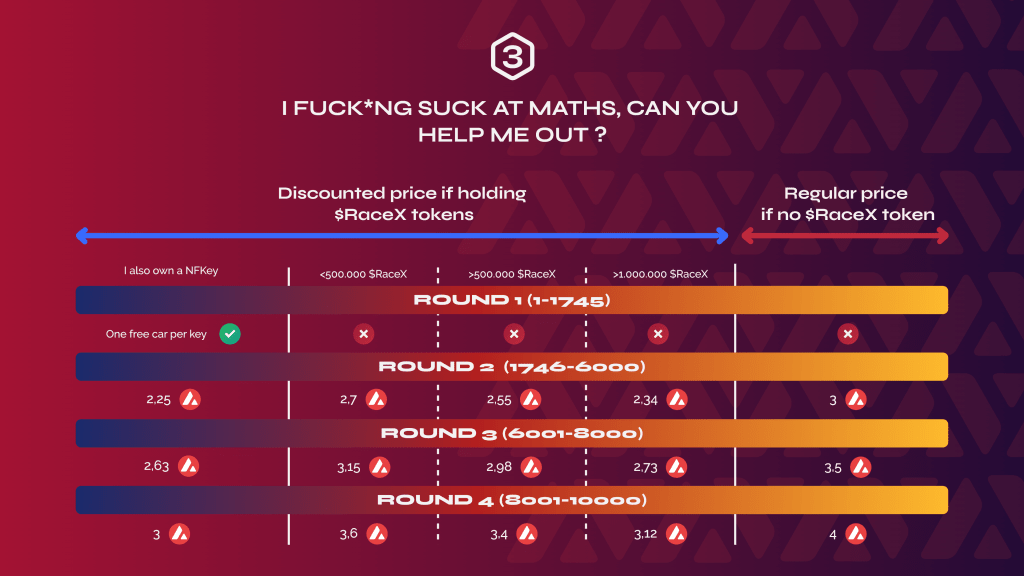 Twitter: @DcrcAvax