DeFiato X Avalaunch: IDO Announcement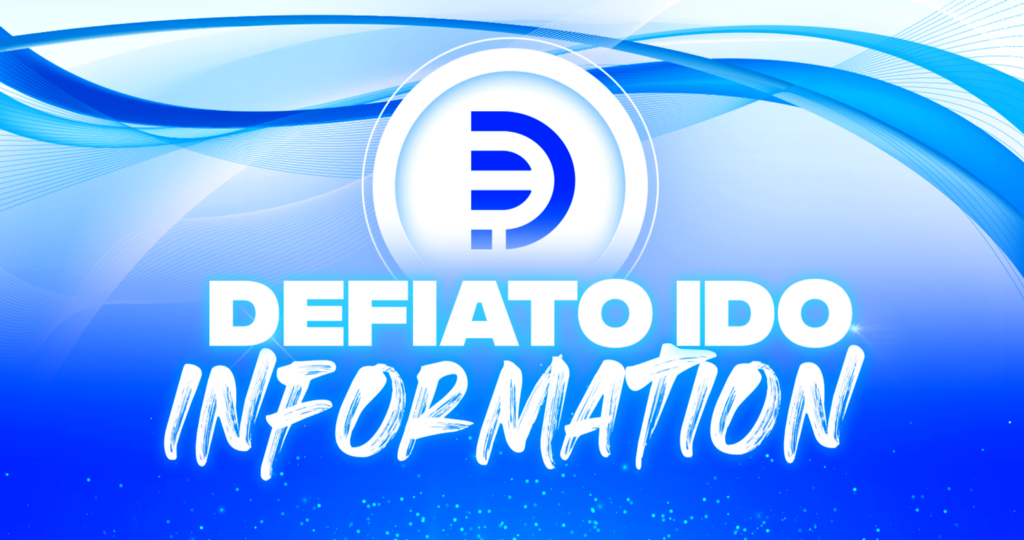 The revolution that is automated market making has been driven by liquidity provision and the benefits given to liquidity providers (LPs) has been largely responsible for the ongoing evolution of cryptos as tradable assets. Much ado has been made about this progress and rightly so, but in assigning credit beyond the underlying technological advancements, one has to tip their hats to the "OG" farmers who first recognized the upside in incentivized liquidity pools. They have contributed greatly to the ecosystem while profiting in relatively siloed fashion. And, as more projects build on Avalanche and as DeFi evolves, more value gets locked on native protocols — thus unlocking additional opportunities for those who are early.
The continued innovation of these protocols is a given and most recently, Platypus Finance made waves with their pooled liquidity and inventive tokenomics. It is yet another milestone and victory for Avalanche as well as cryptocurrencies on the whole which are still oft labeled as "experimental" at best, and pejoratively, as "vaporware." Clearly, the blockchain is transcending its detractors, and, as decentralized finance attract more new users, the onboarding process must become far more intuitive and safe.
The robust financial services and primitives once lorded over by centralized bankers are now available to early entrants into the cryptosphere but bonafide adoption remains the end game. The initiatives to normalize crypto that are genuinely attractive to the proverbial "nocoiner" remain few, as the path is unwieldy, costly and fraught with risk — both perceived and real. The route to DeFi is all but inaccessible to most. Here to do their part to facilitate adoption and bridge the path to DeFi is DeFiato, and Avalaunch is proud to announce them as our next IDO.
https://medium.com/media/1673c6ea32901d7e1c5e27ef8c74de6c/href
Overview
"DeFiato is the next-generation centralized platform for DeFi staking, yield farming and financial services. Our founding mission is to remove technical barriers and give mainstream users the same ability that experienced, large crypto players have to support their favorite blockchain projects, while earning rewards at the same time."
The problem to be solved here is readily apparent — there is friction and fragmentation when it comes to onboarding new users to DeFi and, once aboard, there is confusion. Consider:
On-chain farming/staking/trading presents technical barriers
Off-chain farming/staking/trading has issues with liquidity?
Lack of User Support
Fiat access restriction for crypto
Lack of central multi-chain support for given crypto assets
Lack of institutional-grade custodians
A picture that tells the story: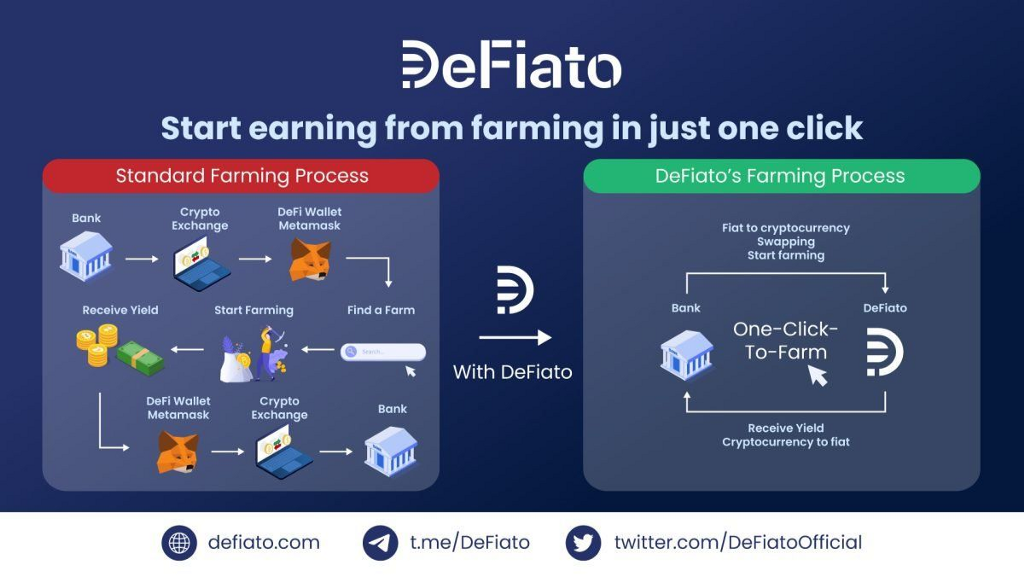 The above image does not speak to the steps within the steps e.g. setting up an account at a given crypto exchange, KYC, waiting for funds, bank difficulties and it gets no easier for the new user in their quest to deploy that capital on a farm in the hopes of earning yield. Further compounding the difficulties, there are reporting and tracking difficulties…and on it goes. Even the most devout crypto user will admit that it is laborious, tedious and daunting, from start to finish. The fact that there is people's hard earned money on the line makes the stakes far greater. There is massive room for improvement.
The DeFiato Solution
DeFiato is a Centralized Exchange Graded platform with highest possible security designed with on-chain DeFi support in mind.
The idea is to not only remove the current hurdles new users face but allow them to essentially participate with a click of a button. Cross-chain no less. DeFiato feels poised to onboard the masses and some of what they are promising is sorely needed:
Intuitive FIAT on-ramping
Security of funds
Lightning speed settlement
Ease-of-use through a one-click approach
Customer service
On-chain liquidity through various pools across various chains
P2P transactions
Prime Trust will be providing custodianship of assets and they are well known, working with Binance among other industry titans. DeFiato will be working with Plaid for a comprehensive KYC'd approach that creates a seamless interaction between DeFi and fiat. Plaid has worked with a variety of mobile payment and fintech platforms such as Venmo, American Express and Coinbase.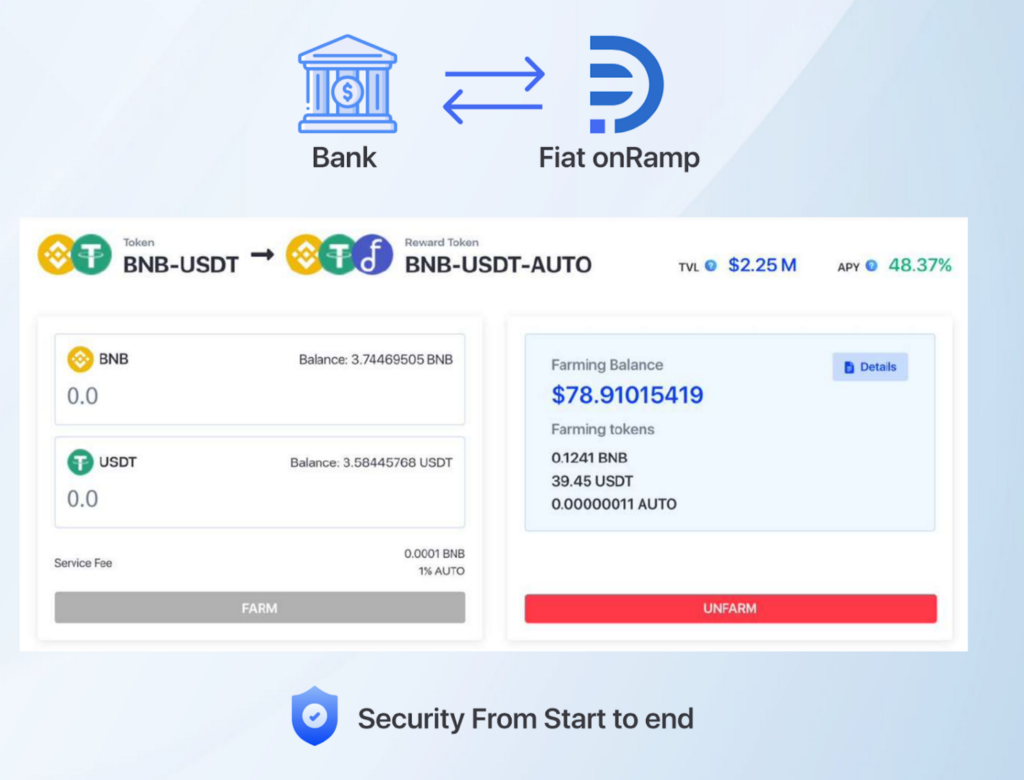 Farming: The Final Frontier
Having performed the heavy lifting, users will be able to experience the benefit of cross-chain farming opportunities at the click of a button. This is watershed, as many "normies" own some crypto but the notion of earning yield is a light years away proposition for them. It is essentially a reverse process of onboarding and the UI is intuitive. A person may hold a given crypto asset and be able to see the available farming opportunities laid out before them. From there, the process from "table to farm" is just another click away. There is no security compromise or execution risk on the user's end as they carry out what is a cumbersome process.

DeFiato — Links & Team
Website | Telegram (Discussion) |Telegram (Announcement) I Twitter | Facebook | YouTube |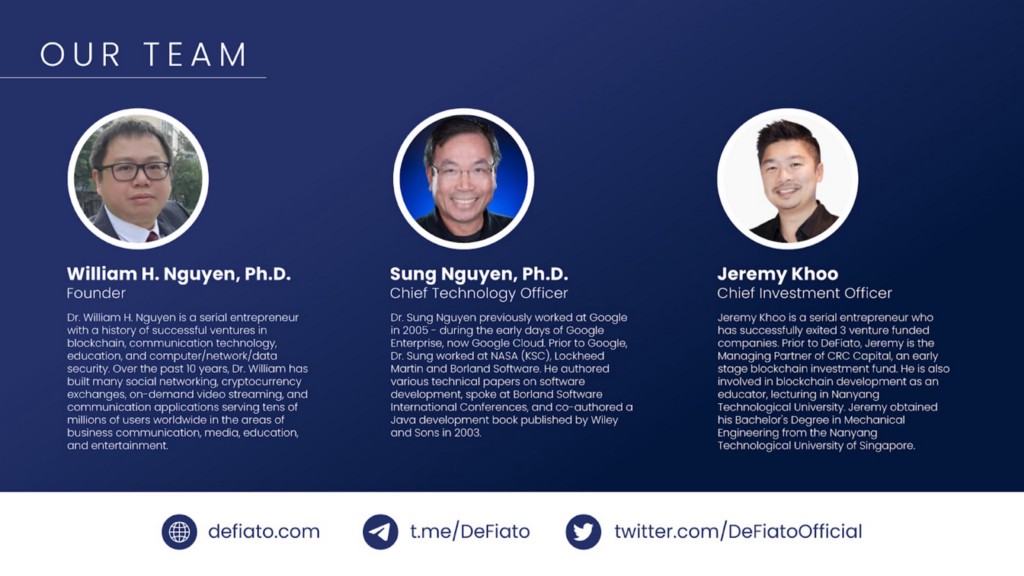 Investors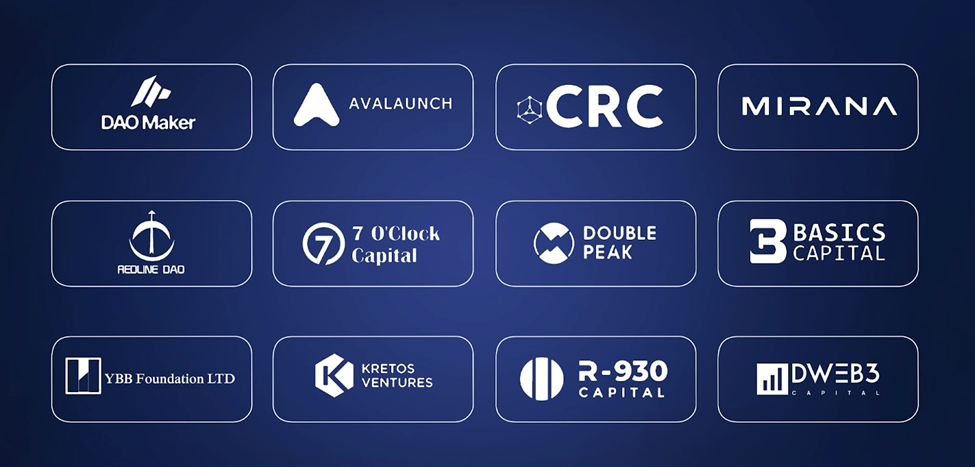 Partners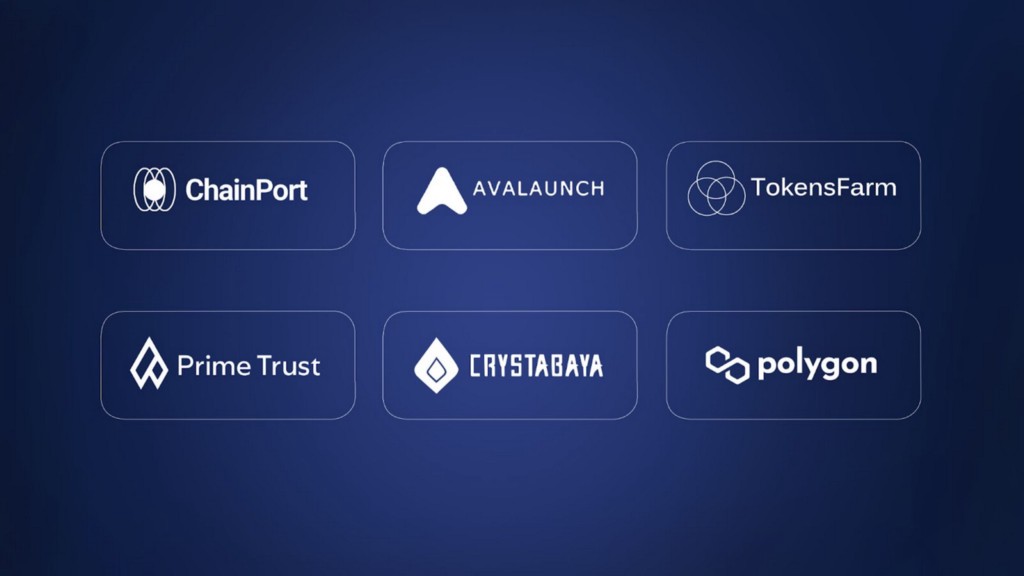 "It is a real surprise to find a project like DeFiato. We believe that it will bridge the gap between CeFi and DeFi, and become a pioneer in this space" — Kris Li, Founder, RedlineDAO
Closing Thoughts
DeFiato, to a degree, has hidden in plain view. There has been considerable development to date and their open-beta testing attracted more than 80,000 users along with 15,000+ KYC'd. To offer institutional grade security with an easy onramp and farming for individual users is nothing short of a coup. Avalaunch has worked with the team for some time and appreciated the thoughtfulness of their process. They have contemplated every move and their long-term emission schedule is a strong signal that they believe their best days lie ahead and are in this for the long-term.
"Avalaunch is the absolute best gateway into the Avalanche ecosystem and community. Defiato is honored to work with the extremely supportive Avalaunch team on our path to global adoption." Jeremy Khoo, Chief Investment Officer, DeFiato.
Funding Numbers:
Total Supply: 250,000,000 DFIAT
Seed: 25M DFIAT at .04: 1,000,000M
Private: 30M DFIAT at .06 USD: 1,800,000 USD
Public: 20M DFIAT at .08 USD: 1,600,000 USD
Hard Cap: 4.4M USD
Supply Breakdown
Total Supply: 250,000,000 DFIAT
Liquidity Mining & Incentives: 112,500,000 DFIAT (45%)
Private: 30,000,000 DFIAT(12%)
Seed: 25,000,000 DFIAT (10%)
Public: 20,000,000 DFIAT (8%)
Treasury: 25,000,000 DFIAT (10%)
Team: 37,500,000 DFIAT (15%)
Vesting Following TGE:
Liquidity Mining & Incentives: 10-year emission with lockup — 10% at TGE for market making, 0.35% every month thereafter.
Private: 10% at TGE, 6-month cliff, 3.6% vesting in month 7 onward every month.
Seed: 10% at TGE, 6-month cliff, 3.6% vesting in month 7 onward every month.
Public: 20% at TGE, 20% at month 4 and quarterly thereafter.
Treasury: 12-month cliff, 8.33% monthly for 12 months.
Team: 24 month-cliff, 8.33% monthly for 12 months.
Other:
Initial Circulating Supply: 9,550,000 DFIAT (excluding liquidity tokens)
Initial Market Cap: 764,000 USD (excluding liquidity tokens)
Initial Liquidity: 500,000 DFIAT from Liquidity Mining & Incentives
The DeFiato IDO on Avalaunch
12.5M DFIAT at .08 USD — $1,000,000 USD (Total Supply: 250M DFIAT)
Sale Size: $1,000,000 USD
Registration Schedule:
Registration Opens: February 9th at 3:00 p.m. (UTC)
Registration Closes: February 12th at 6:00 a.m. (UTC)
Sale Schedule:
Validator Round Begins: February 14th at 6:00 a.m. (UTC)
Validator Round Closes: February 14th at 3:00 p.m. (UTC)
Staking Round Begins: February 14th at 3:30 p.m. (UTC)
Staking Round Closes: February 15th at 6:00 a.m. (UTC)
IDO Recap
Total DFIAT for sale: 12.5M
Price: $.08
Size: $1,000,000
Vesting — 20% at TGE, 3-month cliff, monthly vesting for 9 months

About Avalaunch
Avalaunch is a launchpad powered by the Avalanche platform, allowing new and innovative projects to seamlessly prepare for launch with an emphasis on fair and broad distribution. With its values deeply rooted in the early Avalanche community, we are able to offer projects confident, informed users who are aligned with the long-term goals of the rapidly expanding application ecosystem.
Leveraging Avalanche's scalable, high-throughput, and low-latency platform, Avalaunch is built by users, for teams, to help grow strong communities.
---
DeFiato X Avalaunch: IDO Announcement was originally published in Avalaunch on Medium, where people are continuing the conversation by highlighting and responding to this story.