Degis AMA #2 — Technical Deep Dive with Eric (CTO) , Serlin (Chief Data Scientist) & Theo (Core…
Degis AMA #2 — Technical Deep Dive with Eric (CTO), Serlin (Chief Data Scientist) & Theo (Core Smart Contract Developer) (Recap)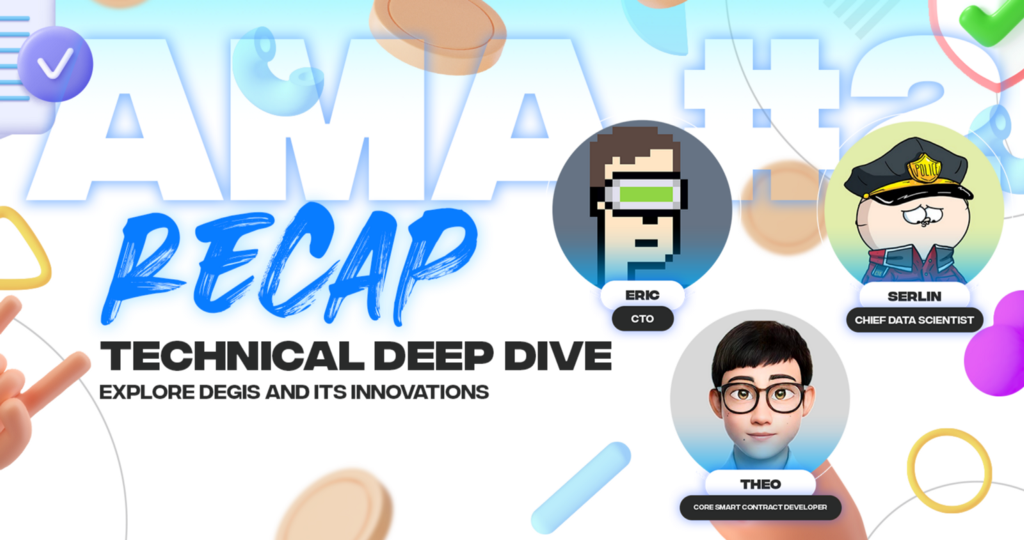 On 3/4/2022 at 4:30 p.m. (PST), an AMA session was held on Avalaunch with special guests Eric, Serlin and Theo — Degis' Chief Technology Officer, Chief Data Scientist and Core Smart Contract Developer, respectively. Below we present to you an excerpt from AMA with questions and answers.
Dave Donnenfeld | Avalaunch
The first AMA with the Degis Project was so enlightening and inspired, we had to do it again. In keeping with "one good turn deserves another," let us commence with part II, the sequel AMA with a focus on tech. Today, we are joined by @liyang_ust , the CTO from Degis and an ICPC gold medalist who is humbly known as THEO . Lastly, there is a surprise guest in Serllin and he will contribute where he sees fit. So let us dispense with the pleasantries and get into it with our all star cast. Thank you all for being here.
Can you please introduce yourselves: who you are and how did you get into your current positions?
Eric Lee| Degis
Hello everyone. Nice to be here! I am Eric, CTO from Degis.
I have 3 years of development experience in blockchain and previously a C++ developer.
I am in charge of product logic implementation and smart contact development.
I have been participating in Degis since its early time last year. Together with other founders and core members, we decided to start this project. At that time, I got to be in charge of technical part because of my developer experience.
THEO DING| Degis
Hi guys, I'm Theo, I used to be a computer vision algorithm researcher and now a core smart contract developer at DEGIS.
I got the ICPC Gold Medal in college and I have 5 years of work experience. I joined Degis last year through the recommendation of professor Chen.
Serllin| Degis
Hi guys, this is Serllin from Degis team, and I am in charge of data analysis & monitor behind protection products, also assist in front & back-end development.
I used to work in quantitative companies, doing long-short trading strategies in futures & options market, and we also traded crypto assets, just from that time, I started to know DeFi, it has been three years.
I am also one of the first members in Degis, and I was responsible for data analysis, back-end monitoring and docking from the very beginning.
Dave Donnenfeld | Avalaunch
Appreciate your respective backgrounds. It is quite an impressive team to be sure. Please describe for us the high-level organization of your team? How many are there in total, what their expertise lies in, and how does this orchestration work to hit all of the specific areas required for running the protection/insurance model that Degis proposes?
Eric Lee| Degis
We have 12 people in total and three main departments: development, marketing and product & operation.
Our development department consists of smart contract developers and web developers, focusing on smart contracts and the web interface.
Community management and business promotion are done by the marketing team.
The product&operation team is for designing products, tokenomics, and daily operations.
We are closely working together to build our products!
Dave Donnenfeld | Avalaunch
Good deal. How many in-house developers are currently working on Degis, and are there any future plans for extending the team?
Eric Lee| Degis
Currently we have 4 developers in our team mainly for smart contract, web interface and data processing.
Definitely, we are trying to expand our development team. We welcome those developers with passion, talent and experience. If you are interested in joining us, feel free to contact us.
Dave Donnenfeld | Avalaunch
How long has the beta product been in development for? What were the most challenging aspects throughout the building phase, and how have these roadblocks been overcome?
Eric Lee| Degis
Actually, this version has been in development for over 6 months.
Our model for building protections is very different so we spent a lot of time designing the implementation logic.
Especially for flight delay protection: a product connecting real world event with on-chain protection.
Also, we spent much time implementing our lucky box & purchase incentive system to share the income with holders in a more interesting way.
Our products highly rely on the data from oracles so we had many communications with different oracles and build our own oracle node. Hopefully we overcome these difficulties and get the product now.
Dave Donnenfeld | Avalaunch
This has been a long time coming. In crypto, people tend not to bother gauging the maturity of a project and what has gone on behind the scenes. Even the difference between one working product vs. the next and how intensive it may or may not be. We've known you for many months now and the amount of progress you've made has been impressive.
As I understand, the testnet released earlier this month is a full simulation of the mainnet. What can you tell us about the testnet progress so far? Are there any outstanding figures you'd like to discuss i.e. the number of participants etc?
THEO DING| Degis
Degis successfully held the second phase of the testnet event last month, around 200,000 unique addresses participated in the test. Over 50,000 addresses hold DEG in the test.
We have received a lot of praise and suggestions from our participants.
Dave Donnenfeld | Avalaunch
Super impressive numbers for a testnet and 50,000 addresses is amazing.
The way in which Degis brings this new protocol infrastructure is via smart contract insurance and an alliance with several security providers. Who are these providers, and how will the structure from a technical perspective look like when translating it into a user-friendly environment?
THEO DING| Degis
Our smart contract insurance will not be built on a mutual with many users but come from several security providers and project teams.
We think that when a new project goes online, the team is responsible for the security protection for their users (if they are not planning for a rug&pull).
We will build an alliance that consists of several projects and security audit companies. Every new member who wants to join need to stake part of their native tokens. The joining needs approval from most of the previous members of this alliance together with an audit certification.
Once some security issues happen, the payoff will have 1) the project tokens 2) other project tokens in the alliance 3) DEG tokens. Of course, most of the payoff will be in the first form.
We want to move the security responsibility from users to projects and make it a new standard for users to choose good projects.
Dave Donnenfeld | Avalaunch
Thanks for that Theo and it's great you're building a consortium/alliance of security partners.
From the protocol protection standpoint, Degis goes beyond the typical token protection and introduces the model for NFTs. Can you tell us why you devised the NFT model and how do you see this play out in the long-term, what benefits might this present now and in the future?
THEO DING| Degis
NFTs behave like a unique certification and is very useful for representing a "right" for someone. So it is natural to bring NFT into this protection area because every policy you have bought is a "right" of you.
Currently NFT has few standards and is used for many different types of protocols. So in a long term, we want to expand the NFT usage in protection area and make a new standard/template. A special NFT standard would help more future projects to easily integrate with protection projects like us.
Dave Donnenfeld | Avalaunch
Are there plans for extending the full version of Degis into a mobile application, if so when would this be expected?
THEO DING| Degis
Yes, we know that more people are using mobile devices now and it definitely is on our to-do list.
Actually, Degis's current website is mobile compatible, so users can operate on their mobile phones.
Meanwhile, our priority is to make sure that Degis can run smoothly for some time and then make all of our designed products online. So it may need more time before you see a mobile app.
Finally, no matter you are using a browser from a desktop or mobile phone, keep your wallet safe!
Dave Donnenfeld | Avalaunch
Thanks again Theo. So Degis decided to take on the notion of user participation through liquidity incentives, purchase incentives and governance. Can you tell us how the interplay between these different areas are designed to keep the users at the core of the protocol, and what implications this may hold for future expansion?
Serllin| Degis
thanks for the question, as one next-generation all-in-all protection platform, we have adopted unique & novel ways to engage users.
As you can see, they can not only be rewarded for providing liquidity, but also for buying policies, to enjoy the various benefits offered by Degis. Our basic idea is that, to give every user a sense of engagement, ownership and belonging.
For the future, we would like to extend this design, through diversified measures, like, treasure box, to enrich our platform, so that users would like to play, and to stay here with Degis together.
Dave Donnenfeld | Avalaunch
What technical challenges do you see for the future expansion of the protocol into the different blockchains?
Serllin| Degis
Currently, most of public chains are designed on EVM, which means we don't need to do too many code adjustments or changes upon our current work.
But indeed, there are few technical problems to face, for example, the claim for protection results needs to be built on the oracle service, and some public chains have not built strong oracle ecosystem.
Then, we need to implement that ourselves, like build it within Degis. This is one problem that we have to face and solve when doing the cross-chain.
Dave Donnenfeld | Avalaunch
What can you tell us about the upcoming milestones, and are there any major partnerships or announcements that the team is looking to onboard or add to the future plans of Degis?
Serllin| Degis
As we posted in the roadmap, after "Naughty Price" which has been designed already, we are now focusing on impermanent loss protection, which will be live in Q2 this year.
Also we will have smart contract protection and an all-in-one meta market this year, for meta market, it means we are going to aggregate all protection services from all chains.
And we have already reached an agreement for this with several protocols, like solace, Etherisc, we are strategic partnerships now and are aiming this goal together.
Dave Donnenfeld | Avalaunch
Final question from us — How has building in the Avalanche community been for the team? Were there any certain benefits that you feel would not have otherwise been available from a technical perspective?
Serllin| Degis
Sure, building on Avalanche is very exciting, whether from technical perspective or not.
The most outstanding things are, the high speed & low cost of transaction confirmation, which allows us to better design protection products, help users to settle down immediately at a relatively low price.
Avalanche achieves finality over 100 times faster than the current version of Ethereum, thanks to this, we design out more user-friendly products, to lighten the next-generation on-chain protection service.
Dave Donnenfeld | Avalaunch
Well done Team Degis
You have performed admirably and we are ready to move on to the twitter portion of our program
Twitter Questions
@metonyacoin1 — Will Degis have passive income mechanisms such as flexible or locked staking and farming on their listed tokens?
Eric Lee| Degis
Yes. Staking will be online soon after the product is online.
You can stake DEG with flexible or locked period for future reward.
@natadmay3422 — I would like to know who you consider to be ideal consumer for your product?
THEO DING| Degis
First of all Degis welcomes every on-chain user, we don't own the platform, Degis belongs to everyone who participates.
In addition, we are aiming to build one next generation of all-in-one decentralized protection platform, so people with protection needs are more than welcome to come here.
@Ahmetogrtm who asks — What is your most distinctive feature as Degis and the one you are most excited to offer?
Serllin| Degis
Good question, and that would be our smart contract protection product. We are going to have a model totally different from existing things.
We will adopt a new way to integrate different protocols into one protection pool, to make us protect each other through this new kind of design. more details will be announced gradually in the coming days, please stay tuned!
@waybesuricata — The Degis project has received serious investment and attracted very strong partners. So, why doesn't the team use their own ID, but the NFT ID? Can you explain this briefly?
Eric Lee| Degis
Thanks for the question.
We are serious for building products and not meant to be anonymous.
It's just because we are more comfortable to use NFT as our IDs in this virtual world.
As the question mentioned, we have many investors and partners and they are not cooperating with a team without knowing who they are.
Sure, thanks for this question, we have prepared official documentation, which you can find on our official website, or just visit https://docs.degis.io/
@Fiosandra1 — In terms of learning more about the project, are there videos or social media pages we can learn from?
THEO DING| Degis
We also have a variety of promotional videos that will be released in the near future, so please stay tuned!
Also we are regularly publishing some feature articles of our project from the medium channel( https://degis.medium.com/).
Telegram Questions
If $DEG is planned to be used as a governance token, could you elaborate in what decisions the governance power will be given to the holders which encourages them to hold $DEG for long term?
Eric Lee| Degis
There will be a governance system for DEG holders after our product runs smoothly for some time.
And we have designed another governance token generated from DEG.
The decisions may include: adding new tokens for token price insurance, adding a brand new protection product, changing some policy parameters in the smart contracts, and changing some tokenomics parameters.
"Where I can get the latest updates or more information about the project?"
Serllin| Degis
Firstly, thanks for the question. You may get the latest information about our project by following our official channels, including but not limited to Twitter, discord, etc.
Generally, we will post the latest news there, and, through our medium channel, you can get more specific descriptions of our projects.
Token Burn and Buyback program play an important role in increasing Token value Do you have a token burn or buyback program plan to attract investors?
Eric Lee| Degis
Yes we know many projects have a buy back and burn mechanism for their token price.
We also have some designs for keeping our token's value.
That will be achieved by the lucky box part.
We will share the major part of the income of Degis to our token holders.
"What is the most ambitious goal of your project? Could share with us any Upcoming Updates?"
Serllin| Degis
Our most ambitious goal, is to build the all-in-one protection platform, i.e. the meta market we mentioned in our roadmap. Which means, We are going to aggregate all protection services from all chains.
And we have already reached an agreement for this with several protocols, like solace, Etherisc, we are strategic partnerships now and are aiming this goal together. We are planning to achieve that till the end of this year.
Do you allow suggestions and feedback from the community? Are we allowed in decision making, do you put community into consideration?
THEO DING| Degis
Yes, we welcome feedback from the community, in fact, we received a lot of suggestions from the community during the testnet.
Further, when our project is stable, we will give more power to the community(DEG holders) to directly participate in the governance. And finally, we will hand over the authority of Degis to community management.
Dave Donnenfeld | Avalaunch
Thank you Degis. You all were great. Very much appreciated having the opportunity to get to know all of you and I think you're going to make some waves in the space. Look very much forward to your mainnet launch and all the good things that lie ahead. @liyang_ust Serllin and THEO you all have been rock stars here today. On behalf of the Avalaunch community, we thank you.
Eric Lee| Degis
Thanks everyone! Nice to be here with you.
Serllin| Degis
thanks you all guys, happy to be here

About Avalaunch
Avalaunch is a launchpad powered by the Avalanche platform, allowing new and innovative projects to seamlessly prepare for launch with an emphasis on fair and broad distribution. With its values deeply rooted in the early Avalanche community, we are able to offer projects confident, informed users who are aligned with the long-term goals of the rapidly expanding application ecosystem.
Leveraging Avalanche's scalable, high-throughput, and low-latency platform, Avalaunch is built by users, for teams, to help grow strong communities.
---
Degis AMA #2 — Technical Deep Dive with Eric (CTO) , Serlin (Chief Data Scientist) & Theo (Core… was originally published in Avalaunch on Medium, where people are continuing the conversation by highlighting and responding to this story.