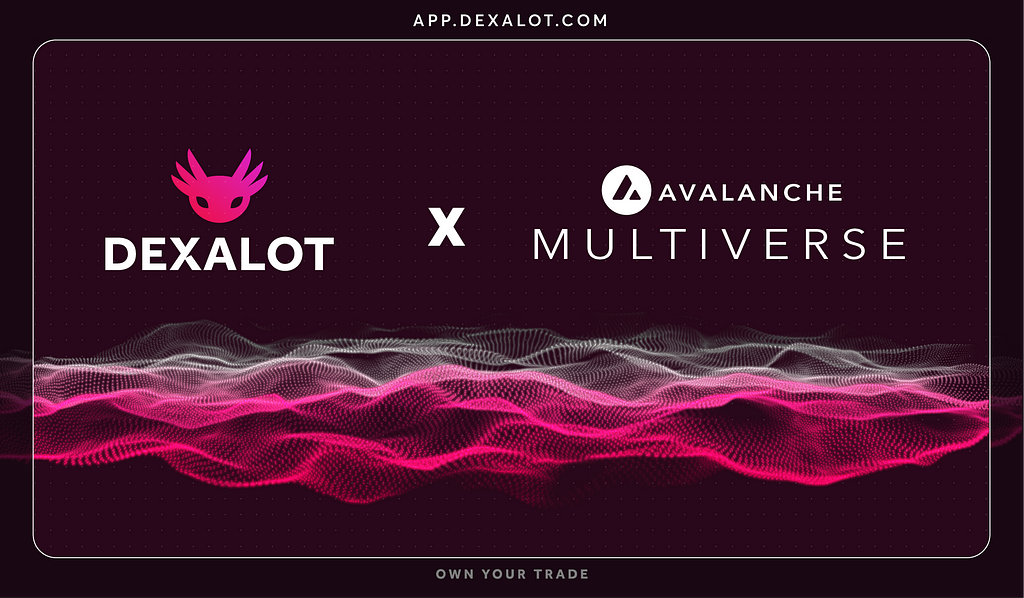 The Avalanche Foundation is providing incentives worth up to $3 million in AVAX tokens for Dexalot, a central limit order book-based decentralized exchange built on an Avalanche Subnet. The incentives come from Avalanche Multiverse, an up to $290M incentive program aimed to accelerate growth of new subnets built on Avalanche. The funds will be distributed to Dexalot's users, with eligibility extending to any user who has traded on its platform since the launch of the Dexalot Subnet in February.
The Avalanche Foundation launched Avalanche Multiverse in March 2022 as an up to $290M incentive program focused on accelerating the adoption and growth of subnet functionality, which enables a rich ecosystem of scalable app-specific blockchains. The program has focused on supporting new ecosystems including blockchain-enabled gaming, DeFi, NFTs and institutional use cases.
"Dexalot's non-custodial fully on-chain CLOB is revolutionary and could provide for the best pricing of swaps for various assets within our ecosystem. After the events from the past year, we expect to continue to see a renewed push into non-custodial DeFi that enables trustless transactions between unified parties and Dexalot is a key piece of that infrastructure." — Luigi DeMeo, Ava Labs Director of DeFi Business Development
By using a CLOB (Central limit order book) system similar to centralized exchanges such as Binance and Coinbase, Dexalot enables traders to enter no slippage orders with confidence they will execute at their specified price. With Dexalot, users can see buy and sell demand transparently, with fair matching of orders that eliminates the speed advantage of automated trading bots.
The rewards will provide a strong incentive for users to trade at rapid speeds on Dexalot, with low transaction fees and some of the best prices in the industry. Dexalot is proud to be a participant in Avalanche Multiverse.
Highlights:
Up to $3 Million in AVAX tokens
Multiple activities incentivized
Start — Distribution starts September 1, 2023
Duration — 1 Year
Activity Eligibility:
All Users that trade on theDexalot exchange are eligible.
Trades and portfolio holdings on Dexalot since the launch of the Dexalot Subnet in February 2023 apply retroactively.
Contracted market makers are not eligible.
Initial Incentive Distribution:
Initial incentives will be distributed according to the same basic mechanism used for DIP.
Multiverse incentive proportions will utilize the following DIP components (50% each) as described below:
E — Executed Volume: The total US$ value of all trades executed by you, assessed monthly.
A — $ALOT Token Quantity: The total number of $ALOT tokens in your Dexalot portfolio assessed monthly.
Distribution will be across trade pairs according to the following proportions:
ALOT/USDC — 14%
AVAX/USDC — 13%
AVAX/USDt — 13%
BTC.b/USDC — 13%
WETH.e/USDC — 13%
EUROC/USDC — 10%
USDt/USDC — 10%
sAVAX/AVAX — 10%
LOST/USDC — 2%
STL/USDt — 2%
Additional Distributions:
There will be more opportunities and additional activities for earning Multiverse rewards.
Author: Brad McFall
Editor: Dan Marcoulis
Graphics: Can Toygar
About Dexalot:
Dexalot is a revolutionary decentralized exchange bringing the traditional centralized exchange look and feel to a decentralized on-chain application. Its mission is to bring a truly inclusive and transparent environment where Dexalot users can trade crypto securely and efficiently, with no slippage or custody risk. It is built on Avalanche, the fastest smart contracts platform in the blockchain industry.
Website | Twitter | Telegram | Medium |Discord
---
Dexalot Multiverse was originally published in Dexalot on Medium, where people are continuing the conversation by highlighting and responding to this story.