Dexalot Qi Incentive Program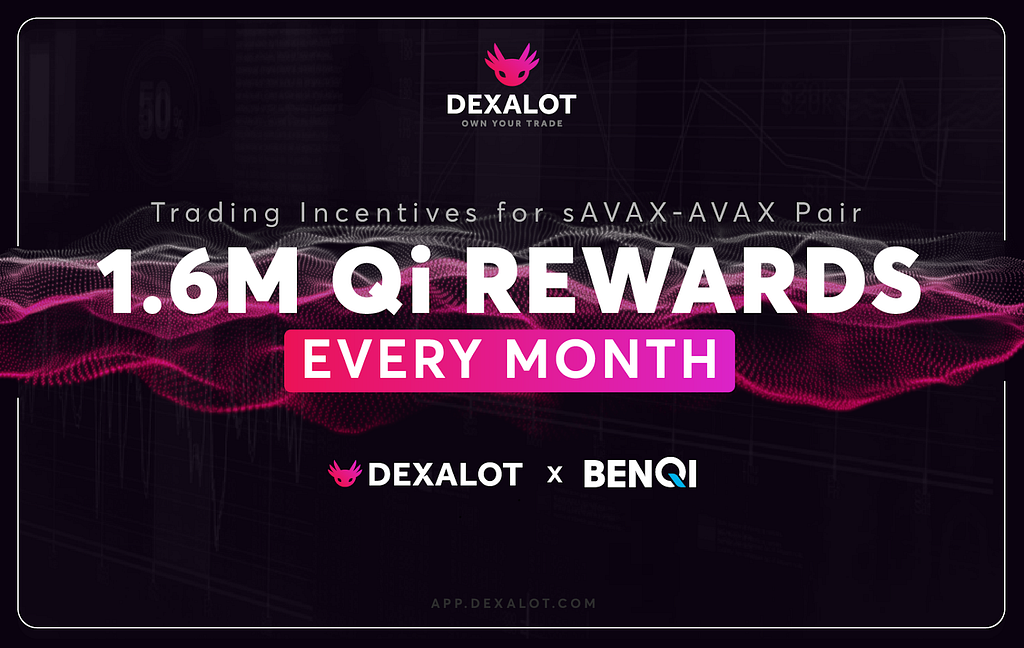 Dexalot is partnering with Benqi to give traders yet another trading incentive. In addition to DIP and Multiverse, trading sAVAX/AVAX on Dexalot will now earn you rewards thanks to 1.6M Qi distributed to users each month. The QI token is an Avalanche asset that oversees the entire ecosystem of the BENQI protocol, including BENQI Liquidity Market and BENQI Liquid Staking. With the DQ incentive program, the more ALOT you hold and the more sAVAX/AVAX you trade, the more Qi you will receive. Now you can own your trade, build your portfolio and support the Avalanche ecosystem with Qi trading rewards courtesy of Dexalot and Benqi.
Highlights:
1.6 Million QI tokens
Every Month
Starts November 2023
Eligibility:
All Users that trade sAVAX-AVAX on the Dexalot exchange are eligible.
Incentive Distribution:
Incentives will be distributed according to the same basic mechanism used for DIP.
Qi incentive proportions will utilize the following DIP components (50% each) as described below:
E — Executed Volume: The total US$ value of all trades executed by you, assessed monthly.
A — $ALOT Token Quantity: The total number of $ALOT tokens in your Dexalot portfolio assessed monthly.
If you have any questions join us on Discord.
Author: Brad McFall
Editor: Dan Marcoulis
Graphics: Can Toygar
About Dexalot:
Dexalot is a revolutionary decentralized exchange bringing the traditional centralized exchange look and feel to a decentralized on-chain application. Its mission is to bring a truly inclusive and transparent environment where Dexalot users can trade crypto securely and efficiently, with no slippage or custody risk. It is built on Avalanche, the fastest smart contracts platform in the blockchain industry.
Website | Twitter | Telegram | Medium |Discord
---
Dexalot Qi Incentive Program was originally published in Dexalot on Medium, where people are continuing the conversation by highlighting and responding to this story.