by bugs-bunny
Cryptocurrencies are digital assets that have become increasingly popular in recent years. For those interested in trading cryptocurrencies, there are various exchanges available. These exchanges allow users to buy, sell, exchange, and store cryptocurrencies. However, not all exchanges are the same. Different exchanges offer different features, advantages, and disadvantages. In this article, we will compare two popular exchanges, Dexalot and Binance. Dexalot exchange is a decentralized exchange operating on the Avalanche Subnet. Binance, on the other hand, is a centralized exchange. We will compare these two exchanges based on factors such as security, user experience, interface, speed, and fees. By the end of the article, I hope to assist you in determining which exchange is more suitable for you.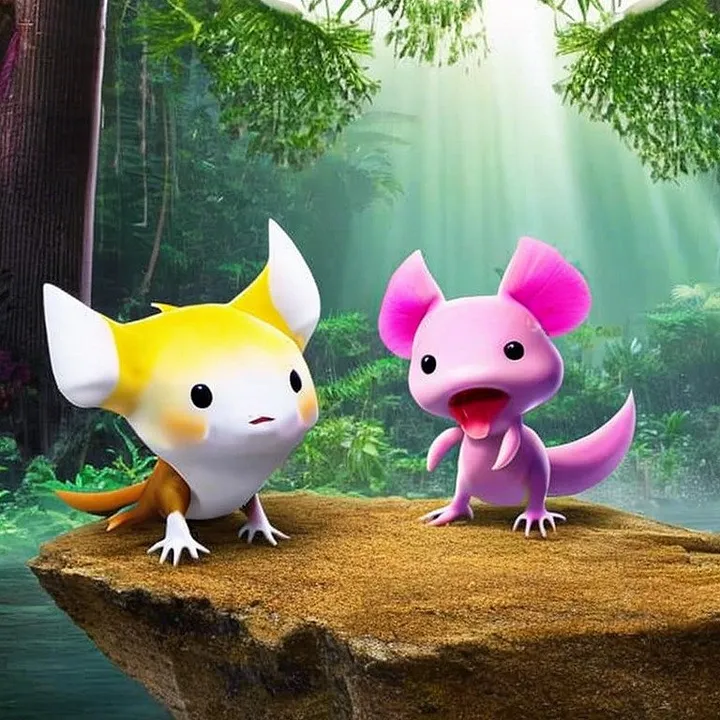 Dexalot allows its users to maintain control of their funds without the need for any third-party intermediaries. Binance, on the other hand, requires users to deposit their funds into a centralized wallet, which may carry custodial risks. Dexalot exchange is a management contract that utilizes OpenZeppelin AccessControl roles to provide different levels of access. Binance exchange implements its own security protocols and measures.
Dexalot mimics the interface of traditional centralized exchanges, allowing users to view order books, trade histories, and charts. It has a user-friendly and intuitive interface. Binance, on the other hand, offers a more advanced and professional interface, allowing users to choose different trading modes and strategies.
Dexalot enables users to easily connect wallets, deposit and withdraw funds, manage portfolios, and trade whenever they want. Binance, on the other hand, requires users to register with an email, undergo identity verification(KYC), and share personal information. It can set limits for users to deposit and withdraw funds to and from the platform.
Dexalot provides users with the opportunity to execute transactions with high speed and low transaction fees. Transactions are carried out and confirmed within seconds through the Avalanche subnet. Binance, as a centralized exchange, does not have on-chain transactions, which makes them fast but not transparent.
Dexalot charges a fixed taker fee of 0.30% for every transaction, regardless of the transaction volume or trade size. Binance is known for having the lowest trading fees, with a default fee rate of 0.10%. However, using the BNB token can provide a 25% discount on the fee.
Dexalot not only limits itself only to the Avalanche platform but also plans to integrate with other EVM chains. It has a multichain vision, allowing users to trade between different cryptocurrencies on different networks. Additionally, it aims to offer advanced trading features such as future trading in its roadmap.
In conclusion, in this article, we compared Dexalot and Binance exchanges based on factors such as security, user experience, interface, speed, and fees. Dexalot exchange, as a decentralized exchange, allows users to maintain control over their funds, preserve their privacy, and execute fast transactions at low fees. Binance exchange, as a centralized exchange, enables users to trade among a wide range of cryptocurrencies and benefit from various services offered by the platform. Dexalot is a better option for users seeking security, privacy, and freedom, while Binance may be a better choice for users looking for liquidity, diversity, and ease of use. Both exchanges have their own advantages and disadvantages.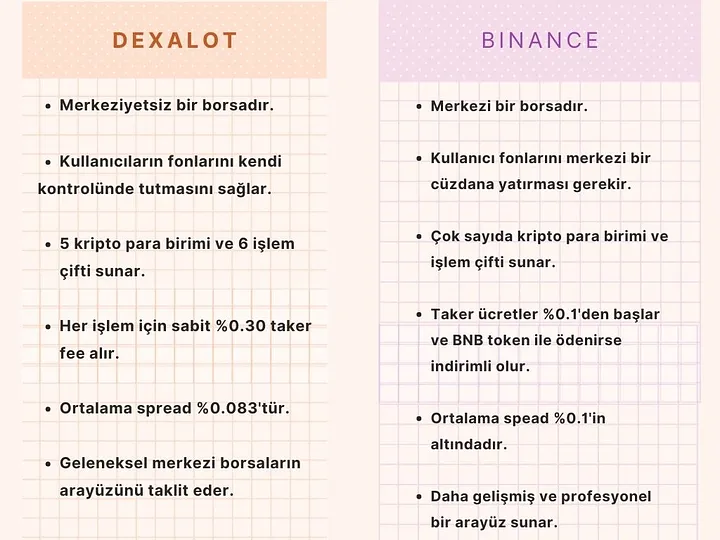 Author: bugs-bunny
Translator: Onur YILMAZ
Editor: Brad McFall
Original article: DEXALOT vs BINANCE
About Dexalot
Dexalot is a revolutionary decentralized exchange bringing the traditional centralized exchange look and feel to a decentralized on-chain application. Its mission is to bring a truly inclusive and transparent environment where Dexalot users can trade crypto securely and efficiently, with no slippage or custody risk. It is built on Avalanche, the fastest smart contracts platform in the blockchain industry.
Website | Twitter | Telegram | Medium |Discord
---
DEXALOT vs BINANCE was originally published in Dexalot on Medium, where people are continuing the conversation by highlighting and responding to this story.