with Dexalot Discovery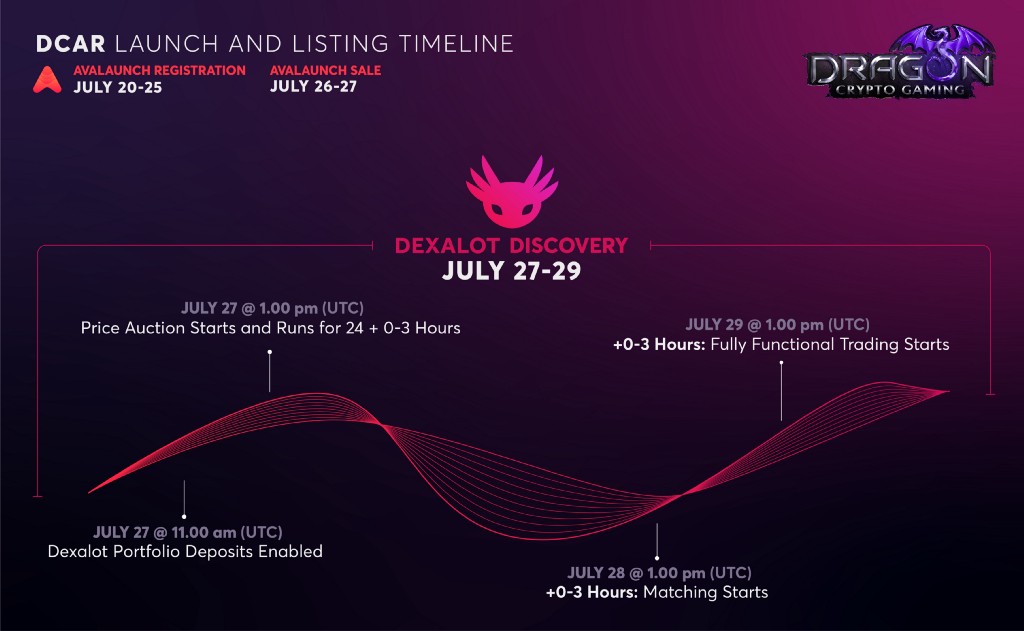 The Dragon Crypto Gaming IDO for $DCAR is on Avalaunch. The IDO will follow Avalaunch's regular process to ensure a fair distribution of the $DCAR token to their community. Please see Avalaunch's social channels for more details.
Once the IDO is completed, $DCAR's initial listing price will be determined via Dexalot Discovery, a price discovery mechanism based on an on-chain live auction. After the IDO, the trading of DCAR will begin on Dexalot.
Dexalot held a Testnet Battle for the community to learn about the process prior to the IDO and Discovery.
Key dates are outlined below.
Avalaunch Registration
JULY 20, 3:00 PM (UTC): Registration Opens
JULY 25, 6:00 PM (UTC): Registration Closes
Avalaunch Sale
JULY 26, 6:00 AM (UTC): Validator Round Begins
JULY 26, 3:00 PM (UTC): Validator Round Closes
JULY 26, 3:30 PM (UTC): Staking Round Begins
JULY 27, 6:00 AM (UTC): Staking Round Closes
JULY 27, 6:00 AM (UTC): Booster Round Begins
JULY 27, 10:30 AM (UTC): Booster Round Ends
Dexalot Discovery
JULY 27, 11:00 AM (UTC): Dexalot Portfolio Enabled
JULY 27, 1:00 PM (UTC): Price Auction Starts and Runs for 24 + 0–3 Hours
JULY 28, 1:00 PM (UTC): Matching Starts (+0–3 Hours)
JULY 29, 1:00 PM (UTC): Fully Functional Trading Starts (+0–3 Hours)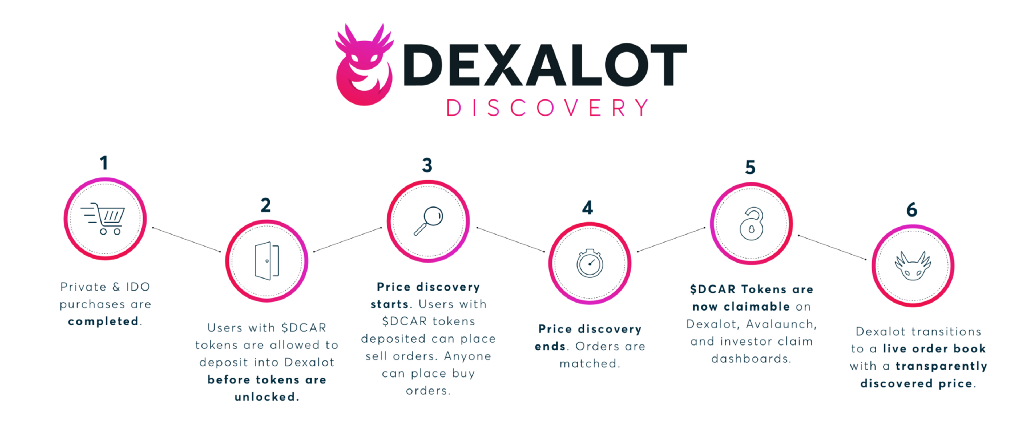 Dexalot Discovery is a price discovery process for a new tokens using an on-chain, transparent, open auction. Traders enter buy and sell orders on Dexalot's familiar interface and central limit order book. However, while regular trading would match the orders immediately, during Dexalot Discovery, the orders are not matched until the end of the auction period.
The execution of the matched orders occurs using a single price for all, determined from the frozen order book state at the end of the auction. You can learn more about this process and the procedures implemented — here.
Writer: Brad McFall
Graphics: Can Toygar
About Dexalot:
Dexalot is a revolutionary decentralized exchange aiming at bringing the traditional centralized exchange look and feel to a decentralized on-chain application. Its mission is to bring a truly inclusive and transparent environment where Dexalot users can trade crypto securely and efficiently, with no slippage or custody risk. It is built on Avalanche, the fastest smart contracts platform in the blockchain industry.
Website | Twitter | Telegram | Medium |Discord
---
Dragon Crypto Gaming IDO was originally published in Dexalot on Medium, where people are continuing the conversation by highlighting and responding to this story.