Dragon Crypto X Avalaunch: IDO Announcement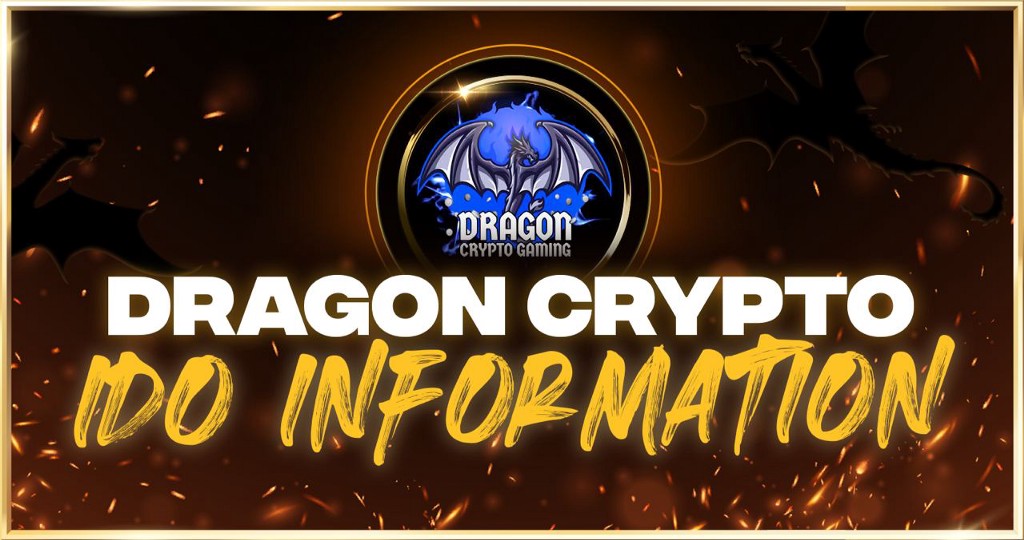 The migration of the gaming industry onto the blockchain is underway. That much is clear. It has been aggressive and very "crypto" in its ability to both captivate and disappoint while moving at the speed of thought.
Roughly a year into its presence on the center stage, both, the successes and failures are building a foundation and lighting a path forward. The story of "play to earn" has suffered as games, driven by unsustainable inflationary rewards, were met with massive downturns in their respective marketplaces. It seems self-evident that giving away tokens faster than demand can support is a surefire path to a pullback, yet, many supporters believed new users would come in and save the day. Thus far, they have not. For newer entrants, the fundamental value proposition must be rethought.
What we are seeing now is a far more sober narrative that highlights the importance of truly playable games. Despite the obvious setbacks and, as the market works its way through a bear cycle, Gamefi continues to be a highly favored arena. As Avalanche founder, Emin Gün Sirer stated in a recent tweet, "When you have a chain that actually scales, people with demanding Dapps start coming to you to launch. Gaming is particularly demanding in terms of high speed and low fees, and they know where to go."
In recent months it has become especially limpid that Avalanche is becoming a premier destination for game developers. With the advent and release of subnets, the opportunity for gaming projects to have needed flexibility and reliability in their base chain is more than attractive; it is essential. While it is easy to say Avalanche could become cluttered, the reality is that we are a long way from saturation. In fact, options and variety are the very things that define hubs and destinations. The blockchain is about inclusion and those that host the best and brightest, en masse, will reap the benefits.
One of the most exciting things about launching a game is the opportunity for users to discover an early entry point to things that have great potential. The proverbial grassroots play that starts small and grows in concert with its audience is as exciting as the splashier offering that commands attention with its profile and funding. In the spirit of blooming where one is planted comes Avalaunch's next IDO: Dragon Crypto Gaming.
What is Dragon Crypto Gaming?
Dragon Crypto Gaming's goal is to provide a vintage gaming experience on the blockchain that is inspired by old-school classic role-playing games. With decades of experience in game development and software engineering, and being huge gaming enthusiasts themselves, they strive to offer a choose-your-own-adventure style of playing while also providing opportunities for some skill-based earning with questing and crafting.
Dragon Crypto Gaming's game offerings are based on a two-token system: DCAR and DCAU. DCAU is relatively limited, acting primarily as a point of entry into the game as it is required for the initial hero minting for all new players. This token was distributed to the community with a max supply of 155,000 that was reached in December 2021. The team has locked in a $100 USD price to mint a hero regardless of the value for DCAU in order to keep the barrier to entry very low compared to many other GameFi projects. The DCAR token is the in-game utility token used for crafting, repairing, purchasing materials, and buying land. Furthermore, DCAR allows user to earn a share of revenue from the platform that are paid out in both DCAR and DCAU. There will only be a max supply of 40,000,000 DCAR emitted over a 3-year period and the intention is for DCAR to be deflationary based upon in-game burning mechanisms.
Most of the games that have launched in recent months have been largely idle games with little interaction or a fancy graphic over what is basically just a yield farm. Dragon Crypto Gaming steps in to provide a different and more interactive experience with a team that is focused on building out a fun, challenging, and engaging experience at a reasonable price point.
Project Overview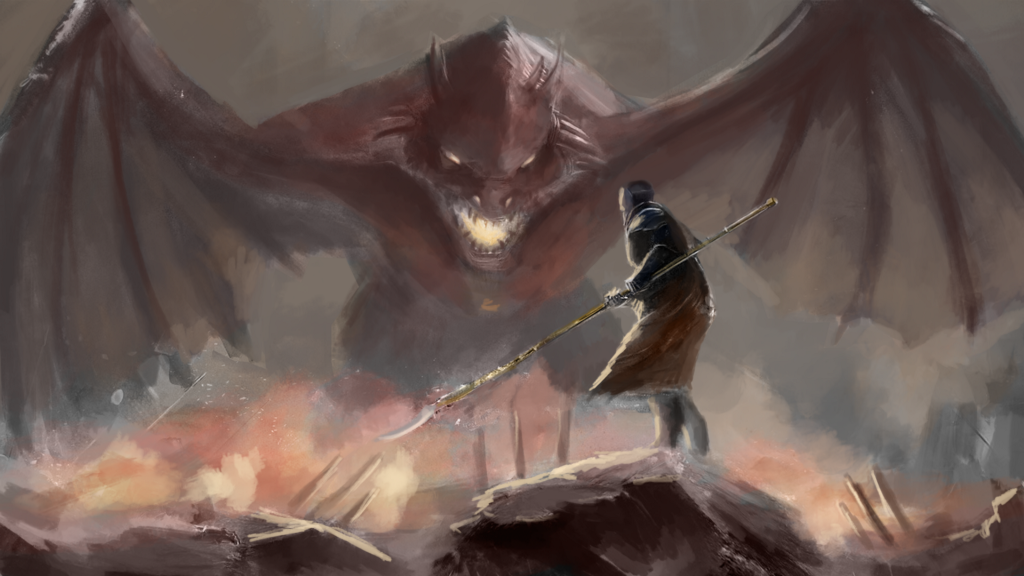 Dragon Crypto Gaming (DCG) is creating an evolving digital universe that combines engaging gameplay with rewarding mechanics, user ownership and sustainable economics. DCG's game offerings are currently built on a dual token economy featuring Dragon Crypto Aurum (DCAU) and Dragon Crypto Argenti (DCAR), both tokens holding important in-game utility. The Avalaunch IDO will see the release of DCAR, which drives the economy as follows:
In-game crafting.
Land ownership.
DCAR is the native gas token for the forthcoming subnet.
Used to purchase materials on the ingame marketplace.
Breeding Tiny Dragons in the Lab.
DCAR can also be staked for traditional rewards as well as through platform revenue. The revenue model is geared towards economic activity and generated DCAR.
80% goes into the to the game's treasury which are to be distributed as:
Rewards for game play
Part of a profit sharing initiative
Percentages to be determined and tweaked by the team
15% is burned
5% goes into an ecosystem support fund
Dragon Crypto Gaming currently has two distinct game offerings:
The Legend of Aurum Draconis
The Legend of Aurum Draconis is a fantasy RPG-inspired rewarding adventure, set in an evolving digital universe where users can assemble a heroic and powerful party to embark on immersive, lore-driven quests and defend Dragon Haven from the monsters and magical creatures that lurk in the vast lands surrounding the kingdom. In your adventures, create powerful equipment with gathered resources to help in forging your own destiny.
It is an immersive fantasy RPG where users can :
Train a party of Heros
Gain experience to boost stats via combat, gathering, crafting and other in-game activities.
Level up and customize your Heroes with a wide range of skills and attributes
Craft equipment from gathered resources and choose from a vast range of weapons, armour and items.
Navigate evolving quest lines and…defeat enemies of rising difficulty to obtain valuable loot.
Buy land plots and build their own fiefdoms.
Earn token rewards from in-game actions such as:
Combat, crafting, marketplace trading and mini-games.
Future integration with Tiny Dragons for combat boosting.
Dragon Crypto Hero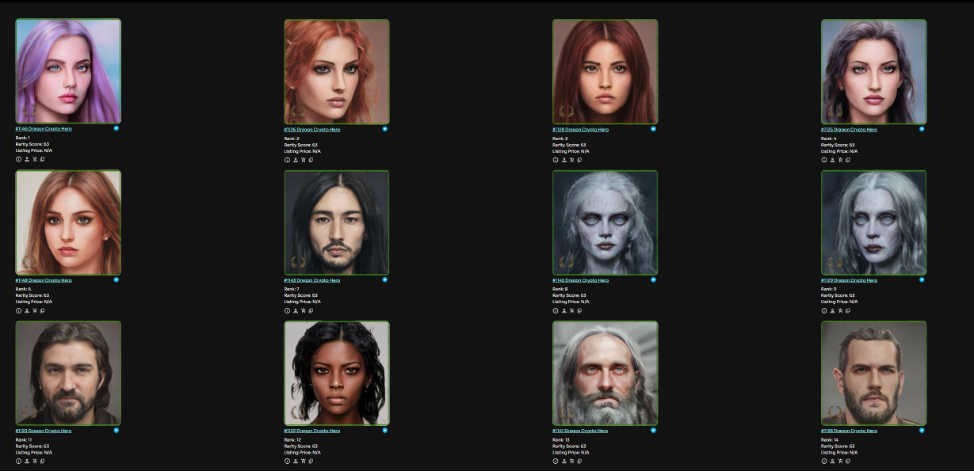 Is the NFT avatar required to play The Legend of Aurum Draconis. As mentioned, it is purchased with DCAU and each Hero is pegged to $100 USD cost regardless of the token price. The team will release a set number of heroes in various waves to allow new players to onboard. The rarity scale of the heroes is broken down into 5 tiers from Neophyte being the most common to Legendary being the rarest.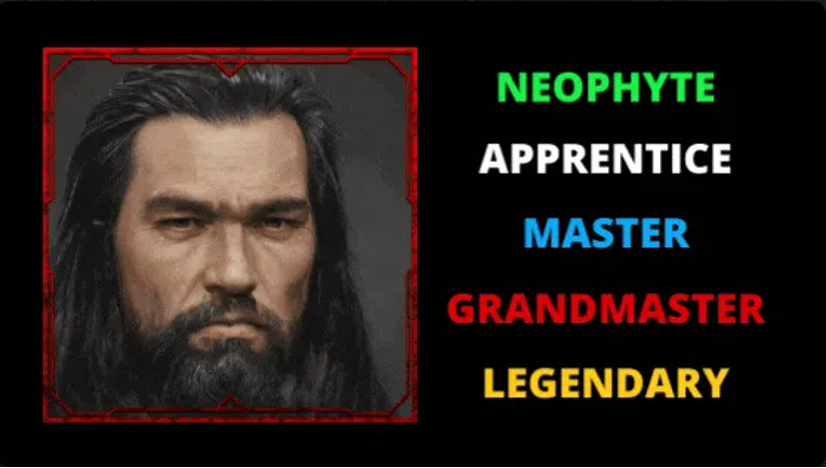 Each rarity level comes with a different amount of starting points that you can spend to upgrade hero stats. Users can take multiple heroes with them and switch between them in battle to ensure you can utilize the strongest one for each battle or quest. As you complete quests and level up, a heroes' abilities will increase along with the chances of winning future battles. As the game nears launch, there is a lot of strategy talk going on within the discord as the beta played out. Some have mentioned focusing on endurance to win battles while others are looking at speed. It is not all about fighting battles though, you can choose to purchase a pickaxe from the marketplace to use in the mines, or forage in the deep forest to find materials to use for crafting to level your hero.
MiniGame: Tiny Dragons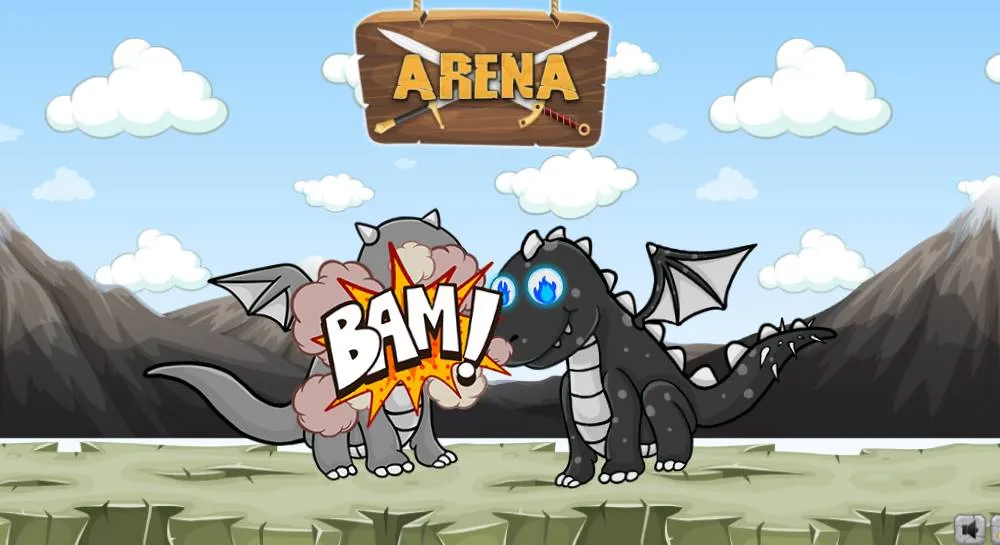 A casual gaming experience where Tiny Dragon owners can battle for glory, level up their beasts and win attractive prizes in our Tiny Dragons Arena minigame. Dragon Crypto Gaming's inaugural series of NFTs, Tiny Dragons, was released in September 2021 and all 1000 were minted and sold out in minutes. Tiny Dragons hold great utility, earning reflections, fighting in the arena and much more.
A set of adorable baby dragon NFTs.
Casual game activities based in the same ecosystem as Aurum Draconis.
Users can:
Level up, boost stats and take Tiny Dragons into battle.
Tiny Dragons Arena tournament for a chance to win prizes.
1000+ arena battles have been fought since the release of Tiny Dragons in Q4 '21.
Will be integrated with the Legend of Aurum Draconis following an upgrade.
DCG's NFT Partners will be able to deploy their NFTs to battle Tiny Dragons.
DCG will also see exciting and improved gaming mechanics where users can choose Tiny Dragons tactics for battle. In addition to Tiny Dragons Arena, upcoming features will allow you to combine your Tiny Dragons' DNA to create rare and powerful offspring, and send your Tiny Dragons on adventures to collect valuable loot.
As gamers at heart, DCG's main goal is to offer an unparalleled gaming experience on the blockchain and intends to push the boundaries of play-and-earn gaming. To achieve this, DCG will leverage its existing reach as it expands deeper into the gameverse. DCG has grown to become one of Avalanche's biggest Gamefi projects in terms of community strength and the number of token holders, and is well-positioned to capitalize on the growing Gamefi space.
Project Overview Team Interview:
Dragon Crypto — Links and Team:
Website | Twitter | Discord |Telegram (Announcements) | Medium | YouTube | Reddit | LinkTree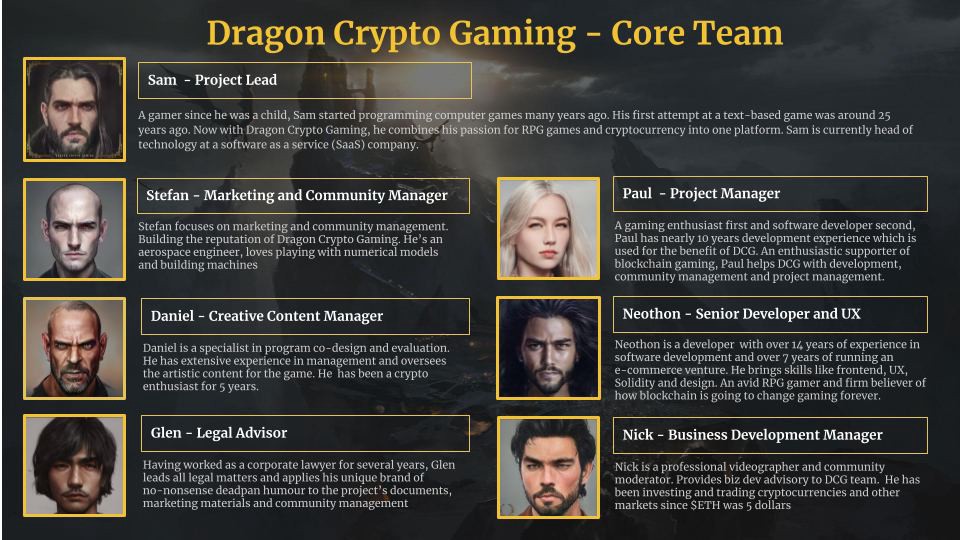 Partners & Backers: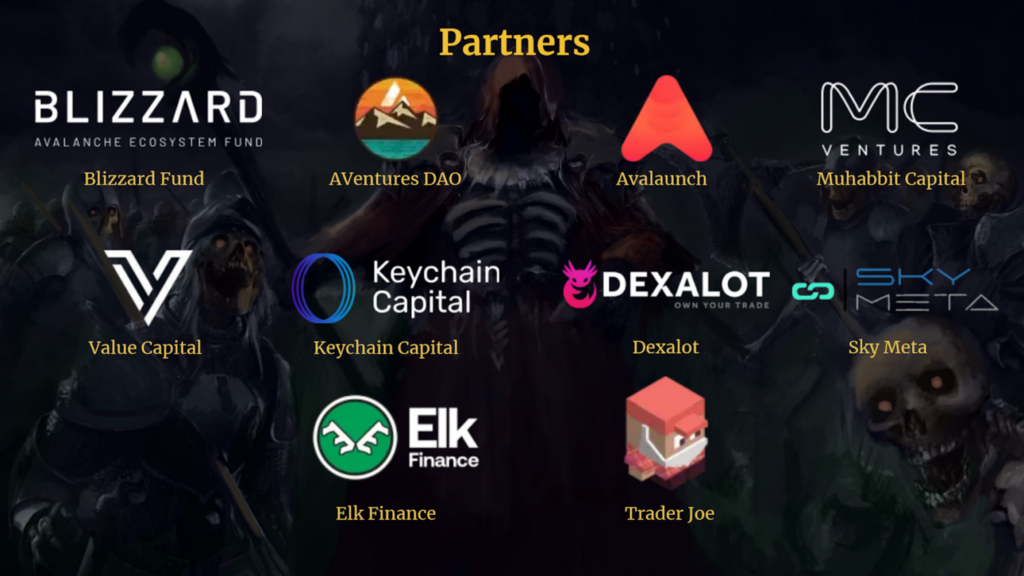 "Keychain Capital seeks to partner with the most innovative GameFi projects, and Dragon Crypto Gaming checks several boxes, particularly product-market fit and competitive advantage. This team is serious about building something amazing," states Dan Mgbor Co founder of BENQI finance and Keychain Capital.
"After spending a good couple of days playing The Legend of Aurum Draconis, and despite the fact that beta gives a limited experience, I can tell that the game is excellent. It feels like a mix of Diablo and Heroes of Might and Magic. The Legend of Aurum Draconis is marrying the best from traditional off-chain gaming and GameFi worlds. The game allows each player a unique experience in an ever-expanding metaverse." -Mike Popesku, Cofounder, Aventures DAO
Closing Thoughts
The development team remains very active with clear progress towards goals, delineated in their "dev diary." From old text-based combat systems to updated graphical based combat systems with masteries and elements. From Deepwood to the Mines, new locations are always being added and improved upon. With new artwork and music being introduced to new questlines being made active, Dragon Crypto gaming is always moving forward towards its goals of making a game whos look and feel can satisfy the nostalgia of old school gamers, while creating mechanics that appeal to the modern gamers.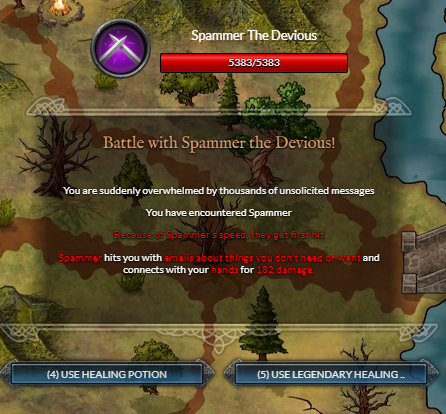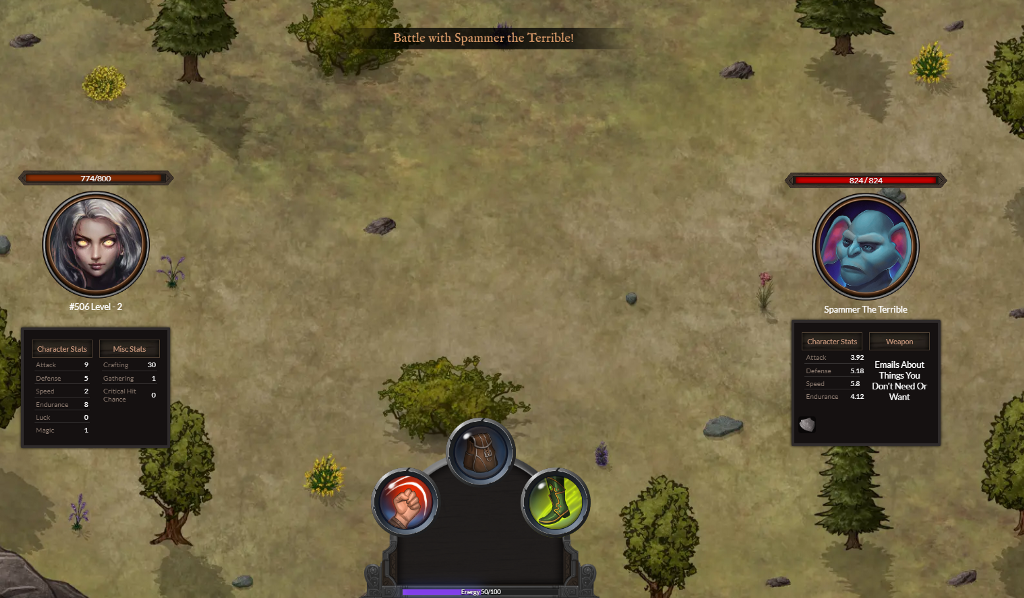 Dragon Crypto Gaming is compelling for a number of reasons. They've made considerable progress since we first encountered their team roughly nine months ago and are closing in on a beta launch. Their collective experience having a community distributed token in DCAU and building a community is something that can not be fast tracked. They have made inroads and have a genuinely supportive set of partners in the Avalanche ecosystem. These are the things that create sustainable projects as the input of valued partners can be noted in their thoughtful tokenomics and valuation. Also, the utility of the token is a bit of a welcome departure from what is typical and, at times, rote. It is not uncommon to notice the "raising" token offers governance while DCAR is not the governance token but the true driver of the ecosystem.
"The Avalaunch team has been there to help us at every stage of the token launch.Their expertise has been paramount in designing strong tokenomics and bringing our vision to reality. Avalaunch exudes professionalism and instills confidence that the launch will run smoothly." states Sam, Project Lead and Founder.
Funding Numbers
Total Supply: 40,000,000 DCAR
Seed: 4.4M DCAR at .22
Private Sale: 2M DCAR at .25
Avalaunch IDO: 1.212M DCAR at .33
Total Raise: 1.868M USD
Supply Breakdown & Vesting
Total Supply: 40,000,000 (DCAR)
Game Rewards: 8.8M DCAR (22%)
Seed Sale: 4.4M DCAR (11%)
Team: 6M DCAR (15%)
Game incentives: 4M DCAR (10%)
Ecosystem Fund 4M DCAR (10%)
Staking rewards 4M DCAR (10%)
Liquidity: 2.1M DCAR (5.25%)
Avalaunch IDO: 1.212M DCAR (~3.02%)
Private: 2M DCAR (5%)
Reserves: 1.79M DCAR (~4.48%)
Advisors 1.7M DCAR (4.25%)
Vesting Following TGE:
Game Rewards: 3% unlocked at TGE, monthly vesting over 36 months
Seed: 10% unlocked at TGE, 3-month lock, monthly vesting over 18 months
Team: 6-month lock, monthly vesting over 30 months
Game incentives: 30-day cliff, 10% unlock, monthly vesting over 24 months
Ecosystem Fund: 6-month lock, monthly vesting over 30 months
Staking rewards 3% unlocked at TGE monthly vesting 36 months
Liquidity: 2.1M at TGE, discretionary based upon listing plans yet to be finalized
Avalaunch IDO: 25% unlocked at TGE, weekly linear vesting for 12 weeks
Private: 10% unlocked at TGE, 3-month lock, monthly vesting over 18 months
Reserves: 90-day cliff, monthly vesting over 24 months
Advisors: 6-month lock, monthly vesting over 30 months
Other:
Initial Circulating Supply: 1.327M DCAR (excluding liquidity)
Initial Market Cap: ~438K USD (excluding liquidity)
The Dragon Crypto Gaming IDO on Avalaunch
1.21M DCAR at .33 USD — Total Supply: 40M DCAR
Sale Size: $400,000 USD
Registration Schedule:
Registration Opens: July 20th at 3:00 p.m. (UTC)
Registration Closes: July 25th at 6:00 p.m. (UTC)
Sale Schedule:
Validator Round Begins: July 26th at 6:00 a.m. (UTC)
Validator Round Closes: July 26th at 3:00 p.m. (UTC)
Staking Round Begins: July 26th at 3:30 p.m. (UTC)
Staking Round Closes: July 27th at 6:00 a.m. (UTC)
Booster Round Begins: July 27th at 6:00 a.m. (UTC)
Booster Round Closes: July 27th at 10:30 a.m. (UTC)
Dexalot Discovery Schedule:
Dexalot Enabled: July 27th at 11:00 am (UTC)
Price Auction: Starts and Runs for 24 + 0–3 Hours: July 27th at 1:00 pm (UTC)
Matching Begins: Starts +0–3 Hours: July 28th at 1:00 pm (UTC)
Trading Begins: Starts +0–3 Hours: July 29th at 1:00 pm (UTC)

About Avalaunch
Avalaunch is a launchpad powered by the Avalanche platform, allowing new and innovative projects to seamlessly prepare for launch with an emphasis on fair and broad distribution. With its values deeply rooted in the early Avalanche community, we are able to offer projects confident, informed users who are aligned with the long-term goals of the rapidly expanding application ecosystem. Leveraging Avalanche's scalable, high-throughput, and low-latency platform, Avalaunch is built by users, for teams, to help grow strong communities.
---
Dragon Crypto X Avalaunch: IDO Announcement was originally published in Avalaunch on Medium, where people are continuing the conversation by highlighting and responding to this story.