el33t: 6055 Emin Gun Sirer NFT Avatars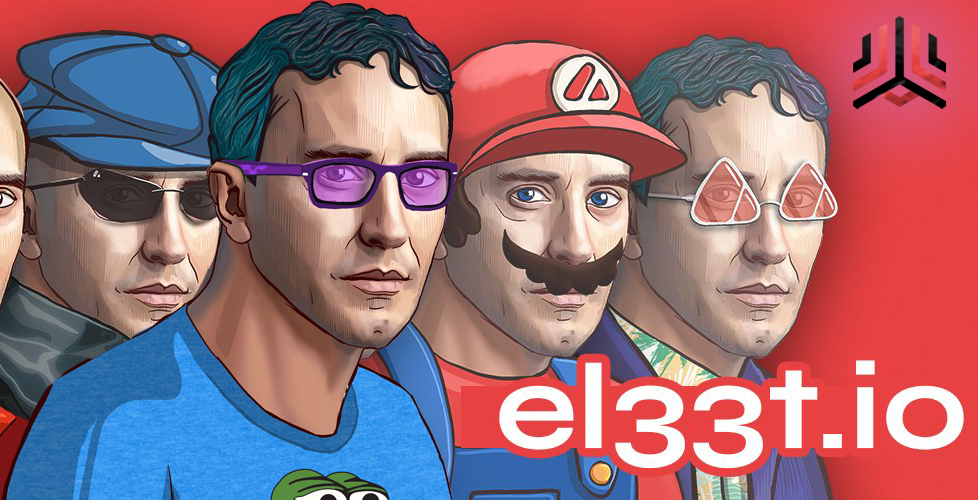 Emin Gun Sirer, the founder of Ava Labs, is the inspiration for this collection of 6055 Emin Gun Sirer avatars living on the Avalanche network. el33t intends to be viewed as a tribute to the founder of Avalanche, and displayed as a badge of honor.
The El33t NFT collection has been created to act as a pass of sorts to gain access to an El33t membership club as well as provide the ability to generate passive income, participate in token sales, and get tokens from the partnered projects.
This El33t club was established to help and encourage aspiring projects that intend to build on the Avalanche network. Minting one or more El33t NFTs, grants you access to the privatized social and elite investment club, offering the ability to become your own VC.
Mint
Mint Date: the 14th of January
7 pm GMT.
Mint Price: 2 AVAX
The Artwork
This collection presents high artistic quality, worthy of its name. Each piece is meticulously hand-drawn over the course of hours, using thousands of brush strokes.
NFT Marketplace & Rarity
Arrangements have already been set in place for verification on Kalao and YetiSwap, PRE-RELEASE. Meaning the NFT collection will be verified (with a blue check) immeadiately upon mint.
The el33t.io collection will also be ranked and tracked via AvaxRarity allowing users to determine the rarities of their minted NFTs with ease.
Partnerships & Incentives
Partnerships and plans have been set with multiple prominent projects already well established in the Avalanche ecosystem. Some of the already released projects include;
Avaware – Avaware is a DeFi Hub on Avalanche that can help new projects from start to finish including Farms, Launchpad IFO, NFT Public Sales, Marketing via their portfolio of Avalanche projects and more, there are high hopes for that this partnership will bring value to the project and investors.
Chikn
Chikn – 500 AVAX will be strategically invested to Chikn NFTs, $EGG and $FEED tokens, to generate the ideal yield. The proceedings will be shared with the NFT holders, and the future of this collaboration will be determined by the NFT holders' votes.
AVAX Club Degen
Avax Degen Club Lifetime Pass – el33t has minted a lifetime pass from the notorious Avax Degen Club to be held by the treasury, which will give the chance to participate in the weekly "Blue Chip" NFT raffles. The potential NFT prizes will be given out to el33t nft holders.
Isbjorn DAO
Isbjorn Dao – The exact details and scope of this partnership and the benefits it will provide both of the project communities will be revealed in February.
Seed Investments
Seed Investments (TBA) – Investments will be made in aspiring Avalanche projects to receive seed allocations, whitelists, token drops. These benefits and investments will be shared with the NFT holders.
Community Prize Pool
The El33t Team believes in giving back to the community. Approximately ~$200,000 budget has been allocated for minting raffles, weekly marketing activities, and floor sweeps post-sale.
Every 200 mints a raffle will be held for a prize of $1,337
One BoSS prize, rewarding a lucky minter a prize of $6,055
The #1337 legendary Neo Emin and will be market bought from whoever mints it for $13,370 and gifted it to Emin Gun himself.
Weekly raffles will be held for the following 8 weeks after minting is over.
2% royalty fees from marketplace sales which will be utilized for a continuous marketing budget
Sweeping..
$100k has been alotted for random weekly floor sweeps by the el33t.io team.
"We hope to market buy the legendary Neo NFT from a lucky minter for $13,370 and we would like to gift it to Emin Gun Sirer himself. Also an extra budget that is worth of 500 AVAX is allocated to establish a Chikn farm, strategically divided between Chikn NFTs, $EGG and $FEED tokens."

The El33t.io Team
El33t.io is open to project applications, offering grants for development, marketing, and more.
Website: https://el33t.io/#motivation
Twitter: @el33tio
Join Discord: discord.gg/el33t
Telegram: t.me/el33tio