Fief Guild x Avalaunch: IDO Announcement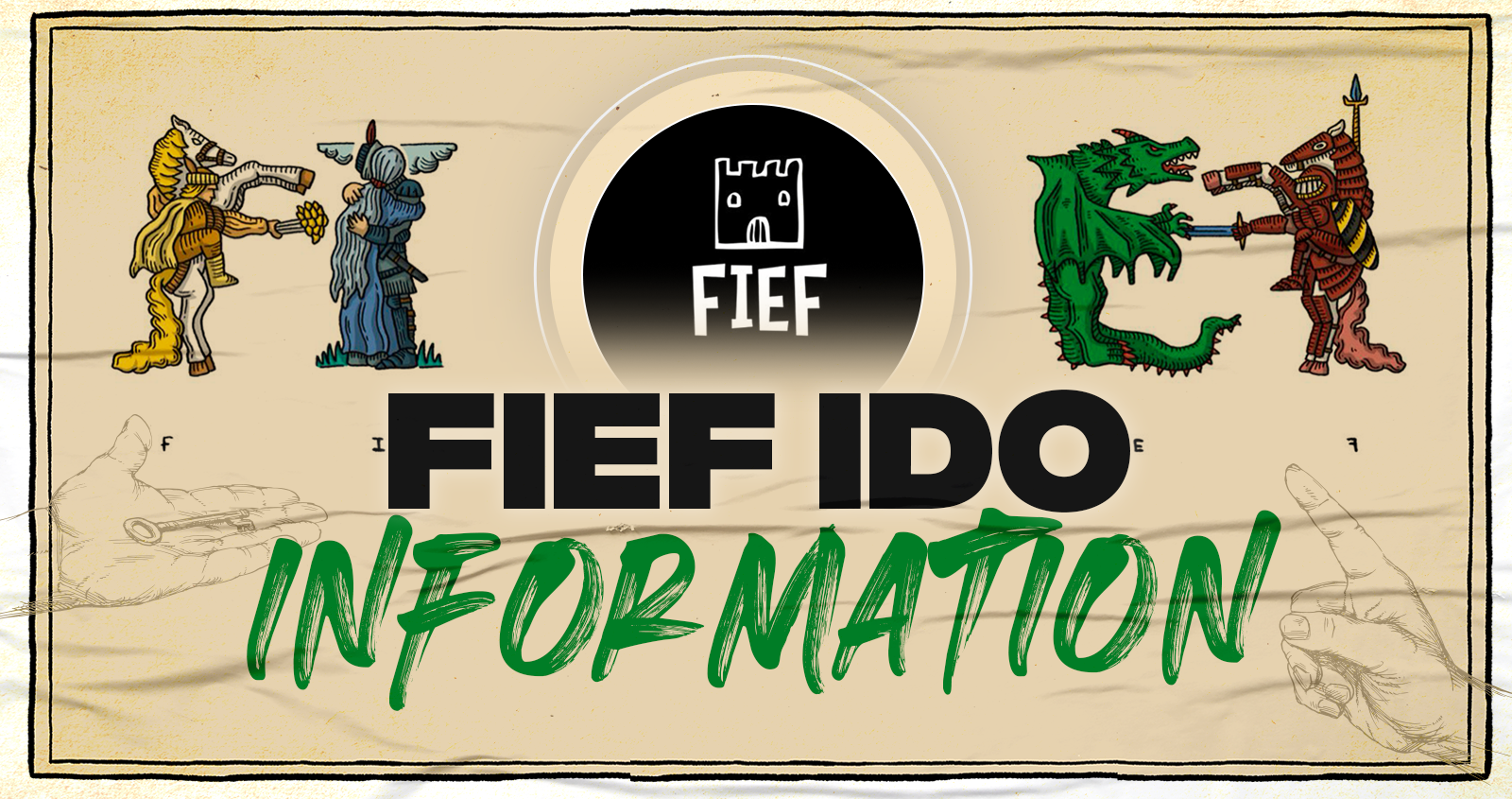 The rise of the guild is something that few saw coming. As "play to earn" evolved with "gamefi" and attendant innovations, we have quickly arrived at both milestones and inflection points.
At the highest level, the metaverse has begun to rethink the concept of work. There is widespread news on players of popular games supporting themselves through the pandemic via gameplay and more recently, social media has seen boasts of select players quitting their "normal" jobs. Additionally, the space, though rife with competition, has yielded somewhat to cooperation as roles in a larger economy have defined themselves and paid dividends.
Guilds have captured much attention through their collective earning power by aggregating and inserting the skills and specialties of individuals into decentralized autonomous organizations, bound through the singular purpose of optimizing earning power. With this have come anticipated challenges — who determines strategy? Is it a passive land grab group that is intent to sit on given assets or trading an NFT market, a hybrid of both, a static strategy or one that evolves — and on it goes. These growing pains are the signals of success though and not surprisingly, managing the humans has become the weak link in the chain.
To address these pain points, comes an ever evolving guild; one with its finger on the pulse of GameFi and wholly aware that the metaverse will not be about chain dominance but connectivity and interoperability. It is mobile, market savvy, having assembled some of the brightest minds in the space that are here to empower but here to empower through their human resources and tools…and Avalaunch is proud to announce them as our next IDO — Fief Guild.
https://medium.com/media/52939c7db09bb8e492bc4484dc625fd3/href
Project Overview
Avalaunch has partnered with Fief Guild, to introduce the first Resource token for the guild's upcoming economic strategy game: Blood and Coin.
Fief is the first economic guild of the metaverse with the primary objective to build decentralized protocols and game systems that plug into popular metaverse projects.
To kickstart Fief, the guild is creating its first game title: Fief: Blood and Coin, an economic strategy game that bridges on- and off-chain mechanics to deliver a highly rewarding user experience, built on top of the Fief protocols. In time, Fief will expand the utility of these protocols to plug directly into third-party project economies.
The Avalaunch IDO will signify the initial release of Fief Wood (WOOD), the first of five core resources that underpin Blood and Coin's economic gameplay. Fief Wood will be heavily used in the crafting Game Action, allowing Guild Members to create a variety of functional Fief Item NFTs.
Fief Resources
Fief Resources are fungible tokens that facilitate the Game Actions performed across each Faction-based protocol in Blood and Coin.
Core Resources, such as Fief Wood, are acquired through Resource Gathering via the Farmer Faction. Fief Guild will also distribute these tokens via special drops to IGM holders and through special events, such as the Avalaunch sale or quests. Core Resources can then be used to do the following:
Craft Earthy Items via the Craftsman Faction.
Conjure Mystic Items via the Alchemist Faction.
Add liquidity to the Fief Exchange or trade via the Bishop Faction.
Item Crafting/Conjuring will often require Guild Members to combine multiple Resources to create their desired output. The full list of Core Resources will be unveiled over the coming weeks, with planned distributions for IGM holders and more.
Fief Wood Economics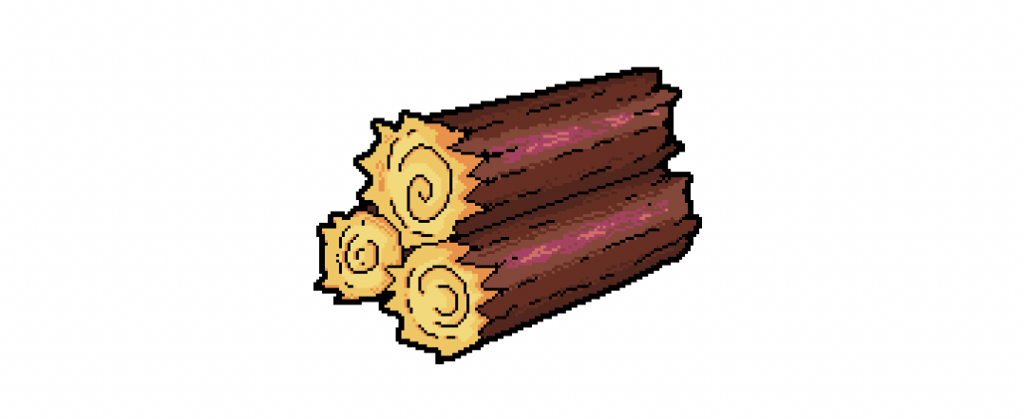 The Avalaunch sale represents the initial minting event for Fief Wood, affording Avalaunch participants the opportunity to be among the first holders of the unique Resource token.
Fief Wood, similar to the other core Resource tokens, is primarily produced via the Farmer Faction's Resource Gathering system. This system, which leverages off-chain staking mechanisms, is ad hoc, meaning new supply is minted whenever a Guild Member Gathers Fief Wood instead of more traditional per-block mechanisms found in the industry.
As with all Fief Resource tokens, Fief Wood is totally consumed upon use in Crafting and related Game Actions. This provides a total sink for the token, which will also be freely traded on decentralized exchanges and eventually the Fief Resource Exchange (owned by the Bishops).
Following this initial minting event, Gathering Fief Wood will require staking with the Farmer Faction. This process will require specific Wood Gathering Items and the Fief Token (FIEF) to complete. With Gathering, the required FIEF will be consumed as a fee reward for the Faction and broader Guild.
To make up for the lost fee share from Avalaunch release, 10% of the proceeds from the launch (up to $150,000) will be used to re-purchase FIEF off the open market for future reward to the Farmer Faction in return for this initial demand for Fief Wood.
Fief Wood Utility
Prior to the commencement of the first season of Blood and Coin, which will pit all five Fief Factions against one another as they strive for economic dominance, Guild Members will be able to leverage Fief Wood to craft a variety of Items they can equip to advance within the City of Vitruvia.
The initial items available for Crafting will be:
Common Wooden Axe — Wood Gathering (Farmer); Crafting Cost: 3000 WOOD
Common Wooden Mallet — Wood Item Crafting (Craftsman); Crafting Cost: 3000 WOOD
Common Wooden Cart — Wood Vesting (Farmer); Crafting Cost: 9000 WOOD
Common Wooden Work Bench — Wood Item Vesting (Craftsman); Crafting Cost: 9000 WOOD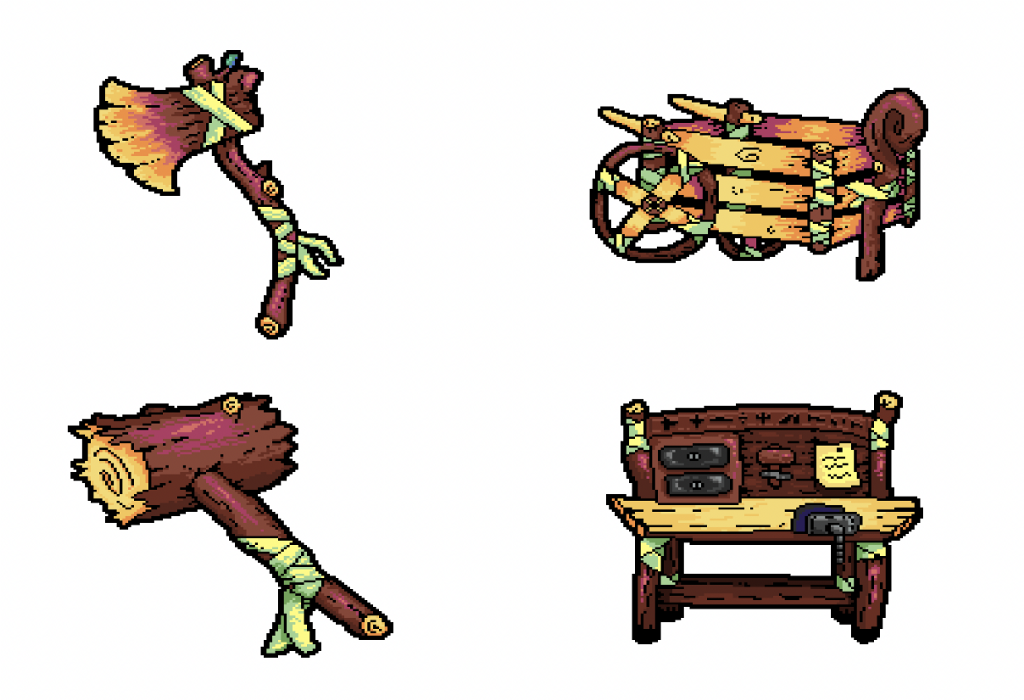 Gathering Items determine how much of a Resource a Guild Member can harvest in a single Game Action.
Crafting Items determine what rating of Item a Guild Member can build in a single Game Action.
Vesting Items determine the cool down speed to claim and mint the output Resource/Item to the Avalanche network.
Therefore, these four items (in addition to others introduced shortly thereafter), will serve as the first steps towards the initial Faction-based economic systems — adding additional exclusivity to the Avalaunch release. Note, each of these items can be equipped by all Guild members, regardless of which Faction they join.
As an additional perk to initial WOOD holders, there will be no requirement to hold a Crafting Item to build the first 4 Wooden Items.
One Tree Planted
Fief Guild has partnered with One Tree Planted, a 501(c)(3) charity with a mission to help global reforestation efforts, to denote a portion of the Fief Wood sale proceeds to support the environment.

For each wallet that purchases WOOD in the Avalaunch sale, Fief will donate to have a tree planted via One Tree Planted's reforestation program. You read that right…purchase digital WOOD and plant IRL trees.
Partners & Backers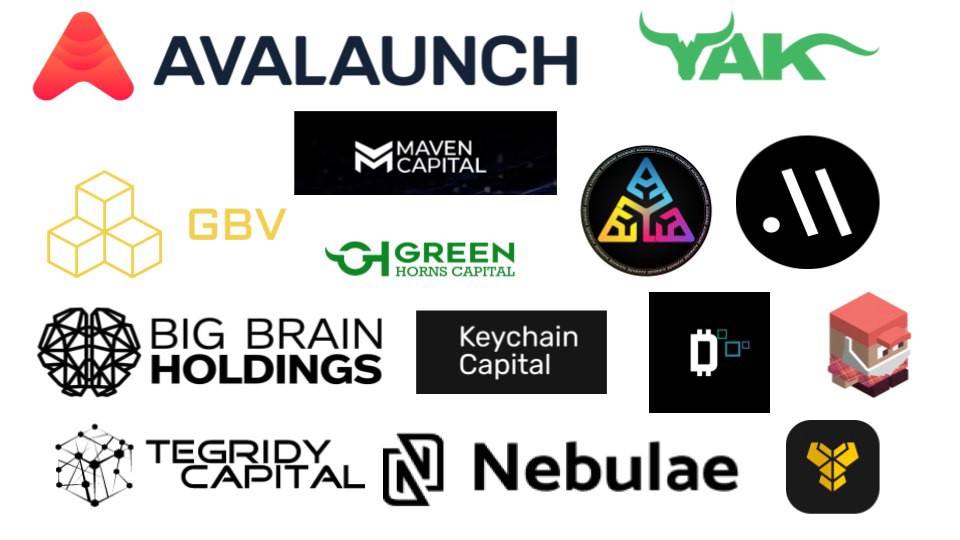 Links & Team:
Website | Twitter | Medium | Discord |Docs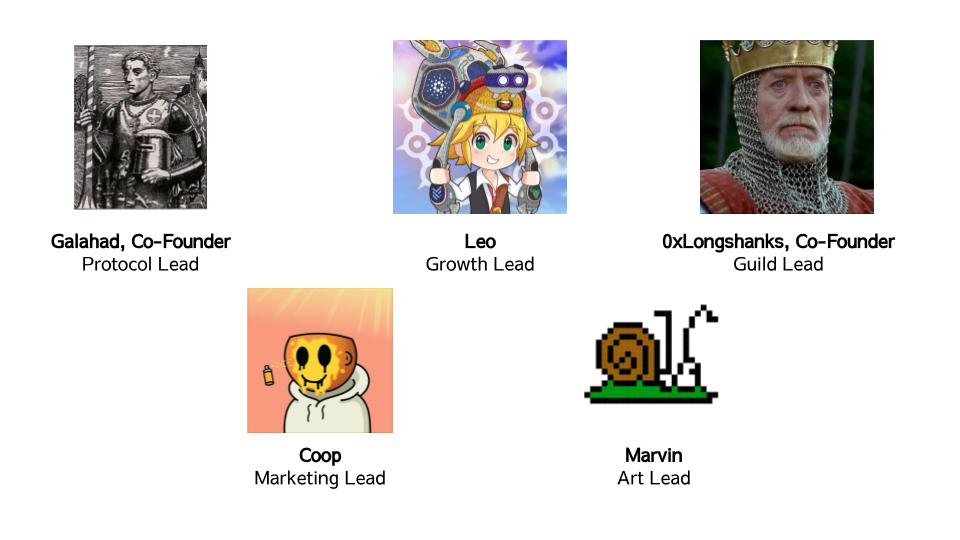 Galahad — Decade of software engineering leadership, focused on financial markets and crypto. Veteran of several startups and household name Big Tech goliaths. Currently leading operations and overseeing protocol development at Fief.
0xLongshanks — Decade of experience in early stage venture creation and investments. Held roles within NFT industry since early 2018 as both an operator and investor across multiple entities, primarily within the Ethereum ecosystem. Currently leading Guild and Game development at Fief.
Leo — Spent a decade in traditional software before moving into DeFi projects. Worked on multiple Avalanche projects throughout 2021, most notably as the COO of Pangolin Exchange. Currently focused on growing the GameFi and Metaverse ecosystem.
Coop — Over a decade in digital marketing, and an e-commerce entrepreneur. Started crypto in 2017, joined Pangolin on Avalanche in 2021.
Marvin — Self taught illustrator. Worked in communication and marketing until 2021. Started crypto journey in the Avalanche ecosystem. Learning everyday from the greatests minds out there (and from Twitter threads). Passionate about cinema.
Development — currently there are more than a dozen engineers dedicated to the project.
"It has been fantastic to work with Avalaunch on such a unique token launch," said 0xLongshanks, Fief co-founder and Fief: Blood and Coin co-creator. "Their expertise and industry-leading platform has helped pave a new and exciting path for users to join our budding game economy."
Closing Thoughts
We believe the future of GameFi resides in the power of cooperation more than competition. The ability for groups to convene and combine resources in order to extract, create and realize value is potent and the rise of the Guild is validating this premise. Fief is an organic project with an ever growing community, founded by savvy gaming and crypto veterans. Their Discord is chockful of human resources and their tool based approach is empowering to individuals and removes much of the difficulty in managing a large group of individuals who may have conflicting ideologies.
The Fief Wood IDO On Avalaunch
The Avalaunch sale represents the initial minting event for Fief Wood, affording Avalaunch participants the opportunity to be the first holders of the unique resource token. This is an exclusive offer to the Avalaunch community with 100% of the circulating supply (excluding liquidity) will be purchased and owned by the Avalaunch community.
Initial Price — $0.01
Initial Supply — 155,000,000
IDO: 150M WOOD
Sale Size: 1.5M USD
Total Supply — Uncapped; minted ad hoc through Resource Gathering
Initial Liquidity — 5,000,000 (added to WOOD-AVAX Trader Joe pool upon launch)
A pool will be opened on Trader Joe where trading will commence for the 45 days leading up to the crafting events. This is intended for all users to be able to craft items in Blood and Coin. To that end, participants in the IDO will also receive a FIEF airdrop in order to be able to craft an item. The process will be as follows:
Process
User purchases Fief Wood (WOOD) allocation through Avalaunch and receive a complimentary drop of FIEF token upon completion of the sale.
Fief Wood can be held by the user for 45 days prior to the launch of the Fief Crafting system where the user can spend their WOOD (and dropped FIEF) to craft 1 of 4 initial items:
Common Wooden Axe — Wood Gathering (Farmer)
 — Crafting Cost: 3000 WOOD
Common Wooden Mallet — Wood Item Crafting (Craftsman);
 — Crafting Cost: 3000 WOOD
Common Wooden Cart — Wood Vesting (Farmer);
 — Crafting Cost: 9000 WOOD
Common Wooden Work Bench — Wood Item Vesting (Craftsman)
 — Crafting Cost: 9000 WOOD
The amount of FIEF dropped to each user will allow them to craft an item in 7 days. Users can purchase more FIEF off the open market to craft an item faster (up to 1 day).
Users will not need a crafting item (Mallet) or vesting item (Bench) to complete the first crafting action — This is a perk to early wood holders.
Users will be able to trade WOOD any time for AVAX via a dedicated pool on Trader Joe. Pool will be started at an $0.01/WOOD ratio.
10% of the proceeds from the launch will be used to re-purchase FIEF off the open market for future reward to the Farmer Faction in return for this initial demand for Fief Wood.
Registration Schedule:
Registration Opens: March 10th at 3:00 p.m. (UTC)
Registration Closes: March 12th at 6:00 a.m. (UTC)
Sale Schedule:
Validator Round Begins: March 14th at 6:00 a.m. (UTC)
Validator Round Closes: March 14th at 3:00 p.m. (UTC)
Staking Round Begins: March 14th at 3:30 p.m. (UTC)
Staking Round Closes: March 15th at 6:00 a.m. (UTC)
IDO Recap:
Total WOOD for sale: 150M
Fief Airdrop: Per participant
Price: $.01
Size: 1,500,000 USD
Vesting — 100% unlocked

About Avalaunch
Avalaunch is a launchpad powered by the Avalanche platform, allowing new and innovative projects to seamlessly prepare for launch with an emphasis on fair and broad distribution. With its values deeply rooted in the early Avalanche community, we are able to offer projects confident, informed users who are aligned with the long-term goals of the rapidly expanding application ecosystem.
Leveraging Avalanche's scalable, high-throughput, and low-latency platform, Avalaunch is built by users, for teams, to help grow strong communities.
---
Fief Guild x Avalaunch: IDO Announcement was originally published in Avalaunch on Medium, where people are continuing the conversation by highlighting and responding to this story.