Heroes Chained AMA #1 — Project Overview with Ersin Taskin, CTO (Recap)
Heroes Chained AMA #1 — Project Overview with Ersin Taskin, CTO (Recap)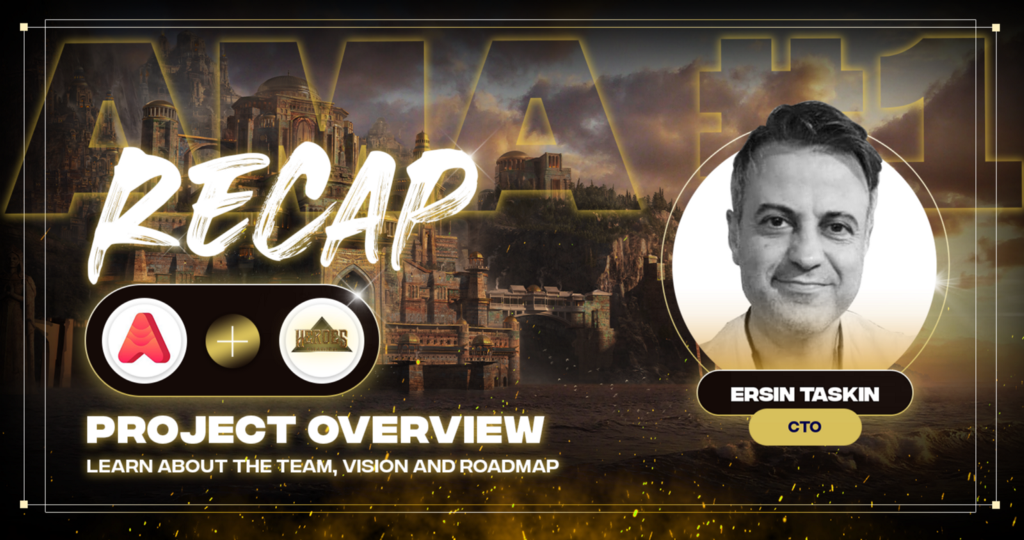 On 01/14/2022 at 12:00 p.m. (PST), an AMA session was held on Avalaunch with special guest Ersin Taskin, CTO, Heroes Chained. Below we present to you an excerpt from AMA with questions and answers.
Dave Donnenfeld | Avalaunch
Hello and welcome everyone to another state-of-the-art AMA brought to you by Avalaunch. Today, we are genuinely fortunate to have the CTO and Co-Founder of Heroes Chained, Mr. Ersin Taskin. Heroes Chained, in our opinion, is the best team ever assembled in the web3/blockchain gaming space and it is an absolute pleasure to be hosting their IDO. How are you @ersintaskin?
Ersin Taskin| Heroes Chained
hello
thank you very much
so excited to be here
Dave Donnenfeld | Avalaunch
Likewise. A genuine honor. Please take a moment to get situated @ersintaskin and take in the room ?
Just to get the party started — Can you please introduce yourself: who you are, what your role is and briefly tell us about your previous experiences and how you ended up in gamefi?
Ersin Taskin| Heroes Chained
I have a BS degree in Electrical and Electronics Engineering from the Bogazici University. I have over 20 years of experience in the IT and software industry, as a developer, engineer, sales executive, manager, CEO, entrepreneur. Prior to Inventuna I was the co-founder, chief software architect and lead developer of a top IT and software company of Turkey. I have been into blockchain since 2017. Interested mostly in the technological aspect. Erhan, my brother and partner in our previous company is the best gamer I have ever seen. Since the 2018 bear he has been telling me gaming is the best use case for blockchain. We were waiting for the right time.
The beginning of 2021, he told me "Bro, now is the right time". I was convinced of course. Then he went to our close friend Salih the co-founder of CBKSoft. Acquired by first Aramex and later by Iron Mountain. Explained him the blockchain and gaming revolution. He gets aboard with his cofounder friends at CBKSoft. Then we go to Mev Dinc the Legend. The founding father of the Turkish Gaming Industry. A very close friend. We tell him how the blockchain and NFT technologies solve the gamers' problems. He gets excited. The rest is a roller coaster.
Trying to get the best people we can for each role
Dave Donnenfeld | Avalaunch
Wow. Thank you for that. It is an incredibly accomplished team and a little bit of kismet got you all together it appears.
Heroes Chained (HC) as everyone knows is a fantasy RPG action game where the goal of the player is to become a Guild Master and gather heroes. Can you please tell us about the game setting and elaborate on the game mechanics from a player perspective?
Ersin Taskin| Heroes Chained
Heroes Chained (HC) is a fantasy action RPG game where the player becomes a Guild Master and gathers heroes. It introduces the "Play And Earn" concept to GameFi, challenging "Play To Earn". It starts the "game first for GameFi" meme.
The fantasy world of Ventuna, which is home to many races and lands, has been ravaged by the Dark Lord Oblivion and his champions. In a last stance to fight back, all the races gathered together and created the biggest city to be known in all history, 'Last Hope'. Behind her walls, the city is able to sustain the many races and protect them from the Dark Lord Oblivion's reach and influence. Outside the walls; the further you go, the more it takes.
Players own a 'Guild' and gather heroes, compete against others, and complete missions to become the ultimate guild in the city of Last Hope! Players can PvE by sending their heroes beyond the walls of the city, to defeat enemies found roaming the map, uncover nodes and buy the land to claim them, find dungeons and claim artifacts, complete missions. PvP elements include Guild vs Guild or Team vs Team by creating alliances between guilds allowing for Tournaments and Leagues (official or unofficial).
Dave Donnenfeld | Avalaunch
Thank you for the comprehensive answer.
Heroes Chained is branded as the game to challenge the 'Play to Earn' concept and instead introduces the 'Play And Earn' notion. Can you explain to us where this idea came from, how it is different from the norm, and how it fits within the game ecosystem?
Ersin Taskin| Heroes Chained
We started the project looking for an answer to the question where do you find the money to pay gamers when the hype is gone in play-to-earn. We have over 3 billion real gamers in the world willing to pay 200 billion dollars a year. So the answer is we have to develop a game that players love to play. Game-first. That is why we introduced play and earn as an alternative to the play-to-earn approach. That is why we created a team with great AAA game development experience.
Heroes Chained is one of the best doxed teams in crypto. I recommend people to check the team section on our website. Mev Dinc, our Executive producer, has developed award winning games for his studio, Activision, Ubisoft, Nintendo, etc. Onur Cayli has created the White Walkers race for Game of Thrones, and did the same for The Amazing Spider Man, Terminator Genisys, Avengers: Age of Ultron, Antman, Man in Black 3, Marvel vs Capcom, Sonic, etc. We aim to be the Blizzard of GameFi.
By the way, our blockchain team won the Avalanche Hackathon. So we are equally strong there.
Dave Donnenfeld | Avalaunch
Will take a moment to take this in
Congratulations on that. Not something you'd normally associate with a gaming project so big props for it.
Even as an action RPG game there are several other blockchain-games out there. What would you say sets Heroes Chained apart from the competition? What are its key, unique features and how do these features work together to put HC up in the league?
Ersin Taskin| Heroes Chained
Let me repeat that our team is outstanding even among the most prominent GameFi projects out there. We are visual animals unlike dogs. On the visual effects, animation and 3d modelling, we aim to lead the sector. We have Onur who has created the White Walkers race for Game of Thrones, remember. Just check the testimonials on our key team members, please
That being said, we develop both mobile and PC clients. Our default mode is self-custody wallets but for the non-coiners out there we develop a custodial wallet option. It is automatically installed, configured and integrated to the game UI. We are trying to make it fiat friendly as well. We really want to help blockchain mass adoption via play-and-earn. We are also working on a module to help them learn blockchain at their own pace.
Dave Donnenfeld | Avalaunch
Agreed. I don't think there's been anything like your team in the space yet. It is nonpareil.
With such a diverse theme, backgrounds and races that the world of Ventuna offers, I'm sure there's a lot planned. What does the long-term vision for HC look like, and what steps have you taken (or are planning to take) to ensure this long-term vision is attained?
Ersin Taskin| Heroes Chained
With our great team we plan to create this fantastic Middle Earth world of Ventuna and develop better and better gaming experience on it. expansion packs and in many aspects of game play. We want to be the Blizzard of GameFi and the best way to secure it is to gather the team. There is no shortcut.
Dave Donnenfeld | Avalaunch
Well kudos! One major element of the game besides the 'Play and Earn' feature is the NFTs artwork. Can you expand on that, in particular how these in-game assets aim to stimulate the game economy?
Ersin Taskin| Heroes Chained
We have two types of NTF's. First NFT's with utility. These have utility in game mechanics. Hadron Glove is a good example. When your hero wears it it increases unarmed attack, defense against melee attack etc. With the team we have we also want to introduce high quality artworks to those NFT's. I suggest people to check our Hadron Glove video. On the other hand we will also have NFT's of artworks, thanks to our great artists. Some NFT artwork items will have cosmetic utility in the game as well. NFT's will also have DeFi and staking yields
This is where Avalanche eco system is strong
we are talking to great DeFi apps on Avalanche to increase passive income for our token and NFT holders
Dave Donnenfeld | Avalaunch
With a gaming experience like yours and these benefits, it is indeed a potent combo.
Anybody looking at the litepaper or skimming through the website will determine that Heroes Chained is supported by strong backers. Are there plans for any future alliances with or without their presence in the gaming space?
Ersin Taskin| Heroes Chained
We are open to collaboration. So far we have a strong backer team. Also with a great variety. We have t1 mainnet, t1 exchange vc, t1 launchpad, guilds, daos, defi experts, long term vc's with concrete contributions. It is expanding. Any partner that can contribute to our project is welcome. In the short term we are talking DeFi apps on Avalanche. In the long term interoperability among GameFi metaverses, multi-chain support are in the vision.
Dave Donnenfeld | Avalaunch
As with all games, Heroes Chained has an in-game currency based around the HeC token. Can you tell us about its utility, and how it is designed to serve its holders?
Ersin Taskin| Heroes Chained
First of all, we are play-and-earn not play-to-earn. We are game first, fun first. We also use the same NFT and token mechanisms of play-to-earn. So, earning part is similar. Everything valuable is in the form of NFTs. Heroes, Land, Guild, Caravan, items, spells, cards, decks, etc. We have PvP modes inside the city, and PvE outside the city. In active income you can battle in the arena, leagues and tournaments (official and unofficial organized by the players). Arena rewarding depending on the player arena rank. We have royal event winners at the Royal Palace. Open contracts where you undertake quests and missions.
You craft gear, and materials from lower tier resources which you can sell on business plots inside the city. This helps buyers save time and effort. You can use your gear and resources yourself as well. For passive and semi-passive income, you explore outside the city walls and find chests, rare NFT items, and resources. You do dungeons for looting items and tokens. We have puzzle dungeons as well. Battles against NPC enemies. You can stake your coins and NFTs for defi yielding and income. We are working closely with DEXes and DeFi partners for integrations. Compounding and yield farming. You can own business lots in the city. Business lots are where you can sell your crafted gear etc. You can rent your business plots to other to get fees. You can own land outside the city and whenever a gamer gets an income on that land you can get fees. In brief it is a metaverse mimicking the real economy. But since it is fun the economy is sustainable.
Dave Donnenfeld | Avalaunch
The "play and earn" distinction is noted and will certainly reveal itself more with time.
I have to say, this game is sounding more and more awesome. Related to the roadmap, there are a number of exciting targets to hit along the way, including the beta release and the NFT marketplace. Which of these milestones are you most excited about?
Ersin Taskin| Heroes Chained
IDO is next Monday you know. Then we will have our beta release at the end of Q2. It will be very exciting. We have fair drop for our beta testers. And a Bounty program for bug reports and successful proposals. Collaborating with them will be awesome. Until that time we will have NFT Sales rounds. We will first sell a unique hero race NFT's, a race you can't buy or earn in the game. They will have some privileges. Then we will start selling land. Selling land from the Ventuna world is so exciting. Our full release will be towards the end of Q3. And then comes expansion pack release. RPG games never stop expanding, you know.
Dave Donnenfeld | Avalaunch
A CTO's work is never done ?
And a final question before we move on to the twitter section of the program — are there any last points you'd like to discuss, or share with the Avalaunch community?
Ersin Taskin| Heroes Chained
We thank the Avalaunch team so much for the support you have given us so far. We saw the people first approach and take it as a role model. This is how you get the amazing community you have. Proud to be a part of it
And i have to tell you that everyone in the whole eco system respects the Avalaunch team. It is a reference in the space
Dave Donnenfeld | Avalaunch
Likewise. Congratulations for completing the first leg of your AMA journey on Avalaunch and on the grander scale, we are very happy to be supporting you as you all makes us look good ?
Twitter Questions
@tieuphung98 I believe the whole space will experience huge growth in the upcoming years — what role do you imagine Heroes Chained playing in this?
Ersin Taskin| Heroes Chained
We definitely agree that the crypto market will continue to grow and tokens, particularly in gaming are the glue that bonds a project to its audience. We believe that we are a seminal project that will hopefully act as a template for future games. It is not enough to provide rewards; the user experience must be state-of-the-art and the storylines must be truly thoughtful for the space to thrive.
@borz_yaroslava — At the moment, all tokens go down in price even with working products and great fundamentals. Do you see it as an opportunity to develop more quietly and gain momentum or is this a strategy you have in mind?
Ersin Taskin| Heroes Chained
Good question. I'd say yes and no. Crypto is volatile as it is new and markets love certainty. What we are certain of is our ability to deliver a truly unparalleled gaming experience and that is always our focus, regardless of market conditions. That said, being blind to the market conditions is irresponsible to our community so I'd say that you have achieve a balance between the two and a quiet market can give an opportunity to focus a little more but it is not something we are counting on.
Our team comes from the conventional gaming industry. The rules of the gaming industry helps here. No matter what keep developing a great game first.
@ganimat_p — Heroes Chained is currently going well and receiving positive attention. What are your plans to sustain momentum after the launch?
Ersin Taskin| Heroes Chained
If you visit our roadmap you will see how everything from the token unlocks to the market center around the launch of the game. We already have an active community and will continue to grow that and raise awareness through additional channels as we gear up for our launch. We plan to launch our NFT Sales until beta release. First unique race heroes, than land sales. we started with a teaser. Then we will be releasing the game play videos, Characters and pieces from the game. Step by step.
Then we have really good Central exchanges we have been talking to. We will be onboarding them with good timing.
I am talking about really good global exchanges.
this is 5 months till the beta release.
@ehlers_magda — While you build your project, do you take into account community feedback and requests?
Ersin Taskin| Heroes Chained
Yes, absolutely. One thing every web2 game developer knows is that they are only as good as their users and audience. This is who build for and we must consider feedback if we are to optimize the user experience. This is often overlooked by projects but it is mission critical in everything we do. We have been outside the stealth mode for a little over a month maybe but we have over 40 K followers on twitter. Our telegram and discord is so rich for a starter. We have been listening to our members so far
We have decided the whitelist listening to them for example
Mev Dinc has developed globally award winning games over and over again. He developed IKV the MMORPG of Turkey, active for 15 years despite being acquired by Turkish Telekom and later being abandoned
It was the gamers community that kept IKV alive.
So Mev Dinc and the team know how to build a gaming community.
Blockchain is all about community, gaming is all about community and our team is experienced on both
Guilds are the organic DAOs.
@Exkimoooo — What is the history behind the name "Heroes Chained?"
Ersin Taskin| Heroes Chained
Heroes is a good name in gaming. Chained refers to the blockchained
but also it refers to the Heroes that sort of form the chain like team to achieve the final mission. we the team, the gamers, the community we are chained heroes
to save the world of Ventuna and help blockchain mass adoption.
Telegram Questions
It is unfortunate that some projects are halfway through because developers abandon the concept because they are not able to raise the desired capital in the long run; How do you plan to make this project sustainable for its development?
Ersin Taskin| Heroes Chained
Our project is very ambitious and requires a great team. we will have raised around 5 million dollars with the IDO including all previous rounds. This is a very good amount. Plus the team is the owner of the game like the gamers. It is our mission. If you check the team members they achieved great levels of success in their careers. And we doxed ourselves fully. We put our names on it. We have to succeed first to achieve our mission to revolutionize GameFi and second to honor our careers
Could you name some of your partners? What are the benefits that you get from them? And is there any partnership that will be established in near future?
Ersin Taskin| Heroes Chained
Our leading partner is Avalanche. We were impressed by the Solana — Star Atlas model. And the community voted a big yes on it. Also we have innovative ideas which requires deep technical collaboration with the mainnet team. Avalaunch has been more than a launchpad. Sharing with all the expertise and experience. OKEx Ventures brings the strength and approach of a T1 Exchange. We have many guilds. Good Games Guild, We have e-port teams, classical game guilds, DAOs and communities from our ecosystem. DeFi experts. We have VC's with concrete contributions and that are here for the long term. Kyros helps so much for Vietnam for example. All the other partners are great. As said we are open to more guilds, multi chain and metaverse interoperability partners
There aren't many fantastic video games on Avalanche, So Why Did Your Team choose Avalanche? What variety of upgrades can be achieved by severing the Avalanche? What are the benefits of the Avalanche network for Heroes Chained?
Ersin Taskin| Heroes Chained
That question has been asked several times. We believe in L1 for true decentralization. We believe Avalanche and Solana are the best two for our purposes. We studied them in more detail. We aimed for the Solana — Star Atlas model, in which the mainnet and the game project work closely. We contacted two mainnet. Both Solana Labs and Ava Labs responded positively. We chose Avalanche. We believe we would mean more to Avalanche as the flagship game-fi project on the mainnet. We believe with the game-fi subnets, Avalanche transaction fees will be lower and high capacity will be dedicated to the game(s) on the subnet with good parameters. Our technical team and Avalabs have a good communication which will increase with GameFi Subnet we are working on. With the Avalanche hackathon championship we have closer contacts with the leadership. We are impressed by the transaction speed of Avalanche. The time it takes from request to commitment on the ledger is the fastest we have seen on Avalanche. The capacity is also amazing. 4500 TPS. Also, the API is very developer friendly, which is super important. In the long term, I would bet on mainnet where the developers go. So, I am bullish on Avalanche in the long run. However, you are right Avalanche is not as strong as Solana, BSC, Ethereum, Polygon, etc. on GameFi, and we all need to work hard to get Avalanche to where it technically deserves.
Do you have any plans to attract non-crypto investors to join your project? Because the success of a project attracts more investors who haven't yet entered the crypto world. What are the plans to raise awareness about your project in the non-crypto space.
Ersin Taskin| Heroes Chained
We are lucky to have the team from the non-crypto traditional gaming industry. They know the marketing and community building there. But we must build accly. We also develop custodial wallet support option for them. Automatically installed and configured. Key recovery, fiat friendly to make an easy start for them. That said, I believe the space is occupied enough to stand on its own. There are any number of sizable cryptos entirely supported by crypto users. That said, we must evolve as well. The web3 is to be for everyone and making this transition as seamless as possible is necessary. For us, we champion the cause of a great gaming experience as our top priority and most certainly, this will be pivotal in onboarding "normie" users.
To start playing "Heroes Chained", how much money do I need? Is it required that I have NFT characters or a specific number of $HEC Token's?❤️
Ersin Taskin| Heroes Chained
You have the free to play option to start our game. You start with common heroes and a common Guild. You can play and gain experience. But you may get NFT's and tokens for resources etc. to speed up going to higher rankings. Like in all rig's we have a ranking system. Heroes of similar ranks tend to match. And you tend to go to territories that fit your ranking. So you can buy to save time and also for cosmetic reasons, and collectibles. But we don't have the high barrier we see in play-to-earn like Axie. Remember we are not p2e but p&e
Dave Donnenfeld | Avalaunch
Play and Earn FTW!
You've done it. A sincere thanks from us and our community. It was truly special to have you and to be aligned with such a great team and project. It is very much appreciated.
Ersin Taskin| Heroes Chained
It is interesting that great games are free to play and poor games of p2e have a high entry barrier.
One last words
Please google super rational attack to see my article on the Cryptography mail list
I am working on a consensus mechanism called proof of turning (POT) an alternative to POS and POW. In POT gamers' game play as detected by other gamers fuel the consensus anti sybil mechanism
In POT the billion dollar transaction fees go to Gamers, not the miners.
That s long term vision on the subnet we are trying to build.
We are gamers. We are guild. We secure the metaverse we drive, we get the transaction fees.
Dave Donnenfeld | Avalaunch
A new consensus protocol…isn't that how Avalanche got started? ? It's great to have you in this ecosystem. Innovating and fostering growth. We very much look forward to Heroes Chained and the stir and change it's going to create.
Ersin Taskin| Heroes Chained
Thanks
POT can run under Avalanche
So it is technically possible to have an Avalanche GameFi Subnet running on POT
Dave Donnenfeld | Avalaunch
Understood. It's just a nod to the innovation that brought us all here and the continued evolution on our base chain.
Ersin Taskin| Heroes Chained
All the Defi and every transactions happening there will send transaction fees to gamers. And it is very efficient and secure
thanks
About Heroes Chained
Building on the Avalanche Blockchain, Heroes Chained is a stunning fantasy action RPG blockchain game, where the player becomes a Guild Master and gathers heroes to launch attacks on the forces of darkness that ravage the land of Ventuna!
The magical Heroes Chained metaverse features a wide variety of PvE and PvP gameplay, where players play and earn in order to reclaim the fantasy world of Ventuna from the foul clutches of the Dark Lord Oblivion! With a Hollywood Art and Animation Team, a famous composer and a team of blockchain specialists and video game vets, the stage is set for this World Premiere!
The Quest is Upon Us! The Magic begins…
Website | Whitepaper | Litepaper | Twitter | Telegram (GL) | Telegram (TR)| Telegram (Ann) | Medium | YouTube | Twitch | Instagram | Facebook

About Avalaunch
Avalaunch is a launchpad powered by the Avalanche platform, allowing new and innovative projects to seamlessly prepare for launch with an emphasis on fair and broad distribution. With its values deeply rooted in the early Avalanche community, we are able to offer projects confident, informed users who are aligned with the long-term goals of the rapidly expanding application ecosystem.
Leveraging Avalanche's scalable, high-throughput, and low-latency platform, Avalaunch is built by users, for teams, to help grow strong communities.
---
Heroes Chained AMA #1 — Project Overview with Ersin Taskin, CTO (Recap) was originally published in Avalaunch on Medium, where people are continuing the conversation by highlighting and responding to this story.