Heroes Chained AMA #2 — Technical Deep Dive with Ersin Taskin, CTO (Recap)
Heroes Chained AMA #2 — Technical Deep Dive with Ersin Taskin, CTO (Recap)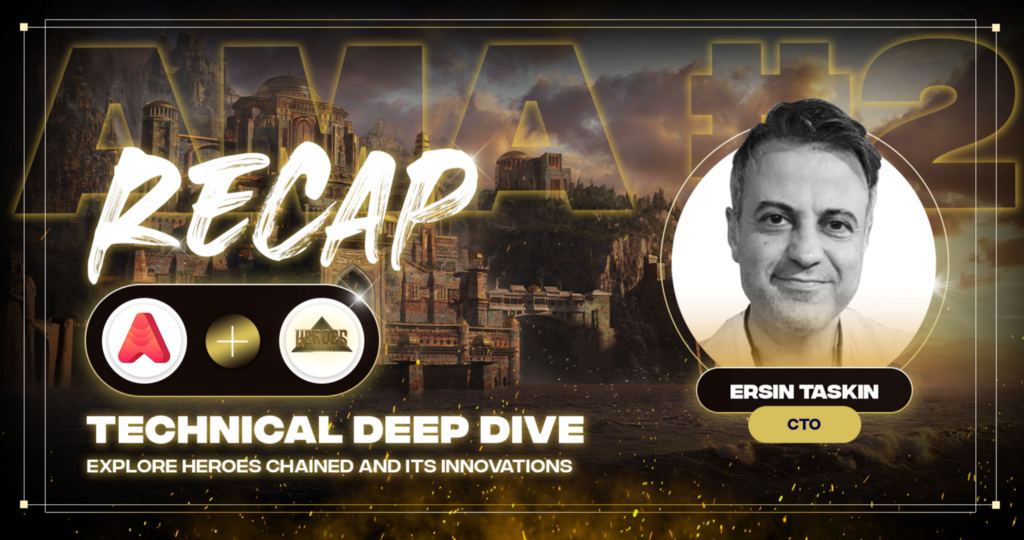 On 01/16/2022 at 12:00 p.m. (PST), an AMA session was held on Avalaunch with special guest Ersin Taskin, CTO, Heroes Chained. Below we present to you an excerpt from AMA with questions and answers.
Dave Donnenfeld | Avalaunch
Hello and welcome everyone to Part II of our serial AMA with Heroes Chained. This will be more of a technical deep dive and we are fortunate to once again have Ersin Taskin aka @ersintaskin, CTO and co-founder of Heroes Chained. As mentioned previously, this is a team that needs no introduction and Heroes Chained may well shake the rafters of crypto. Ersin, before we get started, we appreciate you joining us again today. A warm welcome back — how are you doing?
Ersin Taskin| Heroes Chained
Thank you. I feel great
with the huge IDO we had w u
Thank you for your help. Thanks to the community
Dave Donnenfeld | Avalaunch
I'm sure you've been running yourself ragged on the AMA circuit and elsewhere. And yes, it is indeed a massive turnout and a ton of interest for your project. Our community knows quality.
Let's start from the beginning even if there is some overlap from last time. Would you once again tell us a little bit about yourself, what did your previous roles look like before joining the Heroes Chained team?
Ersin Taskin| Heroes Chained
I have a BS degree in Electrical and Electronics Engineering from the Bogazici University. I have over 20 years of experience in the software and IT sector, as a developer, engineer, sales executive, manager, CTO, CEO, and entrepreneur. Prior to Inventuna I was the co-founder, chief software architect and lead developer of KodA, a top IT and software company of Turkey. I have been blockchain since 2017. Interested mostly in the technological aspect. I have written posts in the Cryptography Mail List. Mostly on decentralization, and security limitations of POW and POS.
Dave Donnenfeld | Avalaunch
I'm guessing you've encountered this question before ?
Ersin Taskin| Heroes Chained
Exactly. 🙂
Dave Donnenfeld | Avalaunch
Let's push the pace a bit then Sir. Speaking of experience, Heroes Chained team is pedigree level, with famous artists from the makers of Game of Thrones, blockchain experts and so on. By far this is the most skilled and experienced team I've come across in a long-time. And so out of curiosity, how did this 'Dream Team' come about? How did you manage to align and condense everyone's vision into Heros Chained?
Ersin Taskin| Heroes Chained
Erhan, my brother and partner in our previous company is the best gamer I have ever seen. He always had a dream to found a game development company. I always supported him on that idea. Since the 2018 bear in the crypto space, he has been thinking about use cases for blockchain. He has been telling me that gaming is the best use case for blockchain. We were waiting for the right time. The beginning of 2021, he told me "Bro, now is the right time". Then he went to our close friend Salih the co-founder of CBKSoft. Acquired by first Aramex and later by Iron Mountain. Explained him the blockchain and gaming revolution. He gets aboard with his cofounder friends at CBKSoft. So the core founders are the founders of the two top software companies of the country.
We have noticed issues in the basic strategies of early play-to-earn project. We thought that the best way to attack those issues is to develop a great game. Like the ones in the conventional games industry, providing us best practices. But we needed and experienced top game developer team. Who do we go to in Turkey? No contest. We went to Mev Dinc the Legend. The founding father of the Turkish Gaming Industry. A very close friend. Erhan visited and told him how the blockchain and NFT technologies solve the gamers' problems. He gets excited. The rest is a roller coaster. If you have Mev Dinc aboard you need to onboard the bests in class. We are visual animals unlike dogs. So a great game has to be great on the visual part. 3d arts, animation, visual effects. Who do you go to in Turkey? Again no contest Onur Cayli. The creator of White Walkers race for Game of Thrones. He amazingly did the same for The Amazing Spider Man, Terminator Genisys, Avengers: Age of Ultron, Antman, Man in Black 3, Marvel vs Capcom, Sonic, etc. We aim to be the Blizzard of GameFi. We gathered a great team on the blockchain part as well. Our blockchain team won the Avalanche Hackathon. So we are equally strong there.
Dave Donnenfeld | Avalaunch
AMA fatigue or not, you are bringing the heat. Generally, we don't get this level of detail in answers so appreciate what you do, what you do.
Moving along — While it's undeniable that behind Heros Chained lies a bunch of experts, I doubt there were no difficulties either in development or technicality. In terms of these challenges, how did you overcome them? And do you think some of these challenges would have been avoided had you been developing on another chain?
Ersin Taskin| Heroes Chained
We truly believe in decentralization and too technical to go with L2. Thus we had to do it with L1. You don't have much choice there. We studied mainnet and chose Avalanche and Solana to study in further detail. We believe they are both great. Both Avalabs and Solana Labs teams responded positively to our project. We chose Avalanche. Avalanche we believe is the most developer friendly mainnet out there.
We aimed for the Solana — Star Atlas model, in which the mainnet and the game project work closely. We have innovative ideas to solve p2e challenges and this required deep technical Collab with the mainnet team. We believe we would mean more to Avalanche as the flagship game-fi project on the mainnet. We believe with the game-fi subnets, Avalanche transaction fees will be lower and high capacity will be dedicated to the game(s) on the subnet with good parameters. Our technical team and Avalabs have a good communication which will increase with GameFi Subnet we are working on. With the Avalanche hackathon championship we have closer contacts with the leadership. We are impressed by the transaction speed of Avalanche. The time it takes from request to commitment on the ledger is the fastest we have seen on Avalanche.
For non-coiners we had to develop a custodial wallet option. And that is a challenge. High quality 3 models in mobile game play was a challenge and the only way is to work with the best people in the class.
Integrating the wallet with Avalanche is easier thanks to developer friendly API.
In the long term, I would bet on mainnet where the developers go. So, I am bullish on Avalanche in the long run. However, you are right Avalanche is not as strong as Solana, BSC, Ethereum, Polygon, etc. on GameFi, and we all need to work hard to get Avalanche to where it technically deserves.
Dave Donnenfeld | Avalaunch
No coiners are the future ? Kudos to you for greasing the proverbial skids for them.
How big is the team? How many developers are dedicated to game development?
Ersin Taskin| Heroes Chained
We are over 30 people developing the game. And we have other people in management business development social media, community development etc. The team is growing so fast i cant tell the exact number. We are also hiring people. Game developers, etc.
Dave Donnenfeld | Avalaunch
That is a sizable operation to be sure..
A few of the problems that Heros Chained challenges are the common issues surrounding games, namely asset ownership, interoperability, governance and so on. Can you describe to us the solution that Heros Chained provides as a way of addressing these issues?
Ersin Taskin| Heroes Chained
Sure. NFT technology helps gamers own the assets they earned playing or paying truly, legally and freely. They can trade them independently. NFT on BC provides proof of provenance and authenticity. Gamers always wanted to have interoperability but the big Game Studios did not want it. With the BC and NFT technologies it is easier to develop interoperability among gameVerses. With the metaverse evolution I believe games that are interoperable will have a higher chance to grow. We design HC with interoperability in mind. Finally, gamers used to be just customers of Game Studios. With the BC and NFT revolution finally they can stake their governance tokens to govern the game they drive. Remember we have only one currency for in-game currency and governance. And it is fixed-cap, thus deflationary.
Dave Donnenfeld | Avalaunch
Being on the blockchain is exciting and in rhythm with the crypto sphere, but this exposure can come at a security cost. From the security point of view, what actions/plans have been taken to minimize these potential risks? Has there been smart-contract audits, if so are the results publicly available?
Ersin Taskin| Heroes Chained
Just Google super rational attack to see my posts on the cryptography mail list on BC security. We have a strong blockchain team. Remember we won the Avalanche hackathon. And we had Prof Sirer and Kevin Sekniqi in the jury. However, experts can make mistakes and therefore we had our contracts audited and approved by Certik.
Dave Donnenfeld | Avalaunch
There are a lot of activities that players are able to explore once the game is released, like the battles, NFTs, PvP, PvE, with some of them being available before the MVP. From a high level perspective, can you discuss these game mechanics and how they work?
Ersin Taskin| Heroes Chained
Please watch our teaser to get some feeling of the story. We believe in story for RPG games. HC is an fantasy action-rpg game. The fantasy world of Ventuna, which is home to many races and lands, has been ravaged by the Dark Lord Oblivion and his eternal champions. In a last stance to fight back, all the races gathered together, secured with magic spells and created the biggest city to be known in all history, 'Last Hope'. Behind her walls, and the magic dome, the city is able to sustain the many races and protect them from the Dark Lord Oblivion's reach and influence. Outside the walls; the further you go, the more it takes.
Players own a 'Guild' and gather heroes. Guild is a place to call home. Your heroes is like a family or team. You compete against others, and complete missions to become the ultimate guild in the city of Last Hope! Players can PvE by sending their heroes beyond the walls of the city, to defeat enemies found roaming the map, uncover nodes and buy the land to claim them, find dungeons and claim artifacts, complete missions. PvP elements include Guild vs Guild or Team vs Team by creating alliances between guilds allowing for Tournaments and Leagues (official or unofficial).
At the battles the player has to chose five heroes from his/her team of heroes. Best strategy requires the best combination of various classes and races. Heroes have various abilities and the player also has guild cards for spells. The player can interfere with the real-time fight using these cards real-time. It is a very unique experience so I suggest people follow us as we will be releasing gameplay content in the course of time. You have a garage in your guild , because you need a caravan to roam outside the city walls. Gather resources, craft gear, upgrade your items, guild, garage, caravan. You level up your heroes. You breed your heroes when they get to the max rank. Build, explore, trade, battle, team up. Play and earn. Stake and DeFi your tokens and NFT's.
Dave Donnenfeld | Avalaunch
Wow. Just taking that all in
How does it feel to have come first place in the Avalanche Hacks? Has this been a principal factor for deciding to continue development in the ecosystem? And while on this topic, has any of the development done during the hackathon been implemented in building Heros Chained?
Ersin Taskin| Heroes Chained
Thank you for asking. We want to collaborate deeply with our mainnet because we have inventions and innovations for GameFi. That is why we offered Avalabs to be our backer and collaborator. We have a great and reputable team but you have to deliver and show. When we heard about the Avalanche Hacks and heard that EGS and Kevin Sekniqi are in the jury to study and evaluate the projects on the source code level, we thought this is a good opportunity to attract their attention. We had already attracted the attention and they had already decided to be our backer, but yeah we did our best. Such a great satisfaction.
Dave Donnenfeld | Avalaunch
You've received some great support at the highest level. Most deserved. In a day and age where so many projects are launching, we believe that the flight to quality will soon be upon us. Projects like Heroes Chained are ushering in this new era.
Glad to have you in this Avalanche ecosystem
but sentiment aside let me continue with the questions…Looking at the elements Heros Chained is built on, it's possible that it could tip off the balance and possibly cause a ripple effect in the blockchain-based game industry. How do you envision this disruptive potential to transform the landscape?
Ersin Taskin| Heroes Chained
Thank you likewise. Feel great to be a part of this ecosystem
I believe we are starting the GameFi 2.0 with real game studios coming to the space and disrupting P2E and replacing it with P&E. That will be huge. We need a Blizzard in GameFi. We aim to fill that gap, as Blizzard fans.
We are also working on a long-term vision called Proof of Turing consensus mechanism called POT. POT is an alternative to POW and POS. In POT the game play by human gamers secure consensus. Thus, transaction fees go to the gamers not the miners or stakers. Transaction fess is a billion-dollar business in crypto and trillion-dollar business in the real world.
This is something huge and long term. We need to talk about it separately.
We are gamers, we are guild. We drive metaverse economy, we secure it. And we get the transaction fees.
Decentralization is truly achieved when you decentralize to the people.
I am talking about millions not a thousand validators.
Dave Donnenfeld | Avalaunch
Absolutely. The migration to the blockchain is coming to redefine our world…not to get too "metaversal" about it all but when you consider gaming and our ability to earn within it, it can cause one to ponder what the future of work itself may look like for many.
Ersin Taskin| Heroes Chained
And POT is super fast, because it doe not need hashpower or stake
Dave Donnenfeld | Avalaunch
Awesome. Props to Mr. Turing and its continued iteration. ? Finally…before we move on the Twitter portion of our program — is there anything that you can divulge right here, right now, about anything, like, any partnership announcements, or deals in progress/completed that you can tell us?
Ersin Taskin| Heroes Chained
We have great team, great community support and great backers. We have t1 mainnet, t1 exchange vc, long term VCs, communities, DAOs, defi partners, and great game guilds both classical and P2E guilds. We will be announcing great gamers, e-sport clubs, guilds soon. We have a Dota world champion, e-sport teams with millions of fans, etc. We rise with the gamers and guilds.
Twitter Questions
@NguyenDaoOne asks — if someone were to send you a good drawing for an NFT, does your team evaluate it?
Ersin Taskin| Heroes Chained
Onur is a teacher at a University. He loves students. He loves to onboard them. We certainly have a ton of resources devoted to this sort of thing so I'm tempted to say no but we do want to encourage our community to stay involved so my answer would be…"never say never." We will always be open to community input, feedback and contributions. After all it is all about community involvement.
I suggest people to bring such suggestions up in TG and discord
@26Akunpribadi who asks a question that probably everyone wants to know so… Do you have a Token Burning plan to increase Token value?
Ersin Taskin| Heroes Chained
We don't burn tokens. We have a single token with fixed cap. We don't have one deflationary and one inflationary token unlike most big gamefi projects. Our single token is for both governance and in game currency. So when the game economy grows there is no central authority inflating the currency. The holders savings gain value.
But with defi and staking circulating supply even decreases
And also utility of tokens decreases circulation
Dave Donnenfeld | Avalaunch
Amen. That is a slightly overlooked aspect of this. The distillation of value into a single token is going to be potent with time. Maybe even within short order ?
Ersin Taskin| Heroes Chained
Single token in a big gameverse is so holder and gamer friendly
@EdwardMastah wants to know — The teaser looks fantastic and I was wondering if you have plans to partner with any Gaming Hubs or communities?
Ersin Taskin| Heroes Chained
Thank you for appreciating our teaser. To answer, there are certainly some movers and shakers in the space; many of whom have reached out to us for collaboration. This is something we are absolutely interested in and will do our best to support our fellows in the quest for great gaming experiences on the Web3. We believe of socialization aspect of an rpg game. We want to motivate gamers to form communities and want to collaborate with hubs, communities and already onboarded guilds.
@Lopyou54804819 — The project has a nice road map, what do you foresee as your greatest challenge on this roadmap?
Ersin Taskin| Heroes Chained
It's not our roadmap per se that presents a challenge — these are deliverables and a known quantity to us. The challenge with developing with new technologies that are ever evolving is how you can keep your "ear on the street." Innovation comes at breakneck speed and I think all teams must be willing to embrace things on the fly. A measure of adaptation is necessary and these little shifts in strategy or tech can come with little warning. So I think the challenge is not in the roadmap but really in how wide you can make that road and still be comfortable and productive. First challenge is that you have a bottleneck on the 3d art creation if you create everything from pencil sketches. We try to overcome this by working with a great team and we work in parallels. While the art team is creating our front end team is using Unity assets and dummy models for developing and replacing them as new modes arrive from the art team.
Teams have to work in parallels to achieve the ambitious roadmap we have.
We need a Blizzard in GameFi and we aim to have the first movers advantage on that spot.
@kingofbacodk — When you look back to the day when you started this project do you feel you've come a long way?
Ersin Taskin| Heroes Chained
Thank you for this question. With all that is going on, we really don't have a chance to look back. That said, yes, we have a come long way. Assembling and coordinating a team of this magnitude to share a vision has taken a lot already and of course the enormous amounts of work that have gone into the game already. Still, the road ahead of us is longer than what is behind us so I thank you for giving me a moment's pause. we have won the Avalanche Hackathon. That was huge. Having our dream mainnet as our backer. Like the Solana — Star talas model. Check. Forming the backers we have and the successful IDO we are having now. Also building over 50 K followers on Twitter same on TG and Discord. Vibrant community and we have just gone out of stealth mode. Crypto Ratings have rated our IDO as number one in the world in January 2022. This is amazing.
Lovish Shahi| Avalaunch
Hi Ersin @ersintaskin, love to see you here ,Heroes Chained is one of my favorites, I'm glad you came again 🙂
Ersin Taskin| Heroes Chained
Thank you
Telegram Questions
For a project development first of all main priority is having enough fund. Does your team financially capable to run this project? Do you have enough fund for it's development Can you tell us that how your project generate the profit?
Ersin Taskin| Heroes Chained
Good question. We will be securing around 5 Million USD with this IDO. which is good for a project of this size. It is a top budget. The IDO n the bearish market is 1.4 MUSD. Which so high. And the team members doxed themselves and put their names and whole careers on the project. We are one of the best doxed team on the whole crypto space. Thank you.
Where can I buy your tokens now, what are your current contracts and how can I buy them and what are the benefits?
Ersin Taskin| Heroes Chained
We are listing on Traderjoexyz on 19th. Then on Pangolin probably. We have had good talks with top global CEXes. We will listing with good timing on them. All announced on our website including contracts. watch out for scammers always follow our official channels
Hello. I want to ask, how are we going to evaluate HEC tokens until the game is released? If the game takes a long time to come out and in the meantime, there are no nft sales with Hec tokens, some events, etc., the interest may decrease. What action did you take for this? thanks
Ersin Taskin| Heroes Chained
I think i finally found a real human:) We have beta release in roughly 5 months. Until then we will have staking, defi gains, and listing on Cex'es with good timing helps the price. We will make an NFT sale of a unique race that u cant buy or earn in the game with some priveles. Then in Marhc we will sell land NFTS
Is your project a community only for English speaking an countries or for users not of other languages?
Ersin Taskin| Heroes Chained
We aim to be global. We just started, but we already have TG in 6 languages. I believe that number will increase.
What is your strongest advantage that you think will make your team leading the market?
Ersin Taskin| Heroes Chained
Team, team and team. Great games are created by great game developer teams. Game first is team first. Please check to see that our team is the best doxed in the crypto space.
Lovish Shahi| Avalaunch
Perfect!
It's been impressive and a breeze to go through.
Congratulations and On behalf of us all, many thanks.
Ersin Taskin| Heroes Chained
Thank you for having me today
Lovish Shahi| Avalaunch
On a final note — you have been an exceptional guest. Highly thoughtful answers and cleanly shared information. We're happy to be hosting your IDO and wish you all the success we imagine you having. Very much appreciate your time today and look forward to your launch and beyond!
Ersin Taskin| Heroes Chained
Avalaunch is a long term partner. We are team, we are family, we are guild
bye…
About Heroes Chained
Building on the Avalanche Blockchain, Heroes Chained is a stunning fantasy action RPG blockchain game, where the player becomes a Guild Master and gathers heroes to launch attacks on the forces of darkness that ravage the land of Ventuna!
The magical Heroes Chained metaverse features a wide variety of PvE and PvP gameplay, where players play and earn in order to reclaim the fantasy world of Ventuna from the foul clutches of the Dark Lord Oblivion! With a Hollywood Art and Animation Team, a famous composer and a team of blockchain specialists and video game vets, the stage is set for this World Premiere!
The Quest is Upon Us! The Magic begins…
Website | Whitepaper | Litepaper | Twitter | Telegram (GL) | Telegram (TR)| Telegram (Ann) | Medium | YouTube | Twitch | Instagram | Facebook

About Avalaunch
Avalaunch is a launchpad powered by the Avalanche platform, allowing new and innovative projects to seamlessly prepare for launch with an emphasis on fair and broad distribution. With its values deeply rooted in the early Avalanche community, we are able to offer projects confident, informed users who are aligned with the long-term goals of the rapidly expanding application ecosystem.
Leveraging Avalanche's scalable, high-throughput, and low-latency platform, Avalaunch is built by users, for teams, to help grow strong communities.
---
Heroes Chained AMA #2 — Technical Deep Dive with Ersin Taskin, CTO (Recap) was originally published in Avalaunch on Medium, where people are continuing the conversation by highlighting and responding to this story.