Heroes Chained x Avalaunch: IDO Announcement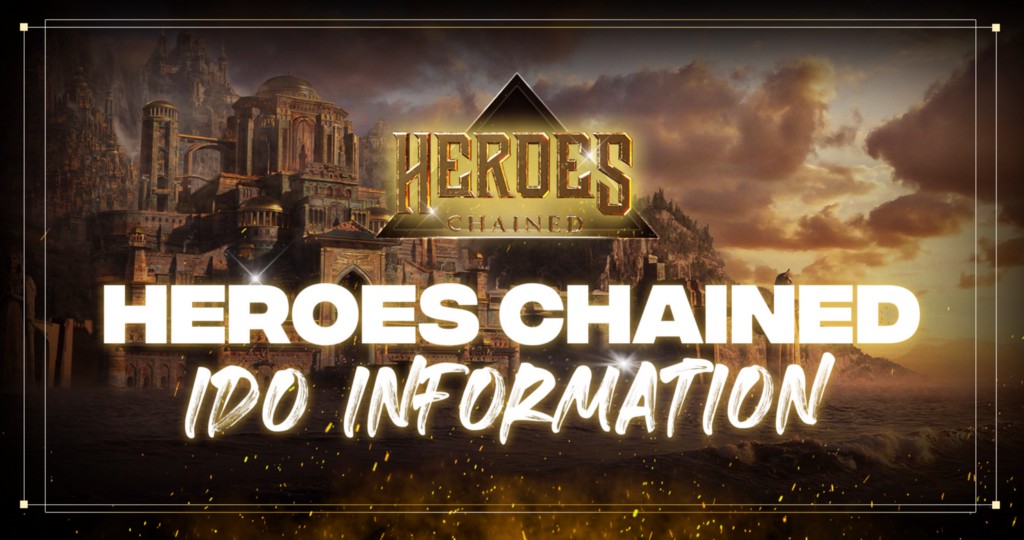 In the annals of gaming history, there have been seminal moments and indeed epochs that came to define an era. From the 1980s until present day, we have seen many such defining moments. Now, another is upon us with the emergence of Fantasy RPG blockchain game Heroes Chained. Though blockchain gaming is indubitably seminal, the question as to whether play-to-earn is merely a heavily subsidized fad or something watershed rests squarely in the hands of developers.
What will be the zeitgeist that defines gaming in the early 2020s? A mass exodus to web3 and the emergence of a decentralized AAA experience replete with incentives that can fuel local economies? Or will it be relegated to something far more unremarkable. Time will tell of course but it appears that the proverbial deck is now getting pretty stacked.
Today, deep within the legacy world whose shoulders we stand upon, a legend has been awoken, a veritable paladin and an army of accomplished cohorts by his side. Their armamentarium is robust and they are looking to fill their warchest…and perhaps yours as well.
It is with great pleasure that Avalaunch announces its next IDO in Heroes Chained.
https://medium.com/media/82668c373aea0d14bfd97cb3a281f6ae/href
Overview
No one owns the future; someone's got to take it and Heroes Chained is poised to break ground on tomorrow with their real-time fantasy action role playing game (RPG). It is an ensorcelling world of monsters and mayhem where players aspire to be Guild Masters as they gather heroes and embark on epic, perilous quests.
An execution play of the highest order, Heroes' "Play And Earn" concept rethinks GameFi as it challenges the existing tenets of "play to earn" with a model that runs through the singular apex token, HeC.
Heroes Chained is all set to kick off a series of top game titles through a stellar fantasy metaverse project launching on the Avalanche network. Avalaunch is truly lucky and honored to have worked with this team and to be hosting their IDO.
The Fantasy RPG Game
"The fantasy world of Ventuna, which is home to many races and lands, has been ravaged by the Dark Lord Oblivion and his eternal champions. In a last stand to fight back, all the races gathered together and created the biggest city to be known in all history, 'Last Hope'. Behind her walls, the city is able to sustain the many races and protect them from the Dark Lord Oblivion's reach and influence. Outside the walls; the further you go, the more it takes."
Were one to create a mantra around the Heroes Chained philosophy, "game before gamefi" may come to mind. The standard-issue low quality graphics and limited play of many blockchain games just don't cut it.
However, these do not mean incentives are not key drivers. What jumped out at Avalaunch was HC eschewing the two-token economy and preferring to drive all value through the one and only HeC token.
Governance is certainly important but one has to look no further than a currency to see where the money flows. HeC identified this as a problem and took a stand. In the overarching sense, the problem Heroes Chained is here to solve is the issue of play-ability. Meaning, games that are simply not fun enough will have a built-in shelf life that hinges entirely on the rewards they are able to distribute.
Heroes Chained has assembled a group of bonafide all-stars as vanguards of this initiative. Their mission is to create a "sticky" game whose value proposition stands alone in terms of value; both monetarily and experientially.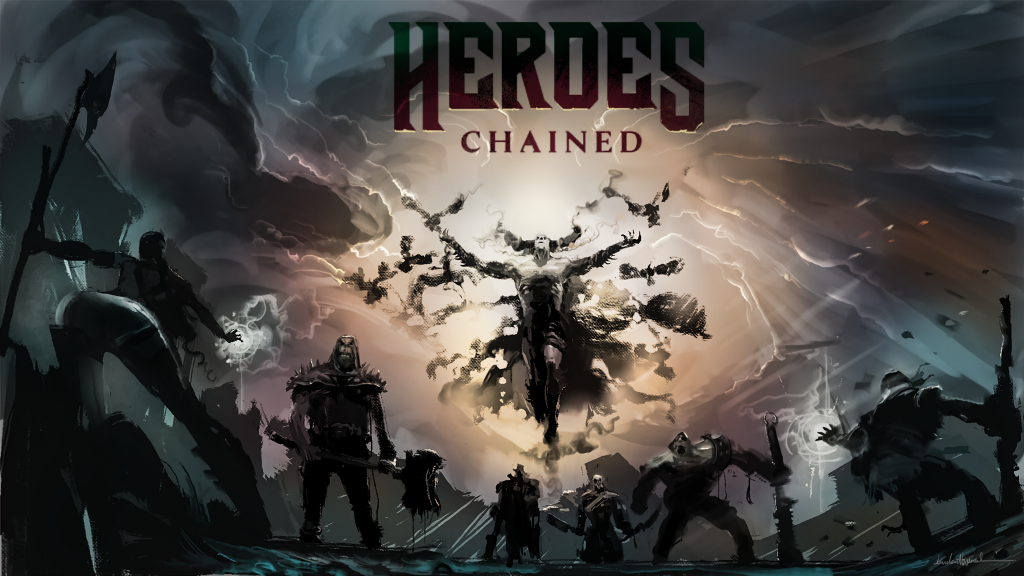 Heroes Chained is a place where players own a 'Guild' and gather heroes, not expendables, to compete against others and complete missions en route to the ultimate guild in the city of Last Hope. Players can PvE by sending their heroes beyond the walls of the city, free to roam the terrain, fight enemies, track down nodes, buy land to claim them, discover dungeons, uncover artifacts and complete missions.
At the heart of this, remain their unique Heroes:
Races: elves, humans, orcs, dwarves, half-beasts and lizards.
Classes: assassins, warriors, archers, mages and healers.
Traits: good or evil, both good and evil.
Their respective stats relate to their individual function and utility within the game.
Heroes are upgradeable through training, live battle and by conquering missions and quests.
Sub-classes: All races and heroes can morph to include new subclasses in higher levels and special abilities.
Dynamic Game Play:
PvP elements include Guild vs Guild or Team vs Team
PvE — roam the terrain, take on enemies beyond the city.
Alliances between guilds can be forged for Tournaments and Leagues.
The Guild
Guild Owners — gather and train heroes
Completing missions and battle other players
Secure ranking in the city of Last Hope
The home turf where resources e.g. land, resources and heroes reside.
Upgradeable — acquire additional land and resources
Gaming Features
There will be a number of dynamic features that will further enhance the game and the overall user experience. The aforementioned land is fertile; able to produce crafting materials and in-game tokens to increase player clout and invest them deeper into the game.
To that end, there will be breeding where progeny will retain a mixture of the parental gene pool. Guild Spells act as an in-game super power which can produce shifts in momentum in the heat of battle. These examples speak to a thoughtful and immersive experience for the gamer. To tie this together, there are NFTS and a marketplace.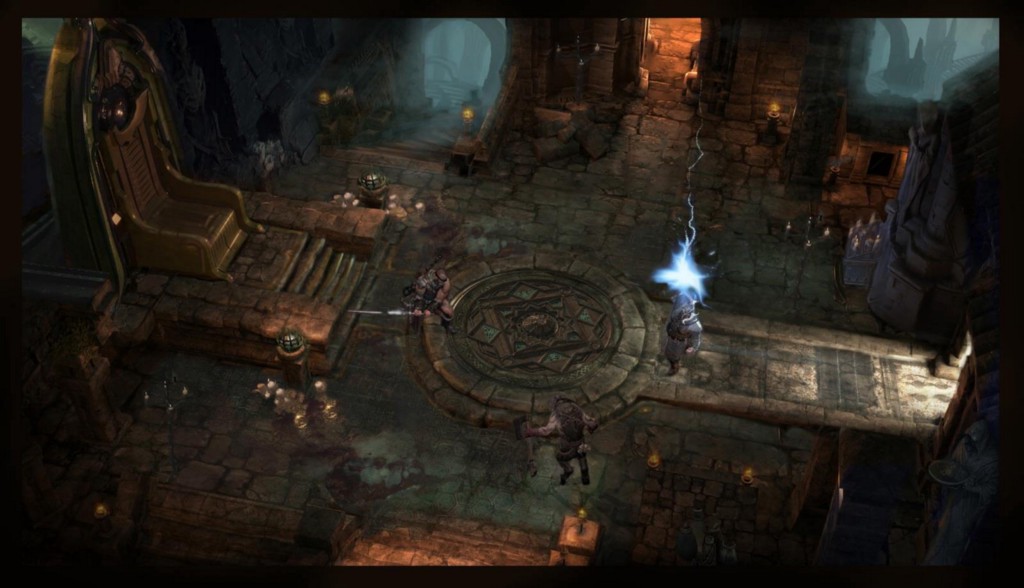 All game resources from cards to heroes to materials are represented by non-fungible tokens that create ownership and value aggregation for players. Naturally, where there is value, players have something they can leverage and may opt to represent them in the vibrant marketplace.
Heroes Chained — Links & Team
Website | Telegram (Discussion) | Twitter | Medium | Discord | Instagram | Facebook | Reddit | Twitch
Team: This team needs no introduction and can stand up against any leaders in the blockchain universe, or elsewhere for that matter. In fact, it is more than worth a visit to their litepaper to see the bios of the sixteen professionals dedicated to the project. Their Executive Producer Mev Dinc is known in gaming circles as "The Legend," and has a published autobiography attesting to his life's work and contributions to the gaming industry. Their Art Director, Onur Can Cayli has created for Game of Thrones, the Avengers, the Terminator, Stranger Things, Hunger Games, Marvel among other blockbuster films and TV series.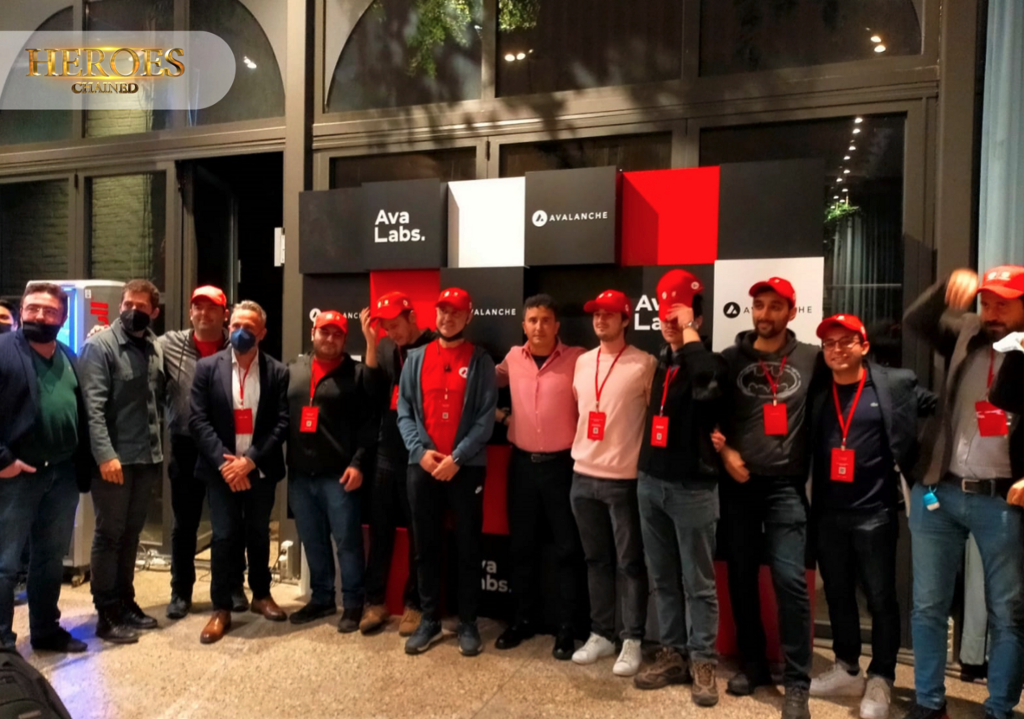 Their executive leadership is truly unrivaled from top to bottom and full of accolades. It is an honor to work with them.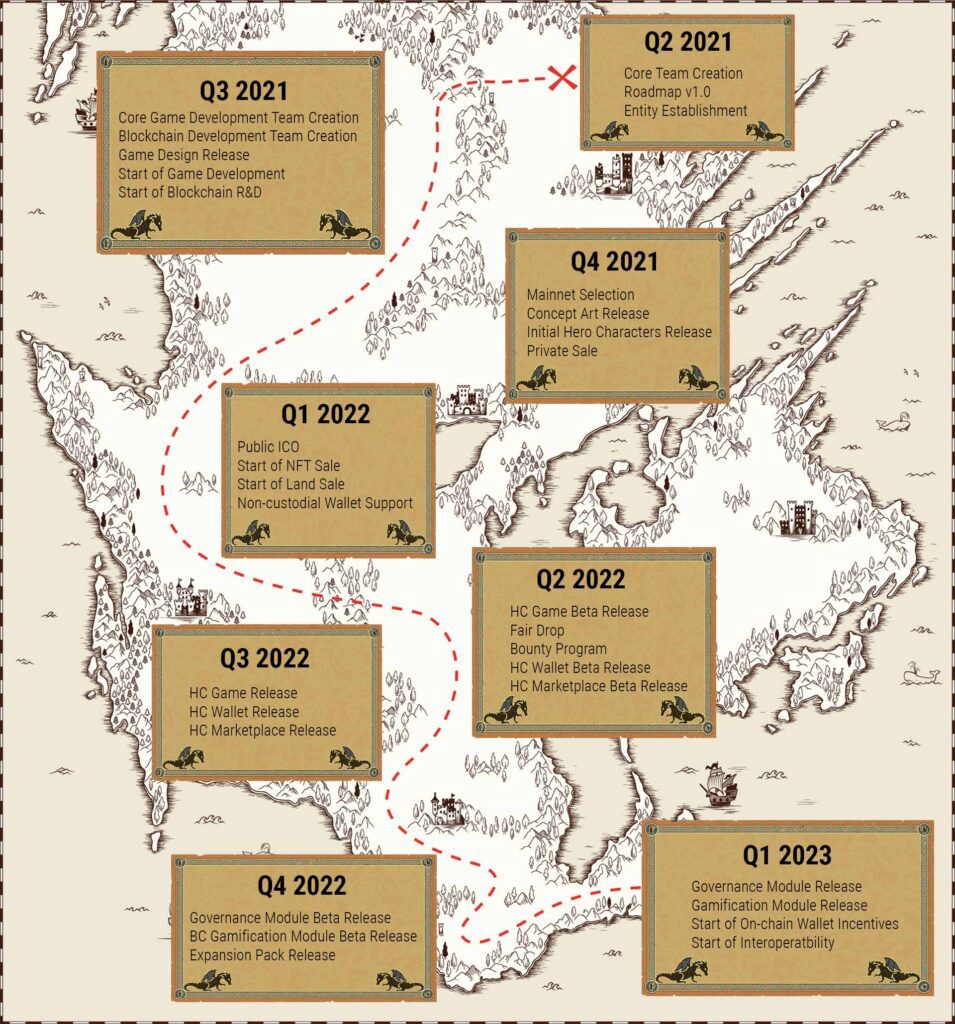 Partners and Backers:
This is a well-capitalized team who attracted many of true value-add "smart money" contributors in the space. Projects who have the luxury of selecting their earliest backers are provided a measure of support that is hard to come by in private equity.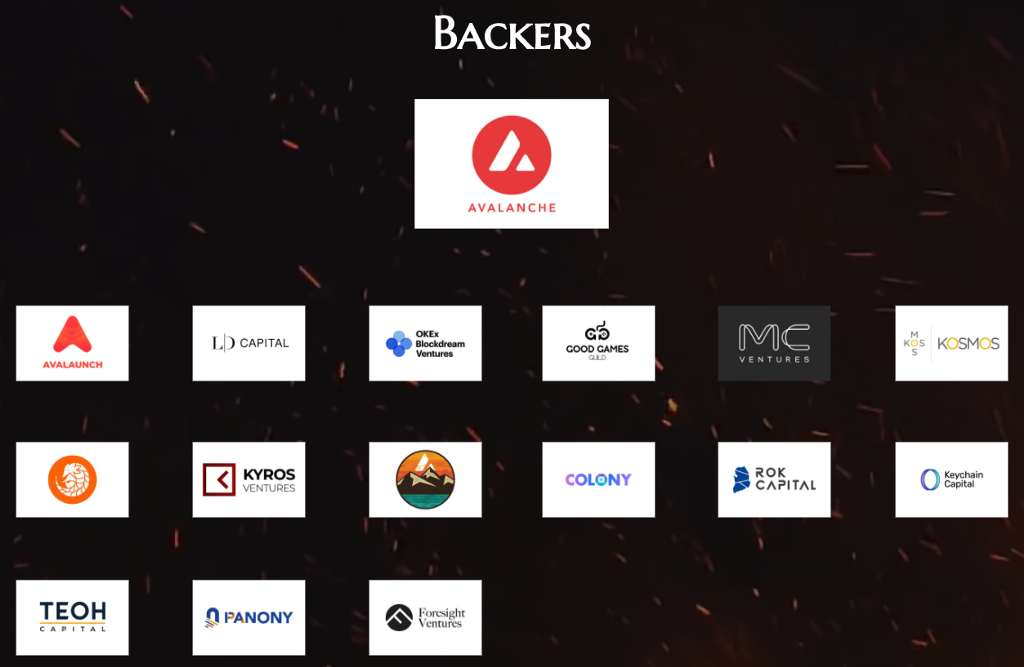 Closing Thoughts
In the day and age of GameFi, it is easy to overlook the importance of artistry, storytelling and immersion of experience because in-game rewards currently rule the day. However, true adoption and sustainability remain contingent upon both and this would be the Heroes Chained difference.
They recognize the relationship between the "fi" and the game and are acutely aware of how the conspicuous absence of state-of-the-art games has been so effectively hidden in play view. This is perhaps shrouded by some short-term thinking as GameFi is a symbiosis and the link between the two is inextricable and non-negotiable. Their vision is simple:
Optimize a game that people love to play and incentivize them with rewards. Only when both pieces are in place will the cornerstone of something that can truly last generations be set.
The HeC token is similarly thoughtful as it combines both in-game and governance utilities into one, along with a deflationary mechanism. Moreover, it creates value through NFTs and a marketplace for good measure.
Rather than summate HeC into governance, DeFi, in-game, marketplace utility etc., we see it as the creation of a virtual island nation with a token that effectively dictates policy, provides fuel and a medium of exchange for crafted items, lands, assets, game power and trading.
How big that island nation becomes is what we all look forward to witnessing.
Funding Numbers:
Pre-Seed: 6.75M HeC at .08 USD — $540,000 USD
Seed: 5.5M HeC at .12 USD — $660,000 USD
Private: 7.75M HeC at .25 USD — $1,937,500 USD
Public Sales: 4M HeC at .35 USD — $1,400,000 USD
Total Raise: $4,537,500 USD
Supply — Breakdown
Total Supply: 100,000,000 HeC
Rewards & Staking: 40M HeC (40%)
Team & Advisors: 20M HeC (20%)
Community & Marketing: 8M HeC (8%)
Private: 7.75M HeC (7.75%)
Pre-Seed: 6.75M HeC (6.75%)
Seed: 5.50M HeC (5.5%)
Public Sales: 4M HeC (4%)
Foundation: 4M HeC (4%)
Liquidity Provision: 4M HeC (4%)
Vesting Following TGE:
Rewards & Staking: 48 months daily linear vesting
Team & Advisors: 9-month cliff, 24 months daily linear vesting
Community & Marketing: 2% at TGE, 18 months daily linear vesting
Private: 10% at TGE, 3-month cliff, 12 months daily linear vesting
Pre-Seed: 9-month cliff, 24 months daily linear vesting
Seed: 5% at TGE, 4.5 month cliff, 15 months daily linear vesting
Public Sale: 20% at TGE, monthly vesting over 6 months
Foundation: 1% at TGE, 18 months daily linear vesting
Liquidity: 20% at TGE, 3 months daily linear vesting
Other:
Initial Circulating Supply: ~2.05M HeC (excluding liquidity tokens)
Initial Market Cap: ~717.5K USD (excluding liquidity tokens)
The Heroes Chained IDO on Avalaunch
Total Supply: 100M HeC
2.857M HeC at .35 USD
Sale Size: $1,000,000 USD
Registration Schedule:
Registration Opens: January 13th at 3:00 p.m. (UTC)
Registration Closes: January 16th at 6:00 a.m. (UTC)
Sale Schedule:
Validator Round Begins: January 17th at 6:00 a.m. (UTC)
Validator Round Closes: January 17th at 3:00 p.m. (UTC)
Staking Round Begins: January 17th at 3:30 p.m. (UTC)
Staking Round Closes: January 18th at 6:00 a.m. (UTC)
Avalaunch IDO Recap
Total HeC for sale: 2.857M
Price: $.35
Size: $1,000,00
Vesting — 20% at TGE, monthly vesting over 6 months

About Avalaunch
Avalaunch is a launchpad powered by the Avalanche platform, allowing new and innovative projects to seamlessly prepare for launch with an emphasis on fair and broad distribution. With its values deeply rooted in the early Avalanche community, we are able to offer projects confident, informed users who are aligned with the long-term goals of the rapidly expanding application ecosystem.
Leveraging Avalanche's scalable, high-throughput, and low-latency platform, Avalaunch is built by users, for teams, to help grow strong communities.
---
Heroes Chained x Avalaunch: IDO Announcement was originally published in Avalaunch on Medium, where people are continuing the conversation by highlighting and responding to this story.