How competition keeps gamers coming back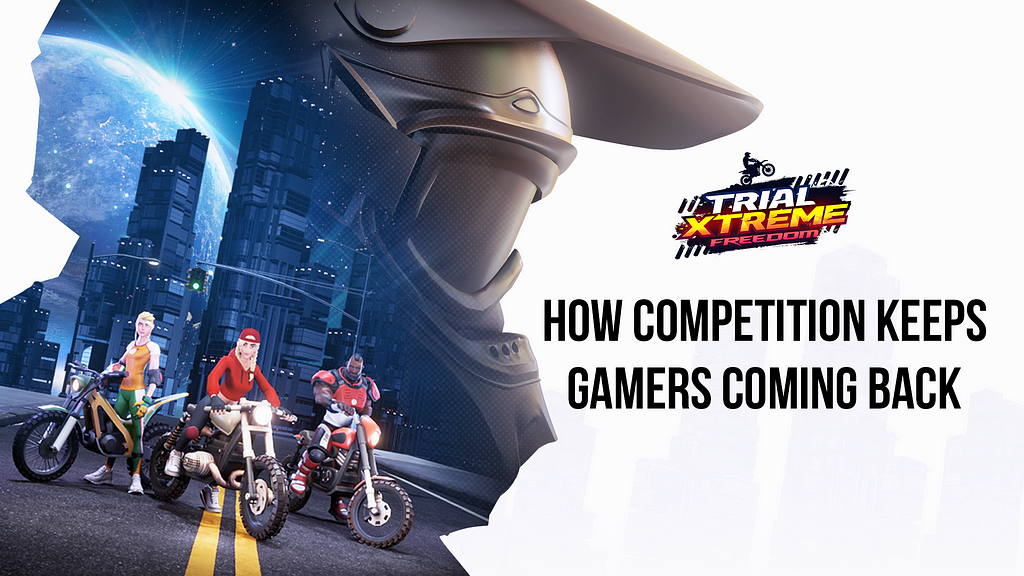 Do you know that feeling when you realize you're on top of the leaderboard for your country, or even the whole wide world? You'll do anything it takes to defend your number one spot. Over the years, we've seen players from all over the world competing against one another, and found the most important reason gamers keep coming back; competition.
Whether it's defeating your friends in a match of Fifa or destroying the opponent in an online match, competing against other players is a motivating aspect in gaming that should not be underestimated. We've seen it all and know exactly what a player wants to find the ratio between staying motivated and being challenged.
What makes a gamer play a game?

There are dozens of reasons why someone would want to play a game. Plus, let's be honest here, every single person plays games. Whether it's a simple card game, a trivia night with the family, a city-builder that emulates real-world economies or a 1000-piece puzzle, we all play games. With the wide variety of games available, there are dozens of reasons why people would play these games. Diluting the main reasons, we can pick three topics;
1. Entertainment
People simply want to have fun. Games allow the player to perform certain actions that aren't possible in their daily lives. Whether it's becoming a dragon and flying through undiscovered territory in a quest to free your fellow dragons, or traveling through countries you've never been to, it's all possible. The virtual worlds are an escape for gamers like no-other.
Plus, the feeling of playing together with friends or others online is unmatched. You get the same rush and feeling of joy as being surrounded by dozens of people in a soccer match when playing fifa, or competing against your friends or together with them in a clan you have created, leading in a dirt-bike racing arena, fighting for the best time for completion of the track. Disregarding the results of the race, the act itself is incredibly fun and this is what we are all about!
2. Education
Gaming these days goes way beyond a means of entertainment. In modern society, games are implemented in dozens of different industries. One important industry it's disrupting is the education sector. Millions of people across the globe are learning new languages using gamified applications on their phones, new employees are brought into companies using fun modules and students in classrooms compete for the highest grades on gamified exams.
You see, games simply make things more fun and the element of competition and the gratification you get after completing a level is what makes everything more enjoyable, even topics like math that are not considered interesting by the masses.
3. Challenge
Do you remember these missions in a game that felt like it's unbeatable? The chances of you perfecting a perfect lap, or taking a couple milliseconds of your finishing time, it's difficult but oh-so rewarding when you do succeed. The challenge of competing against yourself, the computer or most importantly, others, is what drives gamers to keep playing their favorite games.
Learning this, and knowing it's such an important topic in games in general, we've crafted our games in such a way that it stimulates competition all across the board. But, what do we mean by the competitive element in gaming?
Can you beat the competition?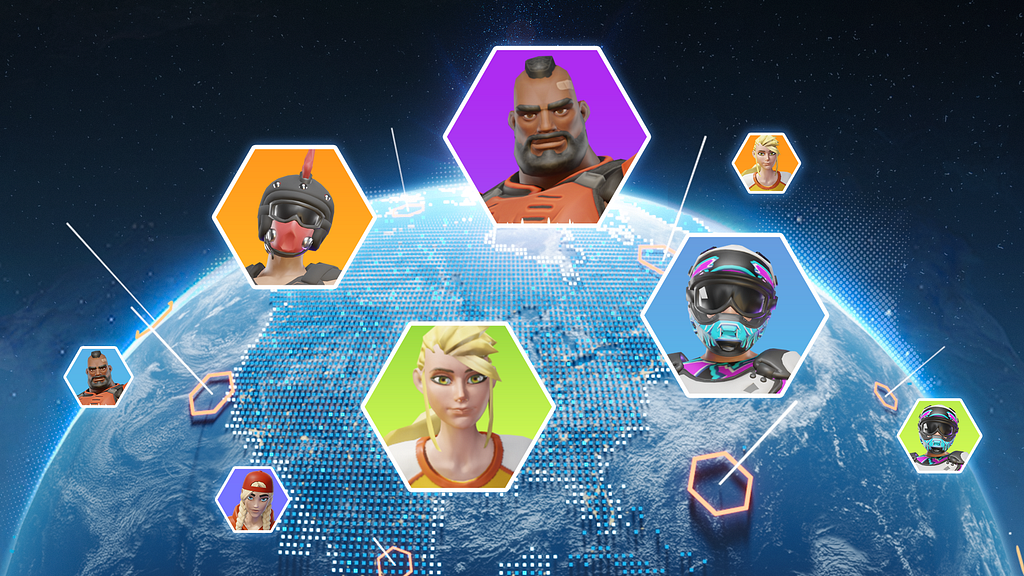 Competition is fearless in gaming. What started as something you could do on your own turned into a billion-dollar industry that knows no borders. Players from every country compete against players thousands of miles away, and all try to become the best. There are three topics that we'd like to point out that perfectly summarize the competitive element in gaming.
Multiplayer gaming
Back in the day, games were nothing more than an exchange between yourself and the device in front of you. Whether that's a computer, console or a phone, you only played against the device and the mechanics in that game. With the introduction of online gaming, the industry showed its true capabilities.
Nowadays, millions of people are competing against each other in a battle against one another. In a constantly growing market, specifically the mobile gaming industry is known for the ease of playing against players across the globe. Ever since the introduction of the mobile phone, it's the competitive online games like Clash of Clans, Call of Duty, Pokémon Go and our very own Trial Xtreme that have dominated the charts.
We've come a long way from LAN-parties in the basement, and one element of that is the ease of how your scores as a gamer are tracked today.
Leaderboards
When you realize the ins- and outs of a game, you want to beat the highest score on the leaderboard. This all started in arcade halls where you wanted to be the best player of your region. Where you had to play on the same machine to beat that score, you can now simply play the same game.
In your favorite game, you can try to become the best player in the world, but you could also limit your ambitions to your own country. Whatever it is, climbing the leaderboard and knowing the rewards you will receive when securing the top-spots, is unlike any feeling in the world.
Esports
With the gaming industry becoming more mature over the years, we've seen competitive gaming reach a professional level. Suddenly, gaming wasn't something that you only did for fun, it could be extremely lucrative. The best players of all sorts of games compete in large stadiums against one another to find out who truly is the best player.
Clash Royale is one of the most popular mobile games of the past couple of years. In these years, there have been more than 50 tournaments worldwide where a total of $5,2 million has been awarded to the best players out there. With thousands of people gaming as a profession, it's safe to say that the industry grew up.
How Trial Xtreme keeps their players engaged
In the past decade of building a mobile game that's enjoyed by millions of gamers, we've had the opportunity to test out tons of ways to engage and interact with our gamers. More importantly, we've learned how our gamers can interact with each other. We've learned a wide variety of valuable lessons that have helped tremendously in improving the player experience.
Let's take a trip down memory lane and show you how we've approached competition in our games before.
Duels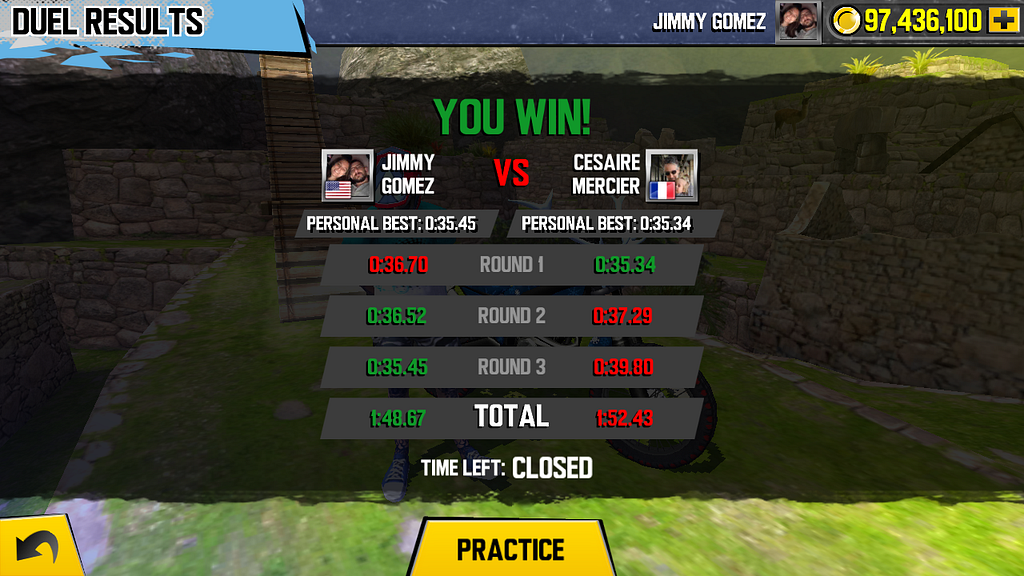 We start off with a 1-on-1. Do you dare to challenge the notorious racer who has a clean record of performing really well? Anyone can challenge players for a desired amount of coins, and the winner is decided by the best time in the three combined races. After the winner is determined, the loser can choose to challenge the winner for a revenge, playing a double or nothing race.
It's interesting to see how big these challenges can get. With an unlimited number of revenge races, we've seen races occur for tens of millions of coins in price pots.
Tournaments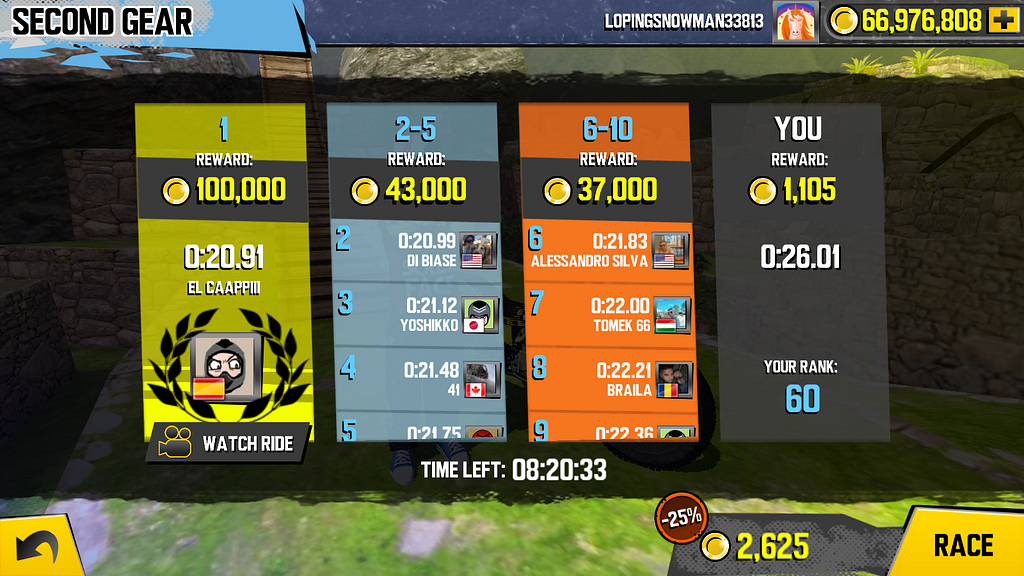 One of the elements that our players enjoyed the most are tournaments. Everyone chips in their share as an entry ticket to the tournament, and in the end the prize pot is divided among the winners. First spot gets the biggest check, and the lower ranking players walk home with the leftovers.
Retrying a tournament will cost you less than starting a new one, encouraging players to constantly keep trying to improve their scores and walk away with that first spot.
World cup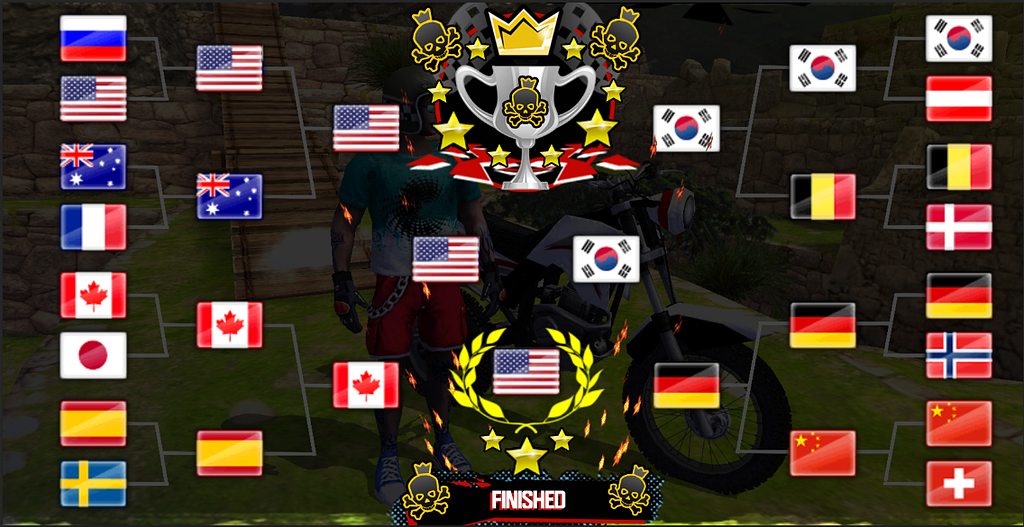 Do you have what it takes to defend the honors of your country? In the Trial Xtreme world cup, 16 countries compete against each other until there's only one remaining. In a bracket style tournament, two countries compete against each other through the average of all participants for that country. At the end of the round, the country with the most players in the top 101 is the winner and proceeds to the next round.
The beauty here is that, having one really good player won't bring home the trophy. Your country has to have a decent chunk of players that score high, which results in stimulation from other players. We've seen top-performing players invite their friends to compete, and represent their country collectively, this power of social pressure to compete together and win for the honor of your tribe, your country, has been a significant engagement driver for us
Country vs. Country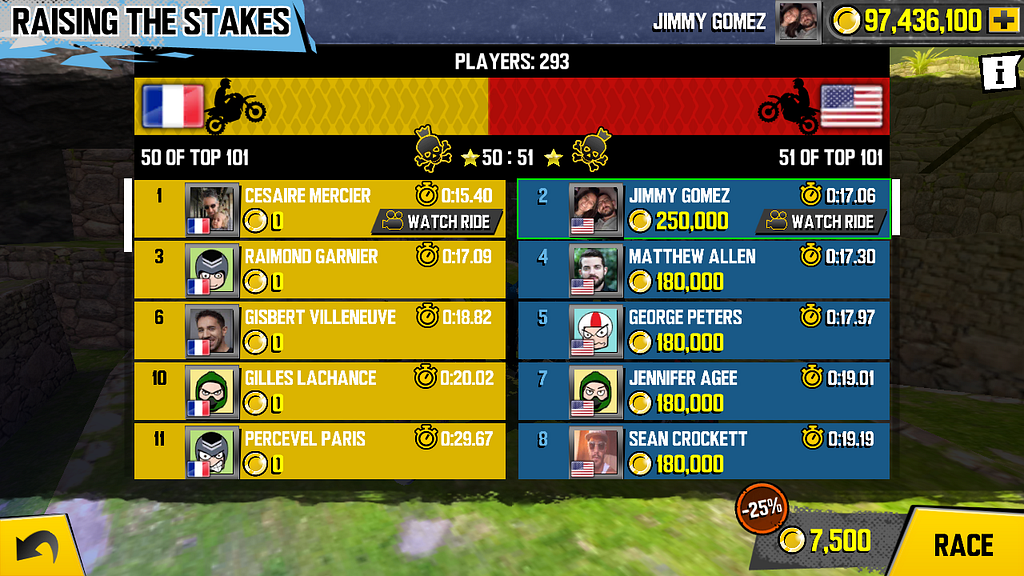 As a little twist on the world cup, the 'country vs. country' tournament is an even more compelling tournament. Instead of simply defending the honors of your country, you can bring home a large prize pool. Each player chips in with a certain amount of coins, and eventually the winning country divides the pot between all their players.
Leaderboards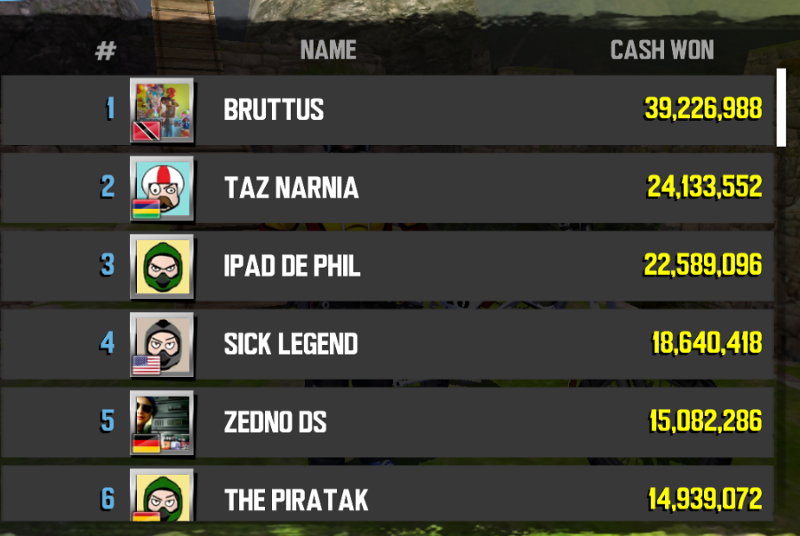 Bringing all of the above together, the leaderboard function is what has been truly motivating players across the board to perform at the best of their ability. There are three types of leaderboards in the game;
Country — Showing you the best performing players of your country
Global — Showing you the best performing players in the world
Per level — Showing you the best performing players for each level in the game.
New possibilities
As we enter a new industry with new technological capabilities, we're thrilled to discover even more possibilities of the competition element in our games. Whether that is through larger prize pools, innovative reward-systems, new game modes or a combination of both, will all be revealed in due course.
To stay up to date with our journey, follow us on these channels:
Twitter: https://twitter.com/TrialXtreme
Medium: https://medium.com/@gameplaygalaxy
Discord: discord.gg/trialxtreme
Website: https://gameplaygalaxy.com/
Source