How to Mint Your Platypus NFT | Step-by-Step Tutorial
A step-by-step tutorial on minting your Platypus NFT. It explains the interface, functions, and how to buy and sell NFT in the marketplace.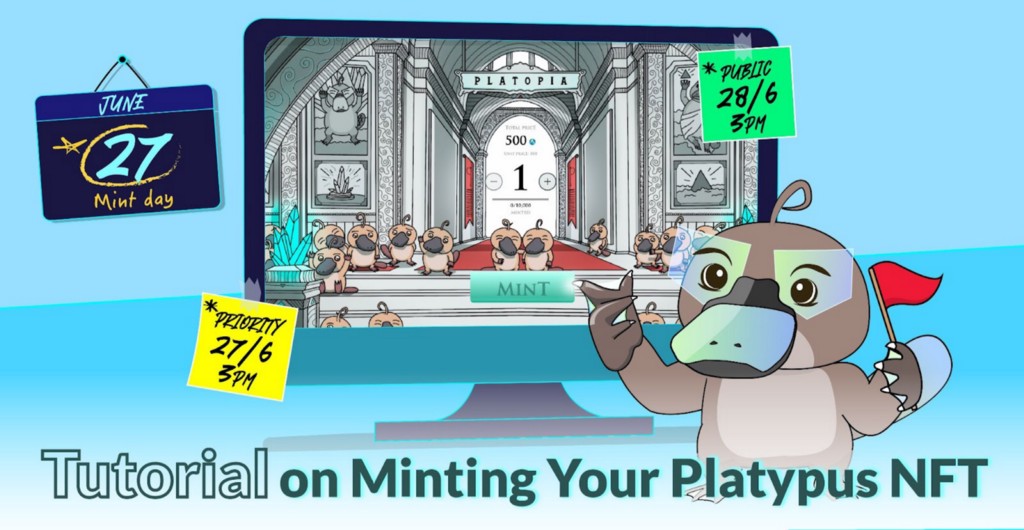 Alrighty, we're just one day away from the official minting schedule. Before it opens up, here's a step-by-step tutorial on minting your Platypus NFT. We'll also cover how to buy and sell NFT in the marketplace and how to equip them with your Platypus account to start experiencing your Hero's powers.
Portal to Platopia 🚪: https://bit.ly/3nciChg
The Interface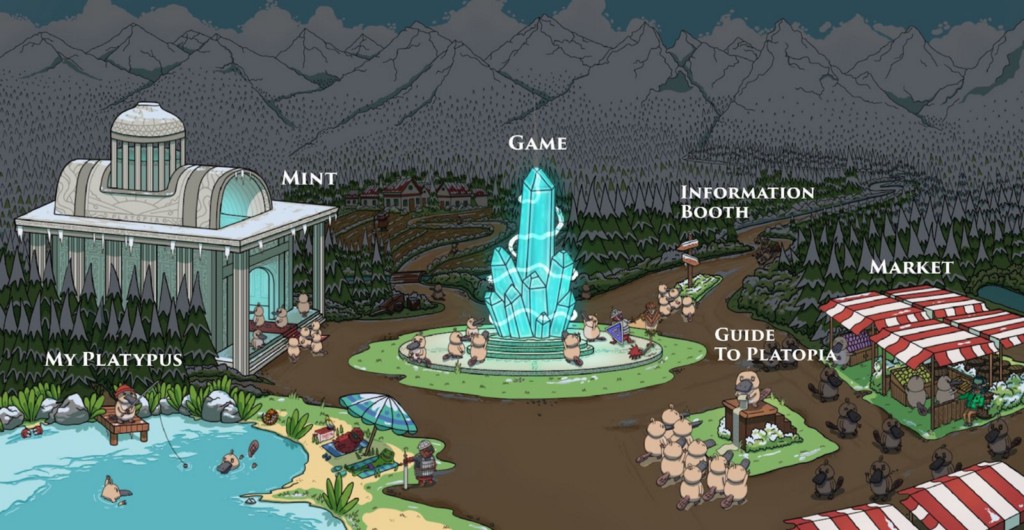 Welcome to the magical land of Platopia! Isn't it breathtaking?
There's a menu bar at the top, but if you don't want to use that, various parts of Platopia are clickable too.
Let's quickly go over the menus and where they will lead you:
Mint — to the minting page.
My Platypus — shows all the Platypus Heroes you own.
Guidebook — shows everything you need to know about Platopia and Platypus NFT in an enjoyable medium.
Market — here's where the NFT trading happens.
Info — also shows everything you need to know about Platopia and Platypus NFT, but it's in a documentation form — so it's kinda dry, but it's clear. Depends on what you prefer.
Game — to the gamified interface of liquidity mining.
Mint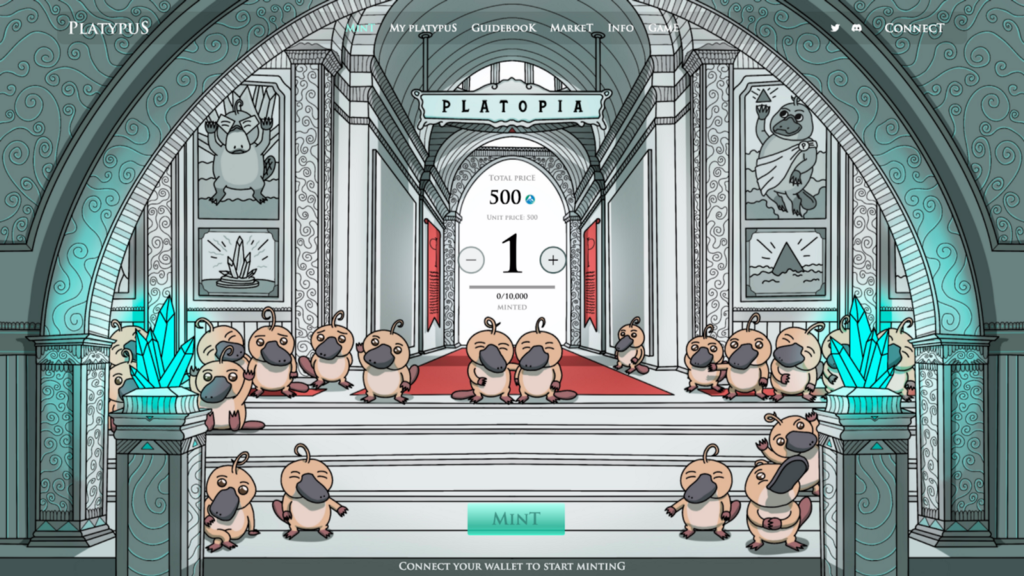 The current minting price and number of NFTs minted are right at the center of the minting page. Check out the prices below:
Priority sale: 250Â PTP
Public sale: It will be Dutch auctioned. The minting will begin at 500 PTP, and it will drop by 20 PTP every 30 minutes until it reaches 200Â PTP.
In this section, you can adjust the number of NFTs you want to mint by clicking on the "+" to add more and "-" to subtract. Each person can mint up to 10 NFT, while whitelisted individuals can mint up to 5.
At the bottom of the stairs is the "Mint" button. "Whitelist Mint" button is available only to whitelisted individuals such as vePTP holders and campaign winners. The "Free Mint" button is available to those who won a free minting from us!
Steps to Mint Your NFT
Once you're ready to mint, make sure your wallet is connected. We support MetaMask, WalletConnect, Coinbase Wallet, Rainbow, Argent, Trust Wallet, and Ledger Live.
Ensure you have enough PTP for minting and AVAX to pay the gas fee.
Simply click on the mint button to mint your NFT!
Confirm the transaction on your wallet.
Your NFT will be randomly generated for you!
My Platypus
This page shows all Platypus NFTs you own. They can be sorted by number, tier, ability, score, and so on.
Click on an NFT to view complete information, including a breakdown of its attributes.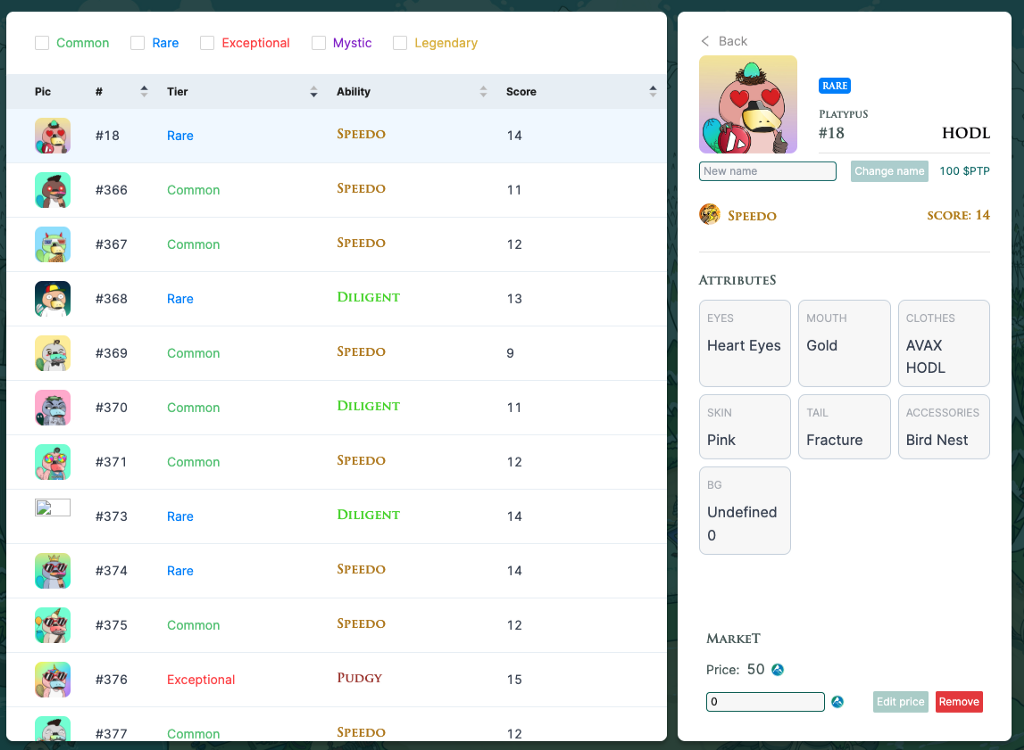 You can also personalize your Hero's name to add your own touch to it!
Market
This is the NFT marketplace where you'll find all NFTs that have been minted.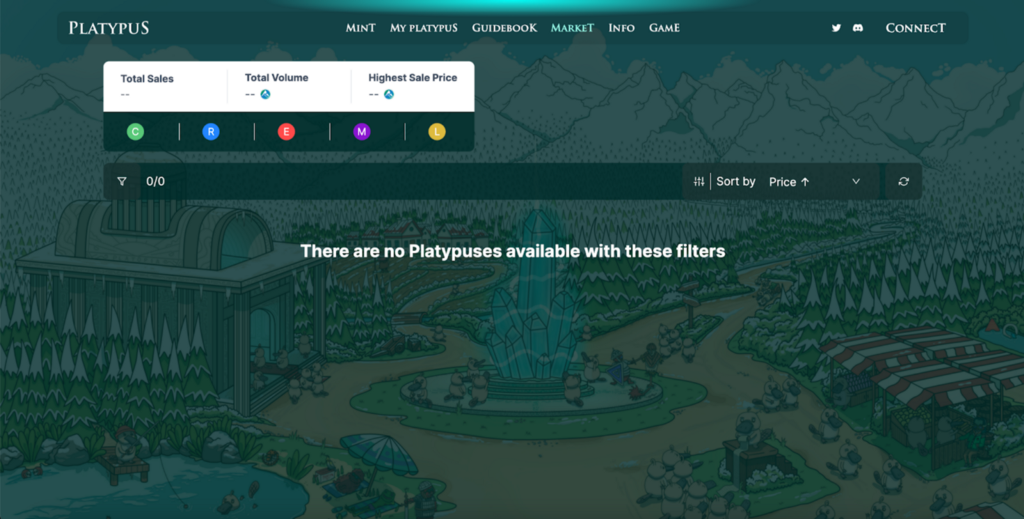 Dashboard
On the dashboard, you can find the figures on Total Sales within the marketplace, Total Volume sold, and the Highest Sale Price of an NFT. The colored balls underneath break down the floor price per rarity level. C being common, R for rare, E for exceptional, M for mystic, and L for legendary.
Filter
Under the dashboard to the left is a filter icon. Next to it is the total NFT minted. Again, all minted NFT appears in the marketplace. Later, we'll touch on how to determine whether an NFT is listed, meaning it's open for sale or not.
Once the filter icon is clicked, you may now input specific information about the NFT you're looking for. For example, on the "Power" you may filter it to only see NFT with scores of 15,16,17,18. You can tick as much as you like depending on your preference.
Sorting
The sorting function is available by price, category, token ID, and listed. Choosing listed means the results will show NFTs that are open for sale first, then NFTs that are not open for sale last.
The NFTs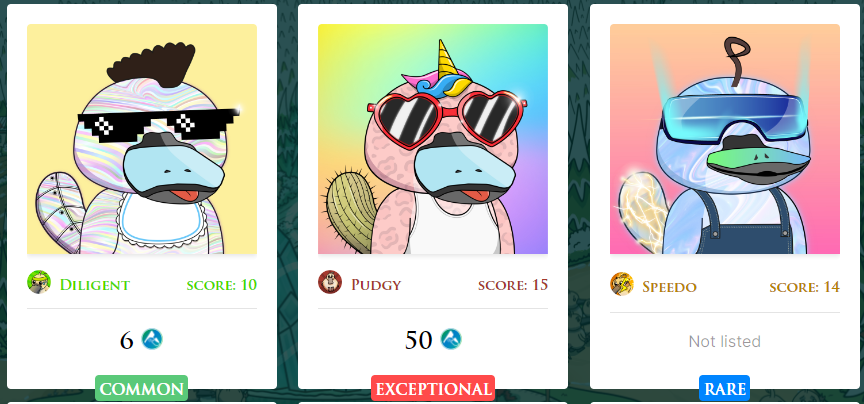 A thumbnail shows how an NFT looks, skill, and score. It also includes the price it's being sold for in PTP. For NFTs without a price, "not listed" is shown, which means this NFT has been minted, but its owner is not listing it up for sale at the time given. Lastly, the tier can also be seen at the bottom of each thumbnail.
Once you click on a thumbnail, a pop-up will appear, showing the complete information about the NFT. Here is where you can find the "Buy" button should you choose to purchase it. On the transactions menu, you can find the history of transactions of the particular NFT.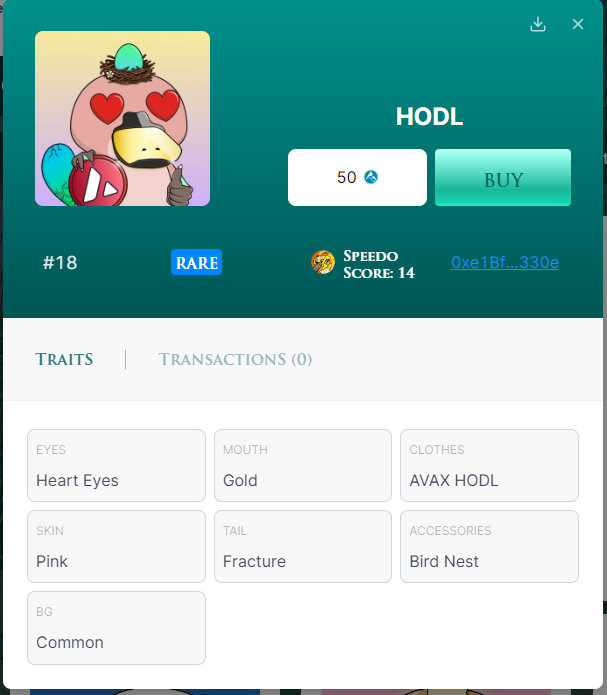 How to Equip Your Platypus Hero
*The gamified page will be available when the minting starts.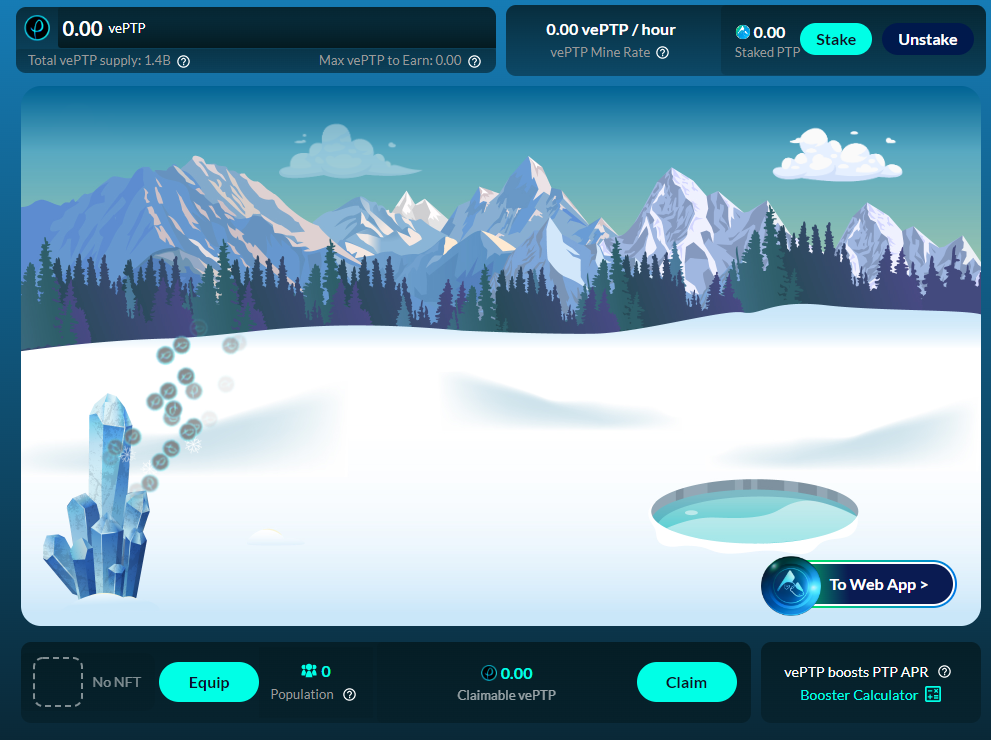 Upon reaching this gamified interface of the Platypus app, there is an "Equip" button at the bottom left. Once clicked, you can select which NFT you want to equip. If you own multiple NFTs, simply click the same button to equip another one.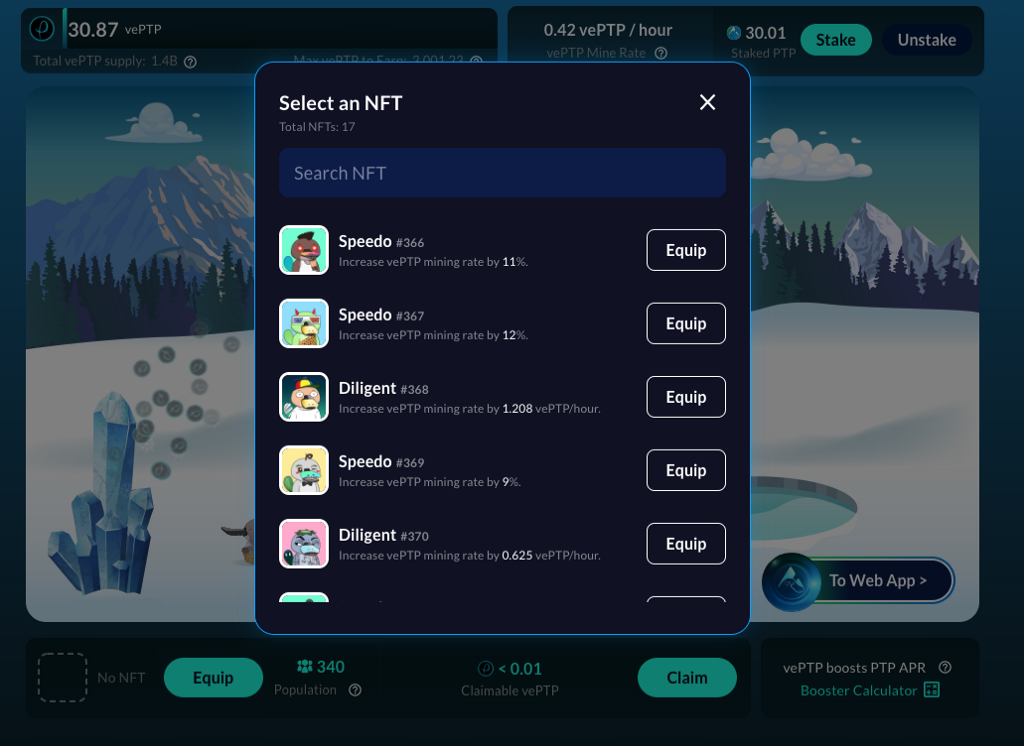 Undecided which one to equip? Check out our article on the skills and power calculation of Platypus NFT.
There you go, folks! We hope this tutorial has been helpful. If you have any questions at all, please check out our whitepaper and docs.
Follow Platypus
Discord | Twitter |Telegram | Instagram
---
How to Mint Your Platypus NFT | Step-by-Step Tutorial was originally published in Platypus.finance on Medium, where people are continuing the conversation by highlighting and responding to this story.