Islander AMA — Project Overview with Viet Anh Tran, CEO (Recap)
Islander AMA — Project Overview with Viet Anh Tran, CEO (Recap)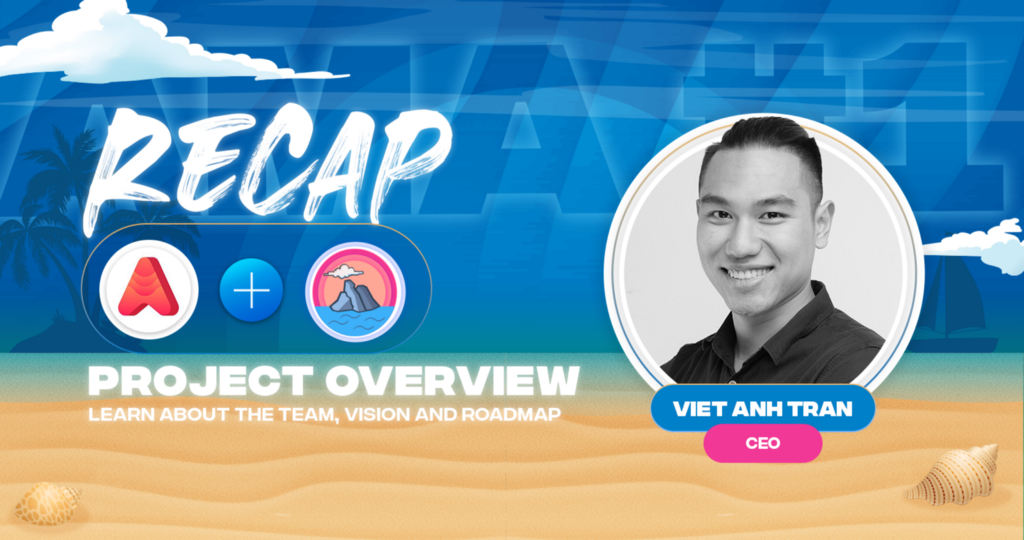 On 01/03/2022 at 9:00 p.m. (PST), an AMA session was held on Avalaunch with special guest Viet Anh Tran, CEO, Islander . Below we present to you an excerpt from AMA with questions and answers.
Dave Donnenfeld | Avalaunch
Hello and welcome everyone to another AMA brought to you by Avalaunch. In the crosshairs today is our upcoming distribution event, a veritable first and our partnering project is none other than Islander. Here to tackle the tough questions and tell us more is Viet Anh Tran, one of the co-founders and the presiding CEO of this innovative earn-to-learn project. How are you today @vietanhtran2105 ?
Viet Anh Tran| Islander
I'm feeling very excited, especially with what we are currently doing with Avalaunch. So it's more than a good day sir
Dave Donnenfeld | Avalaunch
Glad to hear that. So let's get the party started…
To start off with, please introduce yourself. What did your career and education look like before joining the crypto landscape?
Viet Anh Tran| Islander
So I'm Viet Anh — Founder and CEO of Islander.
In Vietnam, most people know me as the Founder and CEO of Spiderum — a social media platform for youth to share opinions/knowledge with around 100.000 users and millions of visitors per month through many other channels such as: website, YouTube, Facebook…
I was a small investor in crypto for a few years as well, before this first effort to venture in this space with Islander. So far everything has been good because I personally learned a lot and made so many good friends along the way.
Dave Donnenfeld | Avalaunch
That background is going to serve you in crypto most certainly as aggregating marketing power in this space is probably akin to herding cats. ?
It would be great to get an overview of the team, how everyone came together, and what the day-to-day operations of the project look like at this point.
Viet Anh Tran| Islander
I think we have certain advantages when it comes to this part
We are a team that have been working together for years, through countless ups & downs, so our trust in each other's capabilities is strong. Our CMO Nga has been working with me for 6 years now since our first startup Spiderum, other members also worked with me for a long time now, also in Spiderum.
We shared the same vision of building sustainable products because we found each other and worked together in Spiderum. In Vietnam, what we are proud of the most is that we have always been considered good community builders by our community, who have resilience and integrity. We would love to bring our philosophy to the crypto world as well.
Dave Donnenfeld | Avalaunch
Thank you for the comprehensive answer Ser…moving along
What is Islander at a high-level and what makes it important and relevant in today's crypto landscape?
Viet Anh Tran| Islander
Islander is an online learn-to-earn and a decentralized platform to manage and market your own projects in a unique way. Project owners (crypto project managers, influencers, content creators) can quickly engage their audience's attention and nurture them in the long term by giving out interesting and interactive quests as well as tradable NFT items, which are either pre-made by the platform or customized by its users.
Our main features & offerings:
Innovative marketing services for crypto projects
– Permission less affiliate model for influencers
– Learn-to-earn activities for crypto enthusiasts
– Ranking Features & Tracking Dashboard
We all know that there have always been huge obstacles: the lack of tools and the lack of know-how, that held the adoption and promotion of Blockchain projects to the new-comer Investors. With Islander, we aim at making the adoption & promotion easier, Blockchain Projects will be able to apply many interesting game elements into the promotion of their projects, such as Game Visuals, narrations, quests, rewards, leaderboards and so much more. Our aim is not to create a game, but to make investing and marketing a game.
Dave Donnenfeld | Avalaunch
Boom. Just like that. The Imperium people stepped up with the bullets and you're following suit here. The AMA game is tight.
Bringing together communities, learning and marketing in one unified platform is a very compelling use-case for crypto. How did the idea come about and why was it important for you to build this project?
Viet Anh Tran| Islander
I think it started from our own pain point as community builders in Spiderum. We have always wondered how we could leverage the power of the community and incentivize our users to support the platform growth. With Islander, we believe that we can leverage the power of blockchain technology to not only help us but also help others who face the same struggles. At the end of the day, community is the most important thing for us, and we would love to help others to engage and build their communities sustainably.
I believe Islander will attract a lot of attention from crypto projects as community building is really a pain point in the market right now. One of our missions is to create a solid target market and distribution method through a learn-to-earn and quest-based model. We believe that we can help newborn projects build solid communities by educating their members through our learn-to-earn model.
Dave Donnenfeld | Avalaunch
It is hugely needed in crypto, more of a gaping hole than a pain point.
I have to say that gamified marketing is very metaversal so the larger play here is apparent. Since we're redefining the future of work here — Tell us about the "learn-to-earn" model and why this will be impactful for people globally.
Viet Anh Tran| Islander
With the learn-to-earn model, crypto projects can create quests to incentivize users to learn and market the product. For the crypto enthusiasts, they will save a lot of time and effort finding the right projects they would like to support, and even earn rewards by learning/sharing about them.
It's a win-win situation in which crypto enthusiasts get rewards for acquiring knowledge and flattening the learning curve to join crypto, while projects can attract the right supporters who would be there for them in the long run. At the end of the day, we believe that quality will outweigh quantity when it comes to community building 🙂
Dave Donnenfeld | Avalaunch
What exactly is "an island" on Islander and how do they work? What are the various aspects of the project that come together to make this unique?
Viet Anh Tran| Islander
With Islander, we want to create a world with thousands of islands, each one is the representation of a crypto project. Islander will allow project owners (on our platform they are Island Lords) to create quests to attract, educate and engage with their community members. On Islander, everyone can also be influencers (Boat owners), who can get extra rewards by bringing residents to islands through affiliate marking activities.
Dave Donnenfeld | Avalaunch
Let's populate some islands ?
Within Islander there is a ranking system that allows users to grow reputation inside of the platform. What can you tell us about the system and why is this an important component to the Islander ecosystem?
Viet Anh Tran| Islander
Almost all games have a leaderboard, and Islander is no exception. With the help of transparent crypto transactions, the Islander Leaderboard will offer fair competition for everyone.
Islander will have different leaderboards for different parts of the platform, which we will introduce along the way in our development plan:
Island Lord Leaderboard: For Islands (Crypto projects) that have the most residents/the highest rewards distribution/etc.
– Boat Owner Leaderboard: For Boat Owners (influencers) who bring the most residents to different islands
– Resident Leaderboard: For residents who complete the most quests on Islander
We will also introduce monthly, quarterly, and yearly leaderboards with different rewards introduced and developed further in the future.
Dave Donnenfeld | Avalaunch
Nicely laid out. At launch, the platform is integrated with your brainchild Spiderum. What is the significance of this integration and how did it come to be a part of the platform at launch?
Viet Anh Tran| Islander
To be clear here, the integration will happen later in our Roadmap, meaning later this year. But it will definitely be a big milestone that we all are looking forward to
Our intention is to develop a solution to plug in web 2.0 communities like Spiderum (and Spiderum would be the perfect test to customize, optimize). Islander is designed to fit perfectly in the use of intellectual property, such as content, where content creators from many other platforms as Spiderum can create and optimize their "conditions'' for others to access their works, with not just cryptocurrency, but with NFTs ticket or trading with other content creators on the ground of blockchain technology. Our ambition is to empower existing web 2.0 communities and bring them to a web 3.0 environment.
Dave Donnenfeld | Avalaunch
That's something to point to as it will tie things together nicely
Islander also utilizes NFTs to achieve a unique sense of ownership over the reputation on the platform, amongst other things. What roles do NFTs play within the Islander ecosystem and how do you expect people will use them?
First of all, we will offer cashflow NFTs (for example Boat NFTs for Boat Owners on Islander) that help people make more money while learning and helping crypto projects to grow. We also intend to expand the Islander World into a metaverse called The Island-verse. This is to push the idea of using NFTs in Affiliate Marketing further, making it available to other areas such as art and music, sport and sport betting, video games etc. We also want influencers and content creators on other platforms to have means to spread their works easier by selling access to their "crops" (knowledge/content) through NFT tickets.
Dave Donnenfeld | Avalaunch
Let's talk about the iSA token and it's utility. How does it drive the platform and encourage adoption?
Viet Anh Tran| Islander
So our token is ISA and here are its use cases:
1. Payment for platform services:
– Projects: user reports/analytics, marketing services (banner, ranking etc.)
– Influencers/ users: payment for affiliate & learn-to-earn activities
– Content creators: payment to mint NFTs tickets to sell access to exclusive content
2. Staking: Tier up to earn interest and have higher platform benefits
3. Burn mechanism: part of platform fee will be converted to ISA are burned as a mechanism to reward all ISA holders community by reducing total supply
Dave Donnenfeld | Avalaunch
People loving on a deflationary mechanism Sir. What does the development roadmap look like and what has been accomplished so far?
Viet Anh Tran| Islander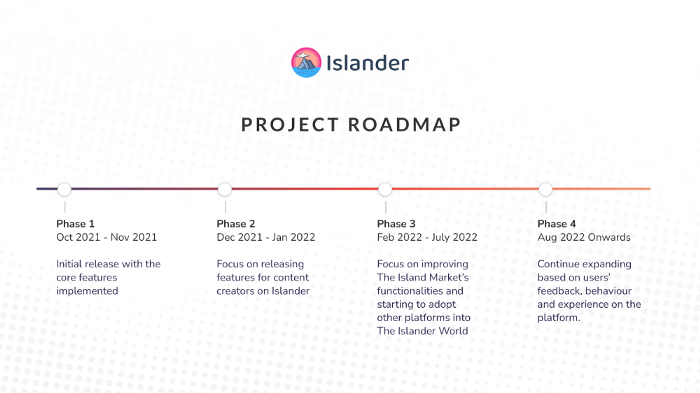 This is our roadmap. So basically the next big milestone is that we will be launching on mainnet at the end of this month. There will be huge campaigns that we will work together with our partners to bring the concept of Islander to the community in the most convenient and rewarding way.
You might have joined our testnet event, in that event we attracted 100k+ participants in under a week and had to close earlier than expected because the reactions were much higher than we dared to expect. I hope the mainnet events will drive the same or even better results when it comes 🙂
Dave Donnenfeld | Avalaunch
Good on you for being so close to mainnet. How does Islander plan to drive adoption of both users and crypto communities?
Viet Anh Tran| Islander
In the case of Islander, the problem is a chicken-egg problem (which we have faced and solved before with Spiderum, so lucky for us haha): to acquire users to participate in the task, there must be quality projects; In contrast, to attract quality projects, a large enough user base is needed. Islander develops both in parallel through the following forms:
On one hand, we formed partnership with high potential and quality projects: Currently, Islander has been cooperating with Avalaunch, Pangolin, Kalao, YAY Games, Colony, RocoFinance, Talecraft, Avaxtars, Avaware, SupraOracles, DareNFT, Faraland,… and will continue to promote activities with other projects in the future.
On the other hand, we formed partnership with communities/KOLs to not only market the project but also encourage them to set up a profile on Islander and support possible campaigns on our platform later on. Till now, Islander has cooperated with many large communities/KOLs such as Coin68, TCVN, CoinF, CryptoFamily, AVStar, Cryptoiz, Moneyking, Avaxholic, Dynasty Korea, Maven Capital, Top 7 ICO, Crypto Differ…
In order to keep our users with us in the long run, Islander will continuously listen to feedback from the market and constantly develop products, features, and build more extensive cooperation to deliver a great product and solve each and every day challenges that projects and users are facing
Dave Donnenfeld | Avalaunch
You have been very active in this regard. One of the more integrated projects we've had coming into their token generation and I'd imagine the distribution with us is only going to help that.
What was it about Avalanche that compelled you to build here? What has been your impression of the community and its ecosystem so far?
Viet Anh Tran| Islander
For sure, and we are very grateful to have this opportunity to work closely with Avalaunch. You guys have always been the role model for projects like ours 🙂
Coming back to your question, the reason we chose Avalanche is, besides Avalanche being a blockchain with great UX and speed and impressively rapid growth, we are amazed by how the people behind Avalanche and also the builders in the Avalanche ecosystem created an ecosystem of knowledge and mutual support among blockchain projects built on it.
For example, we have learned a great deal from our partners, especially Avalaunch, or Kalao, Colony, Pangolin… This is not the case with other chains, where new projects might not be able to find the same amount of support at their earlier stage despite how hard they try. Many ecosystem, in our opinion, seem to be too crowded and chaotic for a new project to acquire the right mentorship and partnership that could help them build sustainably for a long time.
Dave Donnenfeld | Avalaunch
these are good points. Avalanche projects are generally pretty open and quite helpful to each other.
what is the Islander "grand vision"? What would the project look like in 5 years if the team was able to execute on it's most ambitious version of the project?
Viet Anh Tran| Islander
The end goal in mind for us right now is to build a decentralized world facilitating knowledge transfer and accelerating mass crypto adoption.
In the long run, we would like to create an Island-Verse where every player, from crypto projects, influencers to individuals, can connect, exchange values and gain benefits in a gamified economy. Users can own and trade NFTs, build communities, and earn crypto rewards by playing and contributing to the development of this Island-Verse.
Twitter Questions
@KomKotha who asks — Can you get influencers and crypto market participants to evaluate the project?
Viet Anh Tran| Islander
In the Islander world, influencers and crypto market participants are the ones who directly evaluate and decide the success of the project. The better the project, the more appreciated it will be by influencers and crypto enthusiasts. And of course, if the project is good, that island will be more popular.
@muinlyreol wants to know — Given current market conditions, can you explain why users should participate in the long-term development of the Islander ecosystem?
Viet Anh Tran| Islander
I love the question and will be as straight as possible to you: We can't control the market. We can't tell/give you the advice on what to do with ISA. What we do best from day 1 of our entrepreneur journey till now is keeping ourselves honest to everyone — our partners, clients, users etc.
But you can be sure that, due to the nature of Islander, which is developed to support other projects and help Retail Investors connect with great investment opportunities, we can continuously develop our product and partnership to actually generate more and more revenues even when the market is bearish.
Besides all that, we have the experience of managing and developing platforms, with the contribution of the best people in Product Development, Marketing, 2D/3D Art, and Gamification… We succeeded in building Spiderum from scratches. I can promise you that we are eager to do it again, with Islander, for many years to come, with all of our passion. We've been through thick and thin, and this time we will be ready to face whatever comes towards us. So yes, please stay with us for our long-term vision if you have confidence in what I'm saying 🙂
@trinhcrypto1997 — Could you tell us some of the projects you've onboarded and the plans to attract more real crypto enthusiasts to Islander?
Viet Anh Tran| Islander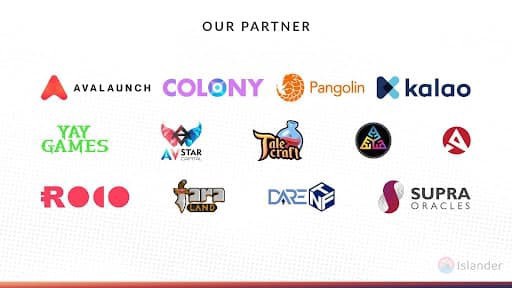 Till now, Islander has been cooperating with some prominent projects such as Avalaunch, Pangolin, Kalao, Colony,Talecraft, Avaware, Faraland… and we will do something interesting together later this month
We believe that by attracting the right projects and setting good learn-to-earn campaigns, we will attract more and more crypto enthusiasts into our platform
@ladyseorama — What were the reasons that motivated you to create the Islander project?
Viet Anh Tran| Islander
I think I already answered this question above 😀 it comes from our own pain points as community builders in the case of Spiderum
@billkillchill — what was the inspiration to use the "island" as a concept?
Viet Anh Tran| Islander
Because in Islander, each island will represent one project. And a good project will be an island with many residents, in which each resident represents one crypto enthusiast. Also, the concept of boat owners would also resonate with the whole idea. So in short, with this island concept, we will make the project development story more interesting and intuitive to every one to be engaged.
Telegram Questions
I'm curious … Will I be able in the future to buy an island as a special, rare and unique NFT on Islander?
Viet Anh Tran| Islander
If you are a project owner, then the answer is possibly (not now though, we are offering islands to some of our earlier partners for free). But as crypto enthusiasts, we will have other NFTs to offer soon, these NFTs would help you earn more in our learn-to-earn and share-to-earn activities. Please stay tuned and follow us for more updates in the coming months 🙂
Binance exchange is life changing for many crypto project. Have you ever dream that one days $ISA token will listed on Binance? If yes, What's the core factors that motivated you to make it became realty?
Viet Anh Tran| Islander
Our focus is on building a really good product and other things would just come as a result of good work. So in order to answer this question of yours, I think exchange listing is cool because it works like a recognition of your work, but we in Islander don't want to rush for anything and don't want to put it as one of the achievements we have to reach no matter what. Instead, we want to focus on serving our partner projects & users to our fullest extent and we will see how it goes from there 🙂
I want to ask why did you choose to put Islander on the Avalaunch chain? And how does your team ensure the price of ISA won't drop big after IDE because 100% of ISA sales will go to the stakeholders of the XAVA community.
Viet Anh Tran| Islander
I already answered the part about our choice to build on Avalanche ecosystem earlier. But I still choose this question because I want to answer the second part of your question.
There will surely be participants who take short-term profit in every IDO, but we are confident that we have been working closely with Avalaunch and other partners to prepare for the scenario you mentioned.
Your concern is really on point. However, unlike the common situation where projects have to solve the conflict between backers and supporters, Islander believes in giving prospects for both by growing the community with ISA distributed carefully.
After analyzing the situation, we realized that the chance is low, especially when we have our Mainnet event coming soon, which is considered a great leap in our product development and will positively affect the market. This scenario is also included in our Market Making plan, which covered such situations and also how the market condition will be.
Besides, it is Avalaunch we are talking about. Avalaunch has always been one of the best (if not to say the best) launchpads, and for a long time, the Avalaunch Community has been informed and familiar with our Islander project. I think we won't see a big problem here at all 🙂
I have read that on the Islander platform that you provide customizable tasks, management applications, and payment gateway services. Can you tell me how the payment gateway works and in which area it will be used?
Viet Anh Tran| Islander
This is what we will develop to support content creators in the future. Basically what it means is that content creators can sell access to their exclusive content through the payment gateway supported by Islander & our ISA token and through our NFT-powered tickets.
Islander has collaborations with partners like Kalao, YAY Games, Colony, SupraOracles. Will your collaborations continue in the future? What kind of work do you do with your partners, what is the advantage?
Viet Anh Tran| Islander
Absolutely. Our partnerships are always built for long term and there are many things we could do together with each and every partner. For example, our partners can all organize learn-to-earn campaigns on Islander, and it will be long-lasting. At the same time, with specific partners there will be other things we could work together as well. For instance, let's take Avalaunch into consideration: we both could work together to build a mutual plan to support new and promising projects by leveraging the power of both of our communities, and those kinds of partnerships are the things that we would keen on exploring for the development of the whole Avax ecosystem.
Dave Donnenfeld | Avalaunch
Very much appreciate your time here today and the thoughtful answers
It's been impressive and a breeze to go through.
Viet Anh Tran| Islander
Thank you very much for listening to me today. I hope I was able to share some information about our project that could be helpful for the Avalaunch community
Dave Donnenfeld | Avalaunch
We very much look forward to the unprecedented distribution offering and inviting our community to hold and participate in the Islander Initiative.
On behalf of us all, many thanks.
Lovish Shahi| Avalaunch
If you want to learn more about Islander, please do not hesitate to follow our social channels here: https://flowcode.com/page/islander
Viet Anh Tran| Islander
My biggest thanks to the Avalaunch team for making this happen. We really appreciate it and as I said, you guys have always been our role model and I wish that our partnership would last forever 🙂
Dave Donnenfeld | Avalaunch
Thank you. Been great getting to know you and Islander and look forward to our continued work together.

About Avalaunch
Avalaunch is a launchpad powered by the Avalanche platform, allowing new and innovative projects to seamlessly prepare for launch with an emphasis on fair and broad distribution. With its values deeply rooted in the early Avalanche community, we are able to offer projects confident, informed users who are aligned with the long-term goals of the rapidly expanding application ecosystem.
Leveraging Avalanche's scalable, high-throughput, and low-latency platform, Avalaunch is built by users, for teams, to help grow strong communities.
---
Islander AMA — Project Overview with Viet Anh Tran, CEO (Recap) was originally published in Avalaunch on Medium, where people are continuing the conversation by highlighting and responding to this story.