Islander IDE x XAVA Airdrop: Initial Distribution Event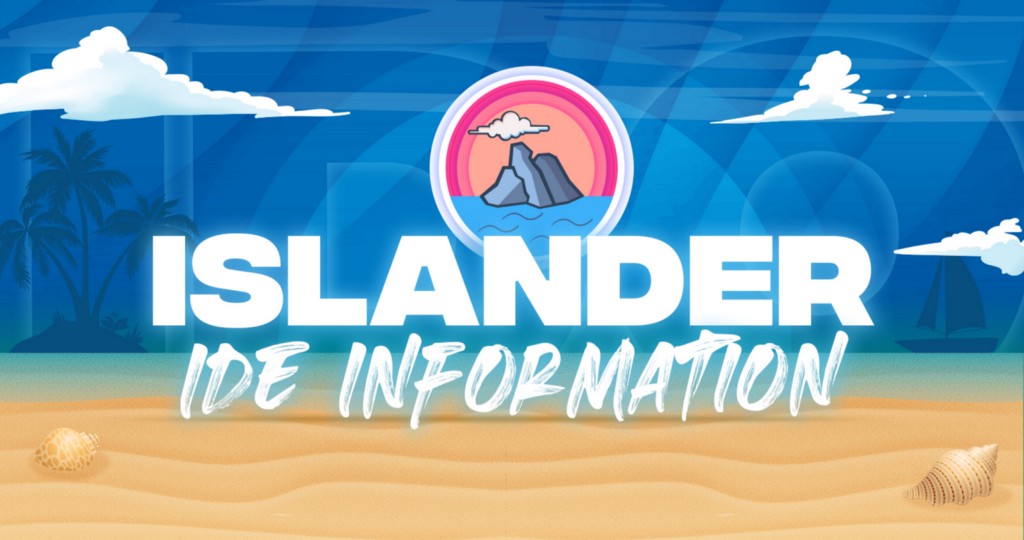 Despite the advantages and intrinsic fairness of life in a decentralized world, good information is fragmented and even the best projects can be passed over if they don't get needed attention from jump.
As anyone who has attempted to navigate the landscape of crypto can attest, messaging is spread far and wide. For those seeking even the most basic knowledge, there are endless social media outlets espousing the virtues of their favorite chain, project or technology. Ordinary people can find it overwhelming and often resign themselves to being exposed to a mere glimpse of what is out there.
For marketers, it is similarly problematic. Even the most qualified are often siloed and entirely left to their own devices as they labor to reach an overwhelmed audience. There are just too many flags planted in the ground and not enough cooperation and cohesion in the message. Islander has set out to change this through the creation of the ISA token paired with a rather inventive "learn-to-earn" model.
The Reveal
This is a project that is a long time coming; having been forged over the course of many months through friendship and a basic desire to make the space better. For Avalaunch as a platform, we have noted the genuine strides Islander has made in recent months—from both a business and technical perspective. Their raise overall is modest as it is a grassroots projects so initially, despite our relationship and support, we wondered if an IDO would be possible.
Not wanting to raise more than what they need, a boutique style offering was created for the Avalaunch community totaling $300,000 USD worth of ISA. We thought it might be a great time to show appreciation and support for the community as well as the Islander initiative and purchase this allocation for our second IDE (Initial Distribution Event).
To that end, the Islander public sale has been purchased by Avalaunch and will be distributed at no cost to our devoted community through our second IDE (Initial Distribution Event). The IDE will operate similarly to our IDOs, minus any costs to the participant.
But wait…there's more!
In addition to the Islander allocation, Avalaunch will be adding $300,000 USD worth of XAVA to the IDE, bringing the total up to $600,000 of pooled assets.
Overview
At its core, Islander is a decentralized affiliate marketing program that is powered by NFTs and intent upon revolutionizing the legacy affiliate model via its learn-to-earn mechanics. Central to this proposition is the native token Islander ("ISA"), which serves multiple purposes:
To help projects discover, grow and maintain an audience of bonafide supporters.
Allow key opinion leaders the opportunity to leverage their combined marketing power and earn.
Create earning opportunities for content creators.
Additionally Islander provides:
Intuitive toolkits for users to manage multiple projects
Full support for developers
Wallets, plugins and management apps
A payment gateway platform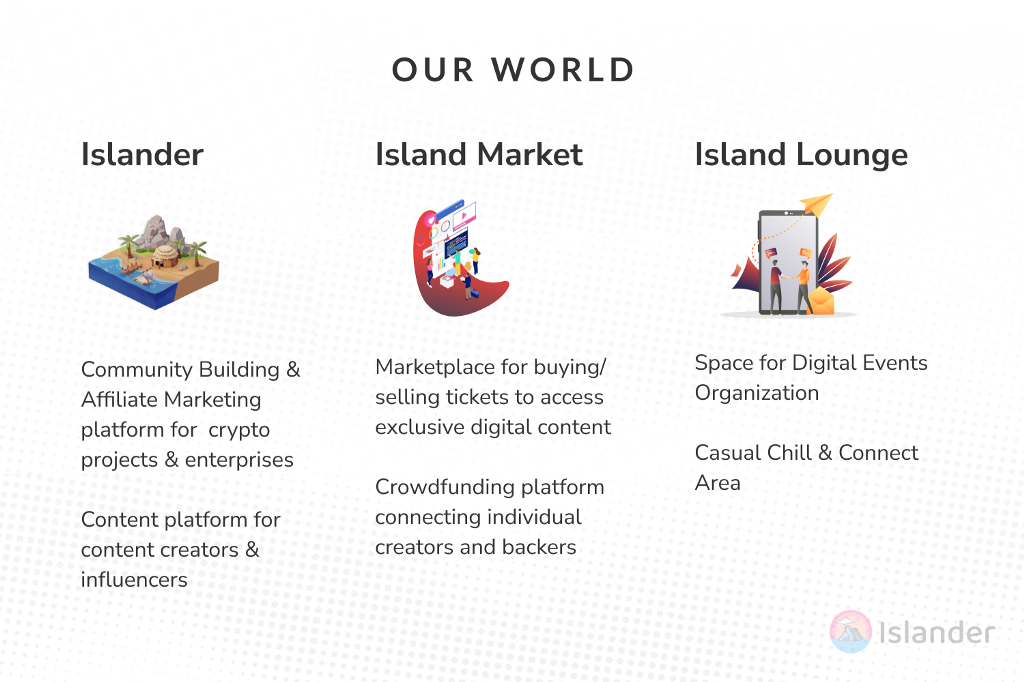 A permissionless, share and earn proposition that is powered by NFTs could represent a boon for crypto projects, content creators, marketers and enthusiasts alike. If there ever was a grassroots, community-driven project building on Avalanche, this may well be it. The Islander team is driven and spirited. Their raise is modest in size but their ambitions are by no means small.
Islander — Links & Team
Website| Telegram (Announcement)| Twitter |Medium

Partners and Backers:
Naturally, a project that aims to aggregate content creators, key opinion leaders and the litany of qualitative contributors to the crypto ecosystem, it stands to reason that those they are working with is a good indicator of their development.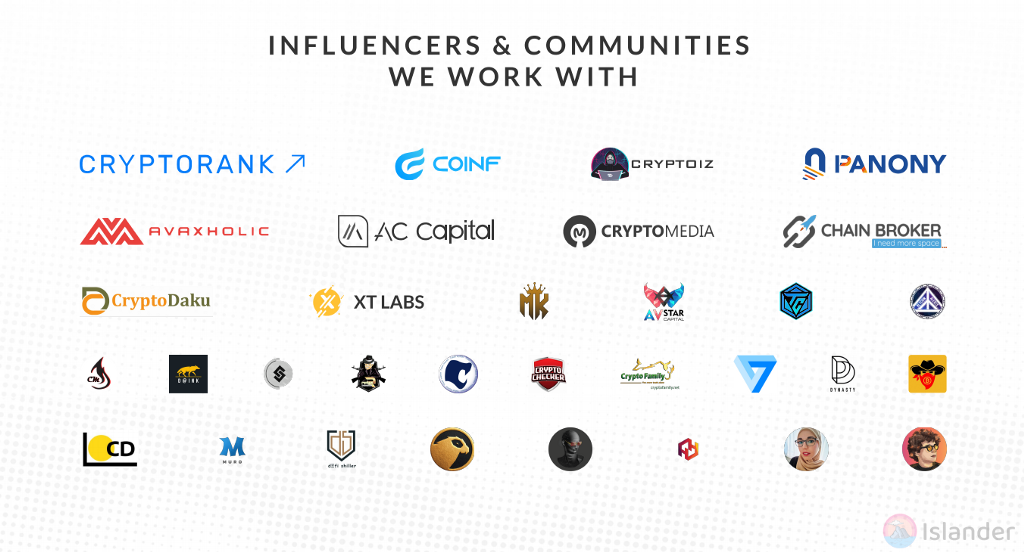 Their list of Avalanche ecosystem partners and backers is also considerable: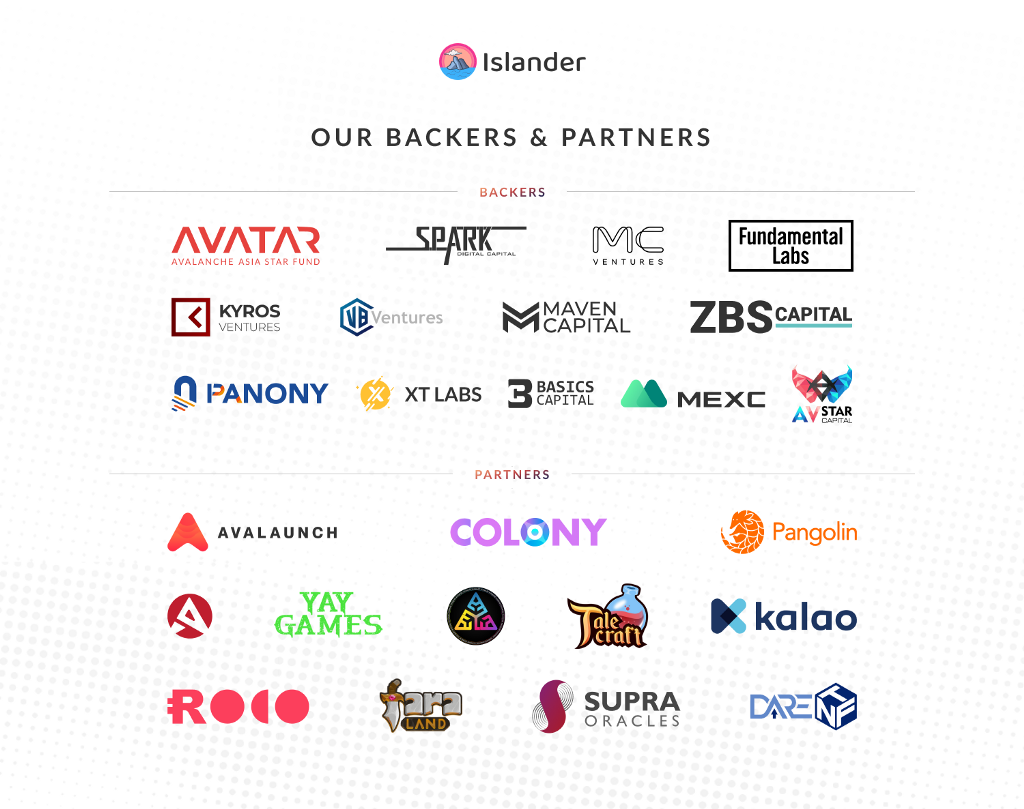 "Avalaunch has always been our most trusted partner from Day 1 of this journey. We are very happy to finally work with Mark, Dave and the team not only in this IDO, but also in many other activities in the future. Islander and Avalaunch both value honesty and integrity and these shared values will undoubtedly ensure a long-term partnership between us," states Viet Anh Tran, Founder and CEO of Islander.
Final Thoughts
The idea of aggregating marketing power and community is not lost on us—we are, after all, only as good as our community and the projects they embrace. Islander has come a long way in a relatively short period of time as evidenced by the inroads they have made in the Avalanche community along with some notable fundamental progress. Having had the fortune of knowing them for many months, they have matured to the point where we feel they are ready for launch.
Funding Numbers:
Seed: 770M ISA at .0005 USD — $385,000 USD
Private: 1.05B ISA at .001 USD — $1,050,000 USD
Public Sale: 200M ISA at .0015 — $300,000 USD
Total Raise: $1,735,000 USD
Supply — Breakdown & Vesting:
Total Supply: 15,000,000,000 ISA
Ecosystem: 4.5 B ISA (30%)
Staking Rewards: 2.25B ISA (15%)
Team and Advisory: 2.25B ISA (15%)
Marketing & Partnerships: 1.715B ISA (11.43%)
Liquidity Provision: 15,000,000 ISA (10%)
Private Sale: 1.05B ISA (7%)
Seed Sale: 770M ISA (5.13%)
Content Creators: 750M ISA (5%)
Avalaunch: 200M ISA (1.33%)
Testnet Airdrop: 15M ISA (0.1%)
Total of 99.99% resulting from rounding
Vesting Following TGE:
Ecosystem: 30-day cliff, monthly vesting for 60 months
Staking Rewards: 30-day cliff, monthly vesting for 40 months
Team and Advisory: 12-month cliff, monthly vesting for 20 months
Marketing and Partnerships: 3% at TGE, monthly for 32 months
Liquidity Provision: 600K at TGE (2-sided), discretionary Unlock*
Private Sale: 10% at TGE, 60-day cliff, monthly for 18 months
Seed: 5% at TGE, 3 month-cliff, 24 months vesting
Content Creators: 3% at TGE, monthly for 32 months
Avalaunch IDO: 50% Unlocked at TGE, weekly for 4 weeks
Testnet Airdrop: 100% unlocked
*Following TGE, the liquidity unlocks are discretionary as their overall listing plans are not yet fully finalized.
Other:
Initial Circulating Supply: 332.45M ISA (excluding liquidity tokens)
Initial Market Cap: 498,675 USD (excluding liquidity tokens)
Initial Liquidity: 600K total—300K ISA and 300K USD of AVAX
100% of the sale will go to community stakers of XAVA
Recap
Total ISA: 200M ISA
100% will go to the community stakers of XAVA
Size: $300,000 purchased by Avalaunch
Vesting — 50% Unlocked, weekly distributions for 4 weeks
Islander IDE Instructions
As this sale is unique, the steps to participate will look slightly different than our regular IDOs.
1. Registration
You will register for the IDE as normal during the registration period. You will still need the 1 AVAX deposit, which will be returned to you during the claim process.
2. Sale
There will not be a validator or staking round where you purchase your allocation. To be eligible for your ISA and XAVA allocation, all you need to do is register with your stake or validator as normal.
3. Redemption
We will deploy a claim card on our airdrop page for you to claim your allocation, instead of you needing to purchase it during the sale. This means you don't need AVAX to purchase or deal with gas fees during the IDE.
4. Redemption Details
When the claim card is live, you will be able to claim your allocated ISA, XAVA and 1 AVAX deposit in one single transaction.
The Islander IDE on Avalaunch
200M ISA (Total Supply: 15B ISA)
Purchased and distributed by Avalaunch
Registration Schedule:
Registration Opens: January 2nd at 3:00 p.m. (UTC)
Registration Closes: January 5th at 6:00 a.m. (UTC)
Claiming Schedule:
Claiming Goes Live: January 7th 6:00 a.m. (UTC)
The XAVA Airdrop on Avalaunch
Those who register and participate in the Islander IDO will also receive an equal dollar amount worth of XAVA.
300K USD worth of XAVA at market value
Price to be determined after registration closes and prior to the beginning of the claiming round

About Avalaunch
Avalaunch is a launchpad powered by the Avalanche platform, allowing new and innovative projects to seamlessly prepare for launch with an emphasis on fair and broad distribution. With its values deeply rooted in the early Avalanche community, we are able to offer projects confident, informed users who are aligned with the long-term goals of the rapidly expanding application ecosystem.
Leveraging Avalanche's scalable, high-throughput, and low-latency platform, Avalaunch is built by users, for teams, to help grow strong communities.
---
Islander IDE x XAVA Airdrop: Initial Distribution Event was originally published in Avalaunch on Medium, where people are continuing the conversation by highlighting and responding to this story.