Lost Worlds (geoNFTs) is Launching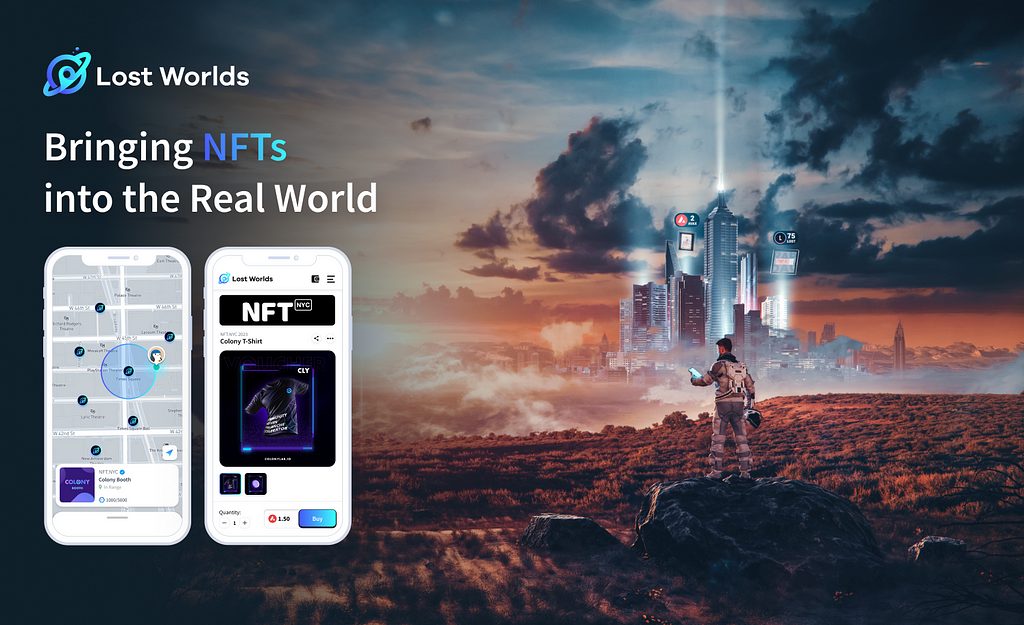 Lost Worlds is proud to announce its latest BETA push aka LOST v2. A full featured mobile web dApp bridging the gap between web 2 and web 3 with a real world use case for NFTs.
Lostworlds.io introduces geoNFTs, a unique expression of NFTs allowing digital collectibles to be linked to physical locations.
This pioneering technology connects the world of NFTs to the tangible realm, unlocking new possibilities.
Lost Worlds is going live March 30th on the Avalanche, with more EVEN BIGGER announcements to follow.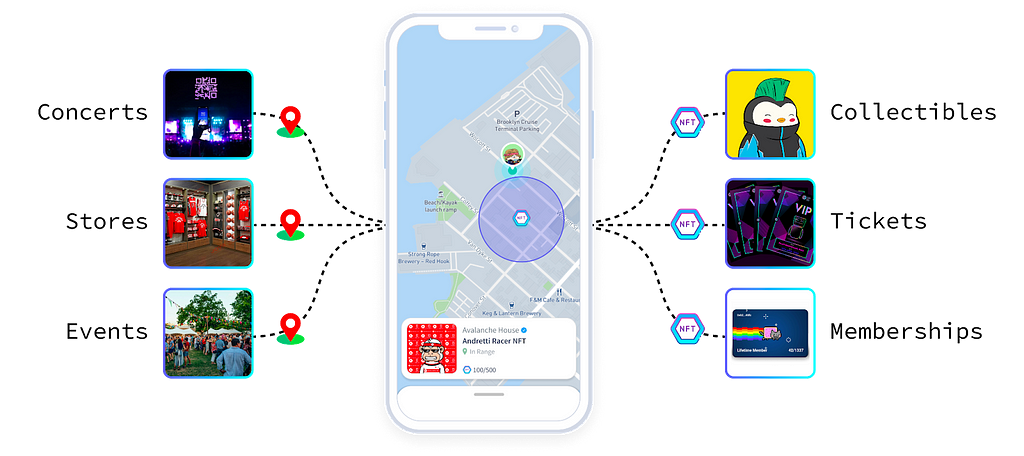 What's going live on Lost Worlds
Here's what to expect
A Comprehensive geoNFT platform with robust anti-spoofing technology
Quick and easy web 3 Onboarding Experience
Purchase geoNFTs with Apple Pay or Google Pay.
Enhanced social feature integrations
LOST Token integration and Deflationary Tokenomics
Quests & Badges with various rewards
Lost Worlds provides a unique and innovative way to interact with NFTs. The latest version of the platform boasts strong anti-spoofing measures and enhanced features, ensuring a seamless user experience.
Accessing Lost Worlds
Accessing Lost Worlds is a breeze, even for those new to the world of crypto. Within a minute, you can start minting geoNFTs by visiting lostworlds.io on your mobile device. Connect your wallet when you're ready to mint, or create a non-custodial wallet on our app using your email in under 30 seconds.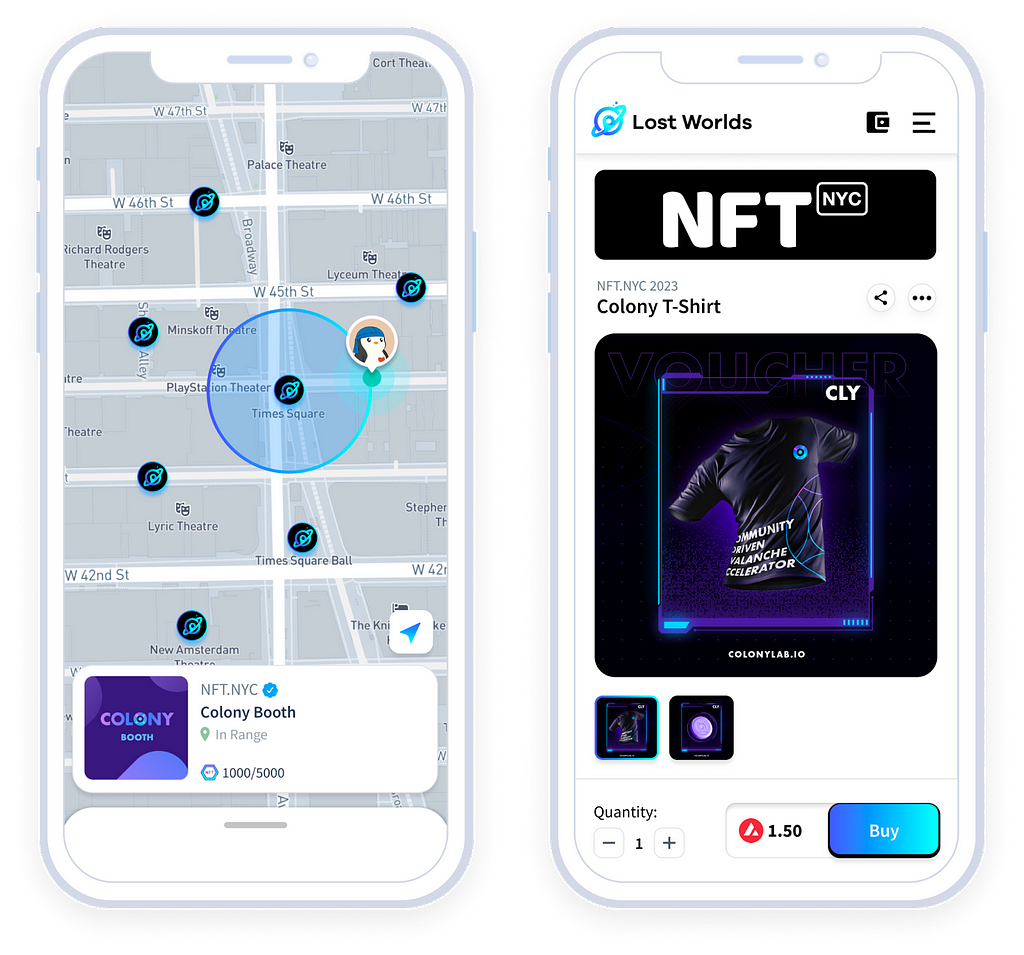 Bringing NFTs to the (Web 2) Real World
Create a Wallet & Pay with Credit Card — in less than 60 seconds
If you do not have a wallet on your mobile device and or are new to web 3, we provide a non-custodial wallet solution that takes less than 30 seconds.
Simply press "Continue With Email" and follow the instructions. You will be provided a magic link that will create a non-custodial wallet that you completely control via your email.
If you created a wallet on our platform, you will also be given the option of purchasing NFTs with, credit card, Apple, or Google Pay on your phone. Simply follow the payment instructions provided at mint.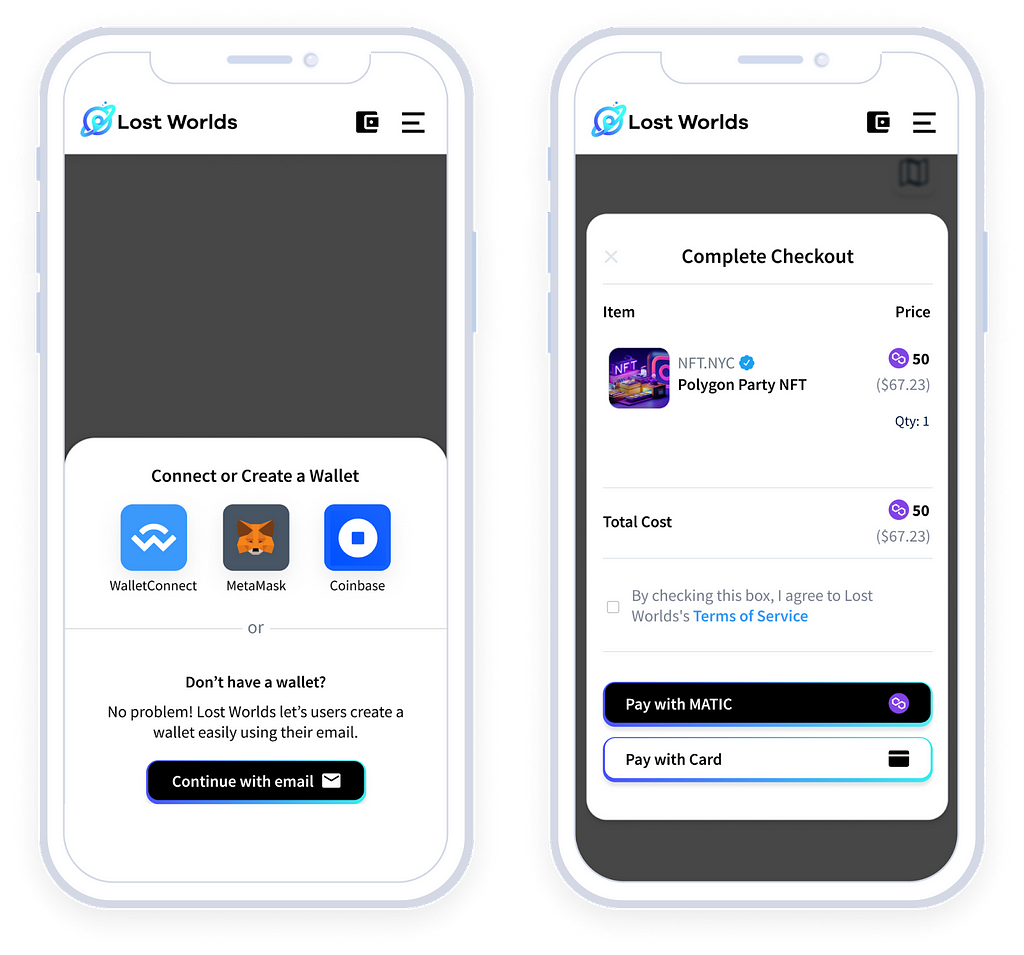 Quests and Earning LOST
Complete in-app Quests to unlock LOST tokens and Badges.
Badges are non-tradable ERC-721 tokens, which can be used to gain access to real world events, token gated drops, exclusive merch, online experiences, and more. With our deflationary tokenomics, the LOST token becomes more valuable and scarce the more you use the platform and complete quests.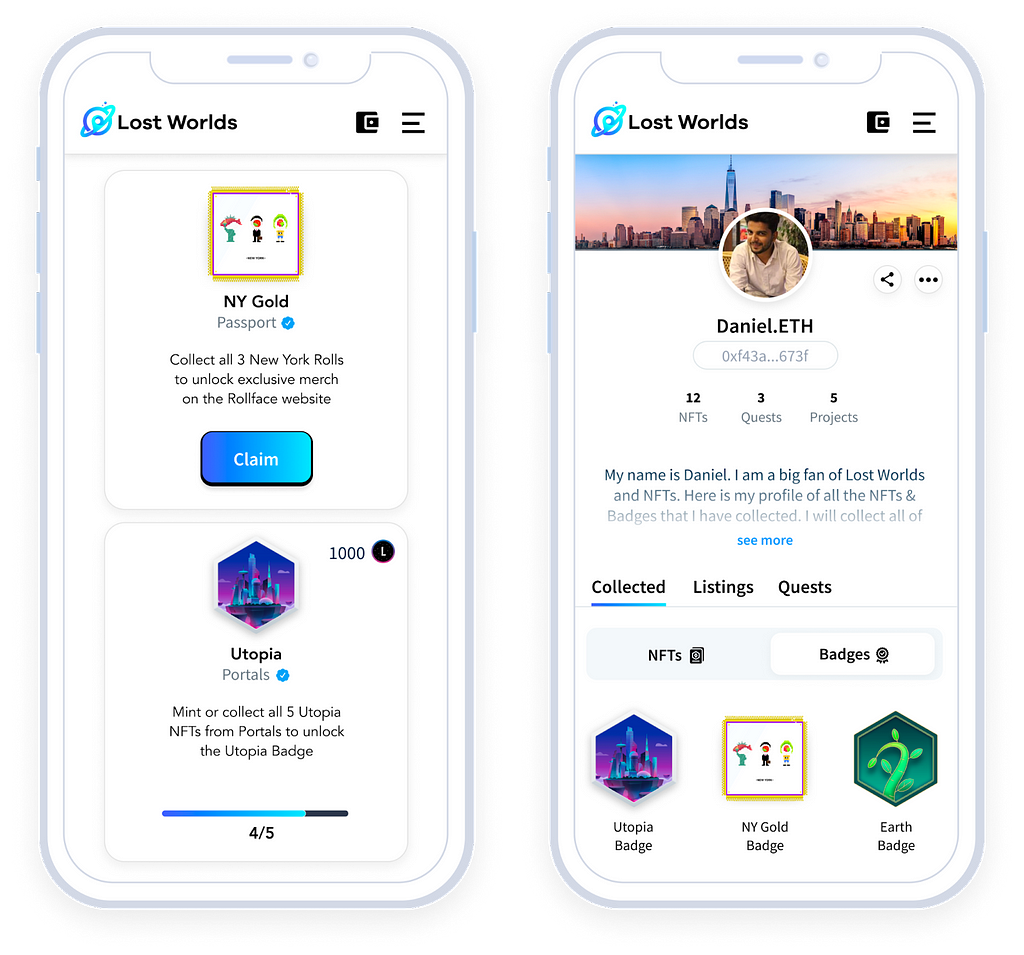 LOST Tokenomics
The Black Hole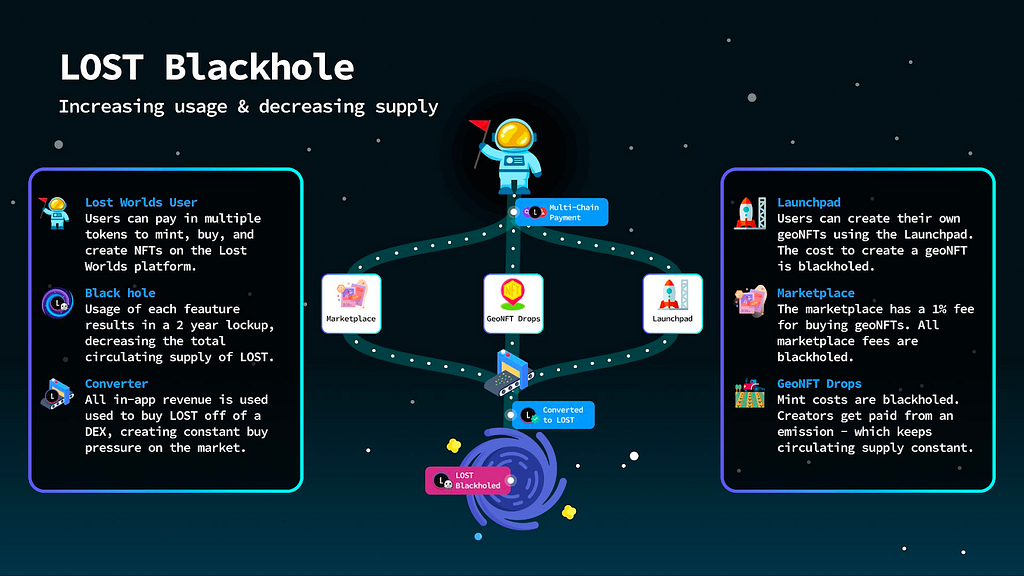 The LOST token is designed to be deflationary, meaning that its supply decreases over time. Whenever a geoNFT is created or minted on the platform using LOST, a percentage of the LOST is sent to a "black hole" wallet, which is essentially a wallet that cannot be accessed or used either indefinitely or for a defined period of time. This LOST is effectively removed from the circulating supply of tokens, which creates a constant reduction in the total supply of LOST over time.
In addition to this, whenever a geoNFT is created or minted on the platform using an alternative payment method (such as another cryptocurrency or cash), the platform takes a fee, which is used to purchase LOST off the market and send it to the black hole. This not only reduces supply, but creates buy pressure on the market.
Lost Worlds also increases the amount of LOST tokens that are burned by releasing new tokens from the treasury (at minimum matching the dollar amount of mints happening on the platform in LOST) and sending them to the black hole wallet. This process results in further reduction of both the circulating and total supply of LOST.
Earning LOST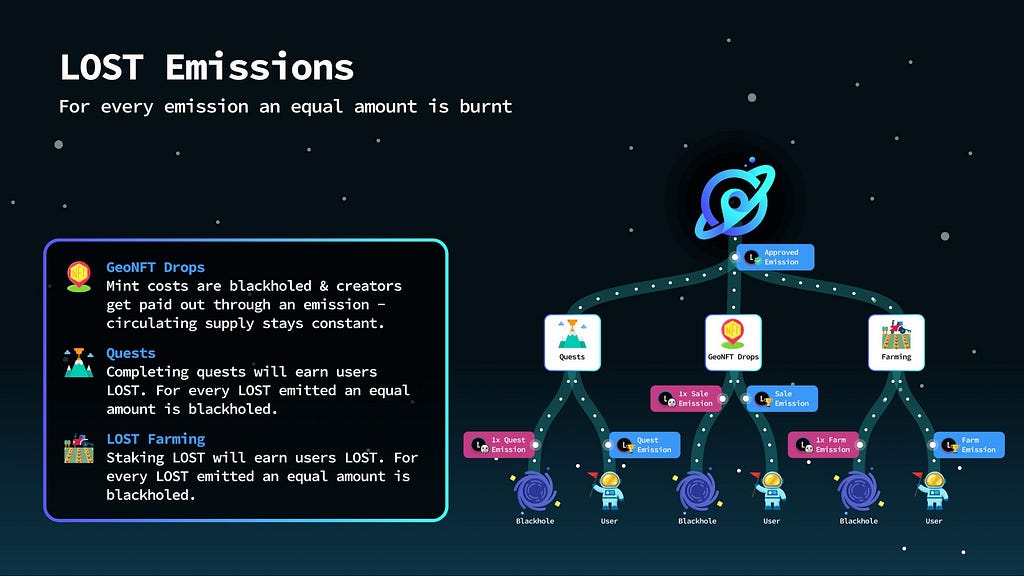 Users of the Lost Worlds platform can earn LOST tokens by participating in special geoNFT drops and completing quests, as well as by staking LOST tokens. Whenever LOST tokens are emitted through these means, a corresponding amount of LOST is sent to the black hole wallet from the platform's treasury, which helps to reduce the total supply of LOST even further.
The Future of Lost Worlds
The team behind Lost Worlds is committed to continuous innovation and improvement, with plans to expand the platform's capabilities and integrations. As we continue to deploy on additional chains like [Redacted] and [Redacted], you can expect more features and opportunities to be introduced, making Lost Worlds an essential hub for the geoNFT digital asset community. Check the discord, twitter, Instagram and whitepaper for the latest updates.
Get ready to embark on a thrilling journey in the world of geoNFTs with Lost Worlds. Start exploring, minting, and earning rewards today at lostworlds.io, and be part of the future of real world NFTs.
Source