Lost worlds: location based NFTs – Avalanche Summit
The avalanche summit, now just "around the corner", will play host to countless members and projects from throughout the avalanche community. It comes as no surprise that the Lost Worlds team will be in attendance and more so, they will be showcasing their service and technology, location-based NFTs. Lost Worlds is the 1st Location-Based NFT platform on the Avalanche blockchain and they have continued to innovate in the space.
The Lost Worlds platform gives creators and brands the ability to use geo-location as a medium, allowing the merger of the physical and Web3 worlds providing a new layer of scarcity and utility to how we evaluate and value people's experience with NFTs. In short, Lost Worlds brings NFTs into the real world. This utility creates "work" within the ecosystem, where one must travel, or be within a specified region to mint a specific NFT. These specific constraints open up opportunities to add layers on DeFi incentives and components to reward the energy of creating, minting, and the buying/selling of location-based NFTs.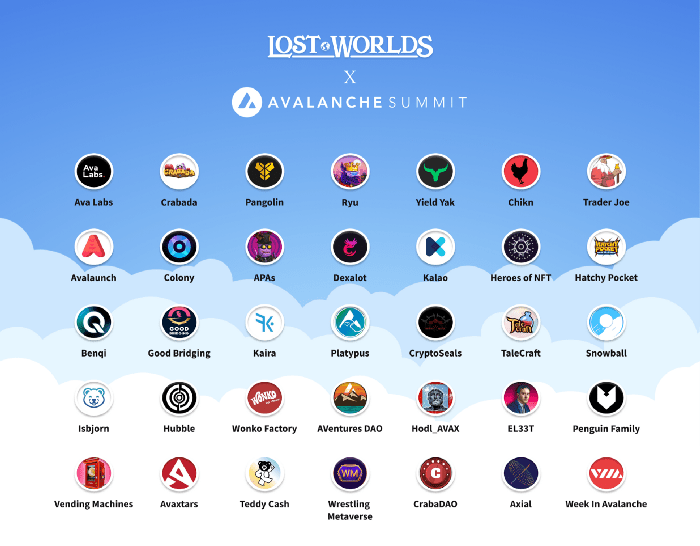 NFT Drop Locations
Throughout the Poble (Avalanche Summit Convention Area), NFTs drop from all of the Avalanche community's favorite projects will be scattered across the different stages and locations to mint. These NFTs can either be collectibles intended to be minted directly at the summit or even voucher NFTs which can be minted to redeem things like Merch, Tokens, or Tickets, as well as the possibility of pre-minted NFTs from some of your favorite projects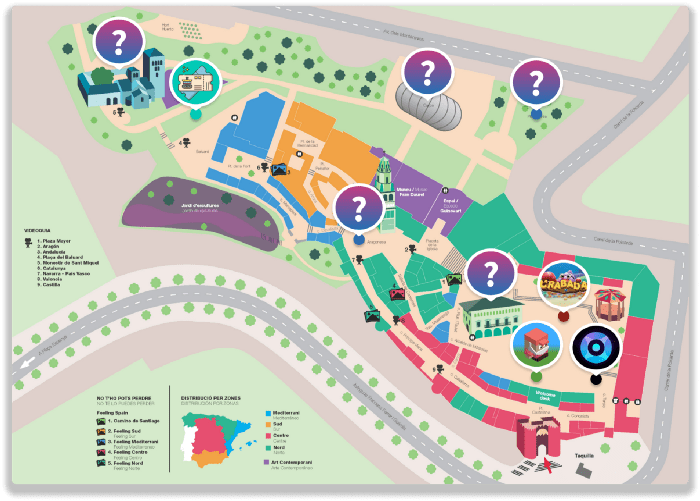 Four locations will represent one specific project drop while five locations will represent multiple project drops with prizes that can be minted at random, so you will be able to see all the NFTs available within that location, but you will not be able to choose which specific prize you mint.
Announcements regarding details on the prizes and partners attending the summit are still to be released, but if your curiosity gets the best of you, you can find yourslef some sneak peeks available at summit.lostworlds.io
How to Mint
Using your smartphone you'll be able to explore the drops at the Poble using the map on the Lost Worlds DApp. When a user enters the radius of an NFT Drop, the NFT(s) will become available to mint at summit.lostworlds.io. Each Lost Summit experience NFT only costs 0.1 AVAX per mint, and users are capped at 5 mints per drop location. However, this excludes dedicated drop locations for Colony, Cabada, Trader Joe, and the Summit Cruise. Keep in mind, a majority of the drops will be minted at random and users will be able to leverage the Lost Worlds secondary marketplace to buy and sell their NFTs.
Note: Physical Merch still has to be redeemed in-app, but can be collected directly from the project's booth while attending the Summit.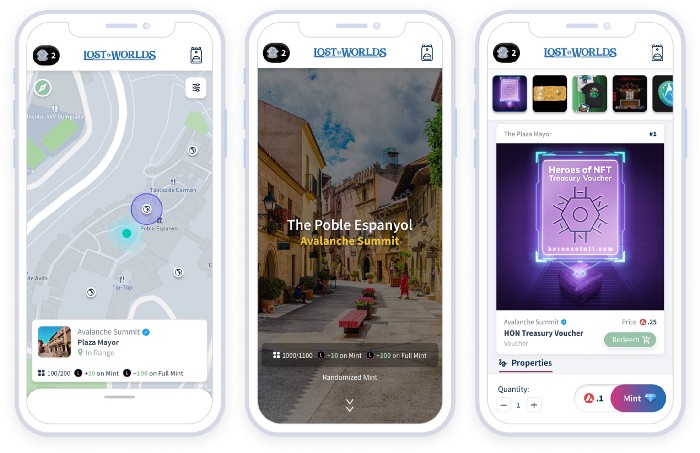 "We are here to inspire collectors, artists and brands to remember that we still live in the real world. The full Metaverse is still a ways away, and by creating a new dimension on top of our existing reality we've provide a fulfilling way to experience local community, art, events, and games in a way that bridges us to the next frontiers."

Lost Worlds – Avalanche
It's Party Time
If the allure of awesome location-locked NFTs were not quite enough to have you visit with the Lost Worlds team while in Barcelona, Consider this…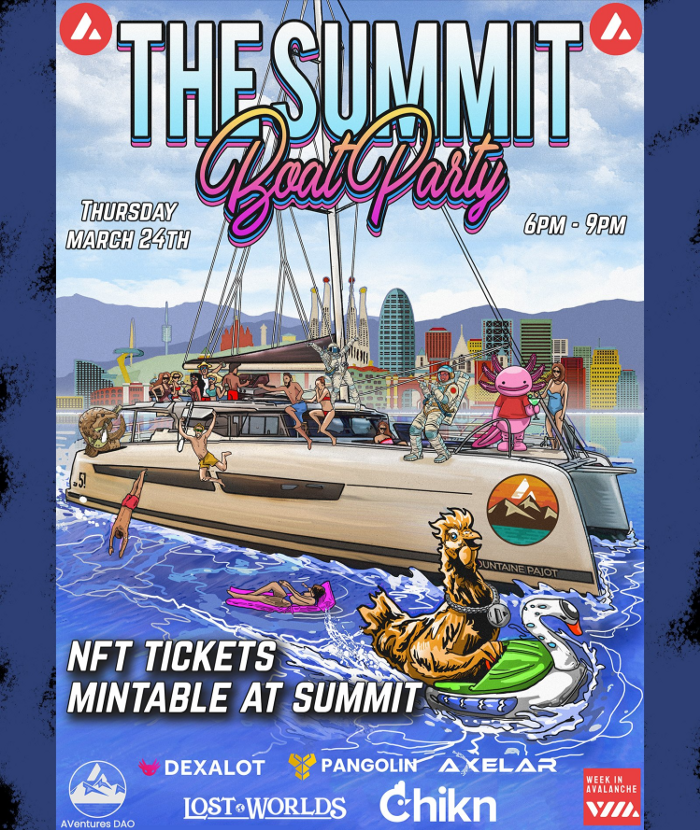 Lost Worlds has joined forces with Avalanche projects Dexalot, Pangolin, Chikn, and Aventures DAO, to host "The Summit" a private boat party unlike any other, held on a 200 person boat with VIPS from all throughout the Avalanche community. No ticket? Don't freak out! Between 80 and 100 tickets will be available to purchase at the Summit House via the Lost Worlds App. Each ticket will cost 1.5 AVAX to purchase and there is a limit of 2 tickets per wallet. The special event is planned for Thursday, March 24th starting at 6 PM and set to end that evening at 9.
Be sure to keep your eye out for new updates and releases from the Lost Worlds team, and check out their other location-based NFT projects including Portals and Continents NFT.
Check out Lost World's latest medium article here for further information and specifics on the upcoming event.
Website | Twitter | Discord | GitBook