Lost Worlds x Avalaunch: IDO Announcement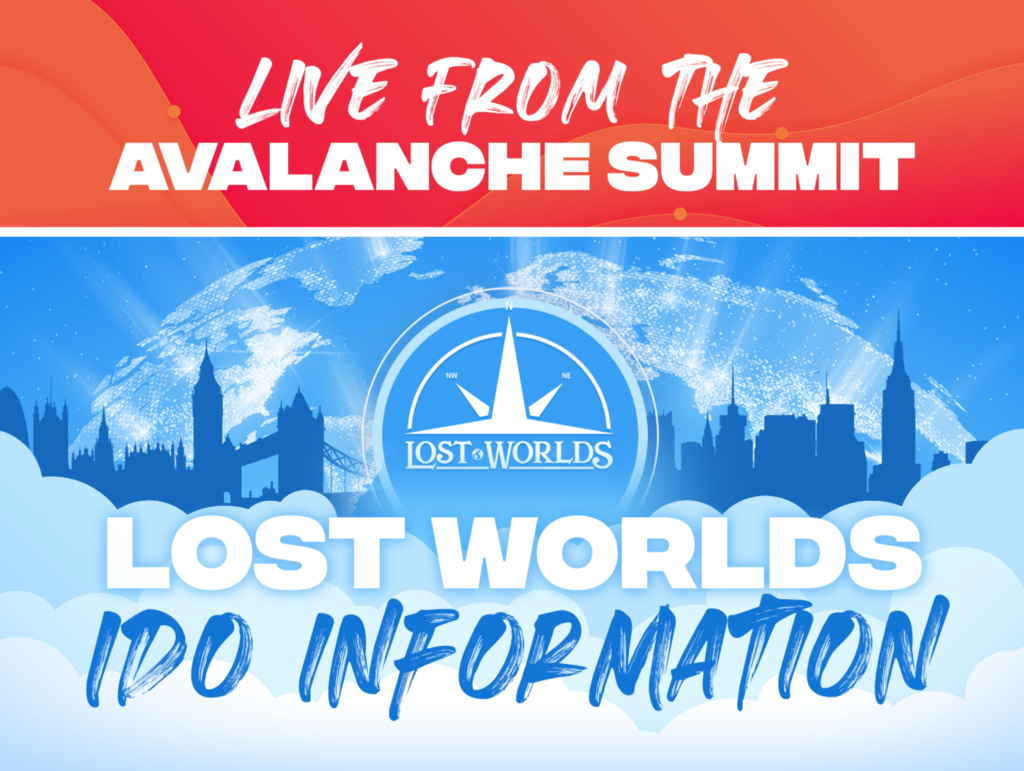 We are producing this sale live from the Avalanche Summit in Barcelona, Spain! Given that the Avalaunch team is live, in person, with the Lost Worlds team, we will be producing uniquely rich content from the Summit all week long. NFT location mints from Avalanche's top 34 projects. Follow along all week as we uncover Lost World's limitless possibilities.
The bridge between the metaverse and the "real" world remains elusive. Is it an extended reality, a new one entirely or just an alternative environment to fritter away some time? In lockstep with the metaverse is the NFT. The unique asset has captured imagination, made us reconsider the value of digital art while both suffering and enjoying some truly wild speculation. Thus far, what is largely held as self-evident is that these building blocks are here to stay and that a gamified future is unfolding before our eyes.
As the metaverse combines the mentioned elements and moves forward, we are on the way towards something meaningful that will meld its way into our existence. Still, the direct nexus between the "real world" and these nascent universes remains few, but its promise continues to loom. Virtual lands are bought and sold, metaverse businesses are sprouting up, NFTs are minted at Mach V speeds while game play continues to demonstrate its earning power. With each passing iteration it adds definition, rendering the overall experience more personalized as it saunters more deeply into the virtual realities where we will slowly take residence.
The few that can truly straddle the real and virtual worlds are poised for adoption at a date still to be determined but those that can will have an appreciable head start. Here to leverage that head start comes Avalaunch's next IDO: Lost Worlds.
https://medium.com/media/22c89102d9d20c07ab0b9f8b3f04e58e/href
Project Overview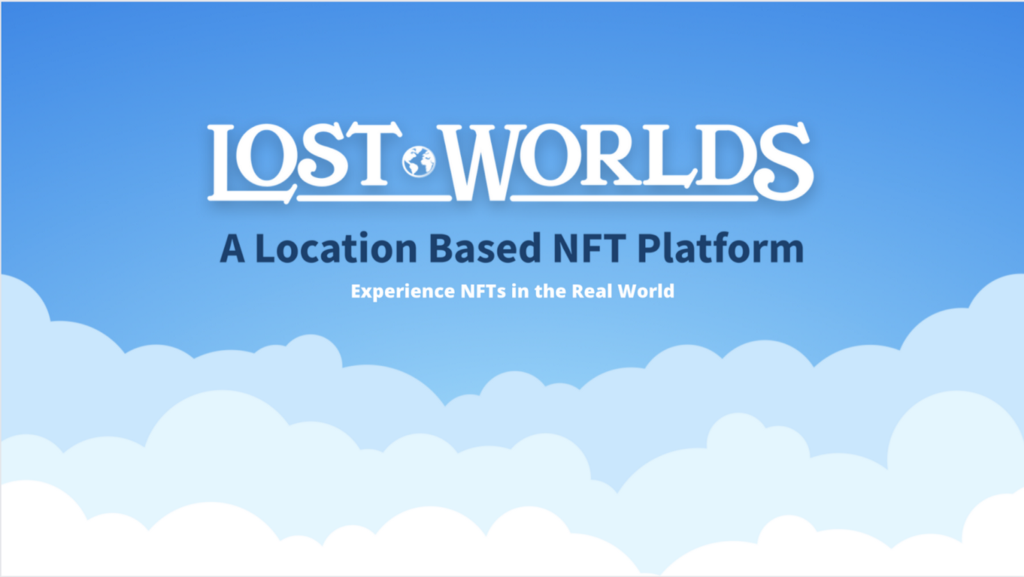 Lost Worlds is a 1st of its kind NFT platform experience where NFTs are geographically bound to real world locations for collectors to discover and mint.
The platform gives creators, brands and players the ability to use geo-location as a medium, merging the physical and Web3 world providing a new layer of scarcity and utility in how we evaluate and value people's experience with NFTs. In short, Lost Worlds brings NFTs into the real world.
This utility also creates "work" and "value" within the ecosystem, where one must either travel, or be within a specified region to mint a desired NFT. This constraint opens up opportunities to layer on DeFi incentives and components to reward the energy of creating, minting and the buying/selling of location based NFTs. This means creators can submit any form of NFT, from a 1 of 1, event based music drop, location-based scavenger hunts, games, or ideas yet to be scene in our space.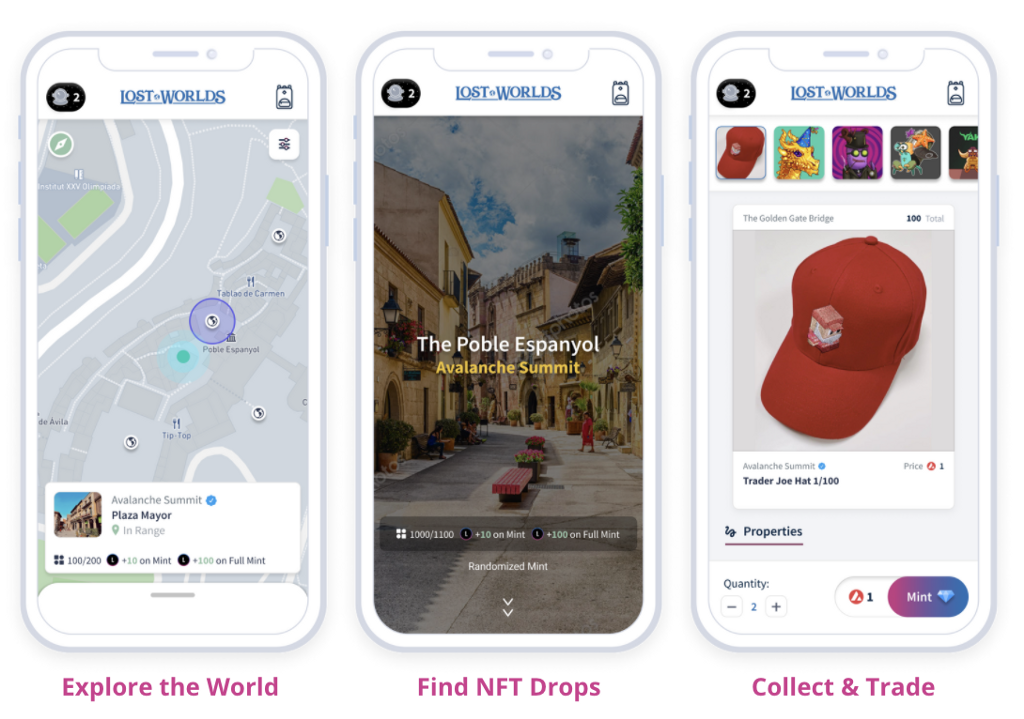 What separates Lost Worlds from other NFT platforms is its focus on Location Based NFTs and rewards for both creators and collectors. Lost Worlds aims to become a lego block of the NFT landscape, providing a differentiated layer of service and utility for users to interact with Web3 primitives. At a high level, Lost Worlds aims to:
Advance NFTs so as to be a part of the human experience, with value and utility that interacts with daily life.
Function as a platform that acts as a bridge for new users, creators, and brands looking to engage with the Web3 space.
Further location based technology in crypto that is emerging in the web2 and web3 space.
Create a sustainable NFT ecosystem inspiring people to collaborate and foster digital and real world connections.
Location Based NFTs
Geographically Bound Digital Assets:
Lost World expands the way NFTs can be experienced; rewarding creators, explorers and collectors for using the platform.
In order to access locations to mint all users need is a mobile device and to stake the LOST token.
The greater the stake the more utility and rewards can be derived.
NFTs obtained from a given location give the owner the rights to sell or trade their NFT on the marketplace.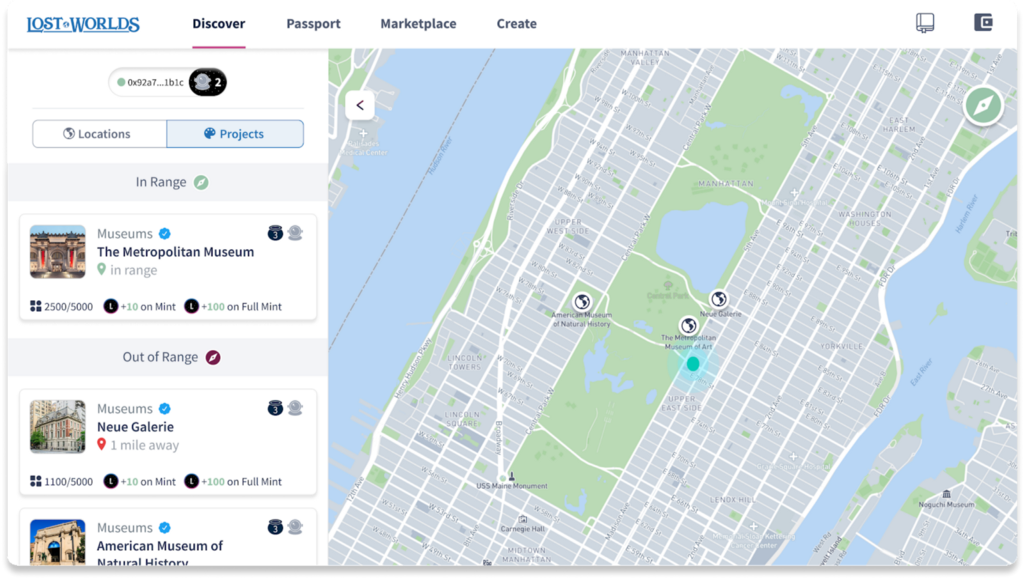 Initial Deployment
On-chain location capture and metadata handling.
Robust location spoofing mechanisms that are hidden from the client.
Decentralized infrastructure when available.
Ability to buy and sell NFTs on the secondary marketplace.
For Projects & Creators
Latitude and longitude of NFT and project drops
Total NFT supply
Media Type of NFT
NFT cost, i.e. a flat fee or a set bonding curve related to the total supply
Reward incentives and achievement unlocks.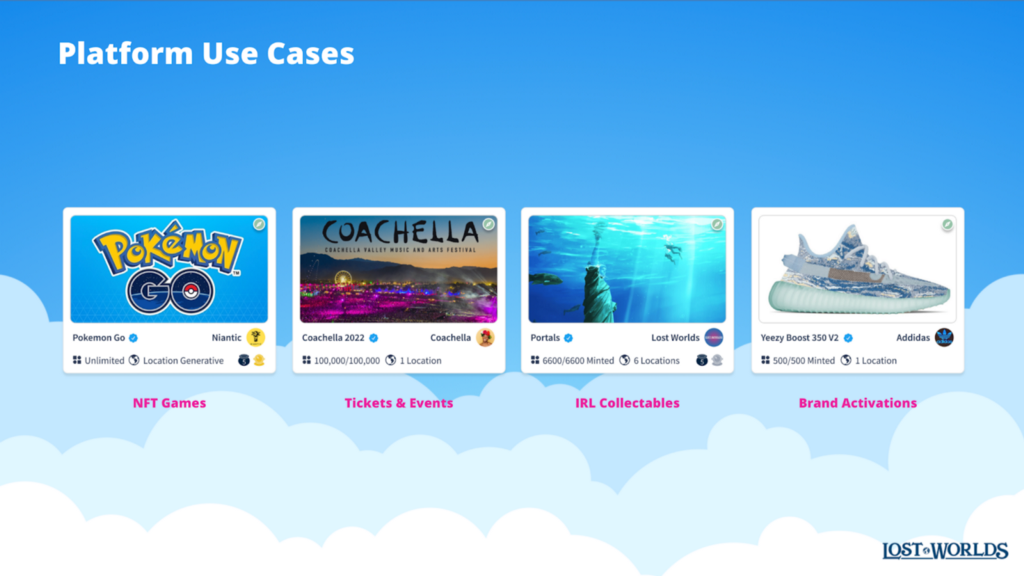 The LOST Token
LOST is the native token of the Lost Worlds platform, serving as a reward mechanism and access token for participants. At launch users can:
Stake LOST to Access Tiered Location Based NFT projects
Stake LOST to Unlock Features and Rewards
Stake LOST for Staking Rewards
Use LOST for Community Access and future say in projects that get deployed on the platform
Lost Worlds uses a tiered staking system of Bronze, Silver, and Gold as a foundation to access the platform as we grow and continue to roll out more features and utility.

When you deposit your LOST into the staking contract there will be cooldown period where a fee in LOST will be taken and redistributed to stakers, based on when you unstake. The fee begins at 15%, and reduces to 0% over 15 days. Meaning if you stake for longer than 15 days you will incur no fee.
LOST Utility
Staking LOST is key to being able to utilize the full benefit of the platform. As more features are implemeneted, the way we in which users are able to use their LOST tokens to access location based NFTs will grow. Some examples:
Minting Discounts for staking LOST
Bounties — use LOST to have someone mint at a location you're not in
Location Based Staking
Buy NFTs directly with LOST
Submit Projects to the DAO with LOST
Sharing Mint (AVAX & LOST) Revenues with Gold Stakers
LOST Rewards
50% of the total LOST token supply is allocated for the community via staking, the ecosystem fund and platform rewards. Platform Rewards are core rewards mechanism for people exploring and using the dApp. Platform Rewards are subject to change but slated for distribution as follows:
Minting Rewards: 50%
Minting Dividends: 20%
LOST Achievements: 30%
Earning LOST
Users will be rewarded LOST tokens for traveling, minting, buying/selling, and completing challenges. Below is a brief overview of the different types of rewards.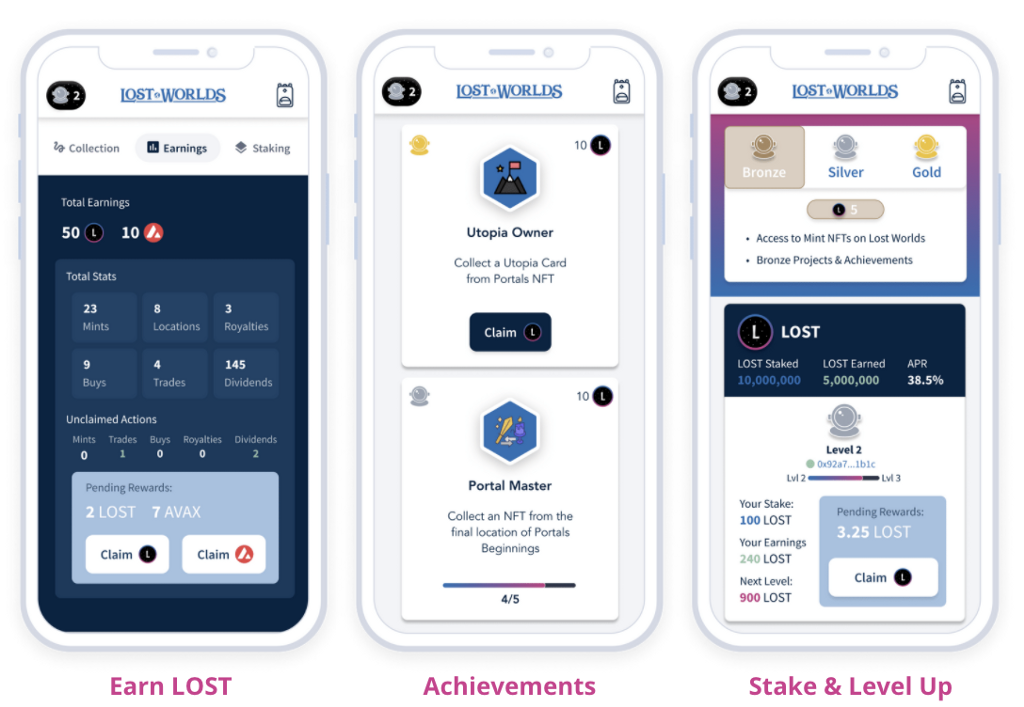 Minter Rewards
Travel to a location and mint an NFT to earn Minter Rewards. The amount of rewards per mint can be seen on both the Location Card and Location Landing Page.​
Mint Dividends
Varying per project. a percentage of initial minting at a given location drop are eligible for Mint Dividend which allows them to earn LOST on every mint after their own until a location reaches full mint. Future dividends are transferable.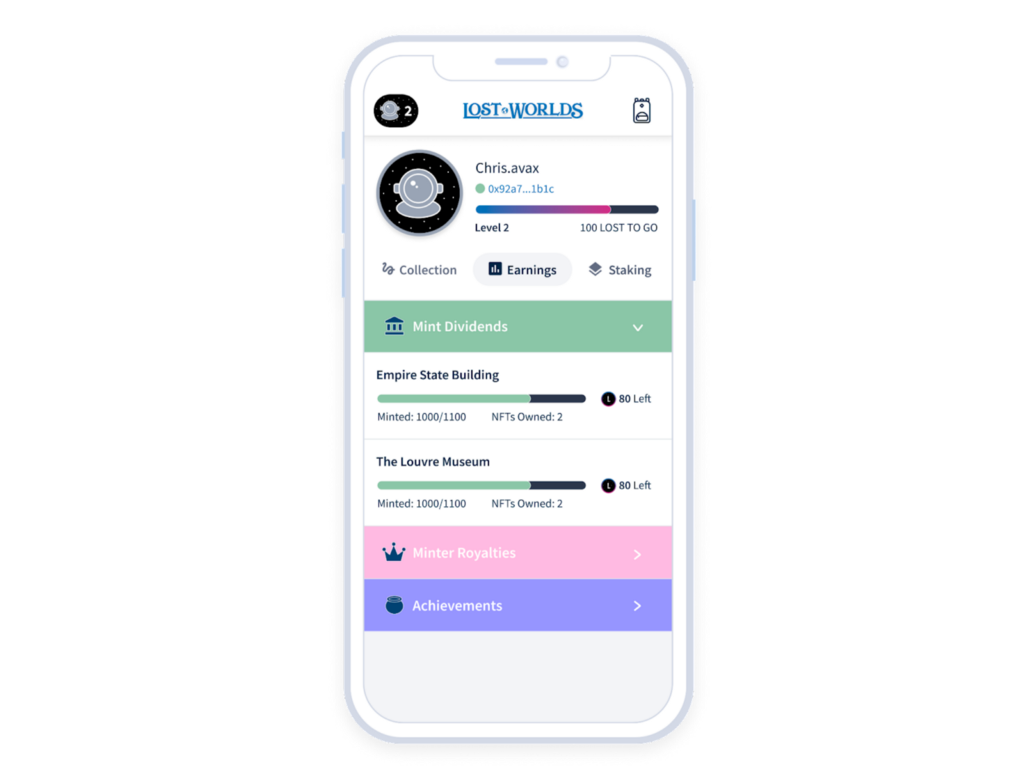 The Mint Dividends tab shows you the locations you have active Mint Dividends for (based on NFTs Minted in your Collection), and how much Mint Dividends are remaining for each location.​
Achievements
All Platform & Project achievements contain Non-Tradable NFT badges. Project Achievements can also contain rare NFTs & LOST tokens.
The Achievements tab shows the various achievements related to the Platform, as well as the NFTs within your Collection.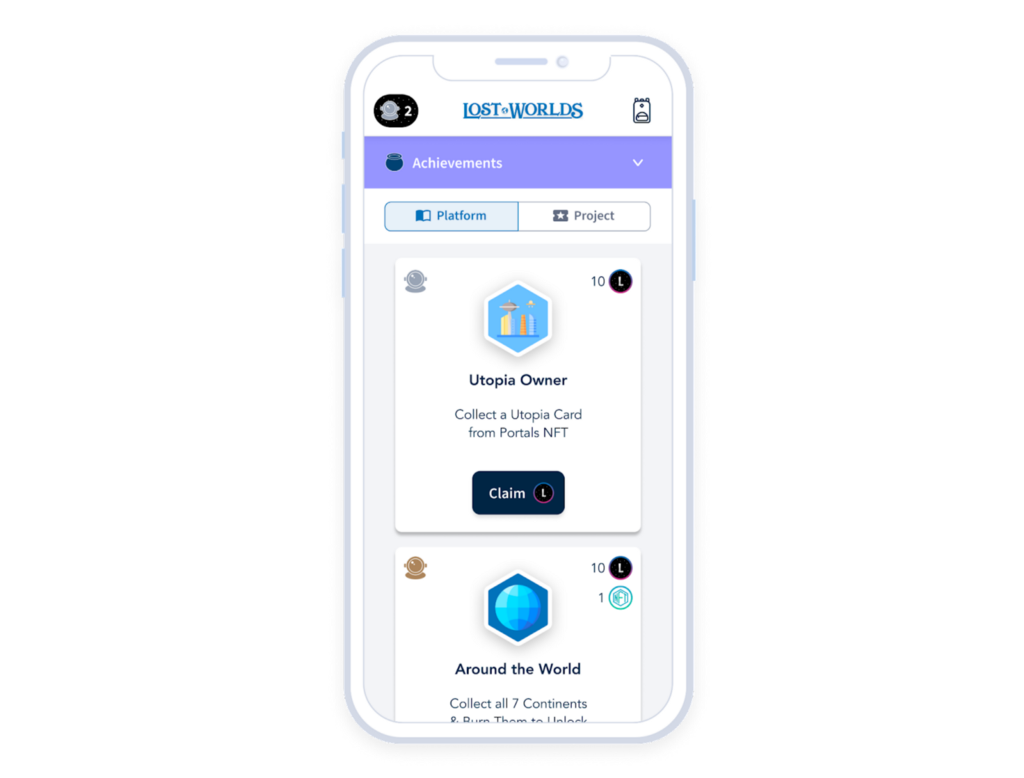 Minter Royalties
When an NFT is minted from a location, a royalty is created that can be only be activated once it is sold. Any time the NFT is traded in the marketplace afterward, owners will be paid a royalty payout.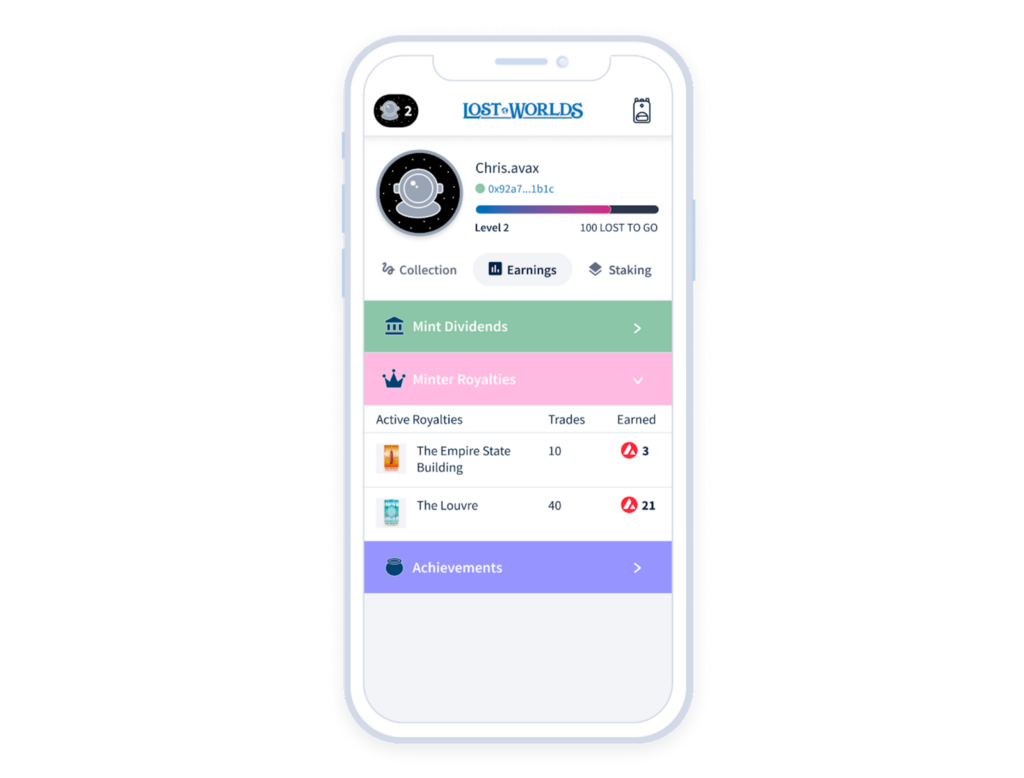 ​
The Future of Lost Worlds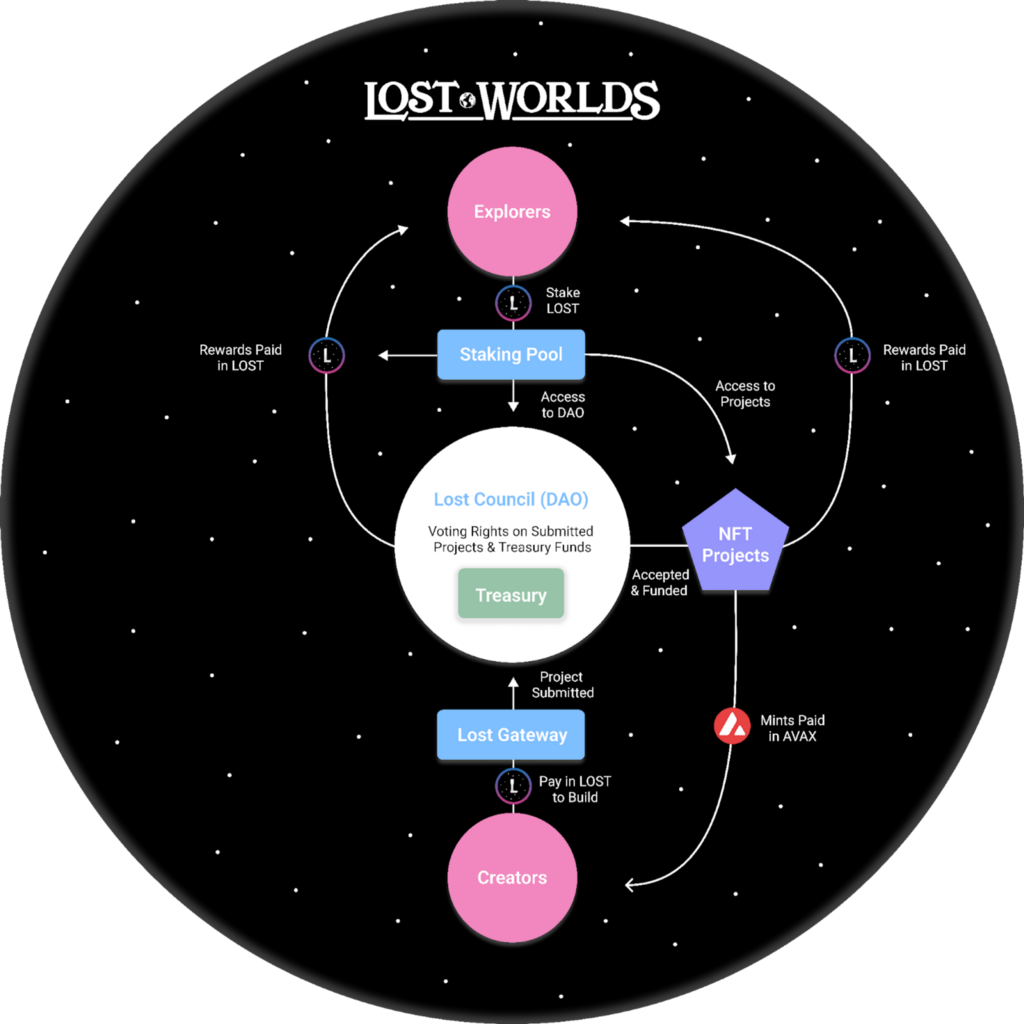 Lost Worlds proposes a closed loop economy that rewards both creators and explorers for their commitment to grow and develop the Lost Ecosystem.
The DAO/Treasury is the central governance system of the Lost Ecosystem. The DAO has voting rights on which projects are deployed onto the platform, as well as ownership of the treasury, which can be used to boost rewards across the platform and its various projects.
Explorers must stake LOST in order to gain tiered access to the platform. Depending on the amount of LOST staked, Explorers can participate in different projects and aspects of the platform, including voting rights to the DAO.
Creators can utilize the Lost Worlds Protocol in order to build their own location based GameFi, DeFi, and NFT experiences. In order to submit a project, these creators must pay a fee in LOST, which is deposited into the DAOs Treasury
Lost Worlds: LINKS & TEAM
Website | Gitbook | Twitter | Medium | Discord | Marketplace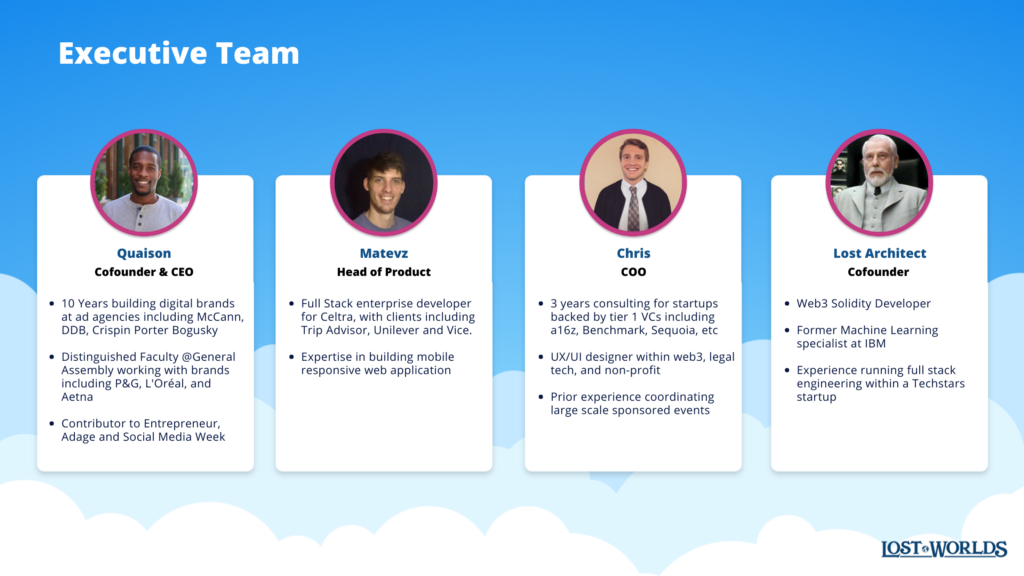 Partners & Backers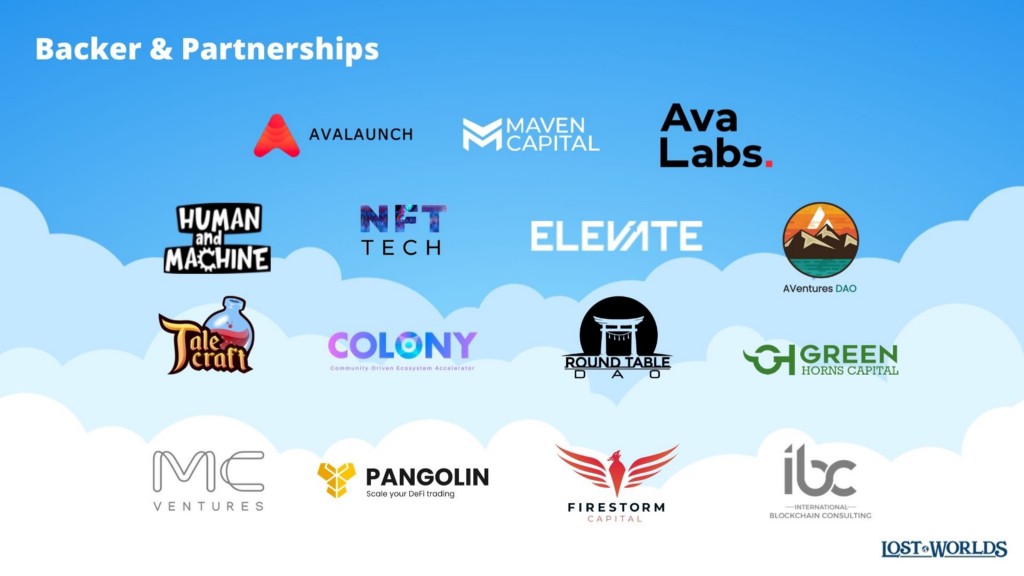 "We've simply been impressed with Lost Worlds as a team in their development and commitment to building Location Based NFTs… We've watched their product growth from beta to alpha and now mainnet launch. They are bringing to the space exciting new developments in the NFT space with radically new primitives that could drive new types of adoption and growth for real world uses for NFTs. We can expect to see a lot of creative exploration with these types of digital assets, and from the Lost Worlds team in the future. This is going to be big!" ~ AVentures DAO
Closing Thoughts
The Lost Worlds mainnet, launch and listing has been a long time coming. This execute team and the rest are a group of professionals that Avalaunch met more than six months ago. It has been an impressive and enduring work in progress. Geo-location and NFTs are certainly a compelling combination but executing on it is another story. The Lost Worlds team has come a very long way and the project was always very well considered. It is now becoming a living, breathing reality and one that we should all have high hopes for.
"It's safe to say Avalaunch is a vital part of the bedrock of the Avalanche Community. We've been working on our product for almost a year and the Avalaunch leadership and team has been there, lock and step, helping us navigate the crazy world of crypto. If someone were to ask me "What would you do differently in your process of launching a crypto startup?" there'd be a laundry list of things, but working with Avalaunch is a choice we would make 1,000 times again and again" ~ Quaison Carter, CEO Lost Worlds
Funding Numbers:
Total Supply: 50M LOST
Private: 5,750,000 LOST at .35 USD — 2.1625M USD
Marketing Partners: 333,333K LOST at .45–150K USD
Public IDO: 2M LOST at .55 USD — 1.1M USD
Hard Cap: $3,262,500 USD
Supply Breakdown & Vesting:
Total Supply: 50,000,000 LOST
Platform Rewards Incentives: 10M LOST (20%)
Team: 8.5M LOST (17%)
Staking Rewards: 7.5M LOST (15%)
Ecosystem Fund: 7M LOST (14%)
Private Round Funding: 5.75M LOST (11.5%)
Liquidity: 2.5M LOST (5%)
Public Sale: 2M LOST (4%)
Future Partnerships: 2M LOST (4%)
Developer Bounty/Audits: 1.5M LOST (3%)
Advisory: 1.25M LOST (2.5%)
Marketing: 916.667K LOST (1.83%)
Airdrops: 500K LOST (1%)
Marketing Partners: 333,333K LOST (.67%)
Professional Services: 250K LOST (.50%)
Vesting:
Platform Rewards Incentives: Contingent upon project participation. Emissions will be determined as projects onboard following mainnet, slated for April 5th.
Team: 12-month cliff, linear vesting over 24 months
Staking Rewards: Following mainnet, staking emissions will begin linear daily vesting for 59 months.
Ecosystem Fund: 30-day cliff, released monthly for 59 months.
Private Round Funding: 10% at TGE, 90-day cliff, daily linear vesting for 18 months.
Liquidity: 100% unlocked, discretionary deployment.
Public Sale: 25% at TGE, 30-day cliff, weekly vesting for 12 weeks.
Future Partnerships: 90-day cliff, released quarterly for 2 years.
Developer Bounty/Audits: 30-day cliff, released quarterly for 2 years.
Advisory: 12-month cliff, linear vesting over 24 months.
Marketing: 90-day cliff, released quarterly for 2 years.
Airdrops: 7-day cliff, 15% release followed by a quarterly release over 2 years.
Marketing Partners: 12% at TGE, 18-months daily linear vesting.
Professional Services: 10% at TGE, 90-day cliff, daily linear vesting for 18 months.
Other:
Initial Circulating Supply: 1.140M LOST (excluding liquidity tokens)
Initial Market Cap: 627K USD
Initial Liquidity: Contingent upon listing plans to be finalized
The Lost Worlds IDO on Avalaunch
2M LOST at .55 USD (Total Supply: 50M LOST)
Sale Size: $1,100,000 USD
Registration Schedule:
Registration Opens: March 22 at 3 p.m. (UTC)
Registration Closes: March 25 at 6 a.m. (UTC)
Sale Schedule:
Validator Round Begins: March 28 at 6:00 a.m. (UTC)
Validator Round Closes: March 28 at 3:00 p.m. (UTC)
Staking Round Begins: March 28 at 3:30 p.m. (UTC)
Staking Round Closes: March 29 at 6:00 a.m. (UTC)
IDO Recap
Total LOST for sale: 2M
Price: $.55
Size: $1,100,000
Vesting — 25% at TGE, 30-day cliff, weekly vesting for 12 weeks

About Avalaunch
Avalaunch is a launchpad powered by the Avalanche platform, allowing new and innovative projects to seamlessly prepare for launch with an emphasis on fair and broad distribution. With its values deeply rooted in the early Avalanche community, we are able to offer projects confident, informed users who are aligned with the long-term goals of the rapidly expanding application ecosystem.
Leveraging Avalanche's scalable, high-throughput, and low-latency platform, Avalaunch is built by users, for teams, to help grow strong communities.
---
Lost Worlds x Avalaunch: IDO Announcement was originally published in Avalaunch on Medium, where people are continuing the conversation by highlighting and responding to this story.