Magnet DAO: Cultivate, Incubate, and Invest on Avalanche
Magnet Dao is officially LIVE!
Minting and Staking are both available in the dApp and The MAG/MIM pair is available on TraderJoe.
Vesting has begun and will continue according to the preset rates, ending on Sunday, January 09, which will mark the completion of the fund distribution from the Community and Public Sale.
Magnet Dao is already working on original ways to begin incubating new projects internally and supporting others through the use of The Innovation Fund.
The Innovation Fund comprises 10% of the general treasury; at the time of this article, the fund has already reached over ~ $1,100,000. The fund will be utilized to invest in partnerships at the earliest stages to provide the possibility of maximum yields and incubate the army of devs acquired for the internal team.
The community will have input on the use of these funds by being able to propose and vote on projects that may suit Magnet Dao's vision. Furthermore, the tokens earned from the early investments and community progress will be compounded with the treasury to back MAG with the possibility of redistribution to those staking MAG.
There are plans to build out various DeFi apps and DAO tooling interfaces that will be licensed out — all profits from any applications or products that Magnet DAO builds will be recycled into the treasury.
There has been an overwhelming response for Magnet Dao; this was initially witnessed when the Community Sale sold out raising $1.6 million within a mere 32 minutes from offering.
For the Community Offering "The Dynamic Cap" was introduced.
The Public Sale played host to the use of another unique launch mechanism, and all tokens sold out in only 39 minutes, not much longer than the initial offering.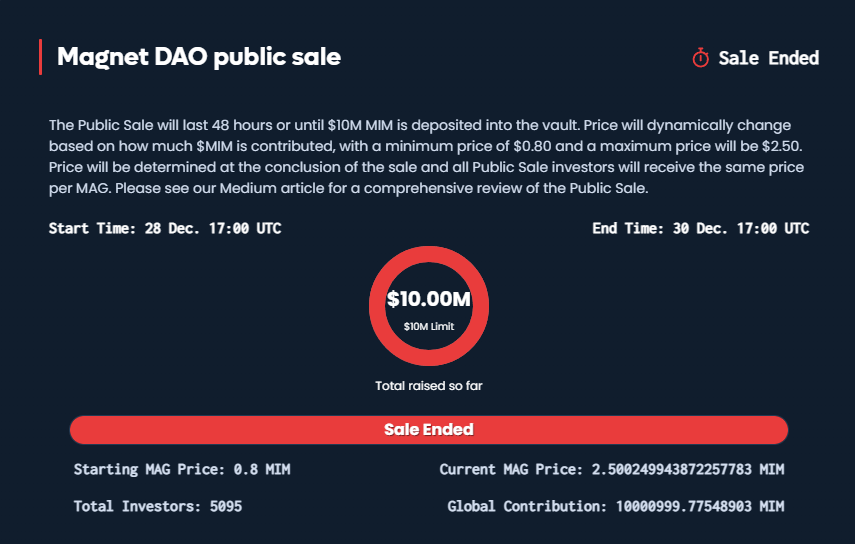 What else is in the works?
Plans are being outlined for the launch of a Magnet Dao community-driven "Investathon". Teams will be formed to find potential projects to invest in, with lucrative prizes for the projects the community decides on.
Furthermore, hackathons and building events are soon to come (Dates TBA), with respect as well as prizes offered to the "best in show".
Website — https://www.magnetdao.finance
Web App — https://app.magnetdao.finance
Docs — https://docs.magnetdao.finance/
Twitter — https://twitter.com/magnet_dao
Discord — https://discord.gg/MagnetDAO
Telegram — https://t.me/magnetdao