Movement Labs is partnering with NEAR to support Near DA within the Move Stack.
Movement's diverse ecosystem of move-based applications and blockchain infrastructure can now seamlessly deploy and interface with NEAR.
PRESS RELEASE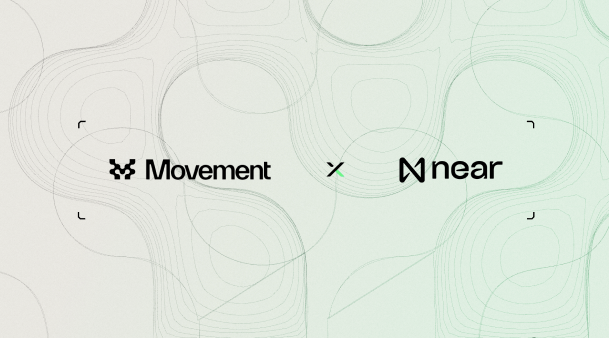 November 8th, 2023 Movement Labs, an open framework for Move-based infrastructure, and NEAR, the Blockchain Operating System for an Open Web, have announced a partnership to advance the NEAR Data Availability Layer with The Movement SDK, enhancing smart contract security and performance. This collaboration will utilize Movement Labs' expertise in smart contract security and NEAR's high-performance blockchain infrastructure to enable developers to spin up custom NEAR DA rollups with their rollup stack of choice using the MoveVM.
The blockchain industry faces critical challenges in security and user experience. Movement Labs' collaboration with NEAR addresses these issues by combining Movement Labs' robust security protocols with NEAR's user-friendly blockchain operating system. This partnership is set to reduce the barriers to consumer app adoption, making it easy for developers to ship production-ready code to mainnet without needing to worry about security vulnerabilities that can cost tens of thousands of dollars.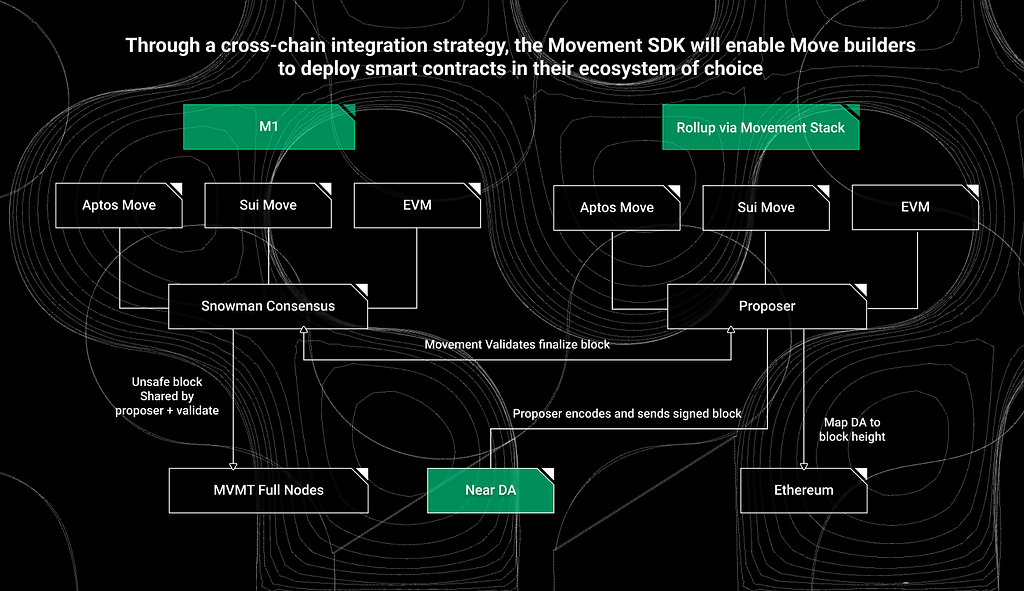 The Movement SDK enables builders to leverage the next-generation Move Virtual Machine to launch custom Move-EVM blockchains. Within the ecosystem a multitude of applications that will benefit from customizable app-chains are being built including games, consumer applications, and financial products bridging the gap between TradFi and retail. As a Day 0 partner of NEAR DA, we specifically envision many consumer apps leveraging next-generation VM rollup.
Movement Labs and NEAR are committed to providing developers with the tools they need to create decentralized rollups that are not only secure, but also scalable and efficient. One such product is Fractal, which enables Solidity applications to leverage Move performance and security without needing to write a single line of Move code. Whatever blockchain they deploy to via the Movement SDK, consumers use the same EVM wallet, same developer infrastructure, and same token standards — natively integrating. Builders can also leverage existing Movement validators part of the Snowman consensus to connect their rollup to the shared sequencing network. This ensures liquidity is not fragmented between Movement blockchains while keeping sequencing decentralized, affordable, and instantaneous.
Builders, especially those who leverage Alt-VMs, suffer most from blockchain fragmentation. Movement Labs has quickly bootstrapped an ecosystem of over 25 applications integrated to the devnet, and many more currently integrating ahead of testnet. The Movement SDK makes managing multichain deployment simple, and will contribute to growth of the NEAR network as net-new apps launch on NEAR via the Movement SDK.
The partnership between Movement Labs and NEAR is an exciting moment in the history of Web3 and decentralized applications. With NEAR's vision of a more open digital economy and Movement Labs' dedication to enhancing smart contract security, developers will be able to build unique and powerful online experiences that are accessible to anyone with an internet connection.
About Movement Labs
Movement Labs is creating tools and infrastructure to enhance the security and efficiency of distributed networks. With a focus on smart contract safety and the scalability of blockchain technology, Movement Labs is dedicated to advancing novel use cases in decentralized economies thanks to the security and performance of the Move Programming Language. Our Open Protocols are designed to empower developers and users alike, fostering a more secure and accessible blockchain environment.
About NEAR
NEAR is more than just a blockchain; it's a foundation for the Open Web. With a focus on developer ownership and a user-friendly approach to decentralized applications, NEAR provides the infrastructure for a new and open digital economy. NEAR's Blockchain Operating System simplifies the creation and distribution of dApps, making it a preferred platform for forward-thinking teams.
Source