Movement Labs Joins Forces with Shogun Finance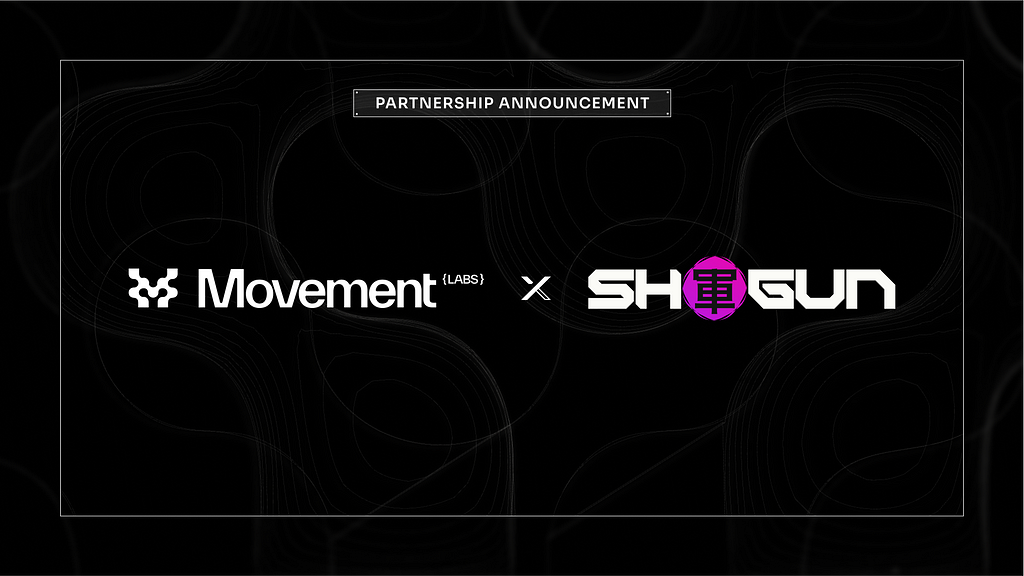 Movement Labs and Shogun Finance are thrilled to announce our strategic partnership, marking a milestone in the evolution of decentralized finance (DeFi) and cross-chain liquidity. This collaboration is set to fuse Movement Labs' innovative Move-based blockchain network with Shogun Finance's cutting-edge, chain-agnostic smart liquidity routing, heralding a new era of seamless, efficient, and secure liquidity management.
About Shogun Finance
Shogun Finance is at the forefront of the DeFi landscape. With its Decentralized Interchain Market Maker (DIMM), Shogun is eliminating the complexities of cross-chain bridging and liquidity management. DIMM's automated logic for dynamic rebalancing strategies, powered by IBC and interchain accounts, offers a superior user experience for both traders and liquidity providers. Shogun is not just a protocol; it's an ecosystem enhancer, bringing best-in-class execution to networks like Cosmos, Celestia, and more.
Movement Labs' Contribution
Movement Labs is developing an interoperable network of Move-based blockchains, aiming to facilitate a seamless flow of liquidity and users across established networks. The enhanced security and performance of MoveVM, coupled with the ease of porting EVM apps through the Solidity-to-Move transpiler, positions Movement Labs as a catalyst for innovation and integration in the blockchain space.
The Partnership
The partnership is a convergence of Shogun's modular liquidity protocol and Movement Labs' interoperable blockchain network. Shogun's roadmap to implement a functional P2P matching engine and smart order routing logic aligns impeccably with Movement Labs' vision of creating fluid, cross-chain interactions. This alliance will leverage M1 to facilitate liquidity flow through different MoveVM outposts post-IBC integration, amplifying the efficiency and reach of both platforms.
A Future of Seamless Liquidity
As Shogun Finance continues to refine and expand its DIMM, the integration with Movement Labs' M1 and MoveVM promises to elevate the DeFi ecosystem to new heights. Liquidity providers can "set and forget," while traders enjoy enhanced execution, security, and flexibility. This partnership is not just a collaboration but a holistic integration, where technology, vision, and innovation converge.
Join the Movement
Stay tuned, the fusion of Movement Labs' technological prowess and Shogun Finance's innovative liquidity solutions seek to redefine the DeFi landscape, making it more accessible, secure, and efficient than ever before.
About Movement
Movement Labs is pioneering the Movement SDK, empowering protocols to harness the Move Programming Language.
Follow us on Twitter/X
Join our Discord
---
Movement Labs Joins Forces with Shogun Finance was originally published in Movement on Medium, where people are continuing the conversation by highlighting and responding to this story.