NFTier: A useful Multi-Chain rarity Engine
When purchasing or minting an NFT, users almost immediately ask, "how rare is my NFT?" Rarity for some users helps them navigate the waters of finding an appropriate price to list their NFT on marketplaces, like Campfire, or Kalao on Avalanche. NFTiers solve this problem through their unified rarity engine.
What is NFTiers?
NFTiers is a multichain rarity engine that launched in January 2022 that enables users to:
View the traits of any NFT in a listed collection to determine rarity. A precise algorithm created by NFTiers generates the rank and rarity of each NFT
Find aggregate market data ( floor price, volume, and estimated market cap) across an entire blockchain (like Avalanche)
Print their NFTs onto items like eco-friendly T-Shirts and stickers
The "engine" aspect of NFTiers digs into the core ability to deliver rarity data onto multiple platforms and chains. As of Jul 2022, NFTiers is available on four platforms: Chrome, Android, iOS, and Web.
Using NFTiers to determine Rarity
By default, a collection's listing page on NFTiers is sorted by highest to lowest rankings. You can confirm or change this by selecting the input box that indicates "sort by". This default sort parameter will apply to any combination of searches you try. But, if a collection is still minting live, these rankings will probably change until the entire collection is minted.
Monkeez collection sorted by most rare on NFTiers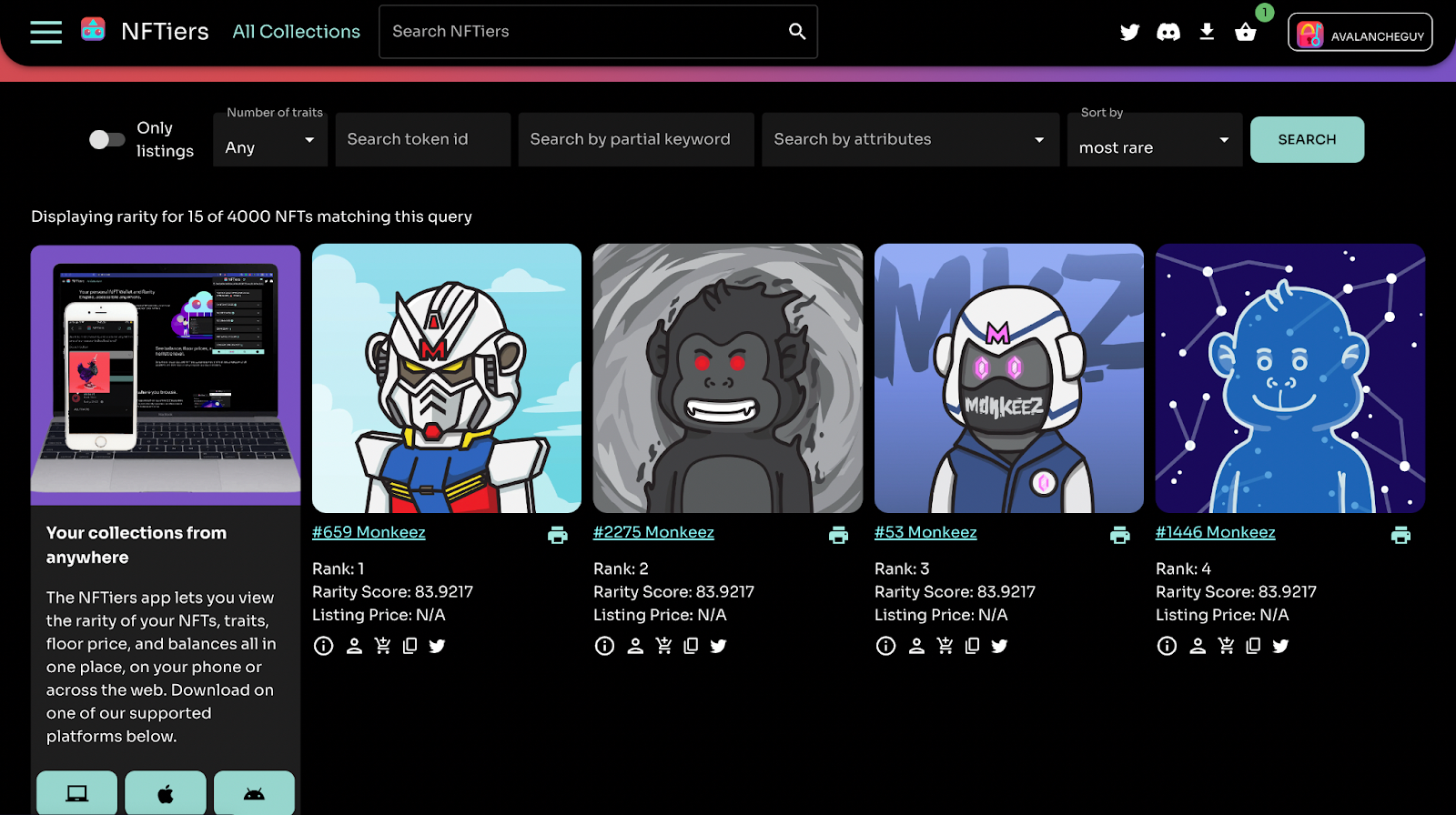 Searching by traits
NFTiers allows you to search by any trait that is available on the NFTs within each collection. You can do so by selecting the input box with the placeholder "Search by attributes". You will then see a dropdown with all of the collections traits, and you can search in this box to narrow down a particular trait; for example, typing "Background", will display only the "Background" trait. Once you select a trait, the other possible values in the same trait category will be disabled. To remove a trait from your search, simply press the "x" icon in the input box.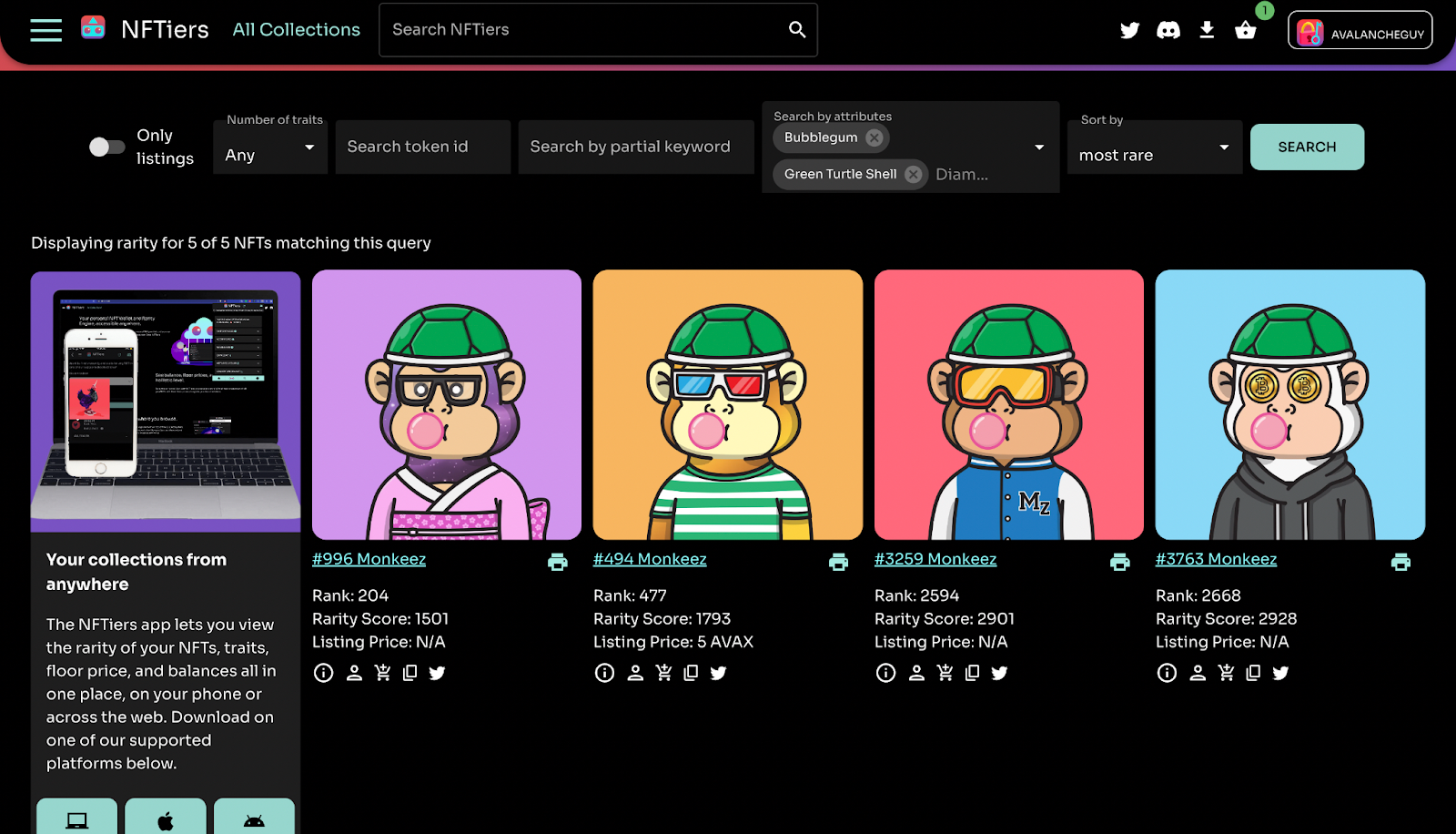 For example, want to find all the Monkeez NFTs with a "Bubblegum" mouth, and "Green Turtle Shell" head? Enter both attributes into the search box.
Tracking aggregate market data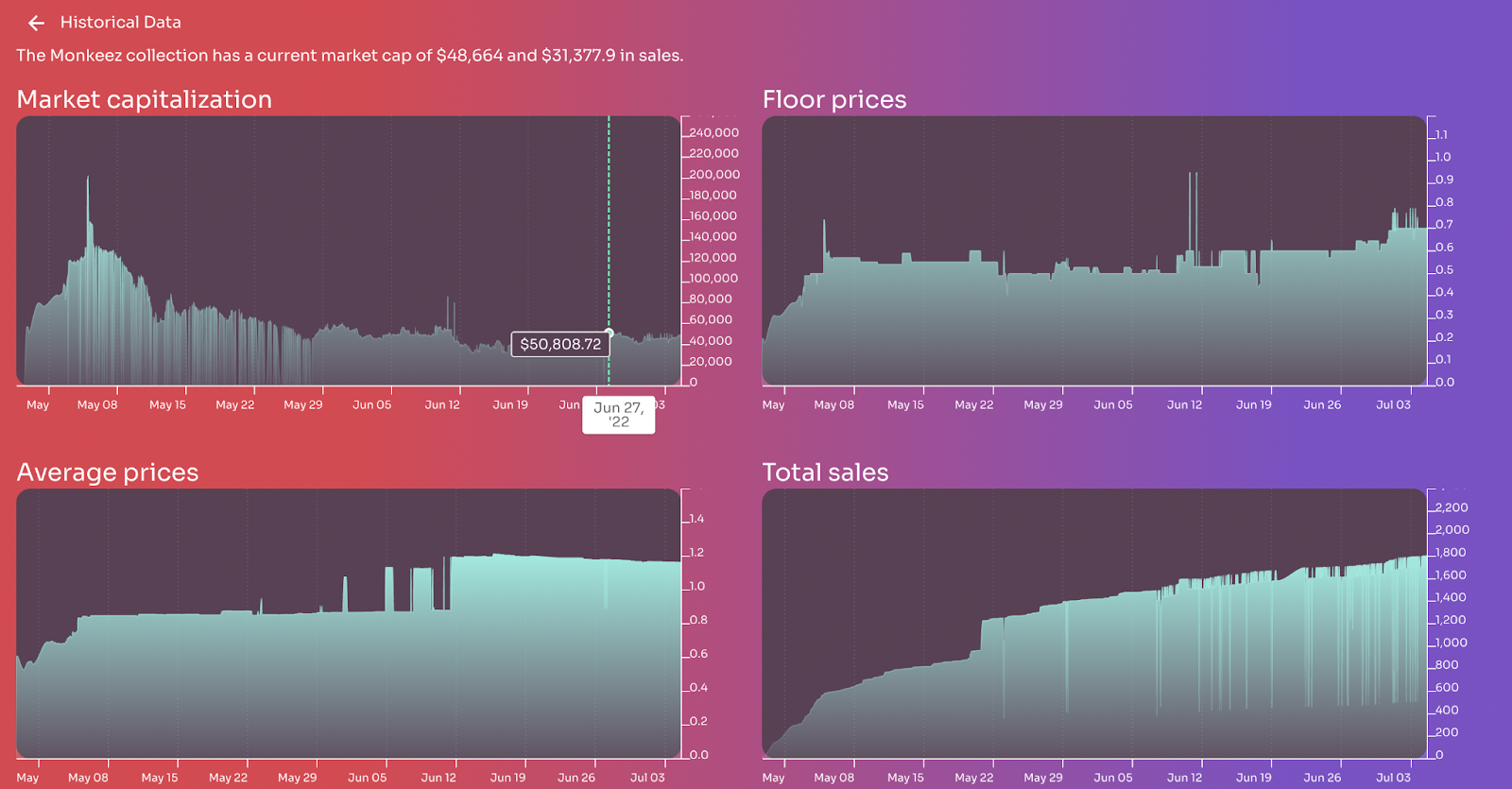 Because of the decentralized nature of Avalanche, and other blockchains, market data like Volume, is often a combination of volume(s) across many marketplaces. NFTiers aggregates all of that data to provide you with an average floor price, total volume, and highest price.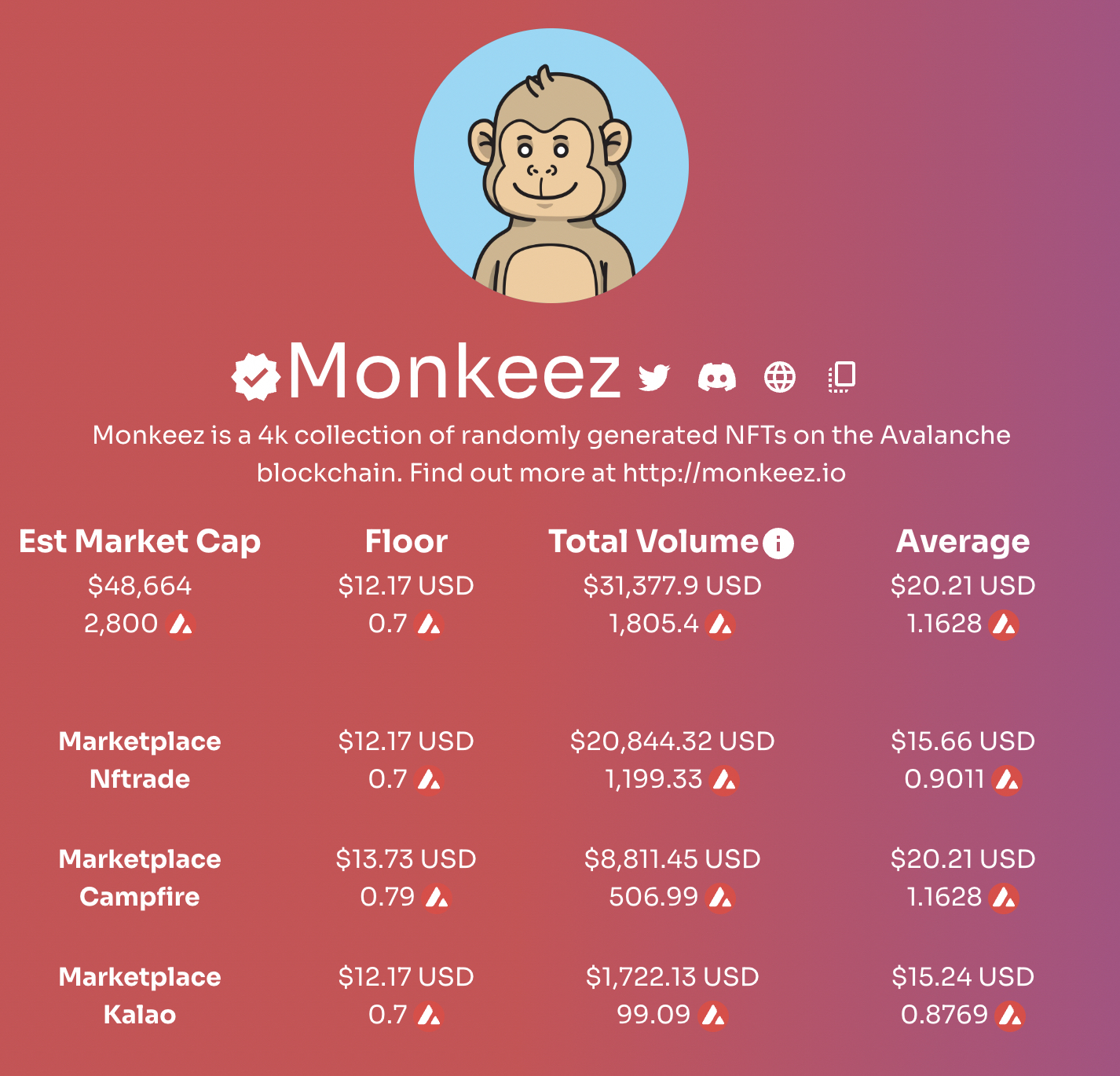 Take the monkeez collection as an example. You can see they are listed on three different exchanges, and that the floor price on Campfire is a tiny bit higher than Kalao and NFTrade. Pretty cool information to have, right?
Printing an NFT
NFTiers has just opened the NFTiers Print Shop beta to bring your NFTs to life. Currently, NFTiers offers an eco-friendly T-Shirt, customizable with your NFT. Soon, NFTiers will be offering more customizable products, including but not limited to stickers, canvas prints, mugs, and more.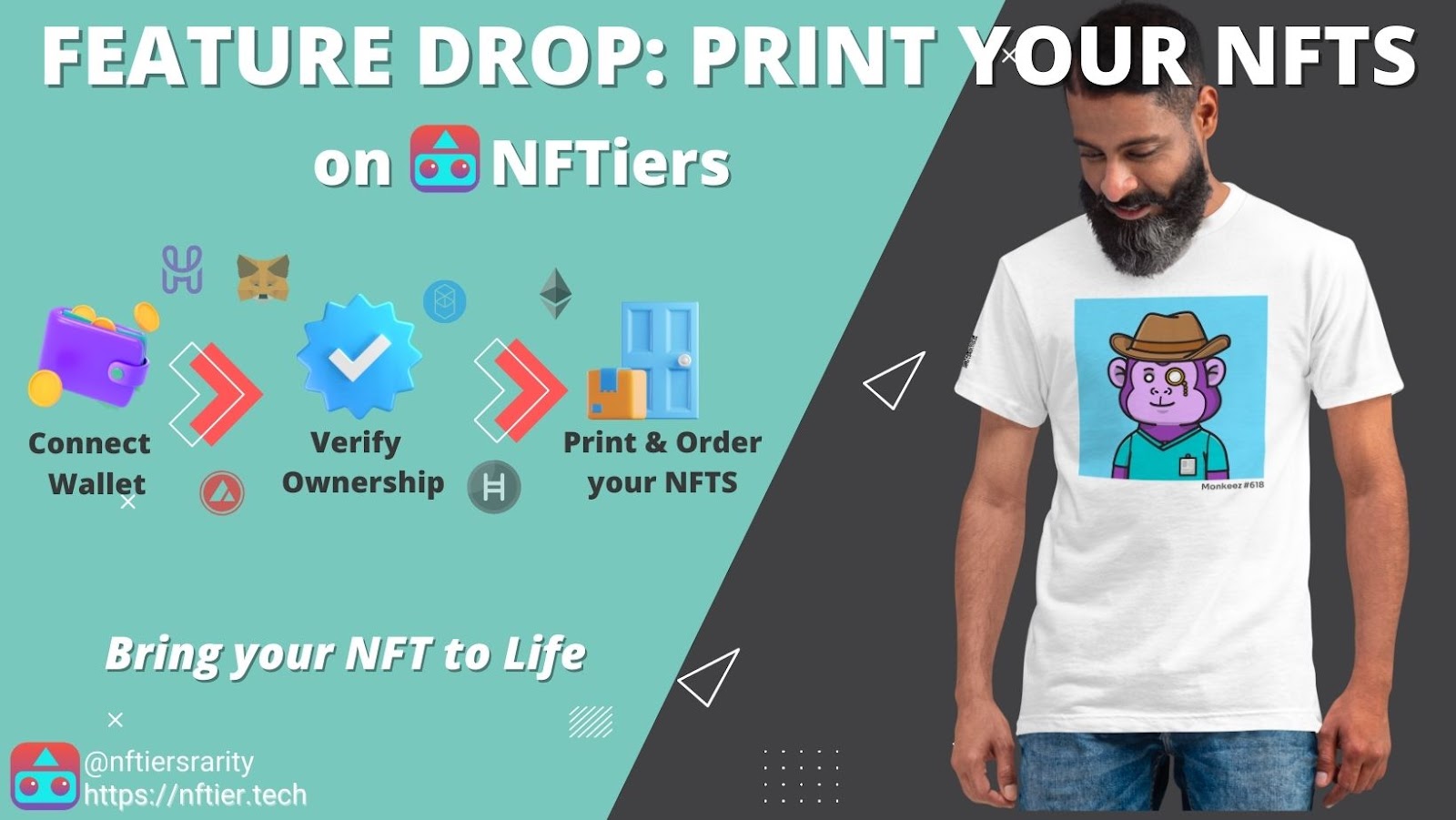 It is worth noting that Only you can print your NFT. To print from the shop, you must connect your wallet. Once connected, you can either navigate to any collection where you own an NFT and click the "print" icon, or navigate to "profile" and find the "Print Me" button under any NFT that you own.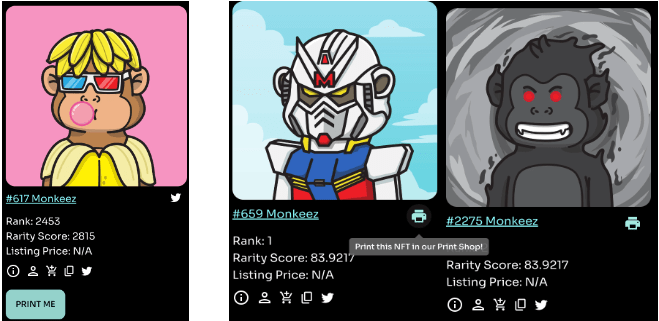 Left: Printing a Monkeez NFT from a connected wallet. Right: Printing a Monkeez NFT from NFTiers collection listing page.
Download NFTiers for Chrome, iOS, Android, and visit the NFTiers website. Also, follow NFTiers on Twitter and join the NFTiers Discord to make sure you don't miss any feature drops or giveaways!