Own the Metaverse — Kalao Citadel's Shops and Slots
Own the Metaverse — Kalao Citadel's Stores and Slots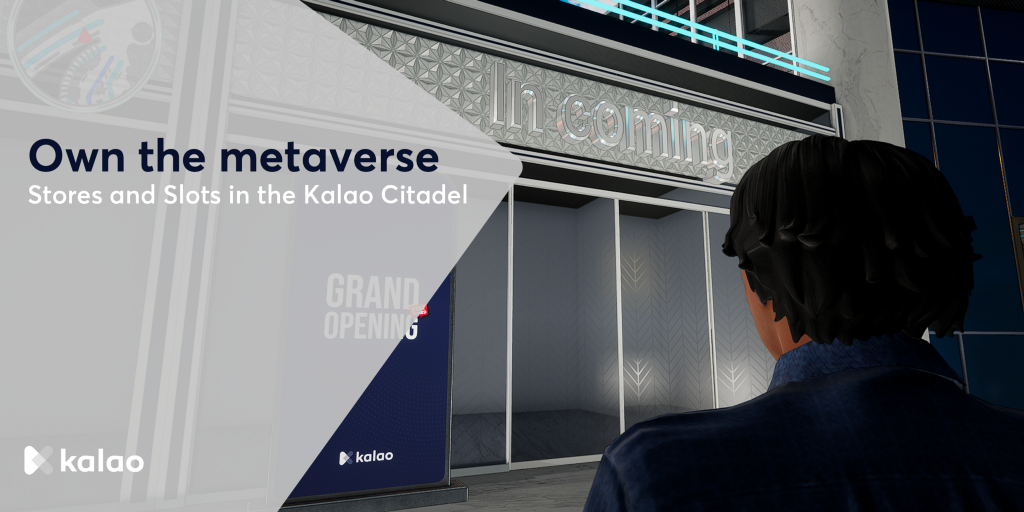 With the nearing release of the Kalao Citadel, the first location in our Avalanche-native metaverse, we want to provide you with insights regarding the Citadel, its use cases and features in a series of blog posts.
The Kalao Citadel
The Citadel is a persistent place for players to meet, chat via text and voice, explore NFT galleries and interact with their favorite Avalanche protocols. It's the perfect location to have community (or private) events, showcase NFTs or to just socialize with fellow Avalanche frens.
The Kalao metaverse will grow over time, with more locations, social activities and economic features releasing gradually. For example, you will be able to play minigames with and against other players. You will be able to own stores, slots and land and get rewarded based on player activity at your location.
Our number 1 priority is to allow you, the player, to customize the experience as much as possible. You can fully adapt your avatar, from face and body to clothes and accessories. You'll also be able to create your own 3D assets. And yes, of course they will be NFTs and tradeable on the Kalao marketplace. Stores and slots will be fully customizable as well, allowing you to build a personalized environment for others to visit.
Stores and Slots
Stores and slots will provide you with the first opportunity to own a part of the Kalao metaverse. Both will be linked to an NFT, allowing you to trade them on our marketplace.
Stores and slots are at the heart of the Citadel, the main hub of our metaverse land, and therefore a premier location for every key representative of the Avalanche community, whether dApp, NFT artist, NFT collector or community member.
Stores
A store is your own space in the Citadel. As you can customize the look of your store, it becomes your personal space in the metaverse. It allows you to display your NFT collection, build a showroom, access Avalanche dApps and, later on, host events.
Stores are a great way to gain visibility for whatever is important to you
Showcase your NFTs to increase demand. Players can trade directly in the Citadel
Present your project. Customize the store with your branding to increase awareness. You can also link to your website, all while players stay in the virtual experience
Have your own networking space. Invite others to visit you and make friends and business partners in a web3-native way
Rent your store for events, seminars or AMAs
Slots
A virtual slot is a location inside or outside the Citadel that you can use to display an NFT of your choice or as your advertising space. You can also rent your slot to advertisers.
Some slots will be grouped together, enabling the Avalanche community to build a collaborative NFT museum.
Similarly to store, slots are a great way to find buyers for your NFTs and to reach a big audience of crypto-natives with your message.
Upcoming Sale
We are thrilled to announce the first land sale of the Kalao metaverse, which will take place soon! You will be able to buy and own store and slots in different sizes and locations within the Citadel.
Stay tuned for the sale date reveal (soonᵗᵐ) and partner announcements leading up to the sale.
Source