Things are undoubtedly heating up my friends. Our plate is so full for the coming week, that we feel like we are drowning. The best part? We love it. The work we have been putting into this monster is all starting to come together, and it hasn't even shown its teeth yet.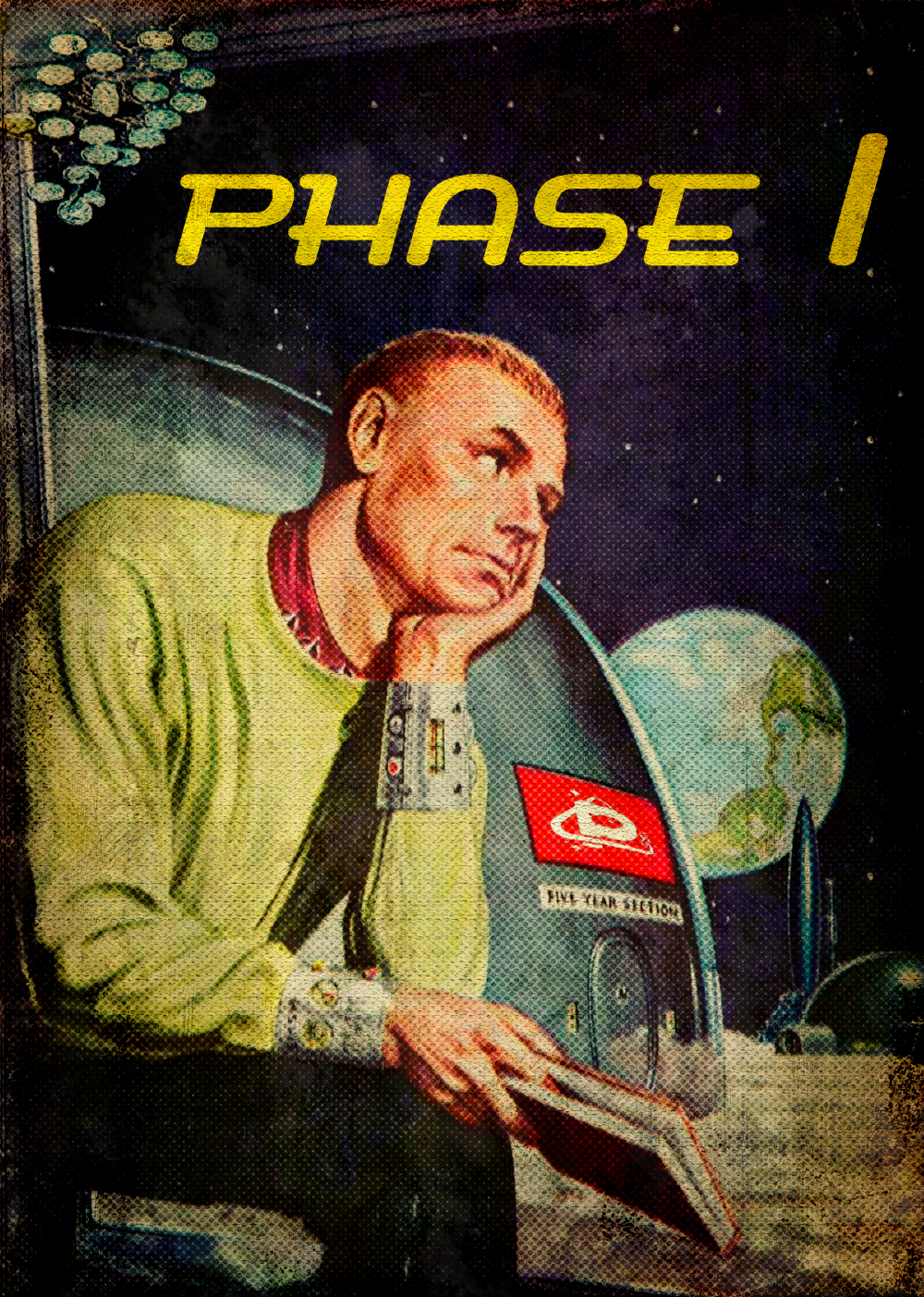 How to WL?
Maybe this is the part you have been waiting for, or maybe you despise grinding for WL spots. Either way, do not worry for we have designed a process that respects your time, while also being fun, engaging and effective. All of us on the team are just like you, we don't want to spend 12 hours in a Discord server grinding levels either, so we couldn't in good conscious subject you to that living hell.
The entire process will be outlined in our Discord server, which will go live starting tomorrow. If you want some alpha… review the previous Medium posts and start thinking of what kind of service you want to see us build. These things might just be your ticket to a WL spot. 😉
If you are reading this and aren't in the server yet, do yourself a favor and join right here.
Phase 1 Roadmap
AHHHHHHHHHHHHHHHHHHHHHHHHH!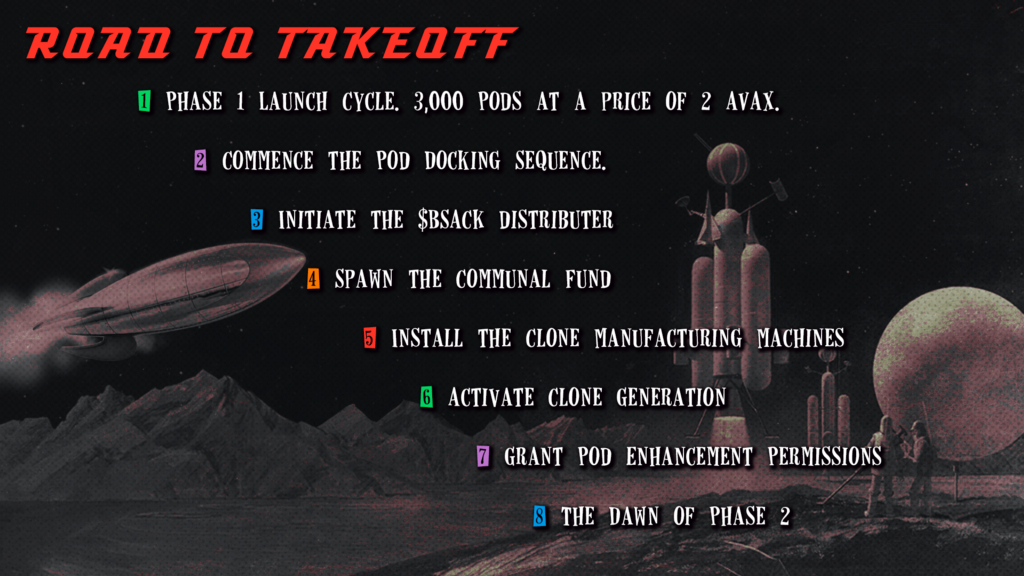 Sorry, I had to get that out. We have been waiting to share this for so long and we are thrilled to finally get it out here. Above is a graphic showing you our Phase 1 roadmap. I could write a whole article on each point but I will shorten it up for the sake of all of us.
Phase 1 Launch Cycle: This has already been discussed in previous posts but to reiterate, we are releasing 3,000 Pods at a price of 2 AVAX. Phase 1 will consist of 9 different sectors, some of which have already been teased on our socials.
Pod Docking Sequence: This will be the launch of our staking contract. Pod owners (VIPs) will have the option to dock their Pod to the mothership. Docking your pod will allow you to begin earning $BSACK. Pods will have "levels" associated to them, and the amount of $BSACK you earn will depend on this Pod level. (More on this later)
$BSACK Distributer: When we turn this bad boy on, it will signify the beginning of our entire ecosystem. Once we flip the switch, those wh o docked their pod will begin stacking that precious $BSACK.
Spawn Communal Fund: This will be the release of our communal fund. We are still preparing the documentation and infrastructure around the design of the communal fund. You may rest easy though, as this fund will be directed by all of us. PodDAO anyone?
Clone Manufacturing Machines: This is where things start to get fun. Let me preface this with the fact that I mustn't release much detail on the ins & outs of the CloneNodes service yet. What I will say though, is that there are 3 different styles of Clone Generation Machines… I will let you ponder on what that may mean.
$CLONE Generation: How do you expect us to manage this giant mothership without a bunch of clones running around doing our bidding? It would be impossible. When we activate this feature, the game really begins.
Pod Enhancement Permissions: Remember when I said that Pods come with levels? This is where they come back into play. How could we encode Pods with levels without allowing you to level them up? We are gamers too, we know how addicting it is to level up.
Dawn of Phase 2: I could probably write an entire book about this point. We have broken this project down into phases for very good reason, this I will assure you. Let us all enjoy Phase 1 and before you know it, we will be at Phase 2.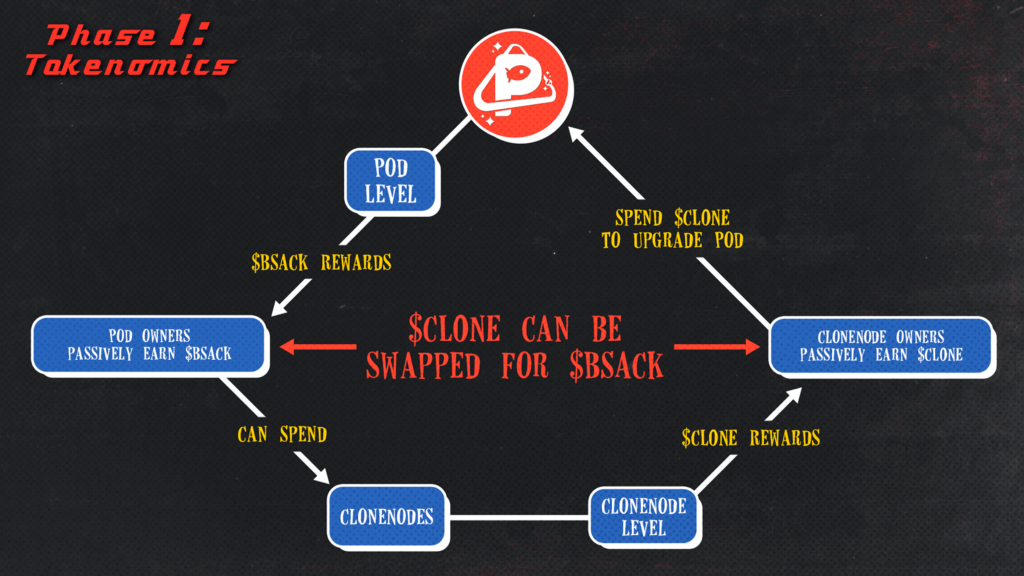 What to expect this week.
First and foremost, we are still preparing content for you all. The team has made it a huge goal to simplify our communications. We are aware that this project can be overwhelming to initially understand and this is something we are actively addressing.
Second, we are nearly ready to release our website. This goes back to the above point, in that we are simplifying everything that we communicate so the scope of our project can be easily grasped. It is safe to expect this to be released in the coming week.
Last but certainly not least, We have scheduled an AMA with FiefGuild on Tuesday at 12PM EST. Would love to see some of you in there. We will be Tweeting out more info on this in the coming days, so stay tuned.
This is all we got for this week my friends. Hope you all have a good weekend and as always, make sure to follow us on our socials.
Twitter: https://twitter.com/PodPeopleAVAX
Discord: https://discord.gg/ffPpvmYSpc
Cheers.
Source