PIRATE LUCKY WHEEL – FREE TO EARN NFT, IDO WHITELIST AND $AVAX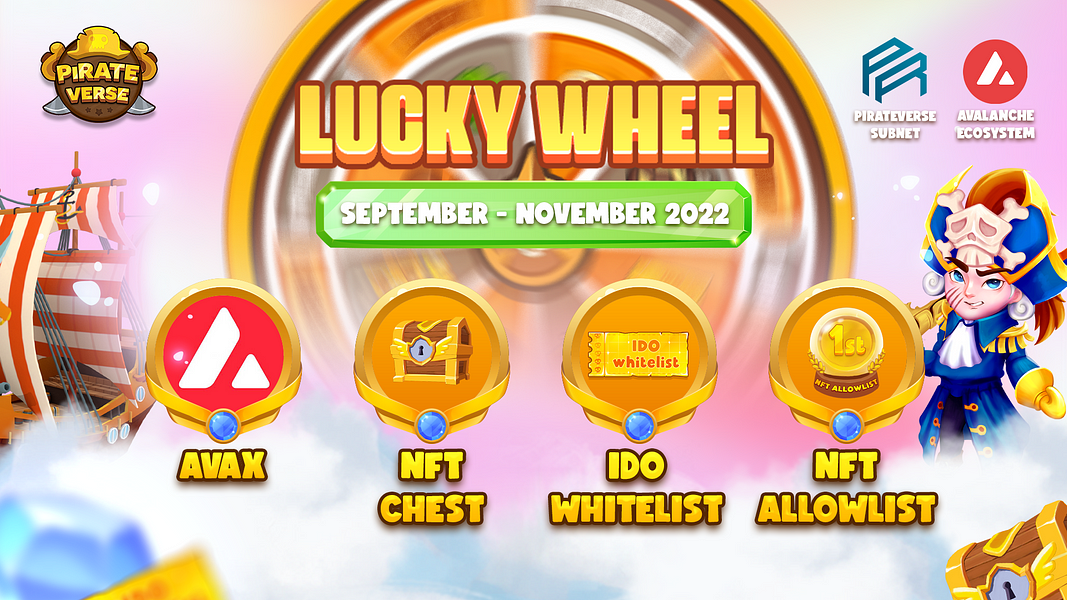 The Lucky Wheel keeps turning, ostensibly conveying the message that life which is in a state of constant change, consists of both good and bad times as the life of the pirates. They have no influence over this cycle and cannot escape what is fated; it is something that the pirates must deal with. So it's better to fully appreciate good fortune when it arises because everything that rises must eventually fall.
Joining the Pirate Lucky Wheel, you will spin the wheel and try your luck with different wonderful rewards. Increase your luck by earning as many spin tickets as possible!
INTRODUCING PIRATE LUCKY WHEEL
Duration: September 22nd 2022 – November 22nd 2022.
In PIRATE LUCKY WHEEL, players earn spin tickets to have the chance to spin the wheel with fruitful rewards on different wedges. Players are given 1 free daily ticket when logging into the game.
With more spin tickets, you will have more opportunities to receive the rewards. However, there will be some players that have more luck and they can get the rewards with few spin tickets.
REWARD DETAILS
Rewards from PirateVerse: NFTs, NFT Allowlists, IDO Whitelist & $AVAX.
Rewards from our partners – top GameFi and NFT Collections on Avalanche: NFTs, In-game Items, Whitelists.
Follow us to see what the rewards are!
Rewards are distributed weekly to all winners from each week.
HOW TO JOIN?
Pirate Lucky Wheel Tutorial Video
Step 1: Request $PVF testnet token
There are 2 ways to take $PVF testnet token:
https://faucet.pirateverse.finance/

https://faucet.avax.network/
Step 2: Swap $PVF
Visit PirateSwap: https://swap.pirateverse.finance/
Step 3: Add liquidity to get PirateSwap Liquidity Tokens (PSL)
Step 4: Farm $PVG with existing pairs by staking PSL token
Step 5: Claim $PVG
Step 6: Exchange $PVG to Lucky Wheel Spin Tickets
1 $PVG = 1 Spin Ticket
Step 7: Go to Lucky Wheel Website and Play to receive the rewards
https://minigame.pirateverse.finance/lucky-wheel/
HOW TO CLAIM THE REWARDS?
– Screenshot Reward Earned via Lucky Wheel website
– Create a ticket on Discord, provide your wallet address and screenshot
– Process and distribute rewards: NFT rewards will be distributed immediately, $AVAX reward will be claimed after the campaign ends.
THE CAPTAIN WISH YE THE BEST OF LUCK!
PirateVerse is an RTS Pirate Game on Avalanche and PirateVerse Subnet. PirateVerse is a story-filled Pirate World where players can explore, build and own Pirate Kingdoms. Inspired by the legendary game Age of Empires and the great stories told in Pirates of the Caribbean, there will be 3 NFTs in the game: Captains, Battleships, Islands.
JOIN OUR SOCIALS:
Twitter | Website | Discord | Youtube | Telegram (Announcements) | Telegram (Discussion)