PIRATEVERSE JUNE 2022 RECAP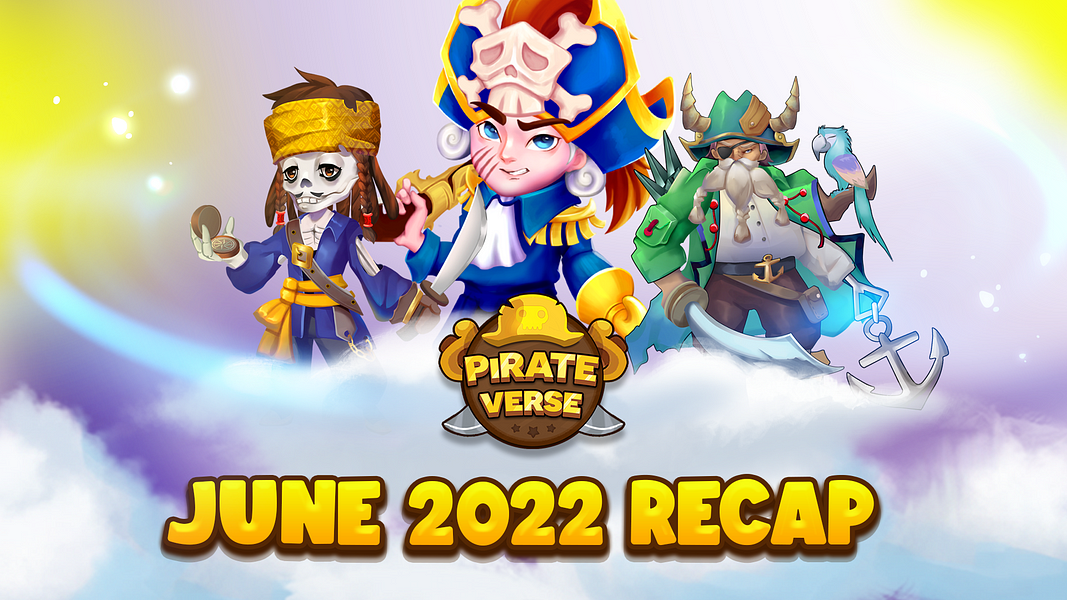 Ahoyy, me hearties! This first recap of PirateVerse will include updates on Partnerships, Advisors, Game Development, PirateVerse Subnet, Media Coverage and upcoming plans in July. Let's dive in!
Partnerships
TimeShuffle – A Fellow NFT Game on Avalanche
TimeShuffle is a Play-and-Earn Turn-Based Tactical RPG with heroes from across history battling together and against each other in procedurally generated battlefield arenas.
NFTrade – Secondary NFT Marketplace
NFTrade is a decentralized multi-chain & blockchain-agnostic NFT platform. NFTrade is an indexer of all NFTs across all of their integrated chains, hosting the complete NFT lifecycle and allowing anyone to seamlessly create, buy, sell, swap, earn and leverage NFT's across different blockchains. Using NFTrade, anyone is able to gain access to the entirety of their NFT, unlocking the total value of the NFT market.
More partnership news will be revealed in July, stay tuned!
---
Advisors
In June, we are honored to have JacobAvax – Co-Founder of Avaxholic as our strategic investor. Leading one of the strongest community and most trustworthy news channel in the Avalanche ecosystem, JacobAvax surely knows the traction and route to build PirateVerse community and influence. He had 5 years of experience in Crypto and solid connections within Avalanche.
---
Game Development
We released our Game Demo in April 2022, which gives players a taste of our gameplay, game interaction as well as game environment. However, this game demo is not showing what our Game Development Team has been building, which means in July there will be a lot of big updates on NFTs art, digital animation, gameplay, background story, and more…
A sketch of an Island map
---
PirateVerse Subnet
Building 2 products at the same time is quite challenging, fortunately, we have a team of talented product builders and dedicated blockchain developers. In June, PirateVerse Subnet, with the ambition to build an all-in-one ecosystem on Avalanche Network, has published PirateScan – a blockchain explorer, PirateSwap – an AMM DEX and Testnet Faucet.
PirateVerse Subnet, built on top of Avalanche Network's existing infrastructure and security, is a decentralized and EVM-compatible blockchain that will empower and serve as the home for not only PirateVerse, but also other blockchain-enabled games built by TazoGames and other game studios.
PirateVerse – The Wings for Avalanche Gaming
HappyLand's official launch on PirateVerse Testnet Subnet
Source: TazoGames
This is one of the first games joining Avalanche Ecosystem via Subnet.
Launched on Binance Smart Chain last December, HappyLand is another game from TazoGames studio – our craftsmen. HappyLand is now officially playable on PirateVerse Testnet Subnet, with PVF as the native token.
How to play HappyLand on PirateVerse Testnet Subnet?

Read more about HappyLand's launch on PirateVerse Testnet Subnet
---
Media Coverage
June 2 – ODB's GameFi Degens Talk – Twitter Space
Speakers: TimeShuffle, PirateVerse, DwarfKnightDao
This Twitter Space had more than 100 people tuning in, listening to our thoughts on the GameFi landscape, including token inflation, importance of gameplay and innovative tokenomics.
June 28 – AVAX ALL-STARS SESSION hosted by TimeShuffle – Twitter Space
Source: TimeShuffle
This event featured all top-tier projects and amazing people from Avalabs team, that's why it's called "all-stars". The topic discussed was the current landscape of GameFi – How to keep thriving and building. Participants from Avalabs team: Ed Chang – Head of Gaming, Nikhil – Business Development, Jaack – COO of Avascan.
Peter – Marketing Lead of PirateVerse talked about Play And Earn and whether "Play" or "Earn" should be focused at the moment. The solution PirateVerse is heading to is interesting, story-filled gameplay and innovative token economy utilizing dual tokens' use cases.
Throughout June 2022, We were also featured on ChainPlay, Avaxholic, MetaFi Master, Tyrano Analytics, HC – Capital, Avalanche Space, DegaLabs, BSCDaily,… and many other partners and friends.
Source: Avaxholic
---
What to expect in July 2022?
This July will be an important milestone for PirateVerse, with upcoming minigame campaigns allowing players to get early access to our NFTs and featuring many great names in the space.
Big updates on NFTs, Gameplay and UI/UX will arrive to PirateVerse soon.
The beginning of our journey has made significant progress, we appreciate our Pirates community for having our backs and supporting us.
It's time for PirateVerse to take off! Stay tuned and stay updated!
---
JOIN OUR SOCIALS:
Twitter | Website | Discord | Youtube | Telegram (Announcements) | Telegram (Discussion)