PIRATEVERSE SUBNET – THE WINGS FOR AVALANCHE GAMING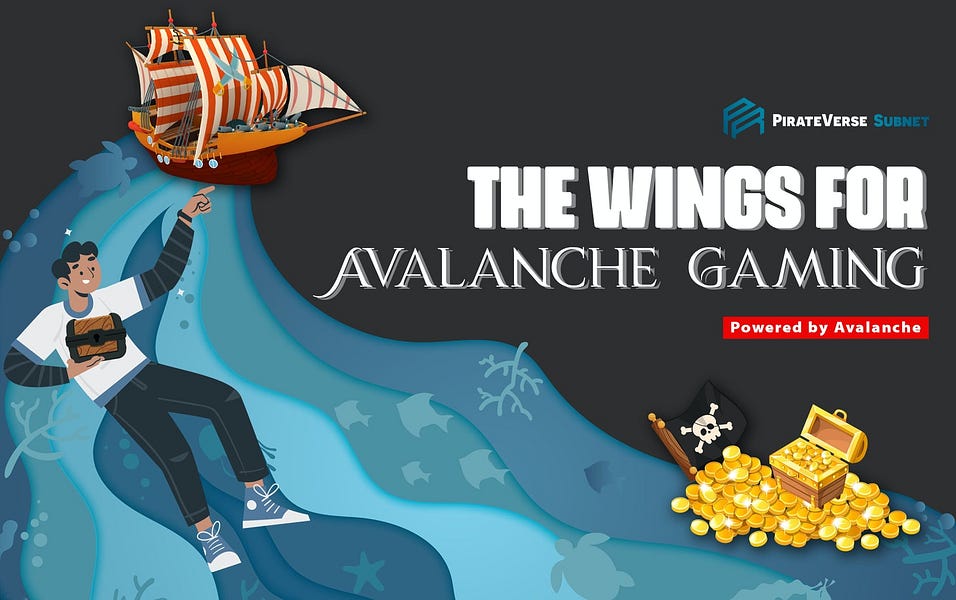 Subnets are a unique concept of the Avalanche ecosystem. In March, Avalanche Foundation announced Multiverse, an up to $290M Incentive Program to Accelerate Growth of the New Internet of Subnets.
We are extremely delighted to join the Avalanche ecosystem with our PirateVerse Subnet 🏴‍☠️
PirateVerse Subnet, built on top of Avalanche Network's existing infrastructure and security, is a decentralized and EVM-compatible blockchain that will empower and serve as the home for not only PirateVerse, but also other blockchain-enabled games built by TazoGames and other game studios.
PirateVerse Subnet is originated with the ambition to integrate GameFi, AMM DEX, Bridge and Blockchain Explorer products which are all developed by us into an all-in-one ecosystem. We aim to build an innovative subnet that focuses on ingenious economic models and seamless blockchain experience. We desire to captivate many more users and investors into the Avalanche ecosystem and make our Subnet as the Wings for Avalanche Gaming!
Get on board and get started!
Who are we?
PirateVerse is the first NFT-powered Free-To-Play-To-Earn Pirate game on Avalanche Blockchain. The game is where players can explore a vast, story-filled world that reacts to their decisions by mastering and building their pirate lands in the social pirate adventure game. PirateVerse has an exciting, adventurous and intelligent gameplay, in which players need to acquire the best tactics for the highest revenues. Moreover, owning a sophisticated game account system, PirateVerse is a perfect choice for Game Guilds and Scholars Management.
About TAZOGAMES – Our Craftsman
TazoGames is an NFT Games Studio, a well-experienced internet games builder. We have strategic partnerships with Salad Ventures, AU21, ZBS, MavenCapital, Kyros, Goodgames Guild and Bantercapital. Not only do we build appealing Play-To-Earn NFT games, but we are also Metaverse Builders, who build both the virtual worlds of the future and the infrastructure that makes them possible.
PirateVerse Subnet's Mechanism
Zero Gas Fee With High Speed
PirateVerse Subnet, with the powerful infrastructure of Avalanche Subnet, has a blockchain mechanism that ensures a block time of 3 seconds and gas fees as low as 0.0001 USDT. Normally, when there is expansion in the number of products on a blockchain, the congestion caused by numerous transactions occurring at the same time leads to an increase in gas fees and slow transactioning process. Thereby, Subnet is a complete resolution to the network congestion problem of not only Avalanche, but also other blockchains.
PVF – Subnet's Native Token
$PVF is the native token of PirateVerse Subnet, used for paying transaction fees. The PirateVerse Subnet will be crucial in defining more interesting use cases of the $PVF token, meaning more creative ideas to be revealed soon.
$PVF token will be used for in-game experience, gas fees and users can receive $PVF through rewards and in-game earnings. We will also give reward tokens to the dApps with the most users that run on our blockchain.
50% of $PVF paid as gas fees will be burnt continuously to increase its value as a deflationary mechanism.

The remaining portion will be used to pay commission for the Subnet validators and distribute in-game rewards to the players.
PirateVerse Subnet also offers cross-chain assets to each other, erasing concerns about paying high bridge gas fees on Avalanche. Users will be able to smoothly transfer their tokens from various blockchains via our bridging features. The friction associated in integrating liquidities from different DEX platforms will be reduced by the bridges.
We are aware that transferring tokens from C-Chain or other blockchains to PirateVerse Subnet will be challenging for our users, especially those unfamiliar with Web3.
To achieve the vision of seamless user interface and experience, PirateSwap will also be integrated with cross-chain bridge solutions, allowing users to swap and trade tokens with ease.
On PirateVerse Subnet, here's what we have built so far:
👉 PIRATESWAP – AMM DEX ON SUBNET
👉 PIRATESCAN – BLOCKCHAIN EXPLORER
Validators of the network are required to stake $PVF tokens to run nodes and receive rewards in return. PirateVerse Subnet is estimated to have 11-13 validators. A portion of the $PVF received as gas fees will go to the validators, which allows us to attract more validators and decentralize the chain even further.
We will be able to run and maintain our own customized blockchain by commissioning a Subnet.
Converging destination of blockchain gaming
Our craftsman TazoGames Studio, builder of PirateVerse, has developed and launched some other impressive gaming products and features. Powered by Avalanche, PirateVerse Subnet, is not only a location for our primary PirateVerse to run on but also for more GameFi projects of our gaming studio. Previously launched HappyLand's users will be migrated into PirateVerse Chain, meaning a big community available for the Subnet.
Moreover, we also have an intention of expanding the Pirate Metaverse with the presence of Subnet. We would make our PirateVerse Subnet become a destination for other projects bringing their GameFi and other blockchain gaming experience into the Avalanche ecosystem.
So dear our Pirates, it's time to discover and experience amazing features of PirateVerse Testnet Subnet!
JOIN OUR SOCIALS:
Twitter | Website | Discord | Youtube | Telegram (Announcements) | Telegram (Discussion)