PIRATEVERSE TESTNET SUBNET TUTORIAL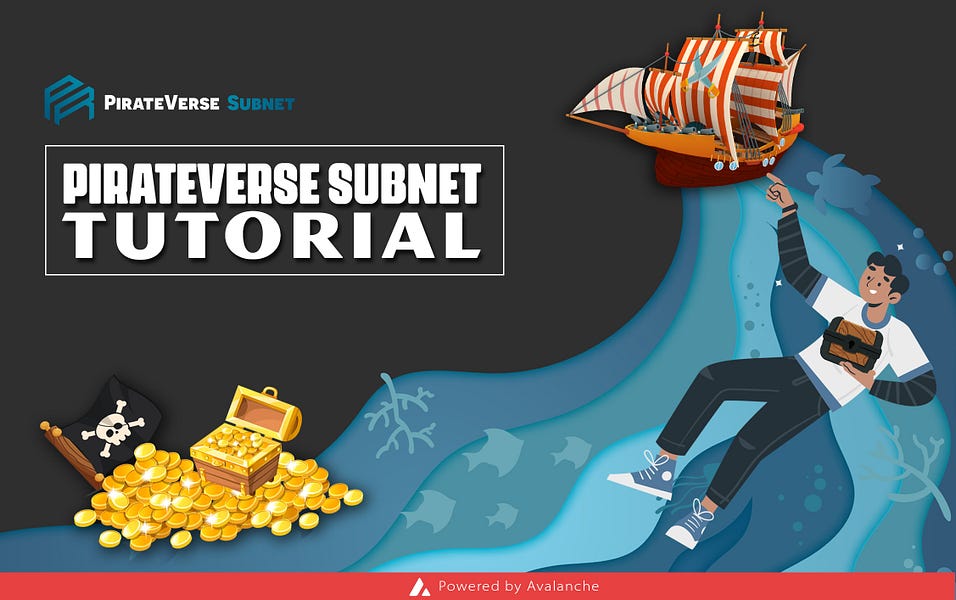 We are extremely excited to announce the official testnet launch of PirateVerse Subnet on Avalanche Network!
This article will cover a complete guide to explore and experience our blockchain, AMM DEX – PirateSwap, Blockchain Explorer – PirateScan already available for public testing.
PirateVerse Subnet, built on top of Avalanche Network's existing infrastructure and security, is a decentralized and EVM-compatible blockchain that will empower and serve as the home for not only PirateVerse, but also other blockchain-enabled games built by TazoGames and other game studios.
PirateVerse Subnet is originated with the ambition to integrate GameFi, AMM DEX, Bridge and Blockchain Explorer products which are all developed by us into an all-in-one ecosystem. We aim to build an innovative subnet that focuses on ingenious economic models and seamless blockchain experience. We desire to captivate many more users and investors into the Avalanche ecosystem and make our Subnet as the Wings for Avalanche Gaming!
Let's start with PirateVerse Subnet's technical information:
Subnet Name PirateVerse Subnet | Subnet ID
tSdXrwNmpdgkUuHZ6QTJaUL53FvVPH5P3ZmEcTP5sHKgjPVJr
Blockchain Name PirateVerse Testnet | Blockchain ID
2voAZMgod69YNUqArwQJ6BxjYrYuDKWjaZTKwep6E9uKCKak8p
VM ID: srEXiWaHuhNyGwPUi444Tu47ZEDwxTWrbQiuD7FmgSAQ6X7Dy
You can find our Subnet on Avalanche's Explorer here.
---
Add PirateVerse Testnet Subnet to Metamask Wallet
Step 1: Install Your MetaMask Wallet
If you are new to Crypto, you can follow a detailed guide from CoinDesk here.
Step 2: Add PirateVerse Testnet Subnet to your Metamask Wallet
Once you've successfully set up your MetaMask (MM) wallet, you can access it on the top right-hand corner of your screen. Open the wallet and click on the current network at the top of the window:
Click on the "Add Network" button
You will be directed to a new tab looking like this.
Network Name: PirateVerseTestnet
RPC: https://rpc-testnet.pirateverse.finance/
Symbol: PVF
ChainID: 56766
Click "Save" and everything's perfect and ready.
Too much trouble? We got you. There is a more simple way you can add PirateVerse Testnet Subnet to your Metamask wallet:
Install your Metamask wallet

Go to PirateScan

Scroll down to the bottom, you will see a "Add PirateChain Network" button (Do not worry about the wrong network name, we are getting it fixed.)

Click on Switch Network at the pop-up window from Metamask

Done, you are now connected to PirateVerse Testnet Subnet.

---
Get $PVF Testnet Tokens on AVAX Faucet / PirateVerse Faucet
$PVF is the native token of PirateVerse Subnet and will be used for paying gas fees and other network fees. So how to earn $PVF testnet tokens?
Besides our own Testnet Faucet, PirateVerse Subnet is now officially supported by Avalanche Faucet, which means users can get $PVF testnet tokens directly from here.
PirateVerse Subnet is now powered by Avalanche.
Select PirateVerse Testnet

Fill in your wallet address
Click "Request 2 PVF"

Done. You can view transaction details by clicking on "Transaction ID"
Go to PirateVerse Testnet Faucet.

Fill in your wallet address that is connected to PirateVerse Testnet.

Complete the captcha – "I'm not a robot".

Click on "Request 1 PVF".

Done.

---
Explore PirateSwap – AMM DEX
Go to PirateSwap.
At the moment, you can swap tokens and become a liquidity provider in PirateSwap. Currently supported tokens: PVF, USDC, USDT, DAI. Although this is still a testnet AMM DEX on PirateVerse Subnet, trade at your own risk!
Swap: PirateSwap currently supports PVF, USDC, USDT, DAI tokens for trading. More coins and tokens will be added in the near future, making PirateSwap a true liquidity hub of PirateVerse Subnet.
Liquidity Providers: When you add your token to a Liquidity Pool you will receive Liquidity Provider (LP) tokens and share in the fees.

Liquidity Provider Rewards: Liquidity providers earn a 0.25% fee on all trades proportional to their share of the pool. Fees are added to the pool, accrue in real time and can be claimed by withdrawing your liquidity.
You can also explore and track all activities of the subnet on our blockchain explorer — PirateScan
We will be announcing our in-house cross-chain bridge solution shortly, stay tuned!
Me hearties, what are y'all waiting for? Get on board and sail to PirateVerse Subnet!
JOIN OUR SOCIALS:
Twitter | Website | Discord | Youtube | Telegram (Announcements) | Telegram (Discussion)