Platypus to Gamify its Interface
What is it, and what to expect?
Milestone after milestone, we continuously innovate as a protocol. We have been called the Vanguard for carving out a distinctive StableSwap that rewrote the rules of DeFi. We are a revolutionary StableSwap and an unprecedented one in the space.
What if we are a game too? What if providing liquidity can build you a majestic little town or a prosperous city? Apart from the juicy returns your investment brings, what if various items within the game can impact your rewards and returns in a positive way?
Folks, that scenario is not too far from becoming a reality.
Engaging with DEXes doesn't have to be too serious
In our journey to be the leading stableswap globally, we endeavor to be more inclusive of the masses. Decentralized finance still has a long way to go concerning mass adoption despite the tremendous value it brings to the world. One pressing issue that hinders wide adoption is the lack of digestible information to demystify its complex concepts. Let's face it, it's darn hard to learn! So, we congratulate our community for going through the hard work. It's really impressive!
We constantly find solutions, and we believe that gaming elements can be an effective tool for learning. The result? Platopia was born.
Behold a universe hundreds of light-years away…
Have you seen the teaser for Platopia already? It's awesome… and really cute too! If you haven't seen it, check it out here.
Aww, those Platypuses are so cute we melted! As soon as the next few weeks, our community can already expect gamified features on our app! Although not a full-blown game yet, you can already try it out in its early stages.
What's to come?
We are diving deep into the world of GameFi. For clarification, Platypus is not turning into a GameFi. Rather, GameFi is an addition and the original Platypus app will still remain the same.
In a nutshell, Platopia users will find a way to rebuild their homeland after an apocalyptic event that wiped out all other species. Other Platypus survivors are scattered all over the realm. Finding them helps your village prosper. The sky's the limit.
The community can expect an exhilarating city-building simulation game where players can stake their crypto assets and earn rewards in a fun and creative way. It will be a place where Platypus heroes can customize and design their Platopia however they want it. It's a space to immerse, interact, visit each other's settlements, and even exchange utilities. Utilities (we're not spilling the beans yet about what form it will take!) amplify rewards and returns in exciting ways.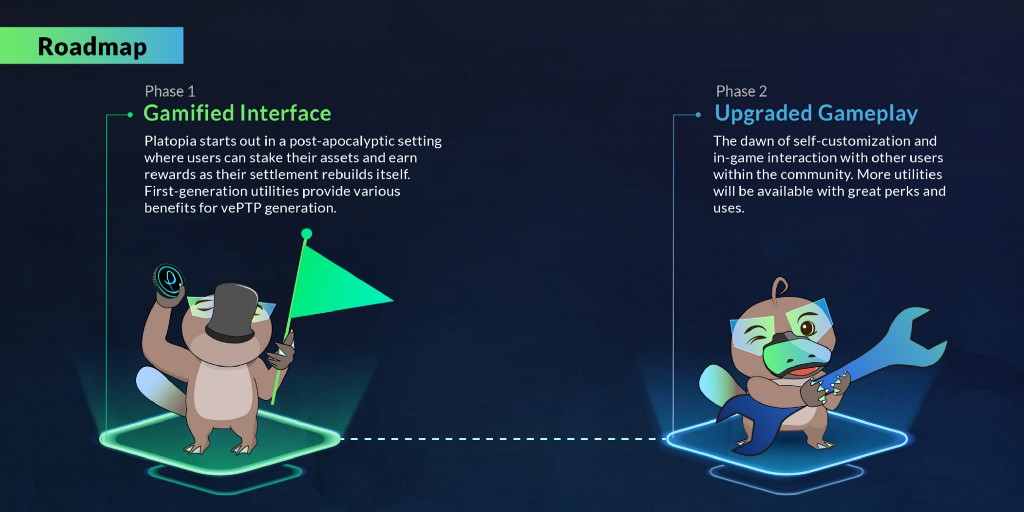 You can build your own Platopia, but you can also choose to remain in the original Platypus interface if that's your preference. So no worries, nothing will change for casual DEX users.
Watch out for more GameFi updates!
Follow Platypus
---
Platypus to Gamify its Interface was originally published in Platypus.finance on Medium, where people are continuing the conversation by highlighting and responding to this story.